Joined

May 23, 2014
Messages

604
Likes

591
Location
My Garuda: VW Polo 1.2 TDi Ownership 1 lack kms Crossed)
Hi Fellow members and Friends ,
my previous car Maruthi suzuki WagonR Stingray
was a beloved car of mine , bought it in Red wine color and maintained it in pristine condition like a soul mate, always wash in 3m or half day of Sundays for a perfect wash , maintained it well, Eg , insted of changing oil for every 10k kms, i used to take to my garage and change it myself on intermediate 5k kms , mods like HIDs, Led center Grill, Premium Carpeting , Many more
you can easily find my thread in google as it hits top of the result ,
just type "wagonr stingray ownership review"
well its now to the topic , i parked my stingy near my neighbors house , and few boys where playing cricket with Tennis ball, the green one. and when i was reaching to my car , a guy hit straight to my front driver door, and i knew the ball was already bounced once and i thought it wont make any dent or anything and might be a minor scratch, when i neared i found out the door was having a huge dent , like some one just kicked the door with a foot,
Well my reaction After that: took the dent out using suction type mobile holder and there was no marks of it, after next few minutes i took the car out and took 360* pics and just slammed the pics on olx

and sold for 4l on next few days.
i hope i dont want to explain more why i sold the car.
My hunt started for next car , on my experience with a petrol car previously , which already had a Fuel efficient engine , my running costs where high , so i was preferring a diesel in a diploma.
In between i got my spare car from my friend who has a palio mjd with new swift engine,
http://www.theautomotiveindia.com/forums/technical-zone/20564-project-fiat-palio-mjd-1-3-giving-another-life.html
what a car it was, it was so much fun to drive and pickup was crazy fast and i could feel the raw torque and easy to drive on diesels mainly on city roads , also for 1000Rs of diesel i was socked to see the distance i covered was about 400 kms at ease , while my stingy will return 200 to 230 kms max .
from my previous experience i was sure that i am going to buy a car which is going to be cricket ball proof on all sides, how i test is i will go and lean on my back on the doors and feel does the door flexes inside or not , i felt it positive on all MS < 5l cars and datsun cars. and little bit on other cars in market , when it came to fiat and VW it was not the door it flexed it was my back flattened

.
so my search ended with
punto mjd
or
polo tdi
, i test drove all the cars and felt VW polo to be more suited for me , felt like home , and punto was bit sluggish on steeps and low rpms.
when i discussed it with my parents , we planed to go for a Pre owned insted of a new car , even i was in same thought like lets see how it works out and after few thousand kms of drive i can sell it and get a new one as per my taste, (like Tdi or GT tdi

)
The Hunt
I was in front if my phone starring at olx for more than two weeks lots of cars and lots of Test drives , all cars seems to have some problems like scratch , dent , less power , suspension noise , door noise etc , which where the signs of poor maintenance.
Finally on a fine day i saw this car , having no scratches and dents on it and as i already had many previous experience, i knew what to look at , it seems to pass all my tests and even though i was not convinced and when i took a test drive , i was sold, car was accelerating like a new car and there where no suspension noise or rough engine noise , also the turbo pickup was clean and neat , i silently came back to seller house and said i will consider this car and i will let him know whether i am interested or not on next day , i immediately got into palio and drove to my friends house and talked about the car and its condition and next day when we where to the seller house there was already another person ready to buy the car , luckily i informed seller that i will come at morning and make a final test drive with my friend and he was smiling while he was driving , i could feel what is running in his Petrol Head , i was silently sitting and when we reached back , the other buyer was waiting and i told the seller that , please let them go , we are wasting their time '' , then we finalized the car for 3.75l and took the car .
Took delivery did a pooja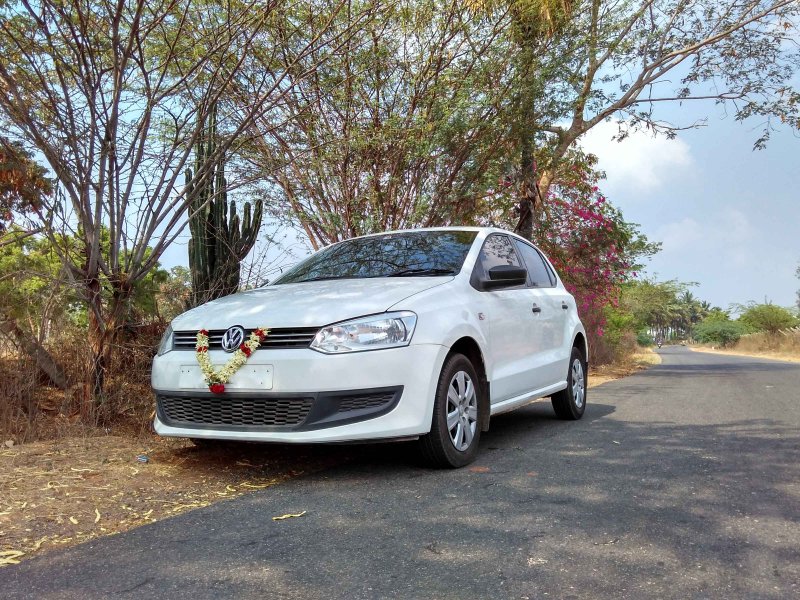 Condition and Variant of the car :
Engine : 1.2 Tdi , turbo direct injection , with Variable Geometry turbo and Intercooler
power : 75 ps
Variant : Trendline
year : 2012 November
Kms Run : 89,000 Kms
Tyre condition : two new Apollo tyres at front 165/70 R14 , Rear MRF 175 /60 R14 .
First Impression :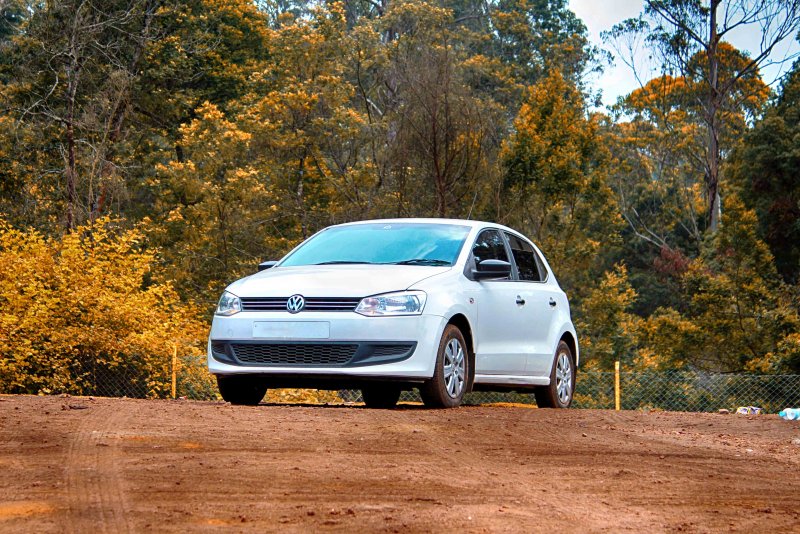 car was Rock solid
Silent cabin even at 100 kmph
No steering Vibration on Roufgh roads
comfortable seating position
No Body roll at all
perfect car for me
Dislikes :
low ground Clearence
Single barrel headlamps are not that great
flimsy Ac vents
Performance :
Very first look at the engine bay i all i could say is attention to detail and quality of materials like connectors , wires , the way each component was designed ,every thing was meant to last for many years , i opened the turbo inlet hose from air box to check the fins status , fins where looking like new and there was no shake what so ever , vgt shaft was having adequate play and stiffness , on road performance was clean and neat , easily controllable and turbo pulls the heads back from 2k rpm to 3k rpm , especially on 3rd gear , zip's like a king on highways even on high opposite winds, engine sound while accelerating is more like a petrol car rather than a diesel car , which i used ti hear from mjds . car can easily reach 100 in ease within 4th gear in normal acceleration and on 3rd 120kmph on max revv. and clean sweep till 170+ easily and rises slowly up to 200kmph at max rpm. i some how forgot that its a diesel engine and it just revs up like a petrol car , even though the car has 3 cylinders , the balancing pulley besides the crankshaft does the job sweet .
Ride and Handling :
There is no road noise at all , i could feel the strength of the chassis at turns and sudden pot holes , that too from a maruthi to a car like this , still couldn't digest why resale value of VW are low than half the price petrol Maruthi, he cabin was well insulated and tyre and road noise is controlled well, you can hear your own breath yourself clearly , even the doors where well damped and this makes speakers sound well with a clear frequency response and sound quality with punchy bass .
The ride is stable and flat on high speeds and takes out all the bumps and pot holes on low speeds , as car is low you move slightly even at harsh roads , the steering had tilt and rack option at trend line itself, seat height adjust was not there though , the car always handles well at corners with great control and confidence inspiring .
why i liked polo even more
As a Auto Enthusiast and Diy Guru, i would always like quality and touch of perfection , few things below mesmerized me
All the electronics like door lock , horn , indicator , parking lamps , Ac contol , window control all where connected to BCM ( body control module ) where advantages where , you can swap the instrument cluster of latest varient if u want as it just communicates with bcm and gets all the information it supports to display , Even a auto headlamp and Climate control module can be swapped in ease no wiring or alterations needed, every thing has a communucation port so all is in control with BCM , the advantages are horn honk while locking and unlocking doors , off time for dome light after doors are shut , fog lamp turns on the side we turn the car , doors lock after certain speed , car automatically puts itself to external air mode when mode is kept to windscreen position , wiper swipes no. of times when the knob is pulled like dim dip style for no of times you do that fastly , etc
the doors where damped in a professtionl way , with plastic padding and well insulated from outer panel.
all the plastics are more than 4.5 years of age still looks new
Ac is Extra ordinary and bone chilling
windscreen washer spary is more like spray than a two lines of jet of water
easy to remove and fit any panels and the shape of panels wont change denoting the panels where removed earlier
seperate knob for lights
the list goes on ...
Mileage :
For an car of 4.5 years of life and 90k odo, i did not expect much on this department , still it returned 17.5 kmpl on city use and 20.3 on highway use, i strongly recommend all to do a tank full for better mileage.
Things to do:
At 90k odo i need to change the timing belt kit and water pump , which would cost me 30k on oem service centers and 25k on a reputed private service canter
seats where not having any covers and needed a wash and planning for a towel based cover for easy maintenence
hid projector headlamps with 4300k 55w , uglare system
light for boot
fog lamps
over all i feel its a car just made for my taste. please rate and comment if u like the review, share your thoughts.
Last edited: