Joined

Dec 26, 2017
Messages

18
Likes

22
Location
PRELUDE
Just to give you all an introduction about myseIf to members at TAI, I come from a middle class family and like every other middle class family member, my desires have been endless. Over and above, I am crazy about automobiles, be it Two wheelers or Four wheelers. My better half finds me to be an auto maniac.
First ever vehicle I owned by myself was in 2005 which was the second gen Pulsar but later due to some health issues, bought a pre owned Maruti Zen (1997 model) in 2008-09 which had carburettor engine which was a lovely machine. Unfortunately don't have any pics of that vehicle to share. Eventually I sold that machine and stuck to 2 wheelers for sometime. Owner an RX135, Electra 350, Classic 500 in the interim until I found my Black Beauty in 2014 - a pre owned Ford Fiesta ZXi 1.4 TDCI (2007 model) which was a beauty of a machine on which i munched quite a few miles for about 3.5 yrs.
Pic of my (EX) Black Beauty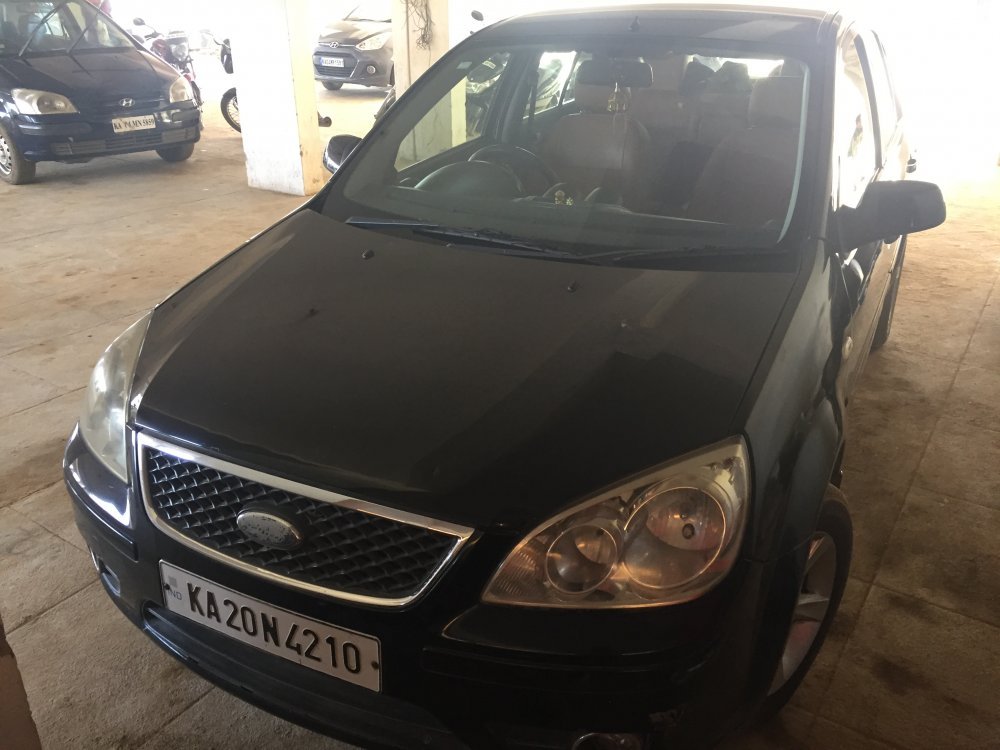 Coming to my current car, I was quite fascinated by the magnificent unveil of Tata Nexon in Feb 2016 Auto Expo. And kept following various threads here in TAI as well as all possible Automotive websites which had updates about this beautiful machine. I used to be always glued to Youtube and other automotive websites all the time reading about Nexon and used to get taunted by all my friends for it. My eagerness to see the final product kept rising day by day and the delay of launch used to drive me nuts.
Finally it was an evening in Sept 2017 I got to know that a demo Nexon vehicle had arrived at the Tata showroom close to my workplace. Without any further delay, took couple of my friends and went to the Tata showroom and had a good feel of the vehicle. Could not wait to get my hands on the vehicle. Within a week after multiple visits to the showroom, I got a very short test drive of the diesel Nexon and must say the car really started growing on me. Soon Tata Motors announced that they are organising Skill Arena event in all the major cities - Delhi, Mumbai, Kolkata, Bangalore etc and without any hesitation, registered myself for the event and the day had arrived - Nov 26,2017. Event helped me understand the capabilities of this beautiful machine. Subsequently, had couple of test drives including my family too and made my mind to go ahead with the purchase. I had made a short video of the Skill Arena event. Please find below the link for the short clip
Tata Nexon off road capabilities, Skill Arena
Dealership and Booking experience
At the Nexon Skill Arena event, I got to interact with a SA from KHT Motors, Whitefield, Bangalore. He was prompt with his service and follow ups with me. Towards end of December 2017, I was informed that prices for the vehicle is going to be hiked by around 25k. So, in a sudden turn of events I decided to pay the booking amount of Rs.11000 on 28th Dec'17. On 29th Dec'17, received a call from the sales manager stating I have to share some of my important documents for booking confirmation. I decided to take it a bit slow with my purchase however due to the invoicing been done on 31st Dec'17 the account team started following up and then wanted to go ahead with the purchase asap.
Was looking for Finance options and Tata Finance came forward first with their offer, however days passed by and they kept playing around saying the finance was approved for 90% on road, later they cancelled. Also tried various other banks for their offers but eventually ended up with Tata Finance. The tenure I chose was for 7 yrs and they had agreed on the same. NOW COMES THE KAHANI MEIN TWIST

- Please note that I had provided all the relevant documents required for loan processing but had not made the Downpayment yet. I had to sell my old car for the downpayment amount, however one fine morning I get a message from Tata Finance stating the my first EMI was going to start 4 days from the day I received that message. Ironically, I don't even have my new car but the First EMI of the loan is due in the next 4 days. I was shocked and had very little idea on my next course of action to get this sorted. Tried contacting the customer care but the timelines provided by them to resolve this wasn't really sufficient. I needed an immediate action that required some serious involvement hence dropped an email to the top executive in Tata Motors. Within an hour of me dropping the email, i received a call from the top guns in Tata Motors, Tata Finance and KHT Motors on a conference call and got a resolution the next noon. After quite a lot of confusions, the delivery was set for 24th Mar'18.
Delivery Day (Finally
)
They had agreed to deliver the car by 3:30 PM, so had reached the showroom accordingly. However, as always the delivery process got delayed. Roughly 2 hrs went off in the final documentation formalities. But my eyes & heart were glued to my shining Bluebird parked at the delivery bay and some final cleaning up happening.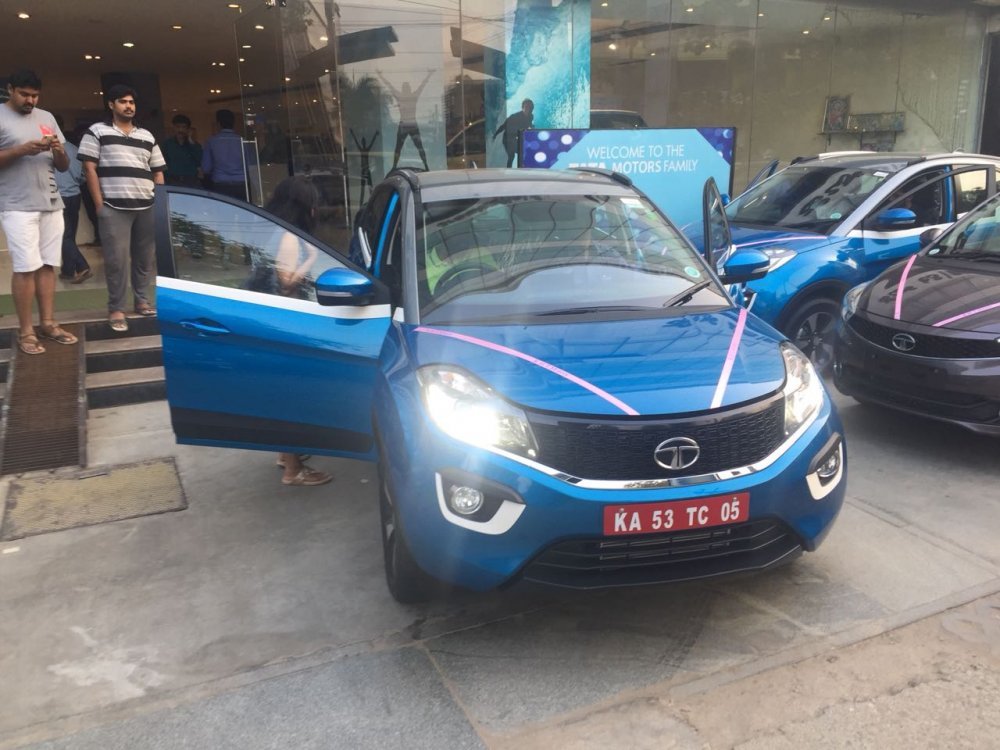 Finally the cake cutting ceremony and the Famous Key handover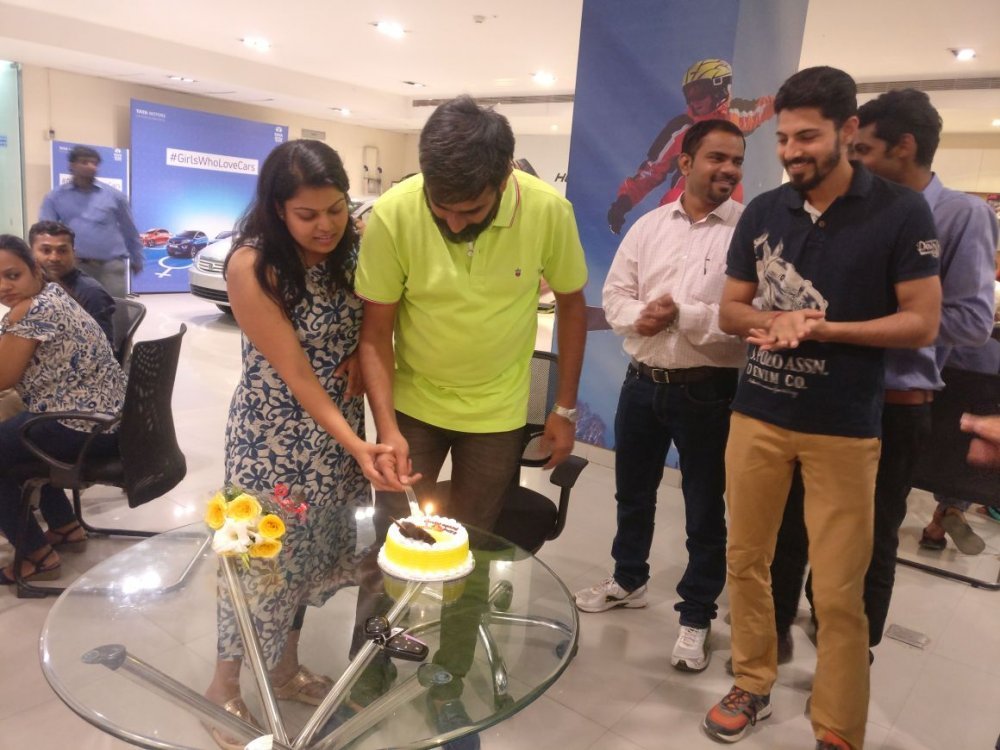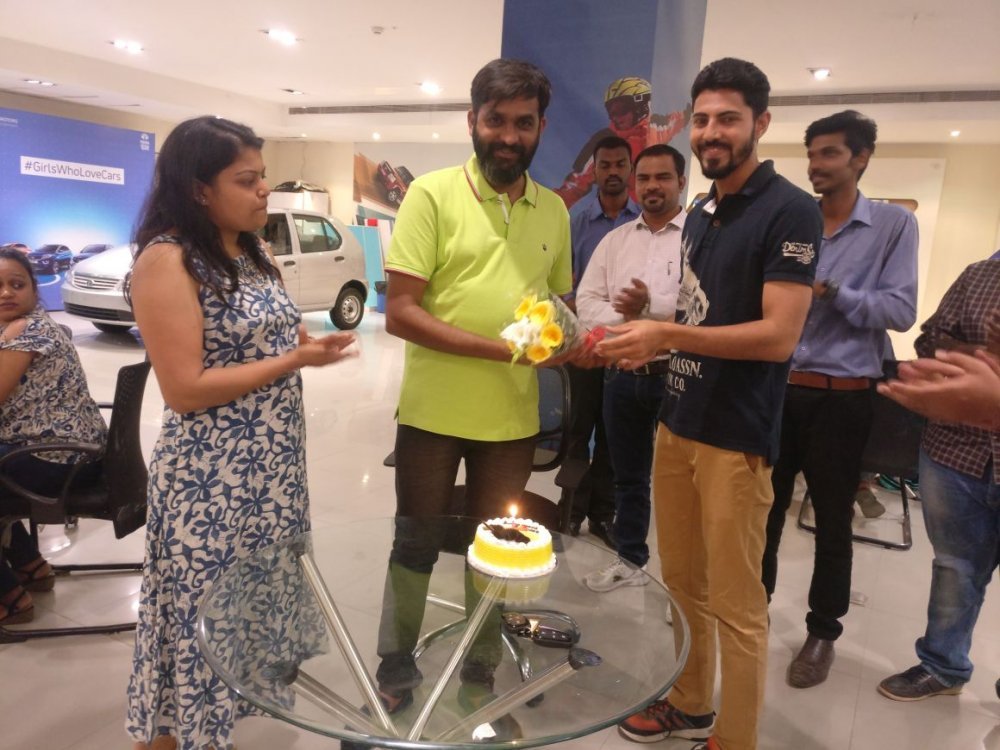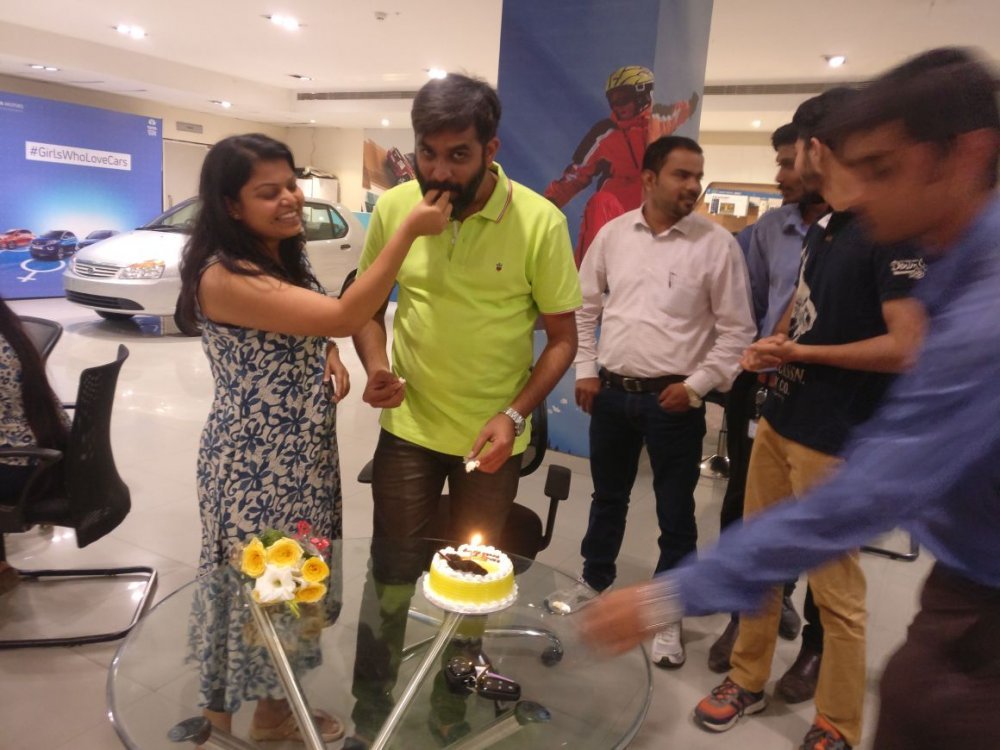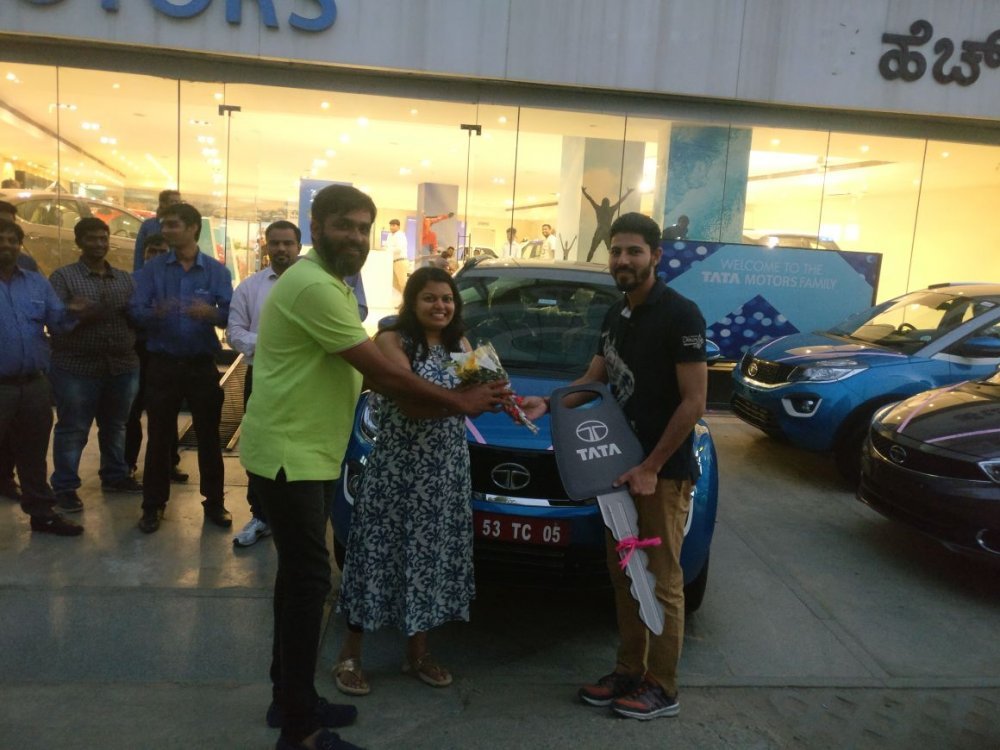 Started our new journey with the Bluebird and took it directly for blessings for Vahana Pooja (Vehicle Pooja) and got back home with a great sense of achievement. A good friend of mine who resides in the same apartment who also owns the massive 2.2L Ford Endeavour was excited the Nexon is flesh and had loads of praises for the BlueBird. He appreciated every bit of this car - music systems, tyres, color etc.
The KEY to Happiness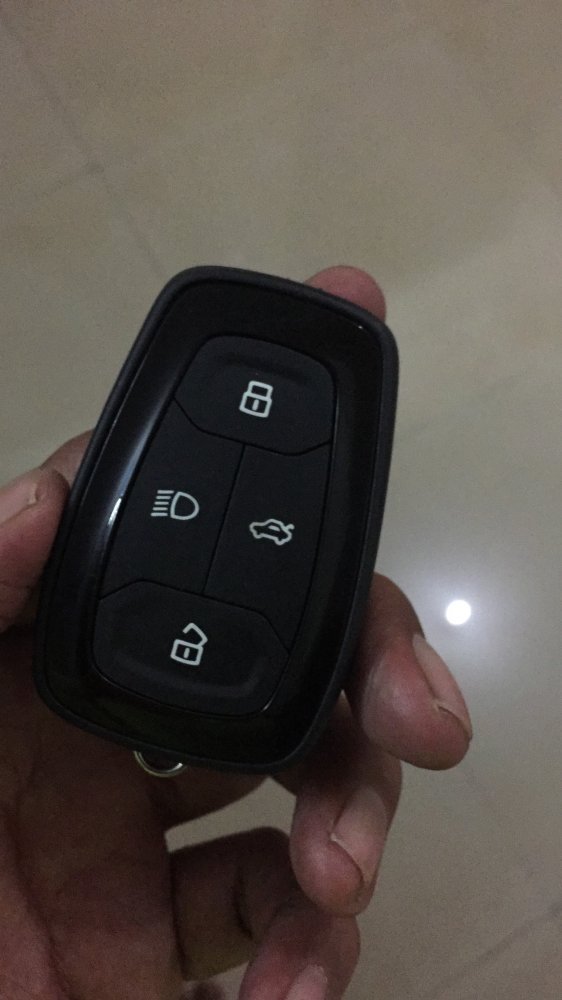 My Ex and the Current Love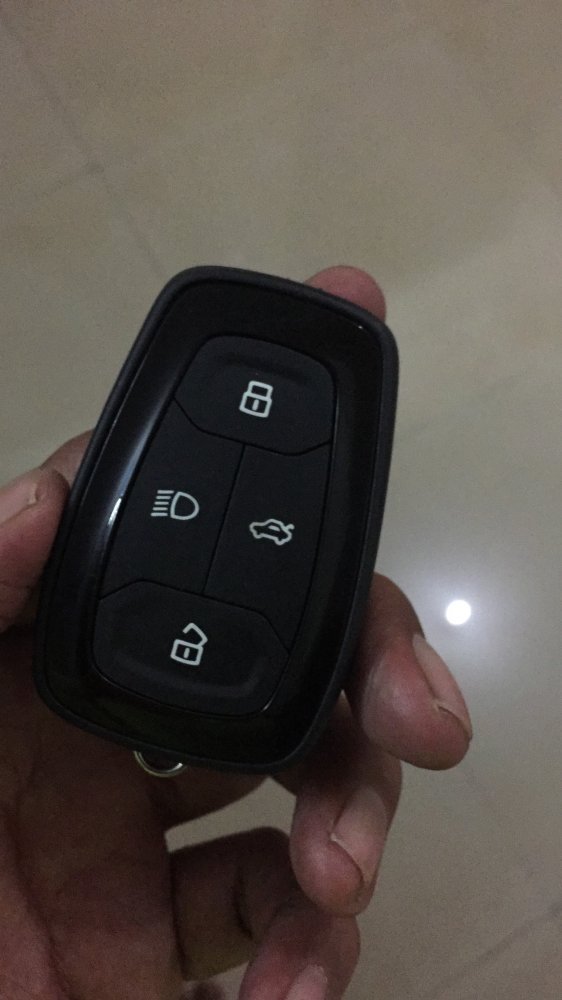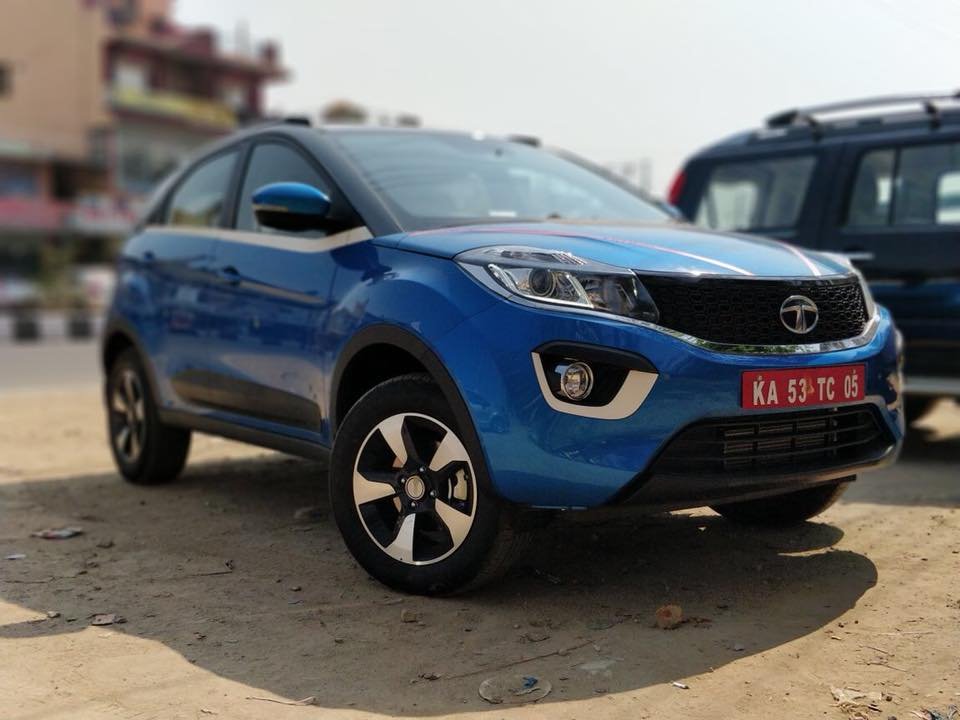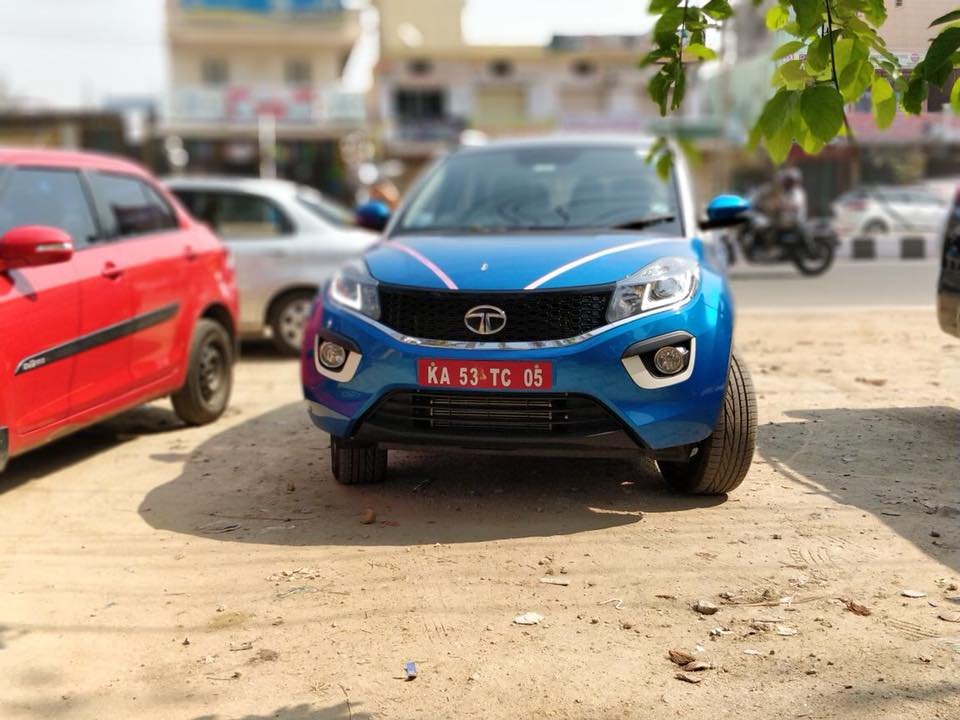 This is my humble attempt to capture the series of events which finally led to the possession of this great product. TATA NEXON
This is my first in any Automotive forums. Kindly pardon me if I have not followed any rules & regulations of TAI forums. Also share all your feedback on this short Ownership review. Would love to post more updates from my 11 months of my possession, based on the feedback I receive my buddies at TAI.
Thanks for all your patience in reading this thread. Request you all to share your valuable feedback.