My 1st Car Ertiga ZDI: Story of a Noob (Updates 8020kms Done)
The Beginning
:-
As title says Ertiga is our 1st car, before this i never felt need to buy a car. I was always more than happy to be on a riding seat than being on a Driver's seat. But soon i realized that its going to get tough for my parents to commute by Public transport (bus, Rickshaw etc.) , Thane is getting overcrowded and there is least 1/2hr long line on Rickshaw stand , Getting on TMC BUS is even tougher , So finally after having a discussion last year we decided to buy our selves a CAR.
I AM A COMPLETE NOOB ! when it comes to 4 wheeler, being an automobile Enthu I have good knowledge about Engine and other mechanical parts, But What about tons of features that comes with it ? so I started reading on GOOGLE BABA ( that's where i found TAI). After almost a year finally i started visiting showrooms , Then i realized that i forgot to take " DRIVING CLASSES " How

i am , any ways to cut short one of my friend took TD's on my behalf and gave inputs on Handling, Engine , Body roll , Brakes etc .
Our Requirements:-
MOM
needed (Demanded) least 7 Seater with a good luggage space . NO COMPROMISE on any of it.
DAD
:- Wanted a Hatch , so that they can commute easily inside City like Mumbai or Thane. But he was Ok with Sedan also.
ME

got Confused. All i wanted was a Car with ABS, Air Bags, Reliable Diesel Engine , less body roll , because i knew that i will take that car often on Highway Drives for sure.
Finally after lot of pleading and buttering i managed to convince my mom for a Sedan (in her words ONLY A 5 SEATER ) .
Car's that i Shortlisted were
:-
FIAT LINEA
(top most contender ) : I Almost fell in Love with this one , Ekdum Fantush looks like KAtrina . Top model (emotion) is loaded with loads of feature and even there are more features that FIAT sales guy never explained to me . Head room and leg room is poor ,means No comfort for back seat passengers.
Vento
:- This is also a looker, has a great 1.6-litre, 103.5bhp Diesel Engine . Not much to talk about this one , has in general features .
TATA MANZA
:- The car has odd shape ( no offense to anybody), but If you are looking for Spacious car this one is your pick. I think TATA has improved a lot over Indica and old INDEGO . I just loved the amount of leg room and head room this car offers to you.
Till now Ertiga was no where in the picture as it was yet to be launched . On 21st April i got call from one of my friend informing me about Ertiga's launch. On 23rd April i went to see the car with my Dad, immediately i could see an MPV (correct me if am wrong here ) which ticked all BOXEs including 7 SEATER wala box . This car has Airbags (for ZDI) , ABS , a separate A/c unit for Rear Row , Interior looks great (although its pain in the A** to maintain it). So i quickly rushed to ATM withdraw some cash and place a booking for " Serene Blue ZDI' which comes well under 11L .
Pro's
1> Superbly priced (10.58L for Top mode)
2> Huge Boot space (only when rear row folded)
3> Sound quality of Music System is nice.
4> Great Leg room and Head Room
5> 1.3 multiget VGT is enough for this car. Never felt under powered.
6> A/c is superb.
Con's
1> Handling - Its a highway cruiser dont expect her to attack corners like a Pro .
2> Body Roll is what makes me nervous on sharp turns .
3>. NO ACC .
4> Last row passenger seats are not so comfortable . Only for short drives .
That's It .
Buying Experience with Navnit Motors
:-
I had average experience dealing with Navnit Motors . Sales lady had absolutely no knowledge/passion about Car . Dealer was pushing me towards VDI . When i told them that I wont buy car w/o AIR BAGS, I was told that "Sir Air Bags has no use in city, Even If you bumped into a Cycle bags will get deployed

. After listening this i told her to inform when ZDI gets allotted to me and am not interested in other variants .
Surprise Call
:-
On 5th August got call from Dealer that my Car is already in transit and car will be delivered to me by 20th of August , Finally the Ertiga our 1st car is coming home. I quickly informed my dad about this and he to was happy by this news .
On 11th August PDI was done from my side . But unfortunately the long weekend with 15th August holiday delayed the Delivery of our car. Here are some snaps after PDI and Pooja was done.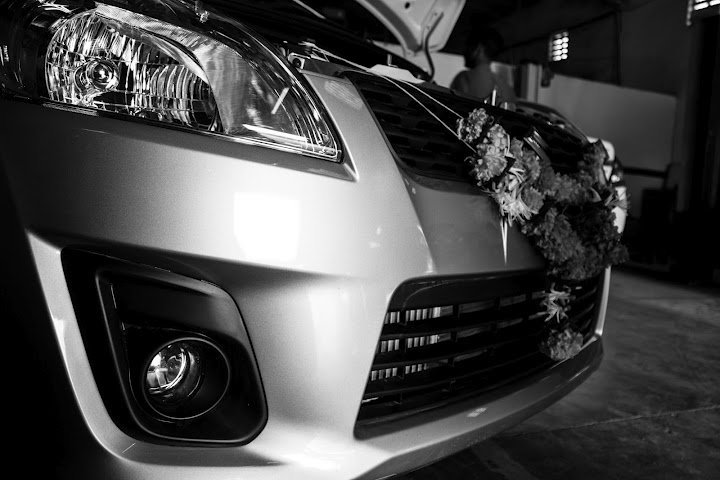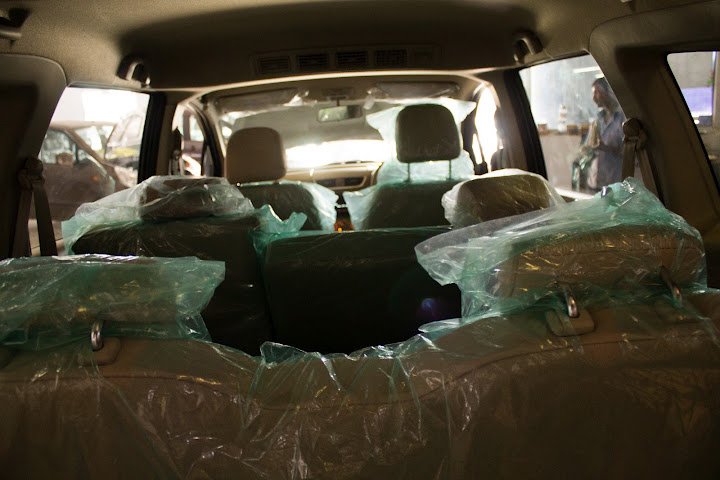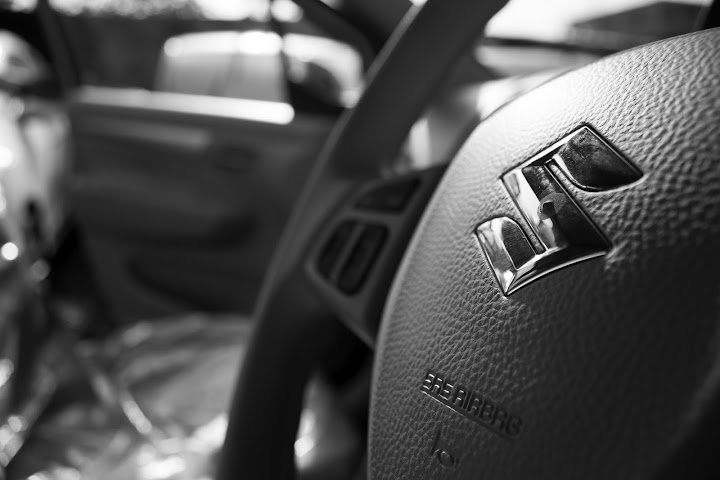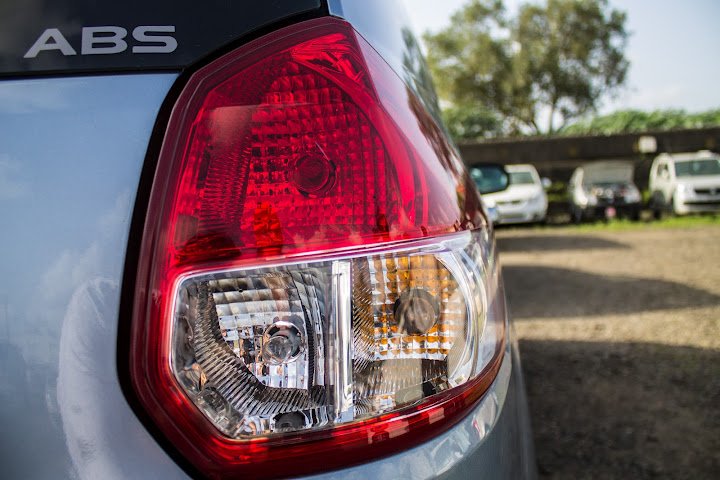 Delivery Day
On 23rd August I fixed appointment for delivery , Me, My Dad, My Sister and my uncle's Driver went to take Delivery , Got it delivered by 5.30 . I never knew there are so many formalities/paperwork to be done before Delivery. It took almost 1/2hr to complete them, Already i was getting impatient so i requested my Dad to get it completed and i went to Back side of Showroom to see my Car . I clicked some pics while mechanics were preparing her.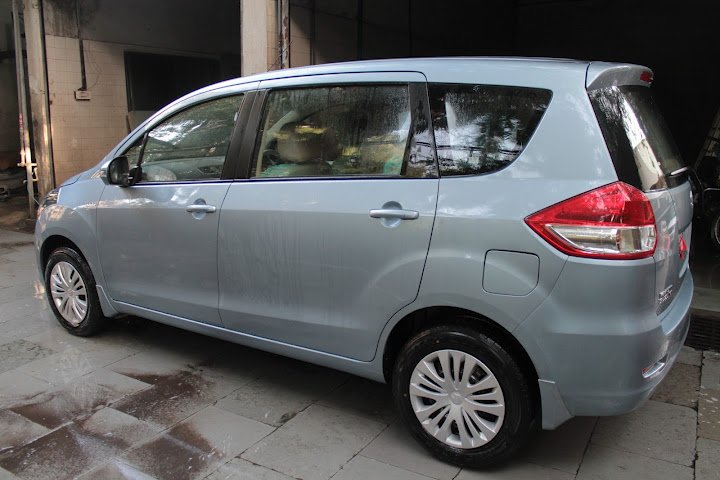 After completion of paperwork My dad performed Pooja .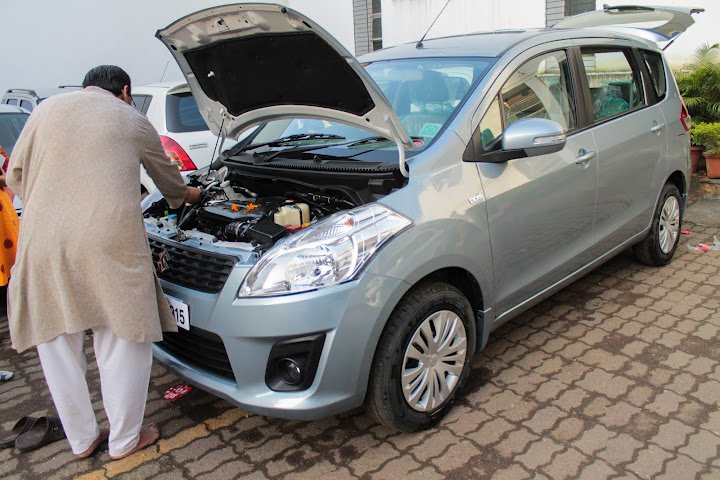 Left to Right My Dad , Sis and Executive .
Thank you Reading my Buying experience and apologies for my poor English. Soon i will update you people with my 1st longish Drive and some of my Comic mistakes .
Oh ! and i forgot to tell meanwhile when i was waiting for my Car i Finished Drving School and got my Pakka (permanent) License to Drive .
2> Also the car has come without alloy wheels as there was shortage if alloy in MSIL so they shipped it without Alloy Wheels. Well i got nice 35,000/- ka refund which i can invest in better Quality, Designed alloys
Last edited: