It's confirmed, MV Agusta, the famous Italian motorcycle maker with a rich racing heritage aims to enter the Indian two-wheeler market as early as within a few months from now in 2012. The initials MV stand for Meccanica (mechanic in Italian), Verghera, the Italian city where the very first MV Agusta bikes were built, and this distinguished company ranks amongst the world's foremost makers of seductively styled, premium superbikes. MV Agusta acknowledges the growing potential of the Indian two-wheeler market, with CEO, Giovanni Castiglioni (son of biking legend Claudio Castiglioni) and Commercial Director, Umberto Uccelli being firmly committed from the helm of their company to commencing sales in India soon, being aware that several rival European manufacturers like BMW Motorrad, KTM (with Bajaj) and Ducati already have head-starts and are on their way to establishing Indian foundations. The heavyweight Italian bike maker foresees the Indian premium bike market as set for sizeable growth over the next few years.
Having recently entered other markets, including Australia, Canada, Brazil as well as China, MV Agusta are already well on their way to setting up shop in India. Various options are on the table, but MV Agusta is likely to grab their initial toe-hold here by commencing direct import of bikes as CBU's (Completely Built Units) in 2012, while pondering ways to leverage the lower duty structure offered to manufacturers willing to explore motorcycle assembly on our shores. No, MV Agusta is unfortunately not confirmed to be showing its motorcycles at the Indian Auto Expo in January 2012, but we can find cheer in the announcement they have already performed an in-depth evaluation of our market and realize their 4-cylinder as well as 3-cylinder bikes have great potential, so Indian enthusiasts can expect to see no less than the complete MV Agusta model line-up when sales begin.
Expect the handsome, naked bike Brutale family including the Brutale 920, Brutale R 1090, Brutale RR 1090, and spanking new Brutale 675 (numbers denoting engine capacity), apart from the sleek four-cylinder, 998cc F4 (192bhp) and F4 RR (198bhp), as well as three-cylinder, 675cc F3 superbikes.
As around the globe, MV Agusta motorcycles can be expected to sport premium price tags in India, but being able to see these exclusive European sportsbikes, and hear their glorious exhaust tones is certain to tempt an elite few Indian bike enthusiasts, who will already know that MV Agusta are for superbikes, what Ferrari is to supercars.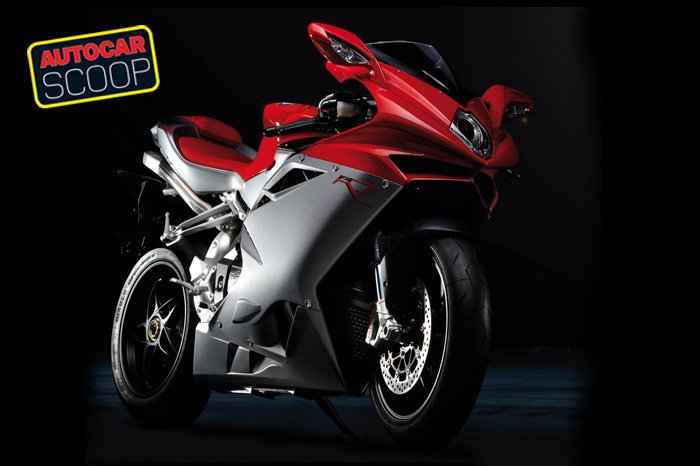 Source: Autocar India