Joined

Aug 7, 2012
Messages

41
Likes

3
Location
An Update
First 1000 Kms in 10 days then then another 1000 Kms in next 20 days; What was i doing? Did i purchased XUV for a show piece? Why i didn't drive it in these 20 days unlike i did it in first 2 days? What is wrong with me?
I Love driving. CHECK
I Love outing. CHECK
I Love living life. CHECK
All right boxes were ticked, but still i was away from Mr Black for few days. Why i am so concered is becasue of the fact that i am not the person of trait who is ignorant, May be XUV is the only vehicle in my life so far that have run so little in even after a month's of ownership. Before buying the vehicle i was expecting 3000+ KMs of travelling per month & being an SUV i would not be wrong if mileage figures closes 4000-4500 KM mark.
Anyway, It was my work assingment which kept me busy in these days and i hardly had time to enjoy the drive. Now i'm back in senses so life is back on track. I have clearly told the Directors of the company NOT to assing me those tasks where my life is compromised.
You never know how long you'll survive but surving is not as important as "Living" is. (Oh my god ; am i a Psychologist now), you can see from my writing that official work pressure impacted my mental imbalance. Anyways its better late then never so i quickly decieded to make a trip to friends. Mohali (Chandigarh) was it. Few phone calls to friends and it was all fixed.
I filled the tank up to brim, It sipped 47.92L. Tyre pressure was corrected to 32Psi (front and Rear) because we were 6 who had to travel. Our journey started at sharp 3.00am in the morning with very light traffic at NH-1. With couple of breaks it took us 4 hours for 250 Kms and we reached our destination at exact 7.00am. As per OBD the mileage was fluctuating between 18.00-20.00 KM/L with speed varying from 80 to 110 KMPH. Out of the red fuel blocks which are 10 in number in instrumnet cluster only 2 blocks disappeared in these 250 KMs drive. Enjoyed the breakfast with one of our relatives and then hanged out with friends the whole day, some shopping, some knick-knack, some spicy road stuff and some sort of get together in evening. In real sense we were enjoying the life. Now i realize that it was real me. [Sometimes life doesn't give you opportunity, you have to make out on your own; Its worth it]
Something interestign happened on way back. Started in afternoon the next day, Traffic was moderate and by no means heavy. I kept the ligth foot and sailed without any hiccup. I was at around 100 Km/Hr when i was overtook by bunch of fellow youngesters in their Innova. To be honest i don't know why were they circumfrencing me but every now and then they speed up and then slow down. I lowered my speed to 85~90 Km/hr but all this happened for some 10-12 Kms. I wanted to let them pass me and gave them every opportunity to do so but they were stubborn (I believe they wanted to race). I dinn't wanted to do it as car is still in run-inn period but driver inside me kept prompting to press the metal for just few minutes. I struggled a lot inside on my own and then finally heart won over head. Pressed the gas pedal slowly &..
90-100 >
Innova did the same (Youngsters inside were laughing)
100-110 >
Innova did the same (Youngsters inside were laughing)
110-120 >
Innova did the same (Youngsters inside were laughing)
120-130 >
Innova did the same (At this point of time the youngsters inside looked more concerned)
130-140 >
Innova did the same ( All younsters appeared silent)
[There were two reasons for gradually increasing the speed. Firstly my car was in run-inn period and i didn't wanted engine to strain ; & Secondly, i wanted to see the impression on youngester's faces) By no means i wanted to induldge in racing, I respect others on road equally as i respect myself.
140-145 >
Innova was strained and was hardly able to cope up (All Kids appeared afraid, two of them even wore there seat-belts at this time)
145-160 >
XUV was way-way ahead and much more was left under pedal. After few seconds could not even spot Innova in ORVMs.
Gradually lowered the speed to 100 and put it on cruise control.
After the end of this epic, I was sad as well as happy.
Sad because : It was illegal.
Happy because : Those two kids wore their seat belts & in future may be not instigate anyone to race (atleast with Innova to XUV)
Few Ornaments for Mr Black which were purchased when less driven.
Body Cover : I knew that my work assingment will not allow me to drive it so it was purchased proactively. For almost 10 days it wore this.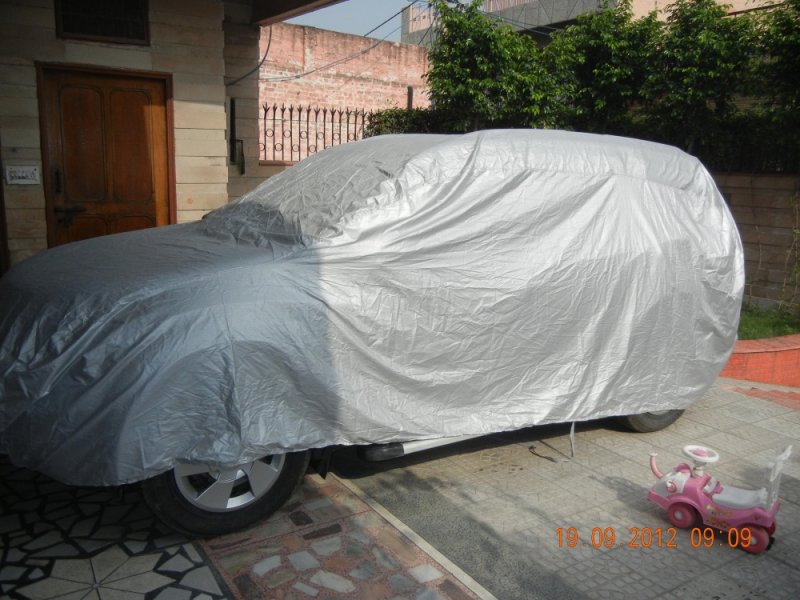 Side Steps : My son (who is 20 months young now) had difficulty in entering the cabin, He likes to do things on his own (Like father like son), Never took my help but kept trying and trying so just to make his work little easier these side steps were purchased. This accessory is NOT authorized by Mahindra as you can see from the desing but this was the only desing which was more flat and more suitable for my kid. Though almost twice expensive than OEM accessory but as i said earlier "Enjoy Life". Why shall life drive you, why don't you drive the life. Now every time my son jumps over this step to get inside; I smile and its priceless.
Rear Bumber Guard : I might not bang into someone's rear but others can.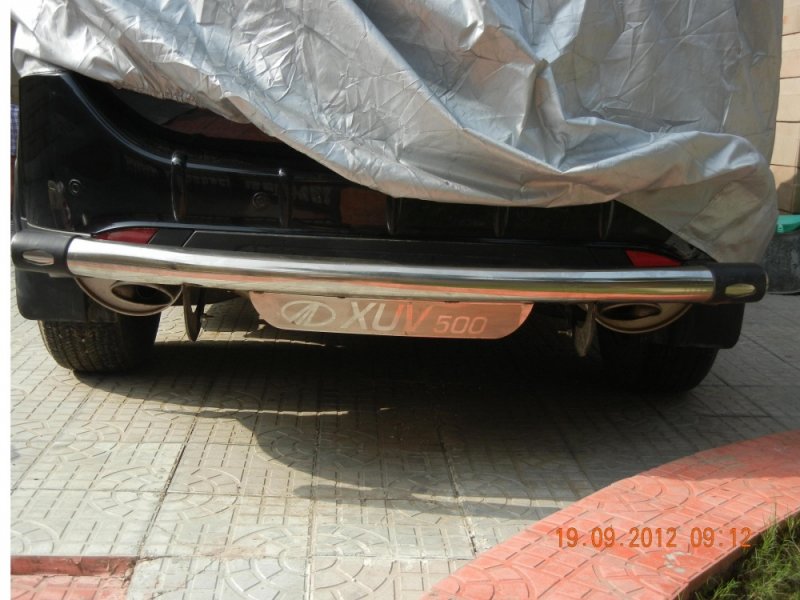 Last edited: