Joined

Aug 7, 2012
Messages

41
Likes

3
Location
Dear Everybody,
I was new to TAI until few weeks ago, but was a regular visitor on the website from some time. I went through various forums & reviews and found the content matter on TAI not only helpful and informative but is also enlightening one. Thank you TAI.
The reason why i was a regular visitor on the website was to collect as much information as i can to put my hard earned money on a vehicle of my choice. I would like to specially thank Iron Rock, SPMM, raj_5004, Lovecars, Rider99 , Shona210 & lot others whose ownership reviews directly/indirectly helped me in taking a big leap. Heartly thanks to all of you.
Now as leap has already been taken, please welcome Mr Black : that's the name i've decieded for my Black XUV5OO !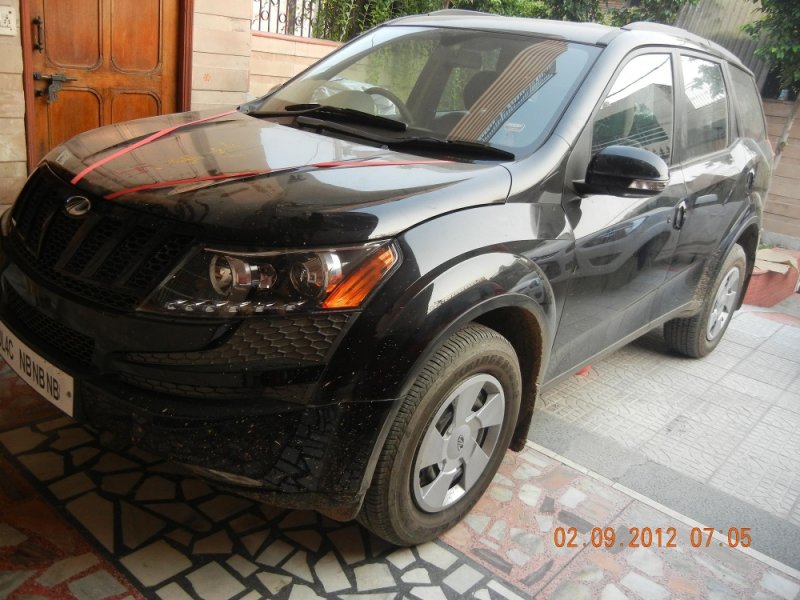 (Why Mr black is dirty, i will let you know later)
HISTORY
: No one in my family ever bought vehicles as finances never allowed, Its been only after 2001 when i turned 18 & got my driving licence & purchased my first bike as Suzuki Fiero for Rs 50,340/- (I saved by taking tution classes in 3 years & the then was a "University of Delhi" student pursuing graduation. Till then my daily commute was via DTC buses or U-specials (University Special buses) from my home village on outskirt of Delhi to University of Delhi's North Campus.You will be surprised to know that, that Suzuki Fiero is still with me and is running strong and have seen over 1,50,000 Kms of various roads. You wil be further surprised to know that in last 11+ years my bike has seen service stations only 3 times (first 3 free services) and till date i'm servicing my bike on my own at home.
Why i love cars?
To be honest i don't know. As a child i used to watch buses/ trucks and some occasional cars on NH1. My the then home was preety close to Highway and could see traffic from my home's terrace, i'm talking of mid 80s when only Super-Dooper rich people could afford cars and the way those PAL cars overtook those relatively slow moving buses/trucks alwaysfacinated me: May be this is the only reason why cars are my love right from my childhood.
Why XUV?
To exactly know this there are certain reasons which are interlinked.
Early 2008
: My younger brother got admitted in College, I did not wanted him to travel in crowded DTC buses so Fiero went into his service & i purchased for my daily commute a used RE Thunderbird had only 9880 KM on the ODO. It served us very well and after using it for 2.5 years i traded it off at the same buying price.
Mid 2008
: As RE was traded off & i had nothing to commute, I purchased a used Hyundai Getz 1.3 GLS at a very reasonable price which had 28,000 KM on the ODO, Getz is still with us, ODO is at 1,10,000 KM as of now and is running perfectly without any hiccups.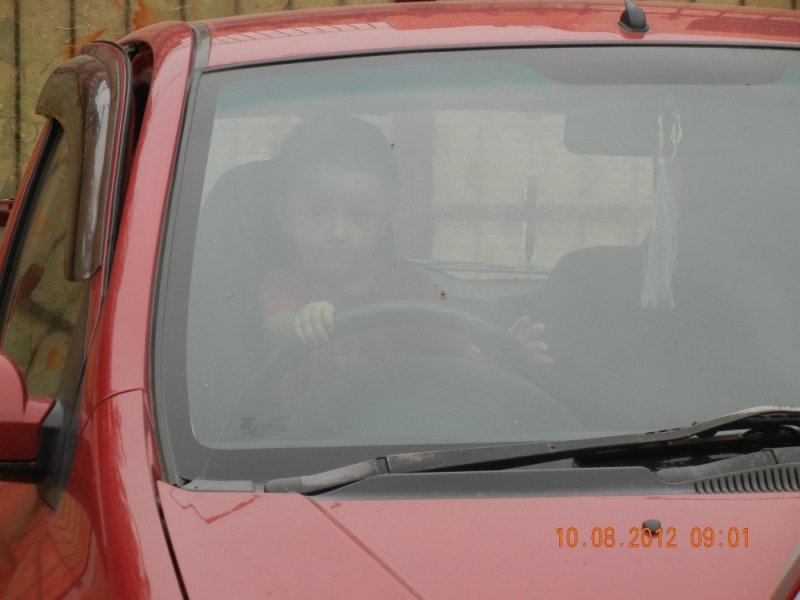 2009
: My brother wanted to have a modern bike, we purchased Yamaha R15, and excellent machine but still something was missing as it was good only for sprints but was by no means a comfortable bike. Riding posture of R15 makes your arm (specially wrists) cry & what to tell of back. But still the machine was superb, 0-100 sprint timings were great & i loved to rev it occasionally. As of now ODO is Close to 26,000 KM and mileage at 40-45 KM/L.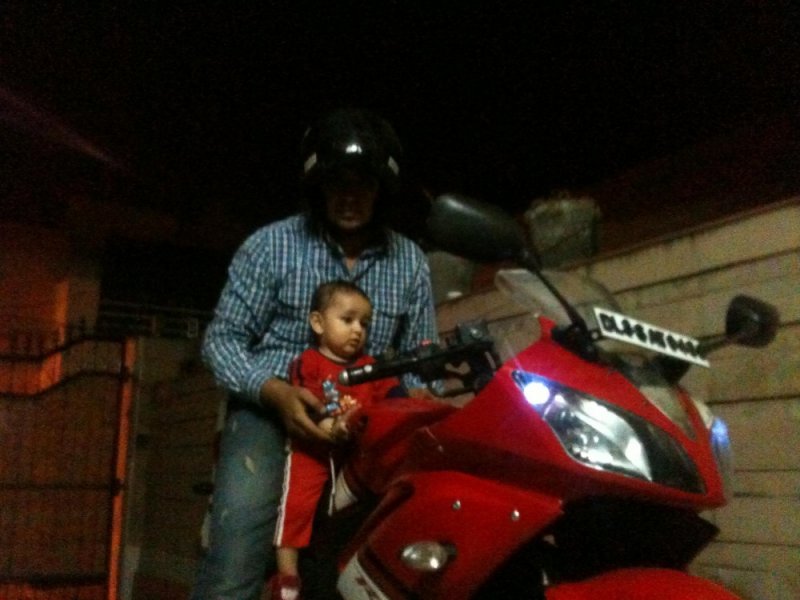 For short trips i never uses car. RE Thunderbird's comfort was deadly missing, So we bought another RE, this time updated version of Thunderbird a "Twin Spark". Only visible changes were the UCE engine, Front disc brakes and shift of chain set to right hand side & Self start. As driving dynamics were identical to old RE i was a happy person again. Its ODO as of now is closing 25,000 KM with a very decent mileage of 45-53KM/L. Very much satisfied with it.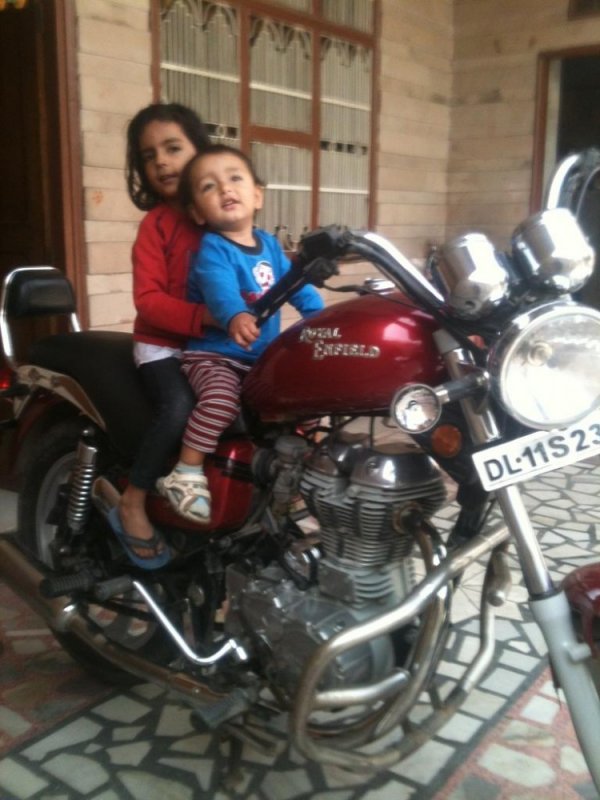 Late 2009
: I got married, My wife is also working and her office commute one side is 35KM. Again i don't want her to commute on public tranportation because of safety issues. She don't know driving..then?? Then what; correct those things which are wrong: I and my brother made her learn driving on our own and after successfully passing her driving test in second attempt she got her driving licence & Getz became her prized possession within 6 months. We go Getz CNG fitted as daily drive was close to 75-80 KMs. Rising petrol prices was always a problem. A 14 KG CNG cylinder with a range of 220-250 KM needs refilling every 3rd day, Me and my brothers were again on bikes. I desperately needed a car for myself.
Early 2011
: I became father, the boy which in few of the pictures is my son, you can see from his face expressions that how much he loves machines & i'm sure even he don't know why.
Nov 2011
: I happened to drive Swift VDI of one of my relatives and i was sold on it, straight away booked SWift ZDI with a waiting period of 4 months.
Dec 2011
: Price hike for diesel cars was announced, Swift ZDI at the time of booking was 7.17 L OTR which will become 7.8~8 L OTR. Deal was becoming expensive. Meanwhile i happened to meet one of my college class-mate / friend who is manager at Ford. He offered me a very good deal on Ford Figo, I got the car before price hike at only 5.08 L OTR with free accessories such as floor mats, Left side rear view mirror, reverse parking sensors, teflon and antirust coating & free 3rd year extended warranty..all this in 5.08 L. He even helped me in arranging OEM alloy wheels and OEM music system with bluetooth connectivety at only Rs 20,000/-. Even RTO file was kept on hold and my Figo was only registered in mind Jan. I was very happy again ; afterall i saved around 40,000/- on Figo and appox 3L on Swift.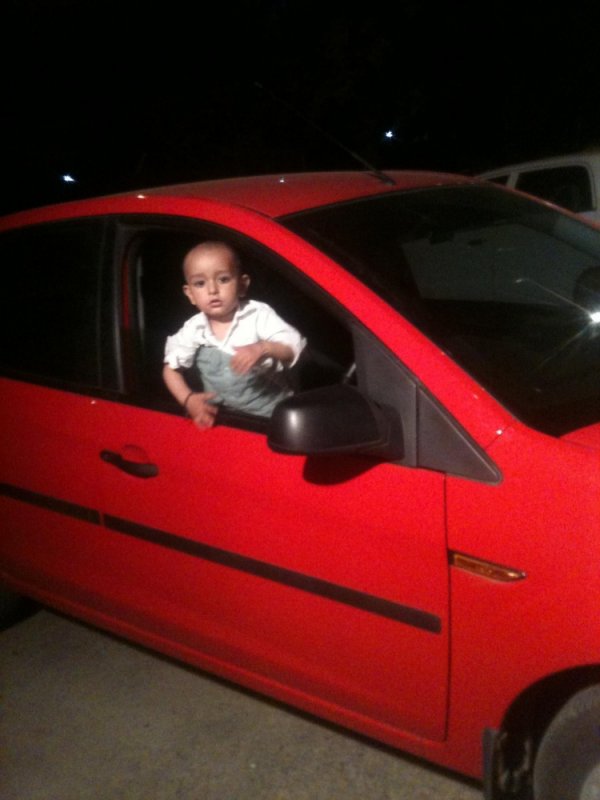 Jan 2012
: As wife is perfect driver now, she liked Figo more over Getz, convenience of not refuelling it every 3rd day would made her life lot easier. Hence Figo became her ride and since Jan 2012 she have travelled Figo over 15,000 KMs. A full tank range is around 800 KM which is 18-20 KM/L with mix of city and highway. Getz was retained back with my brother as he loves comfort of Getz.
June 2012
: Since Jan 2012 till Aug 2012 my daily commute was on bikes, either R15 or TBTS. My work kept me busy as i have to travel a lot, In these 8 months i have used public transport too, even DTC buses. Somewhere in my heart i always wanted SUV because of its "go anywhere" ability plus the family was getting bigger so i wanted to have a bigger/safer car which can easily accomodate 5-6 people. I had shortlisted Innova and XUV. Initially i was bit skeptical about XUV but various ownership reviews on TAI and others websites helped me lot in decieding for XUV, "Thank you" is a small word for the supportive gesture.
Booking Process
: After lot of test drives, Booked black XUV W6 on 10-June-2012 from Sri Durga Automobiles, right from day one i was in constant touch with M&M which helped me lot in savings later.
Why W6?
: Less electricals hence less complications morover i personally don't like leather seats. I however like alloy OEM alloys but they can be purchased as an accessory from deler for 36K.
Why Black ? : I love only dark colors, Getz, Figo, RE TBTS, R15 were all red, Only Fiero was black hence it has to be black.
Dealer Attitude
: Public dealing is good, but when it comes to money, they try to rip you off. I was given a quote of Rs 14.08 L OTR which as per them includes mandatory insurance of Rs 56,500-58,000/- , Accessories package of some Rs 25,000/-, Some logistic charges of Rs 8,500/-. I have heard horror stories of being robbed by these delers and hence kept M&M and dealer in my email loops which ultimately helped me in bringing down the OTR to Rs 13.43 L. A whopping savings of appox over Rs 60,000/-, Even vehicle was delivered within 80 days of booking. After affect of this was that i was not given any free gifts, not even choclate box !!
But i am being offered this by TAI honourable member SPMM : May be some day i will definitely come and collect this from you

Built Quality
: I will rate it 9/10, 1 point goes off because of front fenders (which are not metal) and absence of Ladder frame.
Ride Quality
: Bit hard on slow speeds but better as vehicle gains speed. I have way to improve the ride quality, Instead of 235/65 R17 i will get the tyres changed to 255/65 R16, this will increase "Side wall height" of the tire without affecting overall diameter of the wheel. Some other benefit of doing this are :
* Cost : Michelin R17 costs around Rs 18,000/- but R16 will cost you only Rs 11,000/-. So on set of 5 tyres you will save over 35,000/-
*Availability : 235/65 R17's availability is rare, You will not find them easily if ever required.
* Looks : It is personal opinion, I like broad tires on SUV's, on XUV and that too on stock 17" wider tire is not easily possible, you have to purchase another set of +ve offset alloys. As i have read somewhere on reviews that when W8 customer upsized his tyres, tyre used to foul with body lining and he has to cut some part to rectify the issue.
* Alloys : You have broader choice of alloys in 16" rather than 17"
Engine
: Silent, smooth & responsive & why not as it is tried and tested 2.2 MHawk unit.
Gearbox
: Except 1st and 2nd gears, its silky smooth, Lever always falls in right gate, In gear acceleration is smooth without any turbo-lag. I have driven Ford Figo which is claimed to have Zero Turbo Lag but i personally liked in gear acceleration of XUV better than Figo. In city requires fewer gear changes and 3rd gear can be used as an automatic.
Interiors
: In my other cars (Getz & Figo) it was black, i wanted to have some light shade inside this time, luckily Black XUV comes only with beige interior.
Utility and Space
: Excellent utility as all necessary equipment are within driver's reach. Space on 1st and 2nd row is in abundance, 3rd row is not as bad as some reviews claim. In my recent trip to Haridwar, All 6 adults and 3 children were happy and never complaint of uncomfort
Fuel Economy
: As of now it is 12.81 KM/L overall. As i emptied the full tank within 5 days and just today got it refilled worth Rs 2700/- . My first tank have seen traffic jam of over 4 hours, appox 400 KMs of city driving where as per infotainment display it was just 10.5 KM/L but on highway i have noticed even up to 18 KM/L. By the way i filled the tank today after ODO reading of 862 KMs. This all with 100% AC.
Enough texed, now let some pictures do the talking:
Giving showers to Mr Black ( It was dirty because right after taking delivery i went to Haridwar, it was all raining on the way )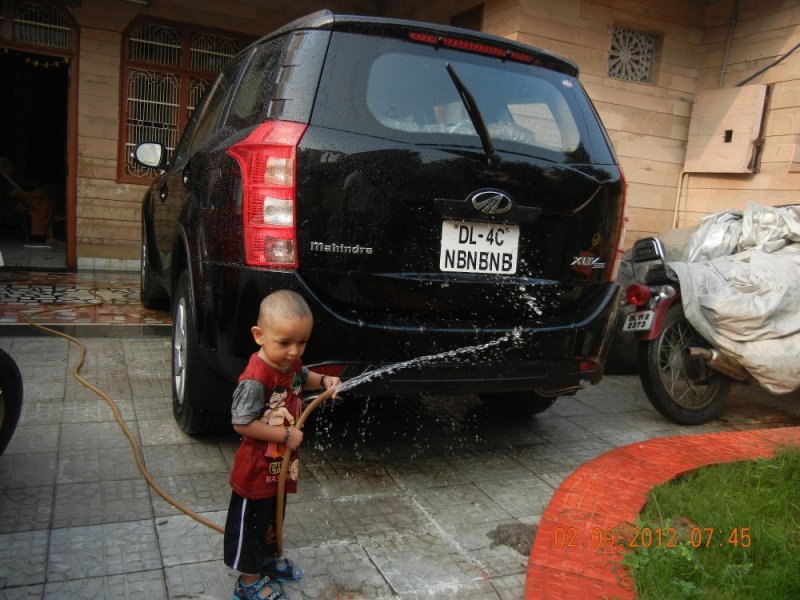 Here its after some quick bath at home: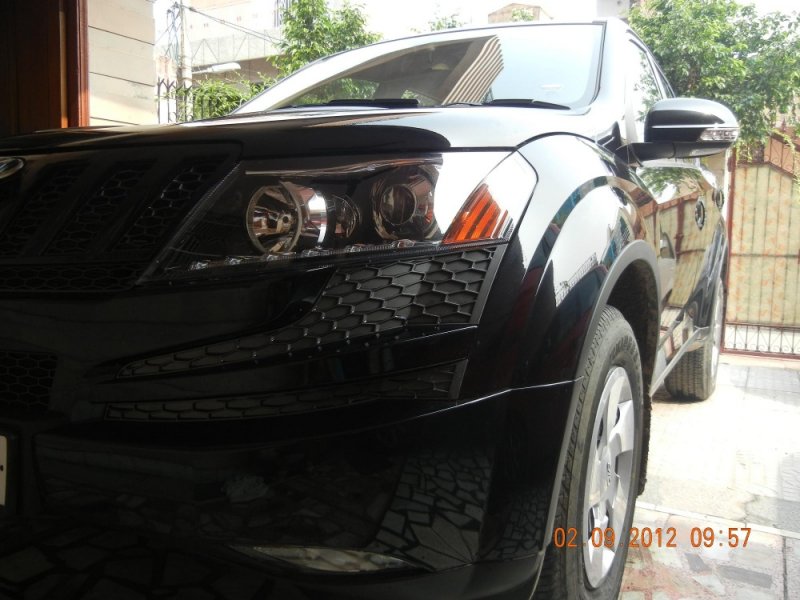 Wiper blades are of budget quality & in near future i will replace them with Aero-Fin type: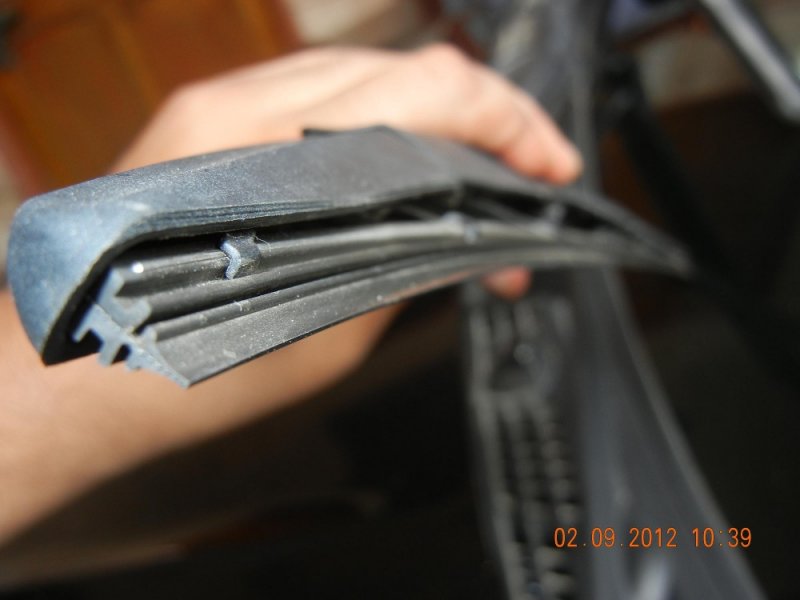 Fuel Info & Instrument cluster :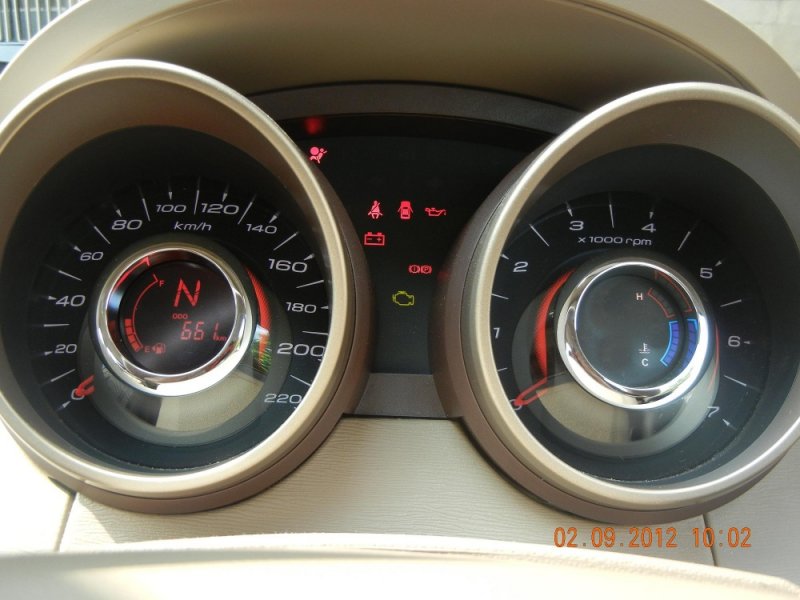 Fixed rain visors on my own, Dealer cost was Rs 2,000/- , I bought from open market for only Rs 750/-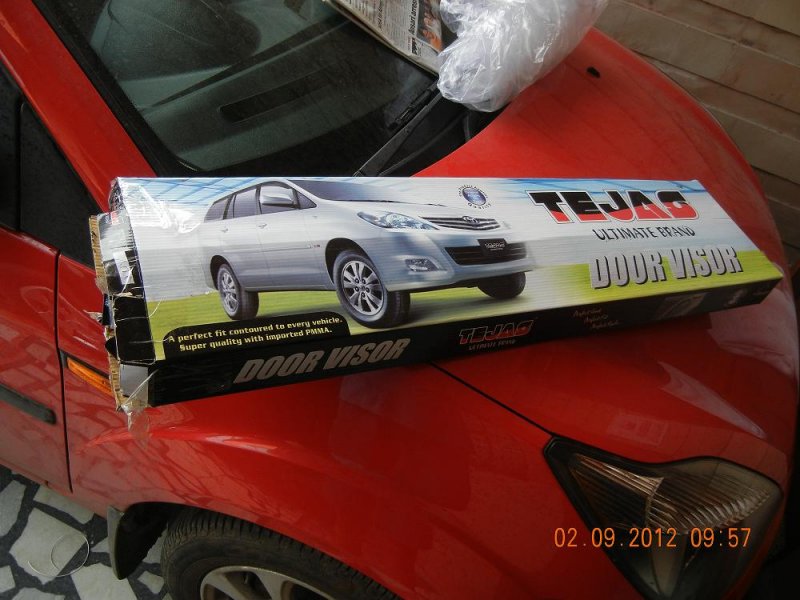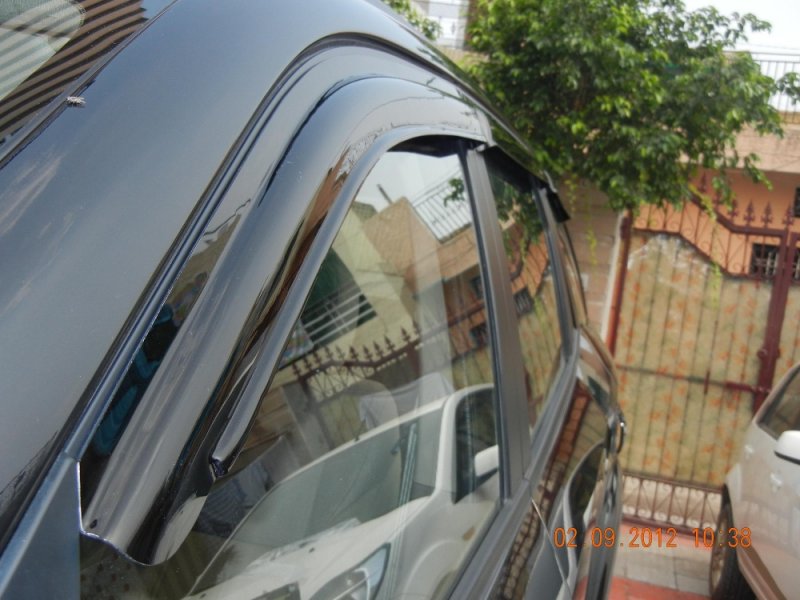 As large USB doesn't fit in console bay, I had smaller size USB well in advance: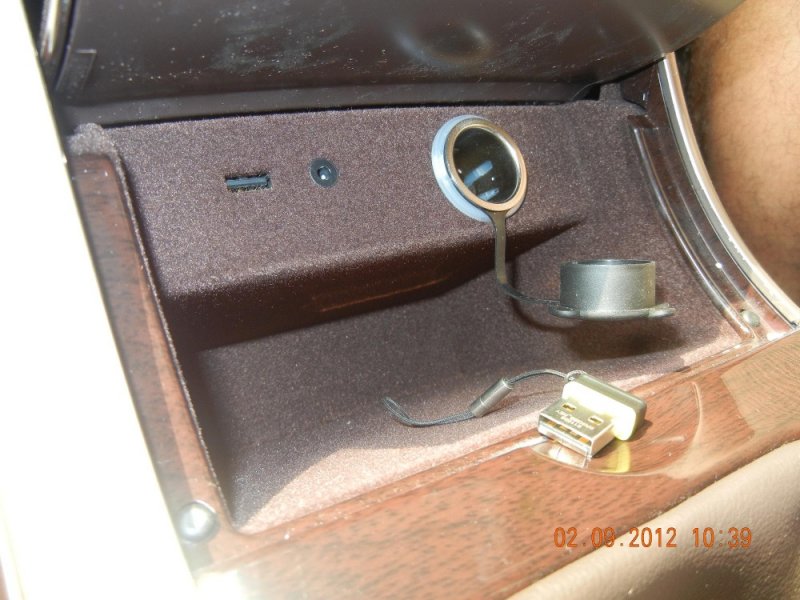 And my favorite shot: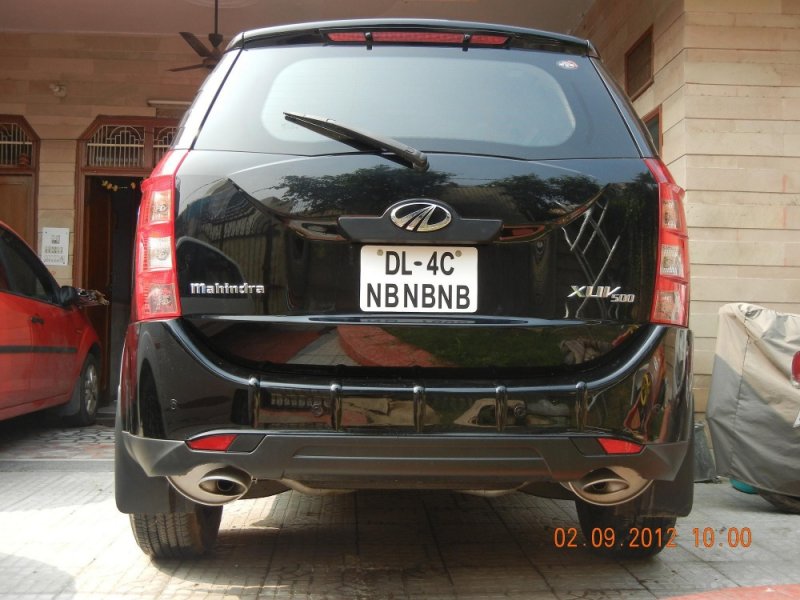 I would like to thank everybody again, for taking out time to read the review. Any suggestion / Questions are welcome.
Thanks & Regards