Joined

May 23, 2011
Messages

1,043
Likes

23
Location
You just never realise when people who you took care of, grow so big that they want to buy things on their own. I realised this when a few months back my bro called me up one fine day and said, "I wanna buy a car and a good one at that".
I commented, "It is going to be your first car, pick up a good sec hand". He went on, "no way, I want to buy it shining!" He did grow up to own one

So, the hunt started. Budget was put somewhere between 4.5-5.5L. As I am here in Pune and him being based out of Delhi, our dad aided him in TDs, talking to dealers, suggesting him colors and finances as well.
It started with
TDs and initial impressions
:-
He TD'd 4 different vehicles in different segments. Ritz Petrol(on his friends insistence), Figo Diesel(as he liked the frugality), Beat Petrol(on dad's recommendation) and Fiesta Classic Petrol (as he always wanted one).
Ritz P
- liked the drive. Easy to handle in city, no fuss, maruti's assurance, great color and variant options but he just could not agree with the shape. So like me!
Figo D
- One his heart stopped on. Nice looking, VFM diesel car with small things like remote boot opener, enough cabin space, negligible turbo lag, easier driving position etc. He was almost sold on it until he saw....read below
Beat
- Did find the car to be refined, good pick up, nice interiors, funky rear door design, but just didnt hit the right chords. Looked a little girly to him I reckon. So not like me!
Fiesta Classic
- Everything was good with the car except the fact Ford decided to reduce variants to just 2 and the cheapest option was coming out to be similar to Figo D ZXI. Barring the boot it shared everything to Figo. Cabin space, dash ride (for a petrol), thus checked out.
He never wanted Swift as they are just too many on roads, and did not think that Punto or Polo were fit his budget with upfront cost and service costs.
Then one day Dad came back home all excited about a 'big car' he TD'd on his own which fit the criteria perfectly. It was none other than 'Tata Manzaaa!' (petrol) You all know how dads are, looking through their prisms, counting everything to fit the budget, and this car did. Everything was there in it, unlimited cabin space, a dash lower interiors to Linea, great Petrol engine, great steering, Tata's image (whatever you may say, Tata is Tata) and was almost there with a price tag of 5.97 with a discount of 15-20K. So he called me end of day a little perplexed and a little overwhelmed by Car buying experience and asked, "Do you get everything in one car?". I smiled.
He didnt like it for the same Tata's image which I bragged about.
Final Twist
Being an active member on TAI, I came across the offer on Polo and after having heard and read so many good things about Polo (and also some bad things) I called him up and said, "Why dont you try Polo? 6.99% Interest rate seems to be deal breaker if you like the car". He unconvincingly agreed with his above-mentioned skepticism. But he did listen to me (oh thank god for that!)

He did a TD on Polo P, as Polo D has nothing to boast about and was way expensive with no interest scheme. Fortunately I landed up in Delhi to be with him in this trying circumstance. And boy we liked the car!!!
German engineering to the core. Built like a tank. First thing we noticed was the lady SE banging doors to her ultimate strength and challenging us to do it as many times and feel any rattles in the door. We shied away. Anyway things which went in favor and things which didnt:-
Pros

Best in class build
Top class interiors, upholstery, paint quality
Good ride quality
Dual mode steering with good feedback
Best NVH levels
Gear slotting
In-gear acceleration (mind you it was his first car)
Great seating positing for driver
Big glovebox
Huge boot compared to others (matching Figo)
Boot opener VW emblem
Good to-the-point AC with 0 volume vents
Widest in class tyres for the lowest variant
Interest options
Cons

3-pot engine (again that is more of a grudge with experienced people)
No power windows at rear in TL
Rear seating space
Big hump in the middle at rear
High maintenance costs (this where ashikawa compilation helped me, thanks!)
Initial clatter of the Petrol
tall bonnet and comparatively low visibility from front windshield
All-in-all he was bowled over by the simple and niche design. The car looks much better in flesh than in pics and has a very good road presence, with a design which you can die without getting bored of. He decided then and there and I concluded in harmony! I didnt have an option. It fit everything.
Finally the deal
He always wanted Red and with Red being available in TL, it made his decision a non-decision. It is not justifiable to choose CL over TL except only if you want a different color, as the instrument list doesnt have anything important to show of.
He booked Red Polo Petrol, and got a surprise in addition to Corporate discount and interest option. His passport was from Gurgaon so got additional 6K knocked off from Registration Tax. He bought AMC and 2-year extended warranty to stay happy for 4 years! He also got Polo branded Seat covers which look perfect fit in the ride.
He also negotiated and got free door mats and mud flaps from the dealer as his close friend also got a black Polo P CL at the same time.
Dealer: Saket, New Delhi
My driving impressions
I have driven the car for around 150 kms in 2-3 days and all I can say that it was growing on me day by day. Although engine has initial grudge but was getting silent. I did push it occasionally till 3.5K RPM and it did have much more juice left. Car feels heavier but engine does not look like that it will fail to spiritedly pull this monster. If you are able to keep it on boil, it will give other contemporaries a run for their money in a sprint too. Except for initial patter nothing feels like a 3-pot, may be a just a little lack of self will!!
Anyway the review cant complete without visual treat, so here are some of the pics I took. Enjoy and please leave your valuable comments.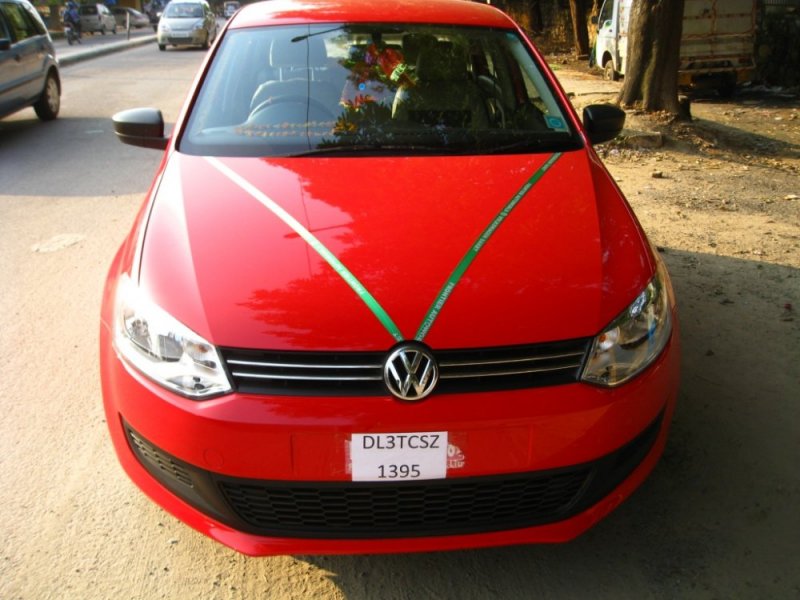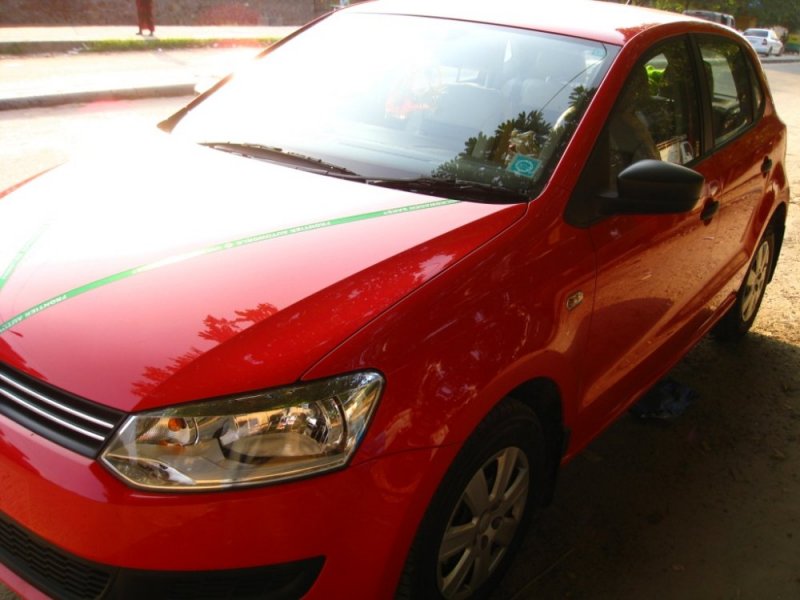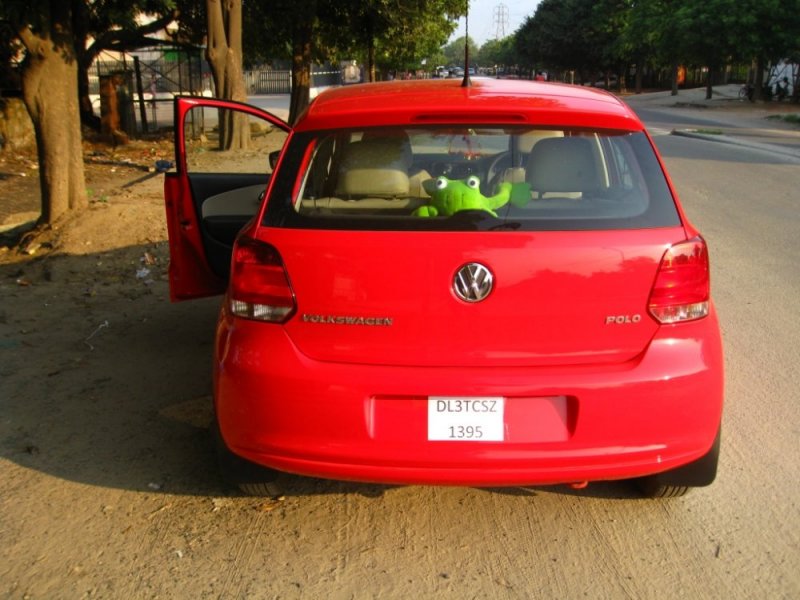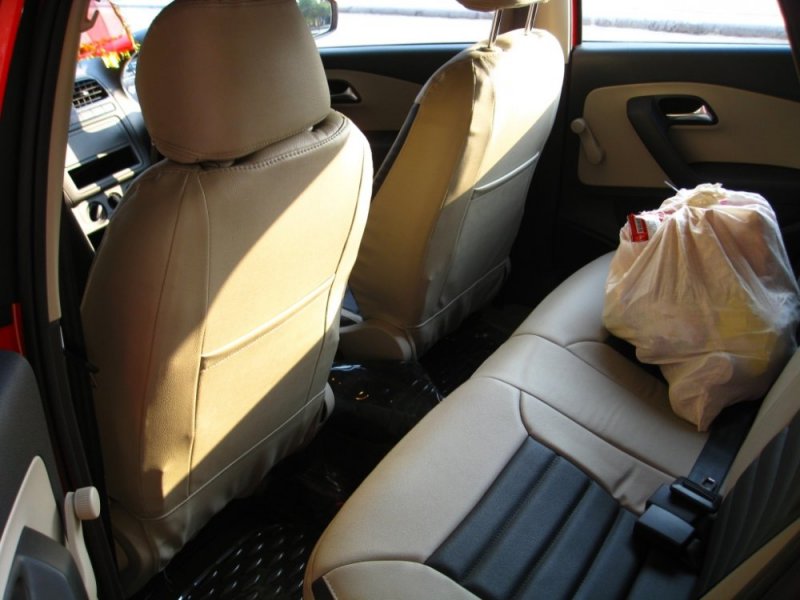 PS - will post more pics after getting them from bro!