Joined

Jan 10, 2015
Messages

25
Likes

25
Location
The odometer shows 54,000KM. So I think this is time to share my experience with AMT.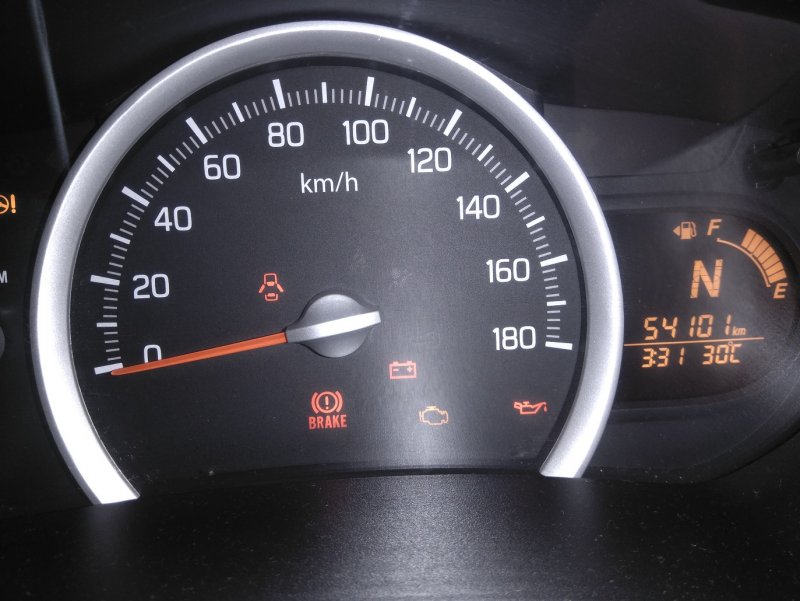 The migration
from 3 pedal to 2 pedal happened in Dec 2014. I was driving a Chevy Beat since 2011 and I was so happy with the car that I had planned to drive my Beat to work place and buy another small car at home for daily runs. People at home were not comfortable with manual transmission. So I was looking for a budget automatic and considered i10 AT and A-Star AT. I was a bit reluctant with TC automatics due to reliability issues. In 2014, Maruti introduced new kind of transmission- AMTs. First with new launch Celerio and then came Alto K10. I have gone through all reviews, pros and cons about AMT. And by Oct 2014, when Alto K10 AMT was introduced, I booked one before launch date as I was confident with reviews on Celerio AMT. Once Alto AMT was launched, I went with my family to check Alto K10 and was disappointed by space it offered. More over rear seat entry/exit was a not easy as there was little space left between rear seat and B pillar. So when I checked Celerio Vxi AMT, it was priced around 70,000 more than Alto and offers a lot of space, boot and convenience. So changed my booking to Celerio Vxi AMT.
Cars I have considered:
I never test drive any other cars or even considered any. But a few in my family insisted me to go for a big car instead of Celerio- which I booked just because of AMT. They told me they won't use the car and automatic is not a necessary thing in new car. Their suggestion was Ertiga. But somehow I did not like that car, until I drove a Ritz. Yes, when I was going for PDI at stoke yard of dealer, they gave me a Ritz car(I was keep on asking Celerio AMT test drive and they always made some story like it went to different showroom , it is under repair, etc. So SA told me to drive Ritz instead of Celerio when I went for PDI :D ) Damn, why the heck I did not test drive or even check Ertiga- that was my first reaction when I started to stoke yard. It was refined petrol and very comfortable seats compared to Celerio's thin seats. Ertiga and Ritz are of same platform- I guess. So I should have considered Ertiga.
Car delivery:
My Car was delivered on Dec 2014 and invoiced it after a PDI from my side. Delivery experience was not that great. Reminded me my Honda Activa delivery at Bangalore where after payment, security person gave me key and told me to get my scooter from parking and ride. Also they messed up registration with wrong entries (VIN and hypothecation details) which later caused a lot of pain to get it corrected (Though I submitted corrected papers from showroom at RTO, RC was issues with all wrong entries as in temp RC). I got just one feedback call from Maruti which was disconnected due to some network issues and never got any call after that. I was planning to rate lowest, but lost that opportunity as well.
Delivery experience: 1/5
Driving the car
(away from all miseries):
The first time I drove an automatic was this AMT car from Showroom to home. I was able to settle down with all controls in car before I reach main road. I made attempts to press clutch occasionally making a foolish grin on my face.
AMT is a blessing. I drove first few hundred KMs in D mode and I was a bit worried as it caused revv counters breaching 2,000RPM. I shifted to Manual mode and was able to adjust my driving style with Manual mode easily and thus I was able to keep Revs within limits. I realized how easy it is to control and drive this car. Appreciate Maruti for such a wonderful car (rather AMT feature).
Driving AMT in D mode is a bit boring and you won't be engaged at all. But it is a blessing for aged people and those who drive just for the purpose of travelling from point A to point B. Lot of people complaint about unexpected downshifts and upshifts. But AMT shift mechanism works on algorithms and not as per driver's thoughts, hey that is why you have a manual mode there.
Manual mode is for those who love to drive with fun and easiness. If you upshift at correct RPM and speed, the response will be almost immediate. But When you are driving on steep inclines and if you upshift at high rev count and just above speed recommended for given gear (Say shifted from 1 to 2 at 3500 RPM and at 15kmph), the upshift will take 1-2 seconds and accelerator will be muted and you will land up in lugging engine (may be at 1100PRM, 10kmph and 2nd gear). So it is all about how you adjust your driving with AMT. Once in sync, you can have fun, even at steep inclines (nothing beyond safety marks). Downshifts are pretty accurate and immediate. While doing steep inclines with sharp curves, I feel how easy it is with AMT. I should appreciate the aluminum K10 engine for peppiness it offers and helps my AMT shifts with adequate power needed. What else. I handed over my Beat to my brother and Celerio became my primary car.
Jerking's
: Yes, experienced a lot of time. No complaints, because it is expected while moving forward from 0KMPH on steep inclines with no control on clutch. On each service I used to ask service center guys to inspect clutch and update me the status if any wearing observed. Till 50,000KM service, all good. Recently, I observed some kind of jerking or rather shaking on whole car while moving from standstill with AC on. But it used to occur during hot days and my 50,000KM service happened during monsoons and was not able to replicate issue.
On Inclines
: Use handbrake to prevent it from rolling back and I guess it may help to reduce clutch wear. on on downhill, use manual mode and stay at lower gears. I use handbrake whenever I stop for 5-10 seconds while keeping D or M mode. I won't recommend keep car in stand still with D/M mode and brake pedal pressed.
The car:
Typical Maruti built. No safety features- ABS, Airbag, etc. This is the main reason I keep my drives within city limits and only on a few occasions made intercity travels. Nothing to talk about built or quality. Thin doors, rattles everywhere, low quality plastics, fittings, etc. Coming from Chevy beat, initial days, I felt like a downgrade, though both cars are entry level hatchbacks. Thin front seats offer no support. All other convince related features are present- 60-40 rear split seat, bottle holders, decent boot space, lane change indicators, power windows, central locking, etc. Yes, gives a good FE- meter shows 20KMPL which is having mixed drive conditions- Bad road, well laid roads. Full tank to Full tank on highways showed up to 23KMPL(With no traffic and on highways)
Service center visits
: All services were done at MASS. First two free services (1st month and 6th month) where done at home by same dealership from where I bought the car. Both servicing's were bad, though these are not major ones. They just came, inspected fluid levels, just wiped the car. Done. From third servicing onwards, I have shifted to another MASS in my town. In fact, they are a bit more professional in handling. Car used to get proper inspection and always handed over in clean state. Service costs where near to 3-4K each time. I have opted for MCP for 12,000 for 20K, 30K and 40K services. They fixed issues reported. Also visited same MASS for repair works- once for Side mirror and then for a Fuel filter replacement due oil leak issue(Filter is kept at bottom and is exposed and might have hit by some derbies on roads).
I do wheel alignment and balancing in every 5000KM from outside MASS.
Other points:
Changed OEM tires (MRF) at 45000KM to Michelin XM2 of same size. There was enough thread left on MRF tires while changing. Tire noise and road noise are reduced by 60% (at least).
I am not an 'In Car Entertainment' guy. Bought Pioneer basic HU and installed 2 speakers on front door. yes, Vxi comes with blank plates at HU place.
I used to damp door pads in every 3000KM with same material which was used for damping by default. I can see it used to get misaligned after 3-5K KMs and causing outside smells, noise etc reaching cabin.
Rear hatch pull type handle broke once. replaced same on next servicing.
Outside smell always filters into cabin. Do not know the reason. I have installed cabin air filter, but still it comes. I have checked the fresh air intake and it seems to get sealed properly each time it shut.
Doors vibrate if you open it while idling.
You can easily hear if someone talks you from outside the car with all windows up and doors closed.