Last week I went to Pune-Vadodara-Pune for family function, (total approx. 1200 km). While returning I got call from NEXA SA for giving information about servicing (first free service/1000km/1 month). So today at 9:30 a.m. I called him and asked for appointment for 1 PM. He agreed, I reached at 12:40 PM, saw huge queue ahead, some 20-30 other Maruti cars(Swift, Dezire, WagonR etc.), He came, asked to take out any valuables, luckily I had one empty bag inside car, he collected all coins from different car pockets, Goggle, removed SD-Card, pen drive and put all in that bag and gave it to me. He also asked if any issue to be reported for the car I said No, he prepared Job Card by 12:50 and drive car in one empty lane. And then we were directly into dedicated NEXA car Bay. All other Maruti cars were in queue and mine was directly in Bay. This was NEXA Experience. Felt like business class passenger at airport check in.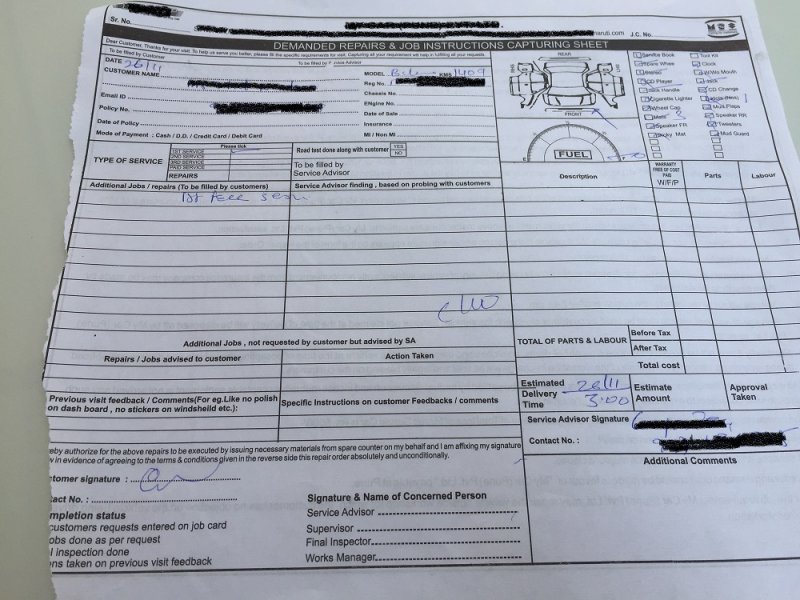 There were approx. 20 Bays inside (2 dedicated for NEXA Cars and 18 for others, all 18 bays were full and cars were being serviced + 20-30 cars waiting outside). Just to inform Dedicated NEXA car Bays are no different from other bays, they are just reserved bays, all tools and equipment's are the same)
Two technicians were waiting at bay, one senior and one looks junior. SA informed me that they got special training for NEXA cars.
Senior guy went inside car and checked all lights (headlights/indicator etc.), while Jnr. Guy start preparing to lift my car through hydraulic machine. Once car was lifted one guy went underbody and tight some bolts, and inspected other parts, other guy checked tire pressure.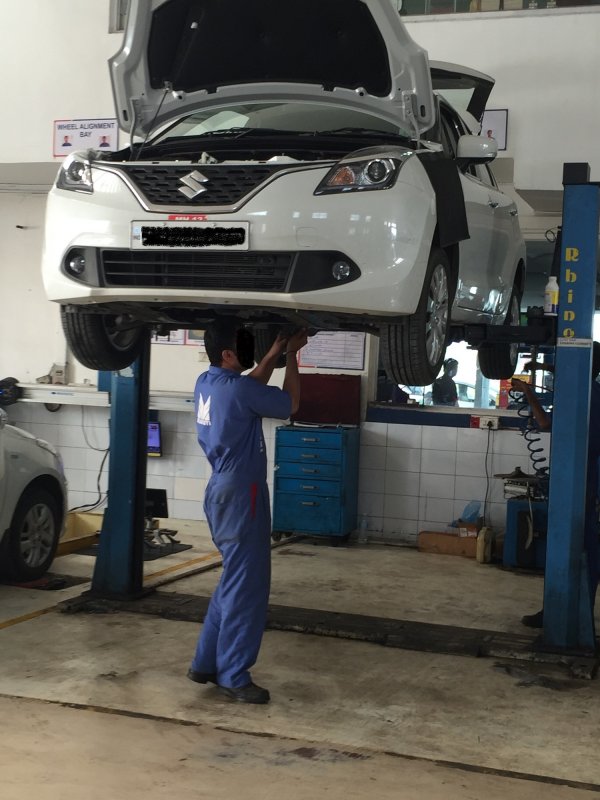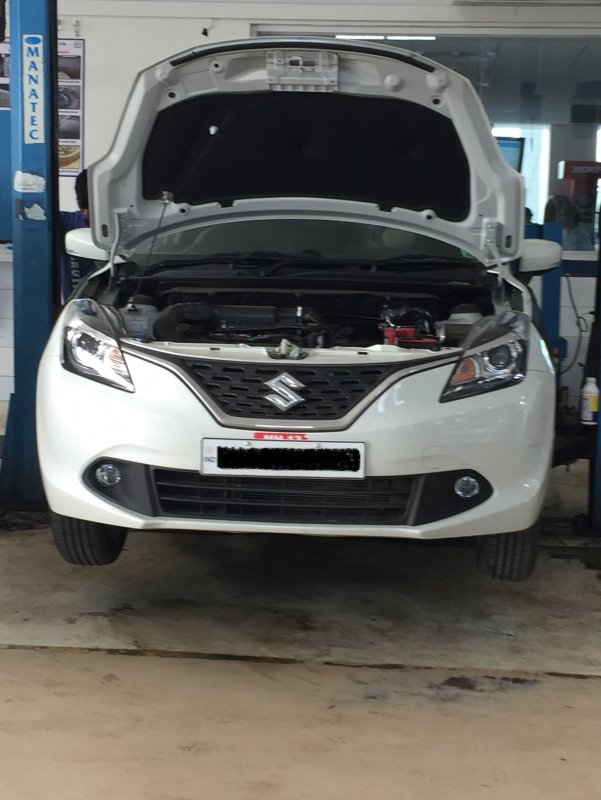 While this, I was talking with SA. He informed they are looking for space and soon opening separate workshops for NEXA cars. Till then they are planning to reserve more bays for NEXA cars as more balenos will start to come.
Once they pulled car down, one guy put water inside radiator and wiper tank and other guy start applying grease on all door hinges, bonnet, and trunk. Then they checked Oil level and checked various engine parts, belt etc.
All this process took approx. 20 minutes. Mostly it was just inspection as mentioned in manual.
Then car went for washing. Car wash was ordinary. It took 10 minutes. After washing they moved car to dry in different section.
Here 4/5 teams were working in group of 4 each. One group was working on car with dry cloth, one group was applying polish on interior, and one group was doing vacuum cleaning. One was applying polish on tire. It felt like my car was inside some beauty parlor and one group was doing facial, one was doing manicure, one with pedicure ….all these tool 30 minutes. They all were working so professionally that I was impressed, so while leaving I offered tip to one of the cleaning guy and he refused to take saying it's his duty and hence can't take tip. WOW.
TIRE polishing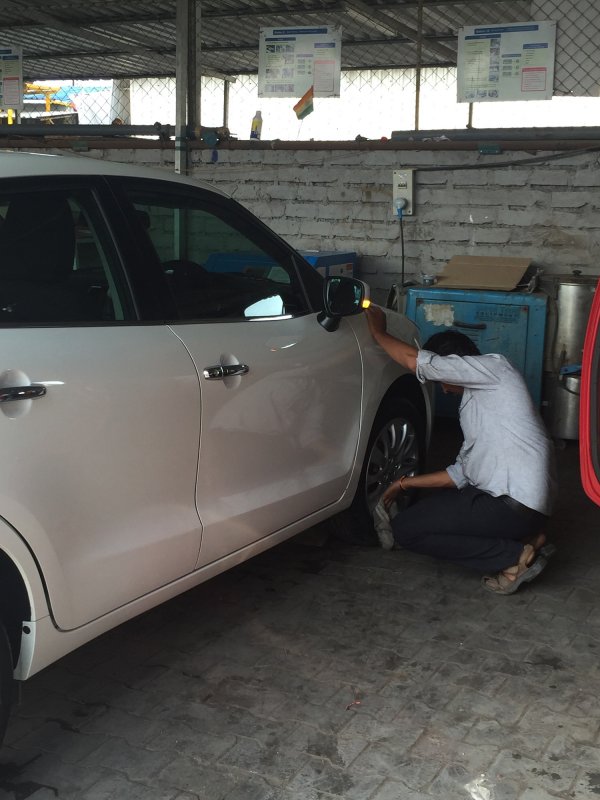 Some people are complaining about NEXA experience. But luckily for me right from 1st day (the day when I booked car with 11,000 Rs, before launching) till today I have not face any bad experience. Got choice of my car color/variant within committed time (1st day of Diwali, 9th Nov), down payment, and loan approved within time limit. Of course there were few moments when I got upset with NEXA, but if I think about those moments today, I should give them fair chance, we must understand they are also humans and worked most of the festival time on work, facing huge crowd, every 5 minutes answering calls. Attending every customer with smile. Giving same information to every customer. Any way I enjoyed my Baleno car and NEXA experience till now….and hope it will continue for all.


Look at the mileage I am getting with AC set to 22C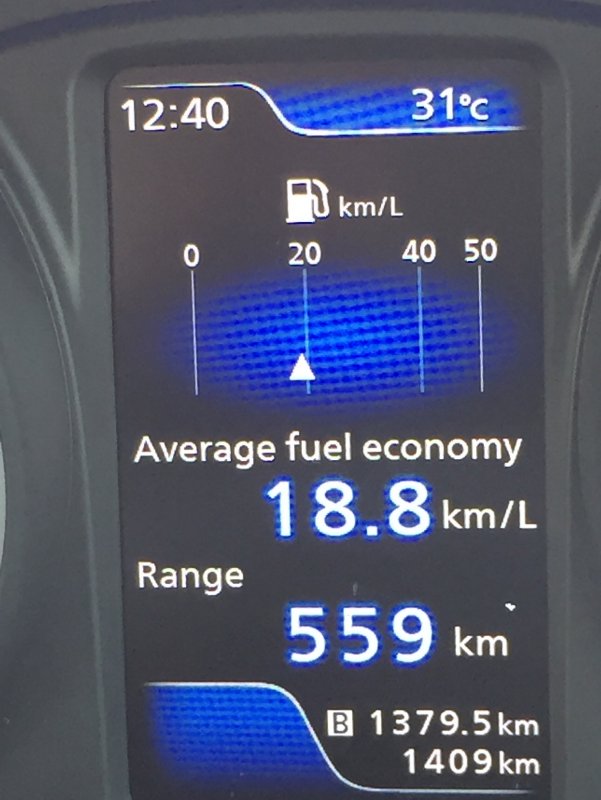 and car after first free servicing.