Joined

May 30, 2019
Messages

113
Likes

165
Location
Ownership Update:- The car has covered 64700 km as of now, in November it completes 5 years. Infact even in the pandemic condition the car completed 14700 km in the last 11 months. If it would not have been for the additional Tigor in the family which completed 60000 km in last 4 years, this Alto would have easily hit 1 lakh kilometers in 5 years.
The clutch gave up at 64000 km, infact the ride was absolutely fine till say 63700 km but was completely undriveable at 64000, although the clutch had hardened a few thousand km ago and car was giving ridiculously low average made us doubtful that clutch is acting up.
My dads driving style is to blame here he rides the clutch, the fact that there is no footrest near the clutch makes it difficult for him.
Was in a dilemma as to give it to MASS or my FNG. MASS quoted an expence of 7500 rupees for the entire job which included changing everything from pressure plate to bearing, clutch etc. My FNG gave a quote of 5000. Took a leap of faith, went with FNG, the clutch was opened, everything was beyond of its operatable condition, clutch plate was as smoothe as polished marble. Realease bearing was making noise, pressure plate had hardened like hell.
One good thing that my FNG mechanic does is always suggests MGP, and no jugaad second party spares. Got all the material, new clutch plate, new pressure plate, release bearing and other items, got it fitted after my approval.
Now the car rides like new, clutch is super light and feels like car has got a fresh punch of power.
Front suspensions were making noise so removed them and FNG mech did some suspension service and the noise has vanished completely.
Here is the engine bay opened up for the job
The flywheel, we retained it.
The worn out pressure plate and clutch plate, the other side of clutch plate is just plain smooth, unfortunately forgot to take pic of the other side.
Just look at the groove in pressure plate caused by the rivettes of worn out clutch.
The new material and the old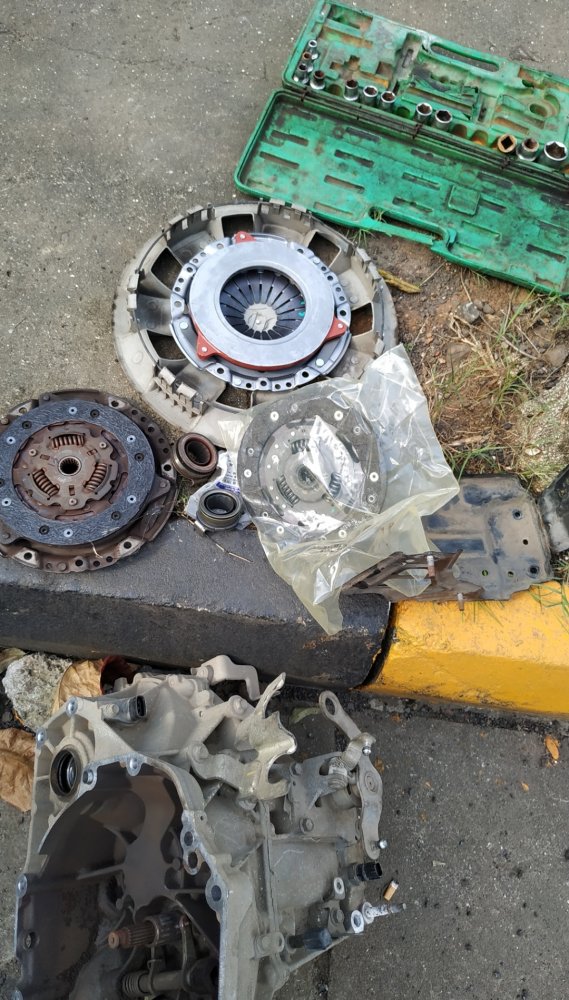 As I type this post it just hit me that its exactly one year and 14k km since the last major service was done, due to hectic schedule the service schedule got overshot, next week will get the annual service done.
What a reliable car has the K10 been, this is our first ever car that we have retained for more than 4 years, dad usually changes car at the 4 year mark, but given the smoothness of alto and the way it is serving us, we will keep it for much longer time.
Next I am going to try a DIY foot rest install near the clutch, there is some space to accommodate it, so my dad rides the clutch a little less.