"Altonomous Choice"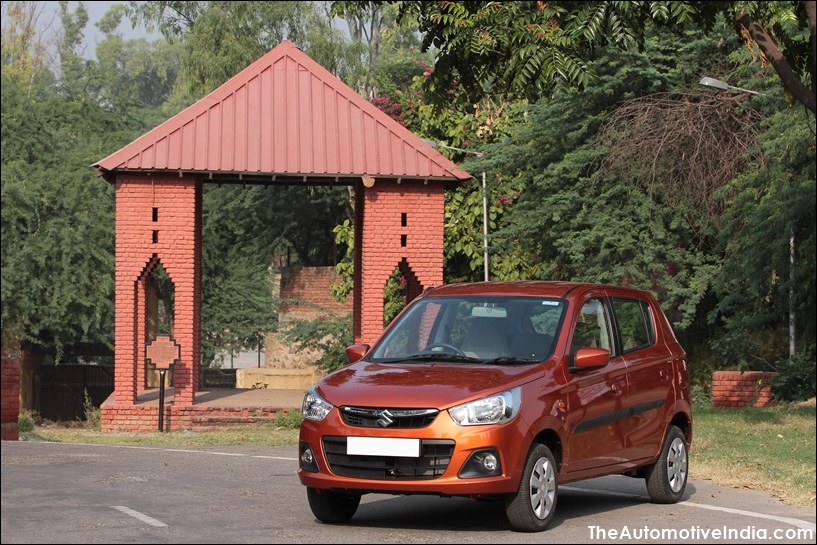 New Maruti Suzuki Alto K10 || VXi AMT || Rs.3.80 Lacs || November 3, 2014 Launch
​
"To stand still is same as moving backwards". There cannot be an apt example other than Maruti Suzuki who understands this phrase better in the current market scenario. For a company which has stayed on top of the game for well-over a decade, this Jap automaker refuses to lose its much-cherished numero uno spot to the rivals which are leaving no stone unturned to take over. As a matter of fact, entry level car segment encompasses majority of car sales in India, with Maruti Suzuki Alto being the torchbearer from very beginning, selling at a whopping average of 20K units each month! Its nearest competitor, Hyundai Eon, on the other hand only manages one-fourth of the figure whereas more recent entrants such as Datsun Go are far-off. However, it doesn't make them any inferior as both cars stand upright carrying a USP of their own. Of late, that's precisely what has become a point of concern at the headquarters of Maruti Suzuki.
The accessible ownership + widening network of Hyundai and driver-oriented characteristic of Datsun Go already marked a decent hit on the core charms of Alto K10. It was high time the car needed a facelift. This enhancement also served as a suitable opportunity for Maruti Suzuki to bring something new to the table so that the K10 retains its aura and voila! The Alto K10 AMT is born. This much-touted automated-manual transmission (AMT) was first seen on Celerio earlier this year and K10 is the second car to be equipped with one. Therefore, making Alto the cheapest automatic car on sale on earth right now. But it's not only the AMT which is in the limelight. Alto K10 has finally shed off the Maruti 800-inspired shell and now looks more in line with its new 800 CC counterpart. Simply put, it's a love-it-or-hate-it design and may not necessarily excite everyone although it will certainly grow on you over the time (as a case with some of the recent launches).
​
Swanky headlamps are large in size and skew back towards fenders while radiator grille has shrunken in which a broad chrome stripe occupies almost half of the region. Lower-half of the front bumper is familiar save for new vertical foglamp housing. Unfortunately the foglamps are now optional equipment, available on VXI (O) variant only. The side-profile is rather meek and instantly recognizable by and large because it has a huge influence of the Alto800. So much that if first half of the front fender is out of sight, it's virtually impossible to distinguish between two models. The upper variants (VXi and VXi Optional) receive a few more frills like side-molding, black B-Pillar and full wheel covers. Alloys are not a part of standard equipment. Shockingly, even the body colored door handles and rear view mirrors now come for a premium and are reserved only for VXI (O). What's different is that K10 runs on 155/65 R13 JK Tornado rubber opposed to Alto800's Apollo Amazer 145/80 R12. Needless to say, both set of tyres are awfully undersized and we strongly recommend an upgrade.
New body shell in fact makes the K10 75 mm shorter in length while 2360mm wheelbase remains unchanged. Though the interiors are claimed to be roomier than the outgoing model. The width has been upped by 15 mm (without body side moldings) and car is now taller by 15 mm too. Ground clearance of 160mm is a good 10 mm lesser than competitors but manages to tackle the normal day-to-day encounters on Indian roads. Pleasant element about this makeover lies at the back of the car. The Alto800 seemed as if it dropped straight out of a UFO (no offense to the aliens!) but much to the relief of mankind, new K10 appears more earthly. The tail lamps are sensibly designed and offer a sense of freshness. The hatch door is flat and aesthetically helps to make the car look more mature.