I am using this car/van/mpv/suv, whatever u call it I call it
MY FAMILY'S CAR
for the last 18 months have done 19500 km with family and to say the least am very satisfied with it.
Hunting for our first family car:-
My priorities were a family car minimum 6/7 people had short listed the following
Vehicles-
1. Eeco
2. Omni
3. Sumo (used)
I was low on budget, my cousin has a Omni and he was insisting that I go for it, my friends wanted me to go for sumo, as this would be my first car and I have never driven a car before. I did not know anything about this vehicles.I had always liked versa (Bachans promo)
After a lot of discussion & surfing through the net I decided on eeco, I had seen its pictures in the 2010 expo.Liked the price tag as I need not stretch my budget. Finally decided to go with MARUTI EECO 7 STR. It's a non ac vehicle.
Dealership:-
The day arrived(07/07- my gurus birthday) I called up the dealership guys & told them I wanted to have a look at ecco and to bring it to my house, so that all family members can have a look at it. The demo car arrived at 5 pm as promised by the dealer was offered a test drive which I had to refuse(I didn't know how to drive then).My daughter & mom liked it very much & I booked the same immediately gave a cheque of rs.10000.00 as booking amount color was already decided WHITE. The waiting period was 7/8 months, to which I refused, I wanted the delivery on 17/10 being my brothers birthday & it was also duserrah on that day, what a coincident) after much persuasion they agreed.
I got a call from them dealer confirming my order and the delivery date. I was all smiles. Now the wait started.
My Learning to drive experience:-
In the mean time I started searching for a good driving school, after a lot of inquiry I again landed on MARUTI's web site where I learned about their driving school.MDS.Looked upon their address & went to meet them.
This was my best decision, the staff was friendly and was offered 22 days of training with 1 hour's slot every day we had theory on Saturdays and Sundays.
First day I was all nervous, the same a kid is when he goes for his first class. I met my instructor for simulator practice, she told me it would make me familiar with the layout of the car and true to her words it was a very good experience. I had three lessons on the simulator.
Now starts the real driving, I met my instructor Mr.Mobin a slim tall guy (me being overweight), first look I liked him I knew I could adjust with him. he explained me the basics of the car, steering, clutch, brake, lever, gear shaft etc etc.I didn't have have much difficulty on the first day thanks to experience with simulator.1st day 1st gear I started off slowly and went on without pressing acellator pedal as my instructor was in control of it (which I found out later on).he told me not to push it as the vehicle was tuned to travel in 1 st gear without pressing the acellator.
From then on it was a great experience everything went smoothly the one I was taught all the basics for good driving skills. On Saturdays & Sundays we were shown picture clips of the mistakes by rash driving and the result of the same.
Finally after 21 days of learning I came to the day when I gave exam. The head of MDS of my school sat on the passenger's seat and gave me a map I had to follow it and drive ,the total distance that I had to cover was 7 km in city going through main road, intersections, and crowded roads. I did well and the principal was all happy for me, still he said I need to focus more on my driving (even though he gave me v.good)
For my final test with RTO, In my city (Jamnagar) we have a lake-LAKHOTA LAKE in the middle of the city which has a ground where RTO conducts the exam for vehicle license (two/three/four wheelers) All we had to do was drive straight forward and reverse the same way .The RTO officer did not even look at the way I drove. He had a look at me once when I was standing near my vehicle waiting for my turn. And l finished my test I would get my smart card driving license the next day.
Delivery of the vehicle:-
As promised by the dealer I got a call from them a week before the delivery date asking if I wanted any accessories for the vehicle for which I agreed;
1. Dvd player (exchanged with the stock after paying for the difference)
2. Mud flaps
3. Reverse horn.
4. steering cover.
Finally the day arrived I had fixed the time at 12:30 noon as told by my guru. We reached the showroom at 12 sharp the vehicle was ready and parked outside the showroom with red ribbon on the bonnet, and man I can't explain how happy I was.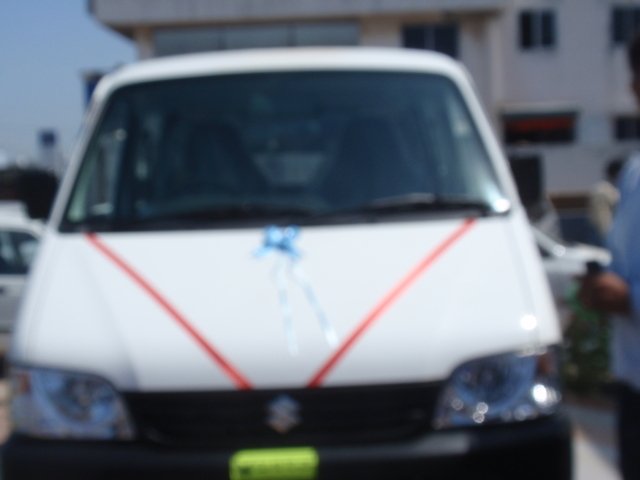 the car was ready as promised washed, polished ,waxed with the accessories that I had told(without mud flaps added later on), later on I had been given free(original) wheel cover by the dealer, I was happy to get them.The people at atul motors very very helpful and cooperative to me.
Then the normal rituals pooja garland placing the idol of GANESHJI in the vehicle & first self @ sharp 12:30 and there was my car ready and full of life and we went to the temple.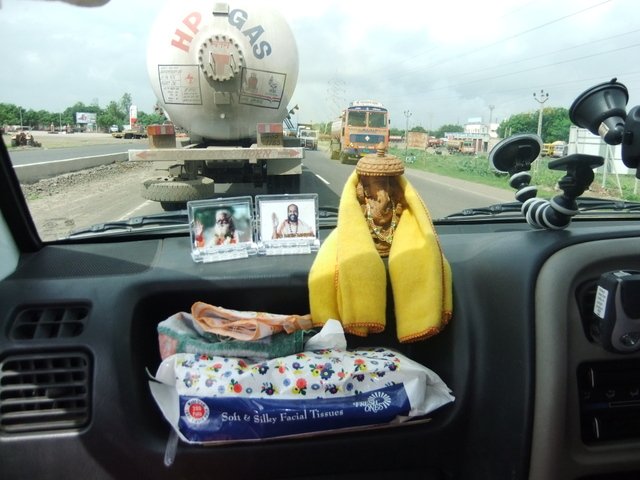 Our first trip:-
As I said I didn't have any driving experience, I had to call a driver (I was ready to drive on had full confidence) but my family members decided that we should take driver along with as this was our first trip. We started from out house towards my guru's ashram in Kutch some 200 km away from Jamnagar.
The driver was driving well and then after about 50 km he started pushing the vehicle towards 100 mark where I told him to slow down as he was getting on my nerves

. Any way we reached at 7.00pm.
Got the car blessed from guru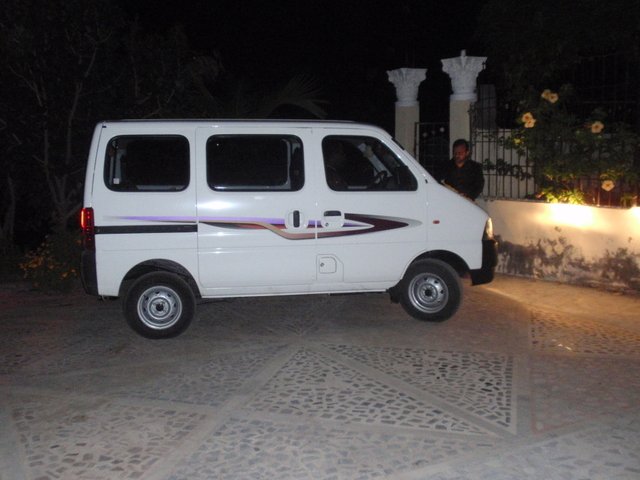 and I asked the driver to leave on his own and took command of the car. On the way back I was driving at the average speed maintaining 60/80 kmph.My first experience on highway NH8A

.it was just great, after a few km of driving my wife who was sitting next to me slowly asked me to slow down, when asked why she said you are GOING AT 110

now and I just lifted my leg from the accelerator petal. I didn't even realize when the car crossed 100 it's so smooth.
Last edited by a moderator: