Joined

Jul 10, 2017
Messages

710
Likes

679
Location
Day trip to Shirdi Sai Dham in Silvassa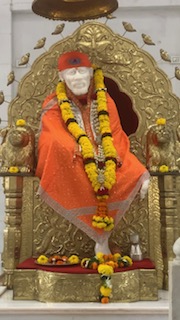 This trip was planned mainly to seek the blessings of Shirdi Sai Baba. Visited this Magnificent Sai mandir called Shree Sai Dham Saily DNH near Silvassa.
Let's plan the ritual of seeking the blessings of Shirdi Sai Baba to start a new year, but how? is it safe to visit a Mandir where a huge public gathering is expected? Traveling with 2 kids aged 8 & 12yr how safely can I plan a Day trip? My mind was full of weird questions and self-doubt as this was going to be the 1st outing for me, wife, and kids since 18thMarch'20.
But finally, after going through several Travel Blogs and articles got the courage to plan and I jotted down the safety measures to be followed for the trip.
Covid Safety measures:
Mask
Pocket Sanitizer
Surface Disinfectant Cans
Disposable packaged Water bottles
Hand wash
Cards and Mobile wallets for Cashless money transactions
Kids were instructed not to touch the Face once outside the car
Kids were instructed not to touch any surface unless we sanitize it with disinfectant
Finally, planned the trip on a weekday to avoid the crowds.
SO finally we plan a day trip to Shirdi Sai mandir not in Shirdi, but to a Sai mandir I had been to on my last trip to Silvassa.
Shree Sai Dham Saily DNH Silvassa
As it is very close to Daman I planned to spend the evening at Jampore beach only if there is a less crowded spot available.
Mumbai – Shri Sai Dham Silvassa: 180 kms
Duration: 4 hrs
Road condition: Excellent
Tolls : Khaniwade Toll / Charoti Toll
Parking: Huge parking space in the mandir
Left in the morning at 7 am from Mumbai, as the city traffic was less I could reach the Khaniwade toll in no time. But there was a huge jam at Khaniwade Toll and the pace was slowed down post the toll due to lots of Truck traffic using all 4 lanes of NH8.
After a lot of speculation, I stopped for Breakfast at a less crowded restaurant and had breakfast following the safety.
Finished the breakfast without wasting any time and resumed the journey.
And with a steady pace, I reached the mandir at 11.30 am.
The Mandir is very peaceful and you can feel the calmness once you step on the Mandir premises.
Once you enter the Mandir you are greeted by the Beautiful, Radiant, and Tranquilizing Sai Baba Moorti.
There is no rush for darshan and you can sit in peace and worship god as long as you want.
The mandir follows Covid19 precautions.
We sat down and meditated for half an hour which helped grease the Mind and Soul which got jammed due to the Chaotic daily life and constant Covid19 fear.
Check out my video on YouTube for Sai Darshan
Shree Sai Dham Saily Silvassa
After a refreshing and rejuvenating darshan, we headed to The Deltin Daman for Lunch.
The Deltin was following very strict Safety rules which assured me of a safe lunch.
The restaurant was almost empty, we sat in a corner, ordered our food through the QR code Menu( something fancy and Safe) had a delicious lunch, and left the premises.
It was just 3 pm and we decided to visit the famous Jampore Beach.
The beach shore is a long newly renovated and decorated stretch where you can enjoy a cool drive next to the beach.
The beach was long and I parked my car at a place where there were no people or Hawkers around.
Walking barefoot on the beach was pure Bliss after being tied up at home for such a long period.
Beautiful and empty beach......Kids soothing their eyes after stressing it on laptop
Para-gliding was a top activity for the visitors on the beach though we avoided it.
After spending a good amount of time on the beach we headed back home.
The return journey was pretty simple with lots of traffic at Vasai creek and in the city.
Ended the day with a home-cooked simple Dinner
Mileage for the Journey