Duke 390 was a dream bike for me from its launch. I had to wait for 5 years to achieve my dream of owning one and I finally got one in 2017.
It's been 5 years and some 20000 km so far. Almost all of that 20000 km was done in the first 2 years since I had to leave the country for work.
It has been eventful ownership even in the 2 years I used the bike.
I would like to add a quote from something I wrote a few years back.
An open letter to all bikers in India. Never buy a KTM in India.
It's with utmost disappointment I'm writing this.
KTM is undoubtedly one of the best European motorcycle brands and Duke 390 is truly a piece of art. But their service provided in India courtesy of Bajaj is among the worst out there. Buying a bike is only half the story, ease of maintenance is a major factor in its ownership.
Throughout my 9 month experience of owning a KTM Duke 390, I experienced how badly KTM service centers can screw things mainly because they don't even know how to work on it. I have seen horrible things in KTM service centers, and how unprofessional they work. To give a taste of it,
I have seen a service center in Bangalore tilting the brake fluid reservoir to empty it and filling it with new fluid, and screwing the cap back on.
No pumping whatsoever! I have seen another service center claiming to adjust the accelerator cable in my ride-by-wire bike which doesn't have a cable. Whenever they fix something, they make room for new faults.
My particular bike has visited 6 KTM service centers across south India more than 20 times in just 9 months / 15000 km of ownership!
After they did some work on the clutch, the whole clutch assembly got loose and got disconnected from the gearbox shaft inside while running because it was not properly torqued. It happened twice and put my life in danger. Think of a powerful bike like 390 without a clutch in congested Indian roads! By God's grace, I was able to stop the bike in a controlled manner as I was going slow, which is not always the same case.
I am right now in the process of shortlisting good mechanics outside KTM to take my bike next time. There are plenty in Bangalore who works on superbikes and are happy to work on KTM bikes. It's a great bike and if works are done as per the KTM service manual these bikes are highly reliable. But how pathetic,
I have to find a good mechanic to work as per KTM standards which I can't find in their own authorized service centers in India.
KTM India needs to learn a lesson or two from Honda 2 Wheelers India. Honda has a separately qualified technician to work on CBR 250R in every main Honda service center! And no one will touch a CBR 250 except this guy.
KTM India support doesn't even reply to the emails if they figure out the mistake is on their side. Moreover, they try to finish off the matter at the service center level and there is no such thing as an escalation.
After countless calls and emails, the ASM(Area Service Manager) contacted me and was saying, "Sir, ride our bike and see for any issues and bring back if anything persists"!
With experience from my life as well as with my close friends, I suggest anyone who is planning to buy a KTM in India to drop the plan, spend more, get a Japanese bike, and have peace of mind! Even the new Apache is a better choice as they claim to have technicians specifically trained to work on it. But still, it's better to wait to get long-term reports.
Or if you're someone who likes to work on your own bike or if you know a good mechanic who can work on KTM, just go for it. It's the best! Just don't rely on KTM-authorized service centers. They spoil perfectly running bikes.
KTM authorized service centers I've been to,
KTM Banashankari, Bangalore
KTM Bennarghetta, Bangalore
KTM BTM Layout, Bangalore
KTM HRBR, Bangalore
KTM Mangalore
KTM Kollam, Kerala
Update 1:
Owing to the wide protests from Duke 390 owners across the country, all 2017 Duke 390 owners were given an extended year of warranty. Hope all issues are fixed in this period.
Update 2:
Found out that the petrol tank was full of rust and the service center even though at first tried to make it look like normal, ended up agreeing to replace it under warranty.
Lo and behold, there is rust in their unopened new petrol tanks in stock.
After this incident, I sent a few emails to KTM, and then the KTM Area Head (Head of the State, contacted me over the phone and shouted at me for complaining to KTM and Bajaj!"
I had the full call recording of this incident and I could have made the life hell for that guy if I wanted. But I decided to move and and never ever visit a KTM service center again in my life.
Fast forward to today, 4 years later, I am writing this ownership review to let everyone know that there are no improvements in the service quality at all.
I recently found out that my front wheel was bent. I replaced the front wheel along with the disc by claiming the insurance. One of the fork seals was also leaking, so I replaced both fork seals and fork oil as well.
Invoices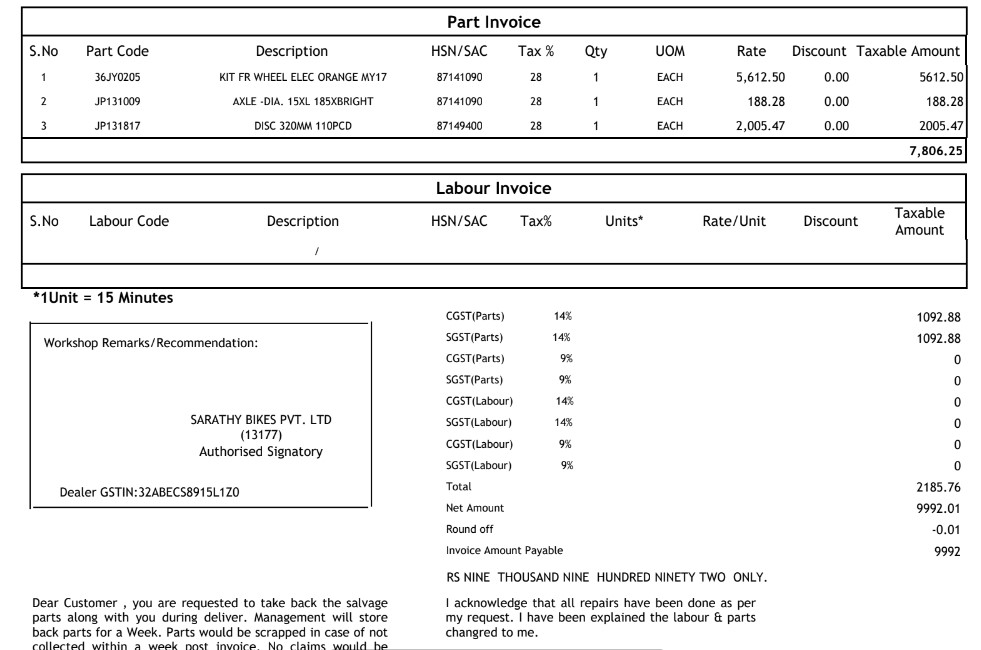 After I received the bike, I noticed that there was a weird periodic sound of a disc rubbing with the pad. I removed and reinstalled the caliper to see if there was any change. But the disc was getting continuously rubbed when a certain portion of the disc reaches the break pad.
Video
- Testing whether the disc is bent. If you listen carefully, you can hear the disc rubbing with the brake pad, and soon after that the bent portion of the disc hitting the iron rod in my hand.
On close examination, I found out that the new disc is bent at one point causing it to rub with the pad. The bend is minor and it doesn't do any pulsations while braking, but then it's there and you can always hear it.
Upon contacting the service center, they gave the usually expected answer that it's normal since it is a new disc.
I would have never ever gone back to the service center to do any work if it was not to claim the insurance!
Last edited: