This is the ownership experience of our Chevrolet Sail Sedan which was bought in 2013. The reason why I am doing this after owning this car for 9 years is to help other Sail owners who are finding it difficult to live with their car since GM left India.
The car has run very less for a 9-year-old car with a current ODO reading somewhere near 30000 km. During the initial time of ownership, the car had intermittent starting issues and had to be towed to the service center 3 times. It was later found out to be a faulty relay. It has never occurred since. 2 years back, there was a time when the brake system had a leak. Really don't know where exactly it was from since I was not with the car. It was towed to the service center and they replaced the whole braking system of the car for some 35K. Since I was not there to confirm if all those parts required replacement, my Dad went ahead and replaced everything. Other than these 2 issues, the ownership has been trouble-free.
The car as a typical GM petrol has very poor low-end torque and it's not at all enthusiastic to drive. It has the same petrol engine from Chevrolet Beat and it is underpowered for such a heavy car. The ride is comfortable and the steering feedback is pretty good too. Until now, we used to give it to the service center every year for service and I decided to put an end to it this year. This year was a maintenance-heavy year for the car due to some long-term wear and tear parts giving up at the same time.
The battery was shot after 9 years. Yes!, you read it right, the stock Exide battery lasted for 9 long years! And stock Apollo tires were asking for a replacement since it was some 10 years old even though they still had some tread left in them. Sourcing the battery was kind of hard since the battery is the right layout in the car and no one has that in stock for 45AH.
Finally got an Amaron battery of the same capacity but in the left layout. The price was Rs.5600 after exchange.
Battery fitted in the car.
The positive terminal of the battery is on the left side being a left layout battery.
Right layout batteries were available in some places online and they were asking for a higher price than left layout batteries of the same capacity. Therefore, I would like to advise anyone looking for a Chevrolet Sail battery to get a left layout battery and save money.
Tires were ordered from TyreMarket.com since I was not able to find a decent deal close to that anywhere else.
I got Goodyear Assurance Triplemax 2 175/70 R 14 Tubeless 84 H for Rs.4155 apiece including shipping. Tires were a month old and in perfect condition.
During the installation of tires, a play was found in the front suspension and therefore wheel alignment could not be done without fixing it. It was first thought to be the mounting bush since the shock was working fine and there were no leaks.The stock mounting bush from Chevrolet costs Rs. 1300 apiece and they did not have it in stock.
Thankfully, boodmo had several options listed from major brands like Gabriel, Motherson, and Technix. All of them were available at 1/4 the price of the OEM part as well. I went with Technix since they had a better catalog that showed the actual compatible parts and their part numbers.
I ordered CAV-A4600, CAV-A4608M, and CAV-A4608R 2 each for both sides.
Mounting Bush.
Bump stop, bearing, and dust boot.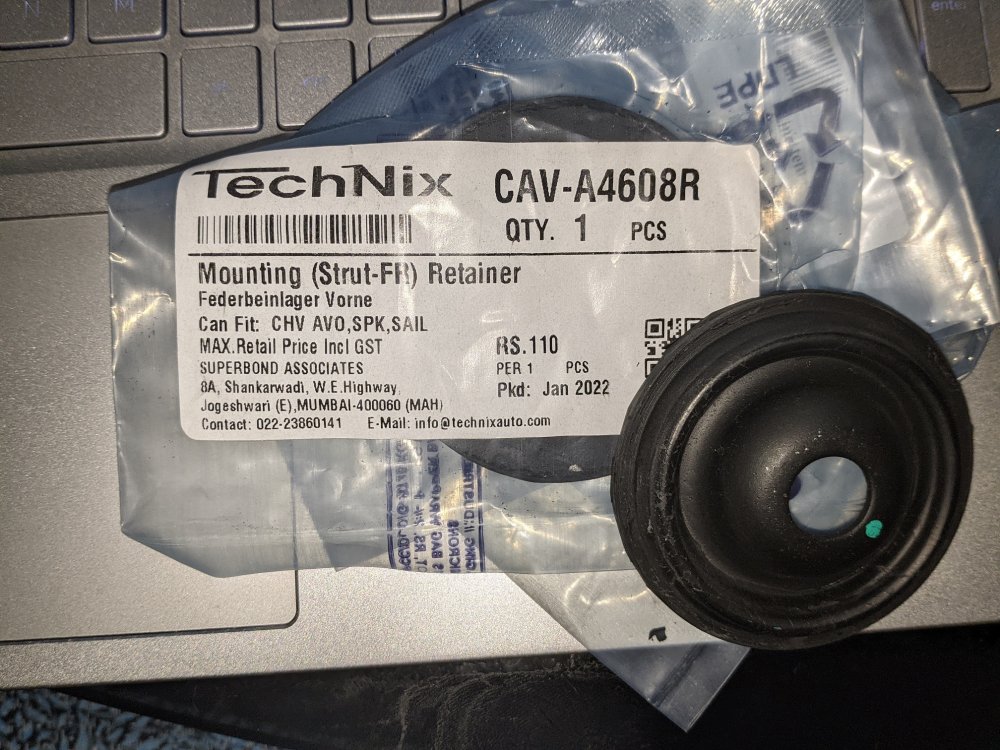 Mounting top retainer.
Replaced all this from an FNG (Friendly Neighbourhood Garage) and all of a sudden the car was undrivable as it was bouncing all over the place. Front shocks were found to be hard during the disassembly of the struct.
The only solution left was to replace both shocks. Boodmo came again for help as they had shocks in stock. Interestingly they had Monroe shocks for Sail at the same price as the OEM Chevrolet shocks. Since the OEM shocks gave away in 30000 KM, I decided to go with Monroe.
Shocks came from different sellers and one of them was poorly packed, due to which one of its clamps was bent with some impact during transport. I returned that to boodmo and placed another order for the same part since boodmo doesn't have a replacement option. Currently, I am waiting for the shock to start the overhaul.
The car was fitted with a generic fog lamp from an accessory shop which broke after a few years of usage. I never bothered to touch it since the OEM fog lamps cost some 7.5K a pair and it did;t justify the price.
But then, I came across an aftermarket fog lamp in boodmo made by a company called Globex which had the right clamps to directly screw it onto the bumper. Ordered it without thinking twice.It was just Rs.800 per pair and so I wasn't expecting a lot. It is a basic unit.
Replaced the cheap unbranded bulbs which came with it with Bosch H3 45W bulbs. I tried a lot to get 35W H3 bulbs to reduce the heat and avoid getting it broken again, but they are only made by Hella and are not available in India.
Removing the bumper of the Chevrolet Sail is one of the hardest jobs in this car. There are so many screws and clips in weird locations. Since the wiring was already laid for the previous fog lamp, I decided to install the new fog lamp by removing the front wheels and wheel well.
Fog lamp view from inside after installation. The wiring for this is done using a relay and a fuse and the switch is placed under the steering rack. The car also has a Roots Wind tone Skoda type horn installed with similar relay and fuse wiring.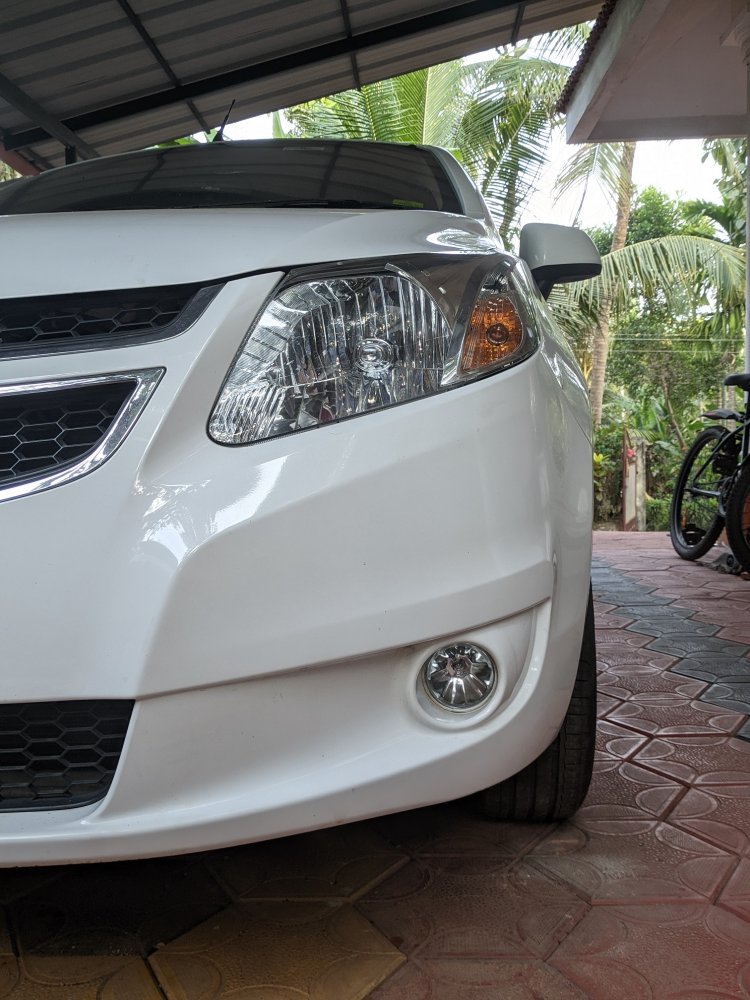 The end result.
The throw is nowhere near an OEM fitment as there is no level adjustment in this. Acts more like cornering lights than fog lamps!
That's it for now. I am planning to change the engine, gear, and steering oil next week along with the shock replacement and I will update you on the hurdles here as this car uses some not so easy to get oils for steering and transmission.