Joined

Jul 23, 2020
Messages

279
Likes

461
Location
Contents
Introduction
Service
Hello everyone, this is my first post on this forum. I would like to share my ownership experience of my Duke 390. My First two wheeler was a 2007 Honda Activa used by my Dad. I got it in 2012 ( College 1st Year) when he bought the Active 3g. After using it for 2 years, I got my Brother's 2010 CBZ Xtreme as he upgraded to 2013 Duke 390. The Duke was one of my favourite bikes and I wanted to own one for a very long time. My brother was working out of town and also had no plans as of then to upgrade to a bigger bike. So after completing my engineering and my business settling down, I booked a 2016 Duke 390 on December 12, 2016.
Why a Duke 390 1st Gen?
I knew the BS4 Duke 390 was coming with better features and refreshed design. But It would be costlier and I kind of didn't like the design. Also it would be heavier which intern would affect the bikes performance.
I also knew Dominar 400 was going to be launched, but it being a new product, I didn't want to risk it.
Booking
The booking was a hassle free experience. Got my Loan from my bank approved and Full payment transferred. The vehicle was in front of my eyes but couldn't take delivery as I wanted to wait for a fancy number. Since it was during the demonetisation time, there was hardly any vehicle purchases and the numbers were moving very slowly. Finally the showroom asked me to take delivery of my Bike (which was against their regular practice). My bike was one of the Last Old Gen Dukes to be sold in Coimbatore.
Delivery
The delivery experience also very smooth. On 27th December we planned to take delivery. The bike was ready by the time we arrived for delivery. Signed the papers, took delivery of the bike and went to Eachanari temple to do Pooja. Kept the bike at home and had to wait till I get my number. I soon got my number after a week and registered my bike on January 2nd, 2017.
Break in Period(1000 Km)
I decided to break in the bike as per the manual, not crossing 7500 rpm for the initial 1000 Kms. Two days after getting my bike the Battery died on me. The service guys towed my vehicle from home. They gave a lame excuse saying I would have switched on the Igniton which I didn't do at all. They should have replaced the Battery. But they charged it and gave me. I went for a small ride to Esha Yoga on a Monday morning. The bike easily crossed 120 Kmph on 6th gear at 7500 rpm. Took few pics and left. Rest of the 1000 kms was mostly in city conditions. Completed the 1000 Kms within 20 days and went for 1st Service. Oil and Oil Filter were changed and it costed me aprox Rs. 1700.
Second Service (7500 Km)
Having bought my HJC Helmet, Spartan Pro Gear Gloves, DSG Jacket, SJ Cam and Bolt Charger just after booking my bike, I was itching to ride somewhere. We all planned to ride through a famous biking route via Pollachi, Valparai, Athirapalli and return via Kochi. Unfortunately at the last moment I couldn't go for the full ride. So I went Riding with my friends till Aaliyar Dam, gave my bike to my friend and took his Pulsar 220 and went on to my work. After that a few days later, I went to Silent Valley on a solo trip. The first of a kind for me. After a couple of months, finished the required kilometres and went for the second service. Got the Oil, Oil Filter, Fuel Filter, Air Filter and Spark Plug Changed. It costed me around Rs. 2400.
Third Service (12000 Km - One year completed)
At around 9500 Kilometers my rear tyre gave up. Bought the same Metzeler M5 but with W rating. Went to showroom to get the tyre Changed. I also asked them to replace the coolant and since front brake pads were almost at the end of their life asked them to change it too. The bike was mostly doing city commutes and Occasional Breakfast Rides. Not much happening. By 12000 Kms, my front tyres were also over. My friend had a Pirelli Diablo Rosso which he used for 4-5k Kms on his RC. He didn't like it so he upgraded to Metzeler M7. I got the Pirelli from him and used it. Also since 1 Year was over, I serviced my Bike. We also had plans to ride the East Coast of Tamil Nadu for the New Year. So it was better to get the bike serviced.
Fourth Service (15500 Km)
Got my Front tyres changed to Metzelers again. Rear Brake pads, Oil, Oil Filter and other periodic service items were changed.
Fifth Service (18500 Km)
The Bike wasn't giving any trouble at all apart from the occasional Battery drain Issue. and going strong. The sprocket gave up at 17000 Kms which was the highest in our group of 3 KTM's. at 18500 Kms, It was due for the 5th and last of mandatory service. Oil, Oil Filter, Fuel Filter, Air Filter, Spark Plug and Coolant was changed. I was planning to Change the Coolant at 20K Kms only, but then didn't want to come to service centre again in a month or so and waste time.
Sixth Service (21973 Km)
Got my rear tyre that I ordered from Amazon changed at 20820 Kms from a Local Tyre shop. We DIY-ed the Rear Brake Fluid. The battery finally died on me at around 21500 Kms suddenly when I went to shopping and came back from the Store. The warranty was over and I had to Buy a new one. Got the Exide replacement from showroom itself. Got the Periodic service done and Changed the Tie Rod arm as it had some problems.
Seventh Service (28158 Km)
Changed the Front Brake pads to EBC Fully Syntered ones. They performed amazingly. Also changed the front Brake Fluid by myself at home. Just over 11K Kms the replacement sprocket wore out. The life is so poor. I regularly wash the bike myself and lube it after every wash. The quality of the Sprocket is definitely poor and it is one of the costliest wear and tear parts of this bike. So decided to get the Bike serviced as well.
Eighth Service (31000 Km)
Got my front and rear tyre changed at 29086 Km. My bike has consumed 2 Front and 3 Rear tyres as of now. I still stick on to Metzelers as the performance and confidence is amazing as compared to the Michelin on my brother's bike or Pirelli that my friend used. at around 30500 Kms, my bike's temp gauge was going above the usual level frequently. I thought since it was summer it must be normal. But then I got High Coolant warning and my bike got switched off. When I checked the coolant level, it was very low. So I immediately took it to the service centre. The water pump seal and the water pump had gone kaput. Got them changed. After a few days, when I was checking the air filter, I realised the mount had broken. I went and got that also replaced.
Ninth Service (33500 Km)
Since we planned to ride from Kashmir to Kanyakumari on my Duke, friend's RC 390 and Himalayan (Travelogue soon), I decided to change into Timsun Offroad Tyres. Also got the Oil Service done, Fork Oil, Fork Seals, Front Brake Pads(Brembo) replaced. Since met handlebar was slightly bent, I decided to replace it too as it would cause problems in the ride.
Tenth Service (42580 Km)
After returning from the gruelling 9K Kms ride, got my Oil Service, chain sprocket, Coolant, Rear Brake Pads, front and rear brake fluid changed. Also my mechanic informed me that the Coolant Oil Seal had gone and had to replace that too. Later I got to know that the Dukes have this common problem. Also changed back to the Metzelers. Sold the Timsuns to a Duke 200 guy on OLX.
Upto date my bike has run 49K Kms and it has been a terrific ownership experience for me. I am glad I bought this bike as it puts a smile on my face every time I twist my throttle. I Changed my tyres around 45K Kms ( 3 front and 4 Rear Metzelers Consumed). I think the bike is due for an engine overhaul and a clutch replacement as the oil level is getting a bit low quiet frequently. The clutch is fine but I think it is due for a replacement soon.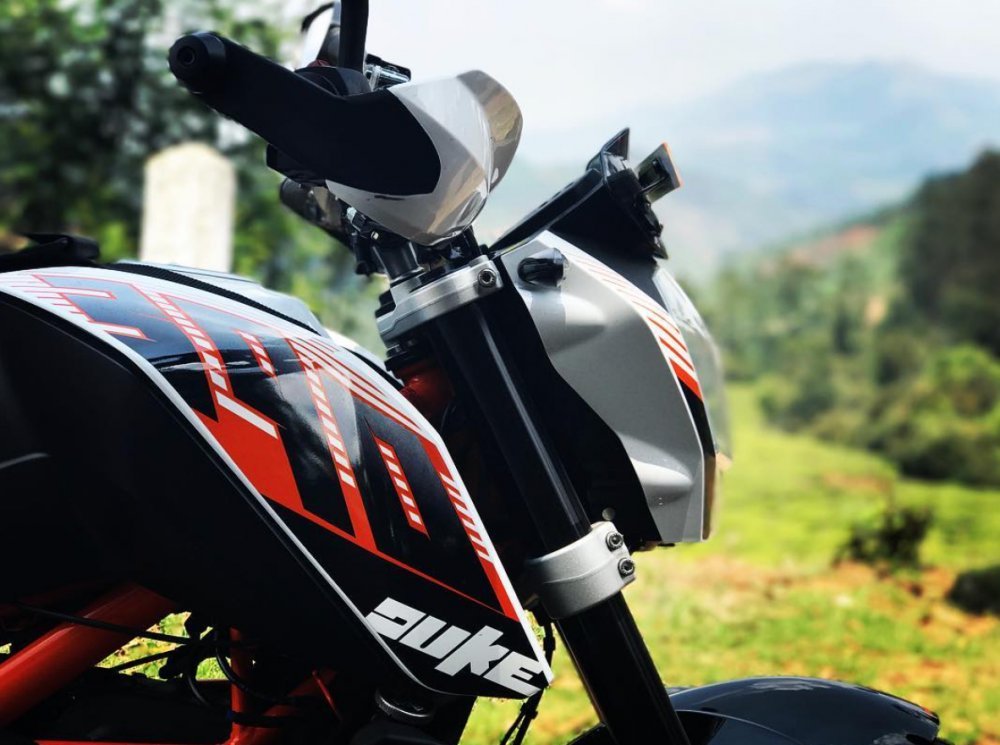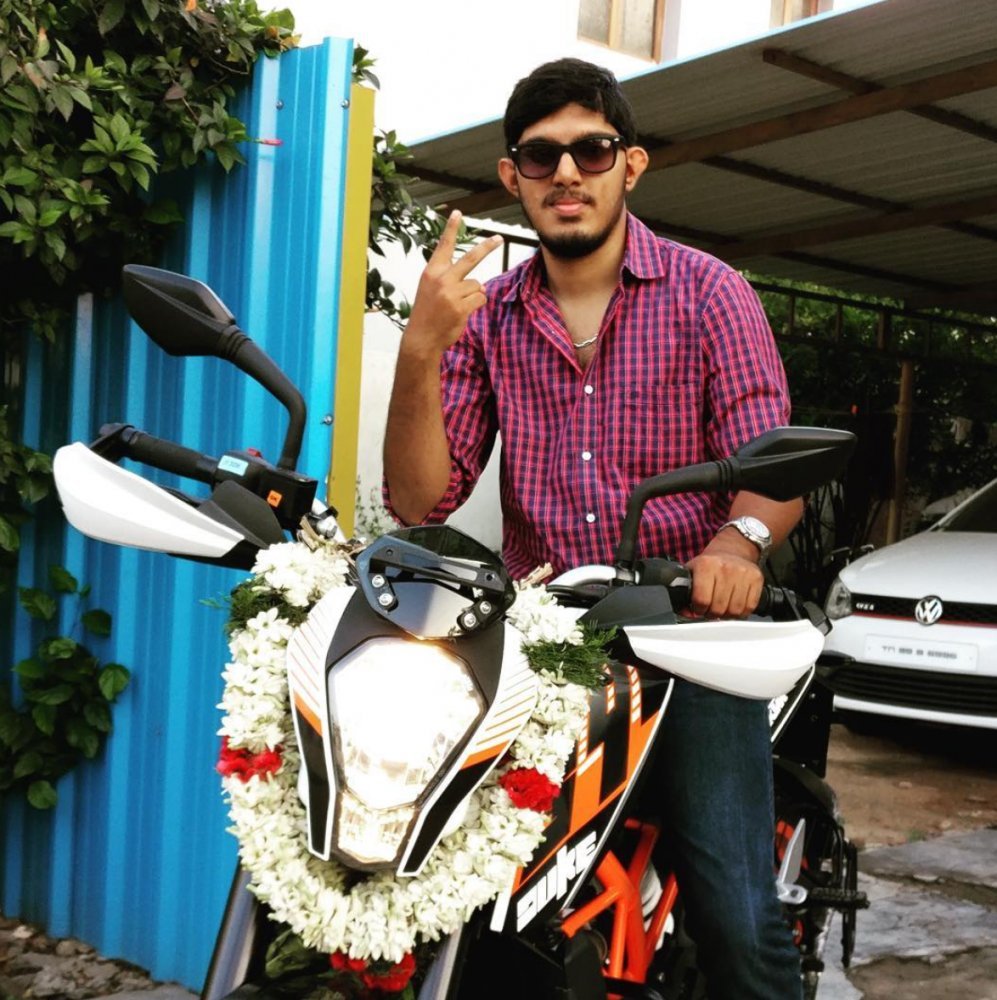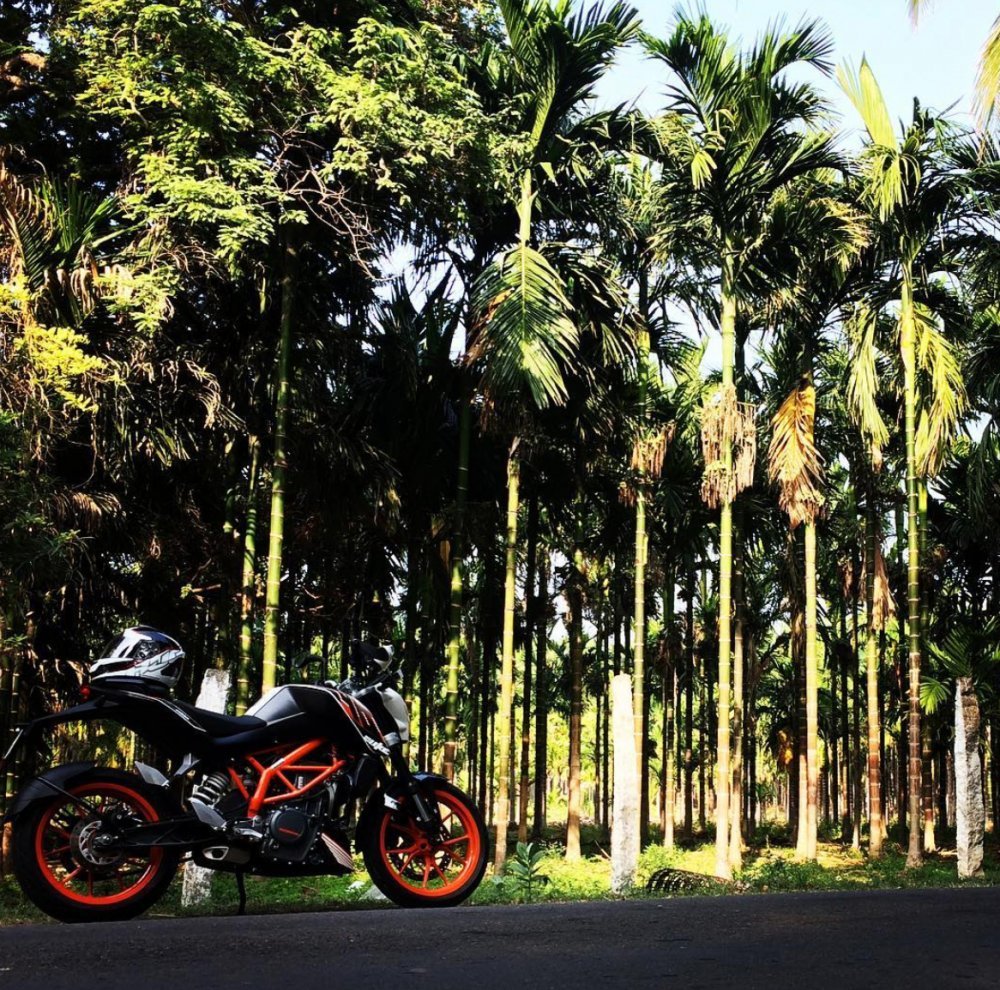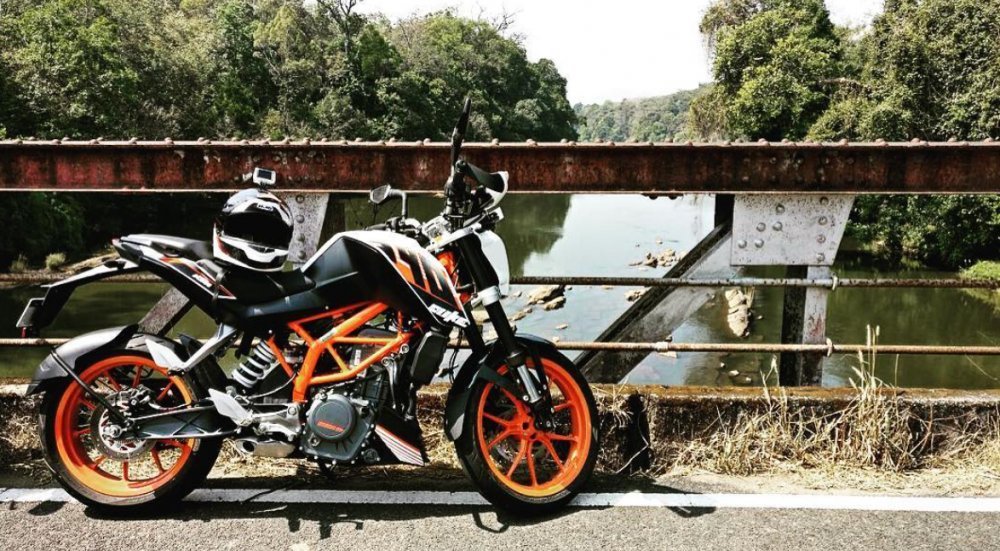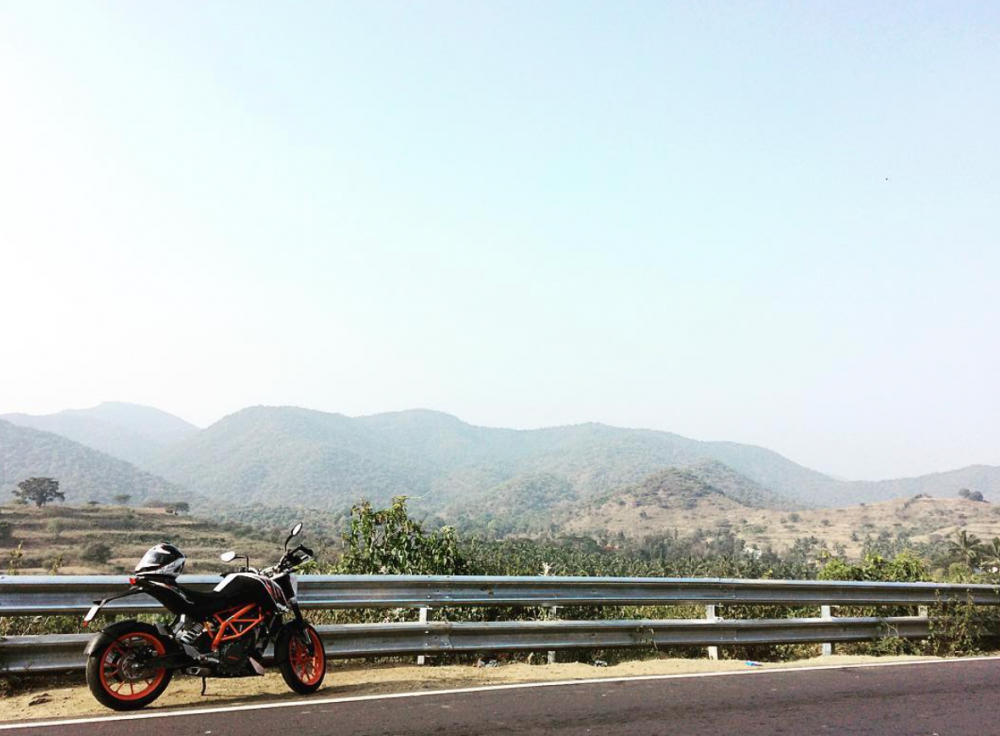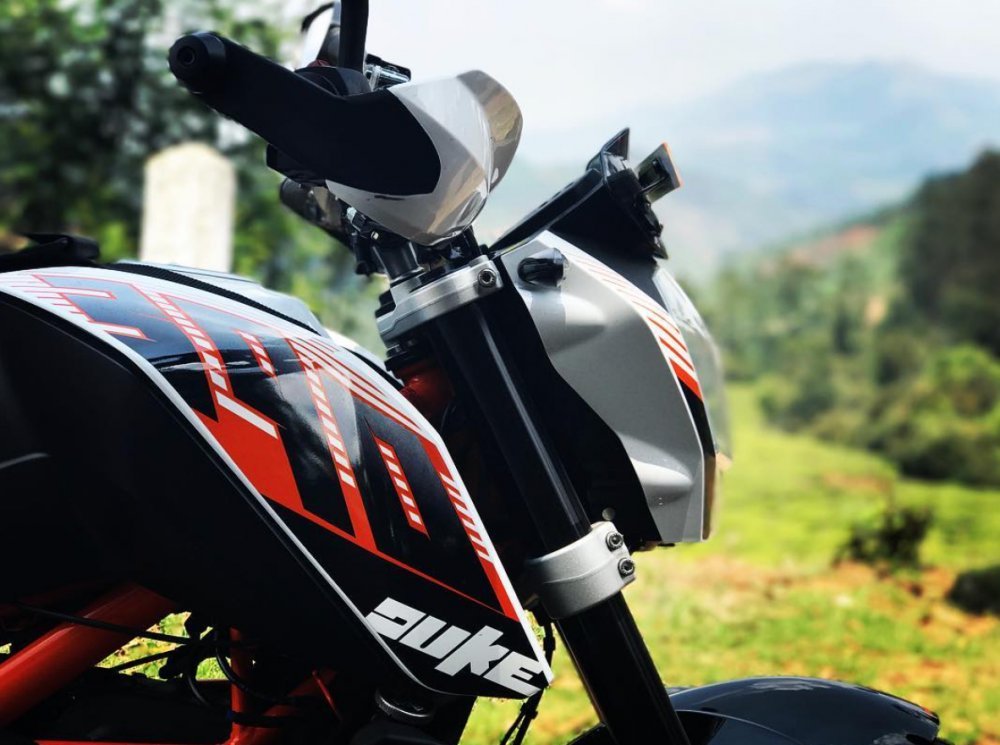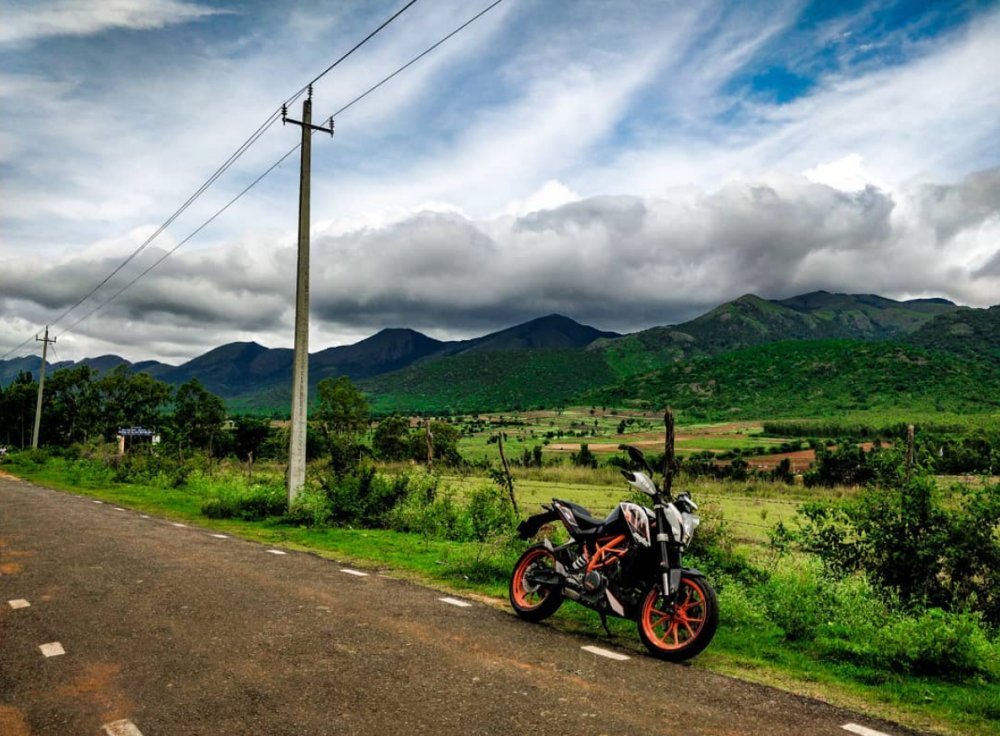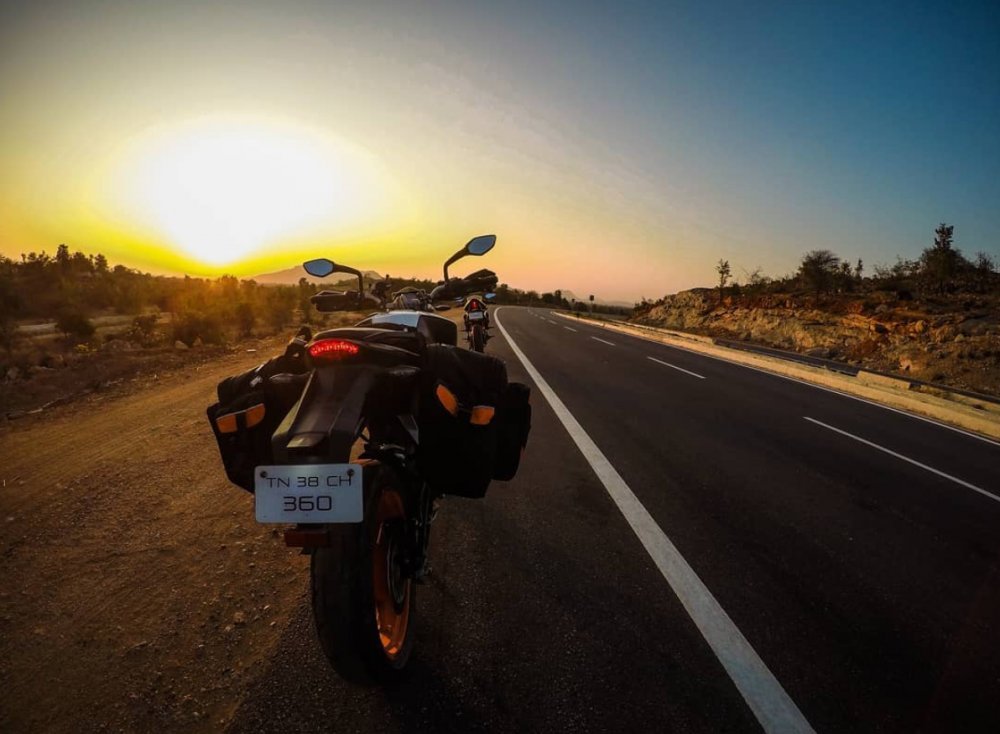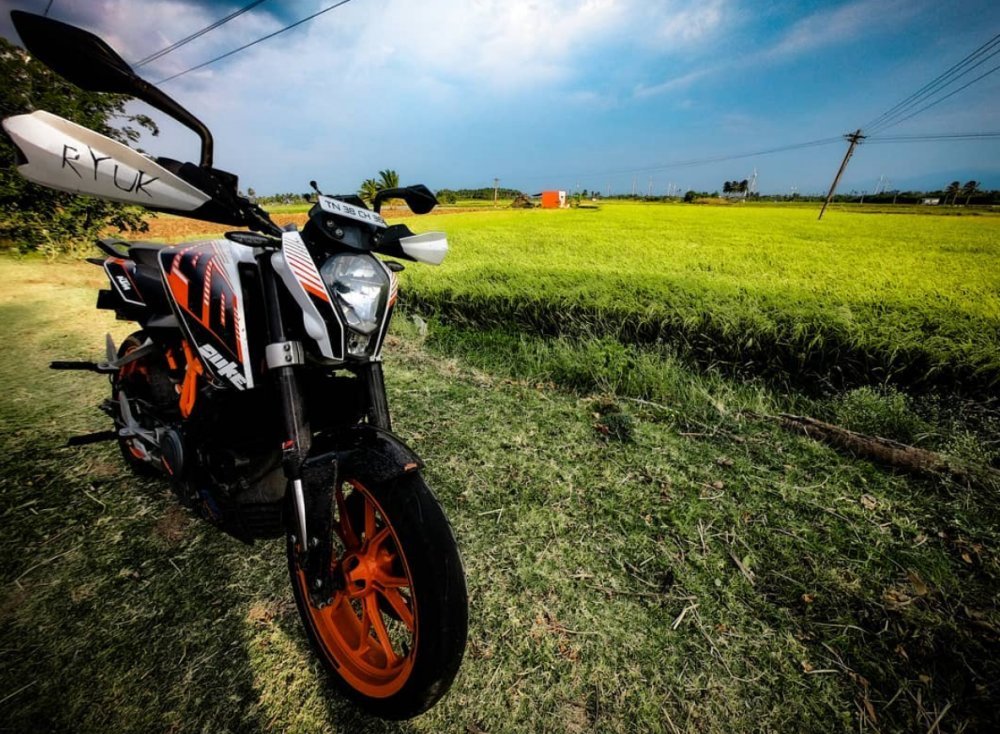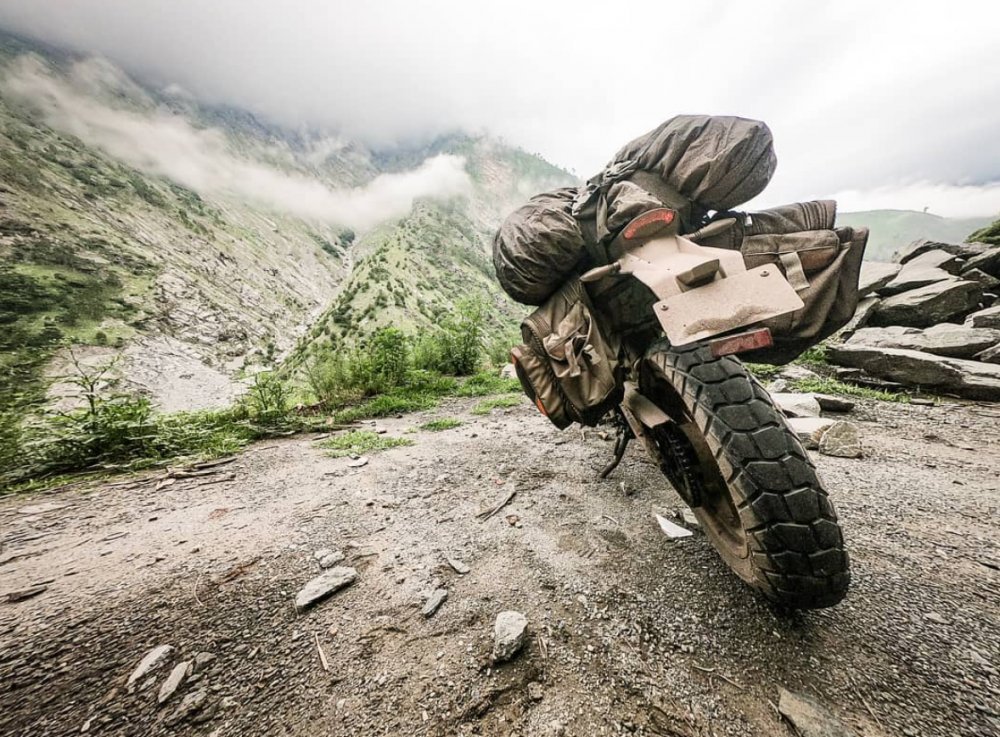 Last edited: