Joined

Jul 5, 2012
Messages

48
Likes

13
Location
Hi... this is my first post in TAI. Please excuse, if there is any mistakes.
Last time we went to Mandarmani in January 23rd 12, we were again planning for a short trip (3-4 days) to any beach destination. But them questions was, where to go? after a lot of debate we decided to go to Bakhhali. the group was me, my wife, my friend & his wife. As this was a new place for all of us, we decided to start our journey as early as possible in the morning, the date has been finalized for 6th April'12 and returning on 8th April.
started counting the days. in the mean time, our office colleague Sougata and Sourav also wanted to join us. we happily agreed.
Now the team was me, my wife and Sougata in my car (Fort Fiesta) and my friend, his wife and Sourav in my friend's car (Huyndai Accent Viva). We call in "Paka Lanka" (Red Chili in English)
on 6th morning we planned to meet near Tollygunge phari at 4am. I could not sleep properly for much excitement. Got ready by 4am but could not get out as it was pouring heavily. We were almost late by an hour and ultimately by 5am we started our journey and met them at the designated place.
just started the journey.
On DH Road, near Behala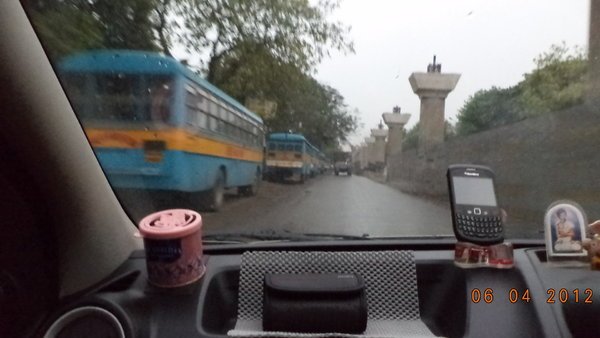 on the way, beautiful road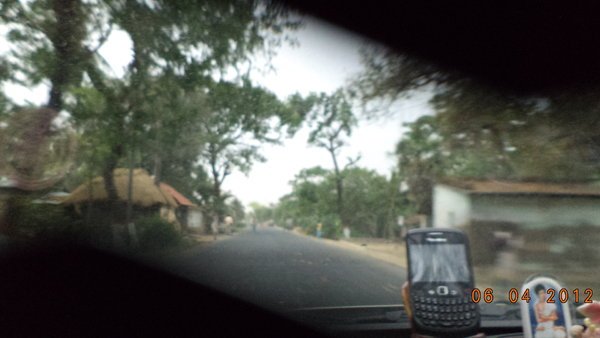 With a lot of excitement we started our main journey and soon we reached Amtala and got stuck in the jam due to the local vegetable market. The vendors were there almost on the main road. We lost half an hour there and then zoomed towards Diamond harbour (DH. A real good road with moderate traffic. We maintained a speed of 90-100kmph. Had a tea-break there and again resumed our journey toward namkhana.
Then again a smooth drive to Namkhana, we missed the left turn next to the petrol pump and reached to the passanger jetty. Totally confused.local guys told us the right way to reach the car jetty and we turned back and reached the car jetty. OMG! There was long queue of trucks and busses, if we had to stand on the queuewe had to wait minimum 3 hrs to take the vessel. what to do???? We thought let's take a try, we overtook all the vehicles very slowly from left side and came in front of the jetty gate and parked the car. The mammoth truck driver did not allow us to stand before him, so we stood parallel to him, he gave us a angry look, but who cares?
me & my better half @namkhana jetty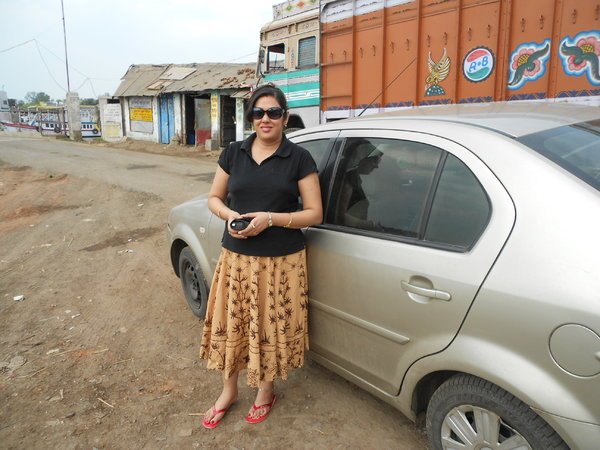 Phew! Still we had 20mins time in our hand, did some photo session.
me with my collegues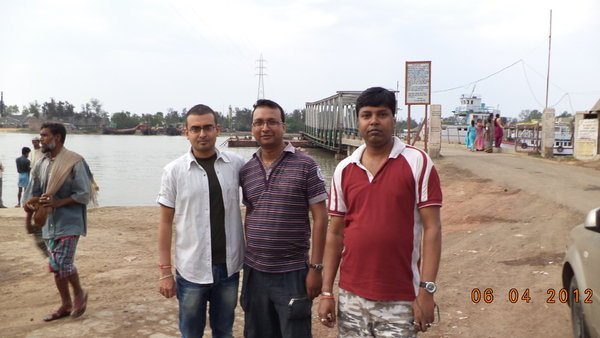 oil burners 1.6Lt both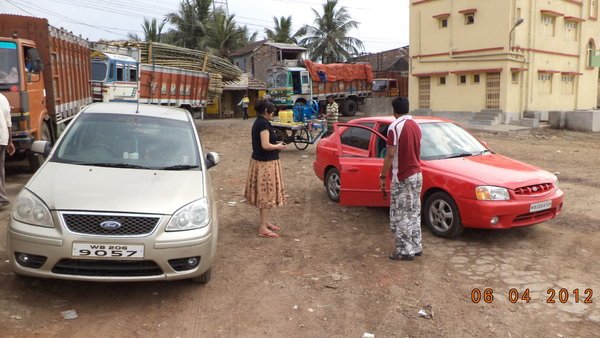 some more snaps...
the creek
the vessel unloading the vehicles.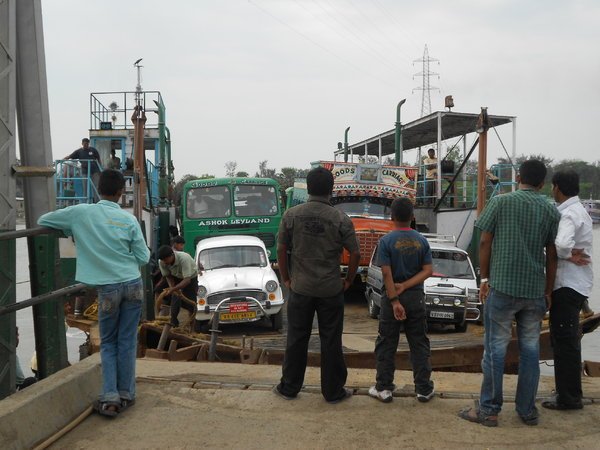 yours' truly, sarkar9057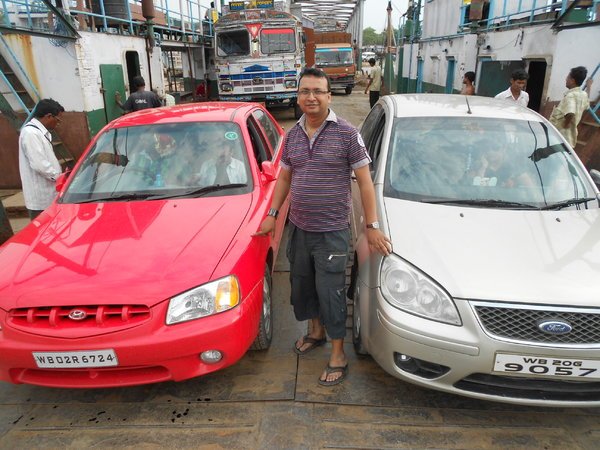 view from the vessel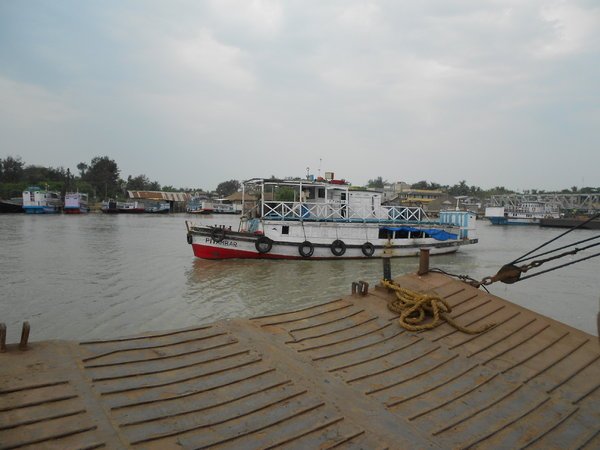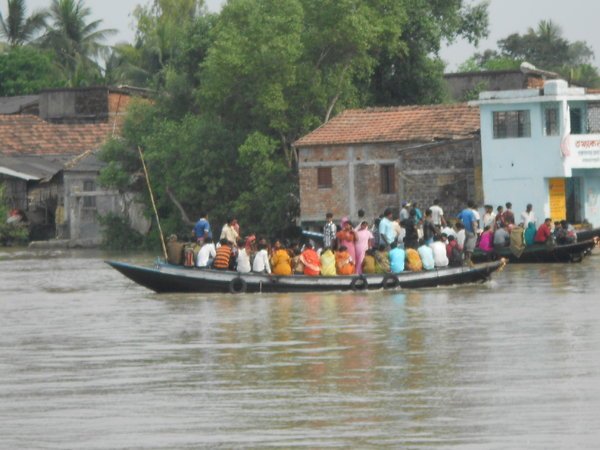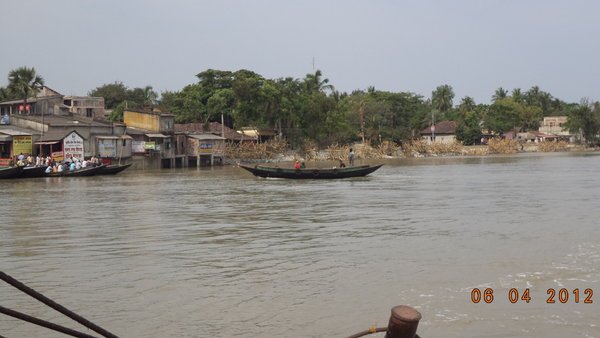 after crossing the creek, road towards our final destination Bakhhali.
Vessel came and we managed to get into it, it's a different experience. The creek is very small but very deep too, it hardly took 10mins to cross that and they charge Rs.300 per car, very big amount. But there was no other way that one can cross that creek. Everybody was feeling hungry, thought we won't take anything from roadside eateries, rather we need to reach Bakhhali hotel first (which we booked from Kolkata itself).
Our room was booked from 12pm and we reached there at 9am, they asked us to wait for 3hrs (?) My God, even they could not provide us a single room also where we could fresh up

. All were full, it seems their business are going very well.
We could not go out in the afternoon, as it was very hot outside. In the evening we went to the beach, had some fresh fried fish…yummy, We hired some chairs (Rs.5/per chair per hour) and spent hours of time in "adda" on the beach.
The next day morning we planned for Henry's island, it's hardly 30 mins drive from bakhhali. there was a place one have to left the car and walk down almost half a km atleast. Once we reached there. It was too hot outside, due to heavy rain for last couple of days and high tide, the road became muddy. It was very difficult to walk there and that also half a km. As usual, the ladies of the team decided not to go to the beach. "boys are always boys" we left our slippers in the car and started walking down through that mud road hold each other, so that we can maintained the balance.
Once we reached there in the beach, we were speechless…a beautiful white beach in front of usand more interestingly, there was absolutely no one on the beach except we 4. May be due to the bad patch of the road peoples were not coming. We felt to spent the whole day there but the ladies were there in the car. That to AC on. Each second cost…!!! Petrol price is so high…!!! We spent almost 2 hours ther on the water bed and then returned. I made a promise to myself that I will come again here in winter.
road towards Bahkkali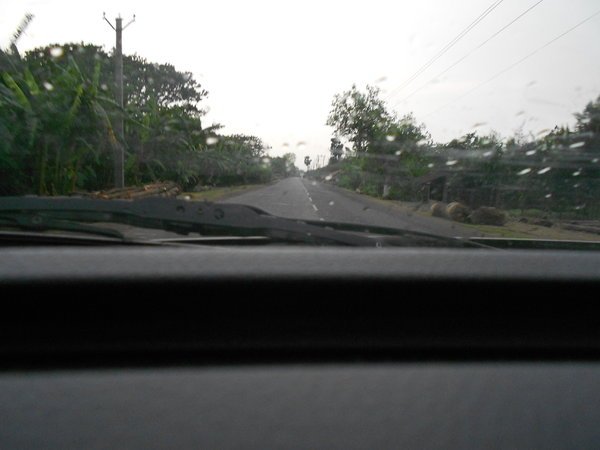 windmill at frezerganj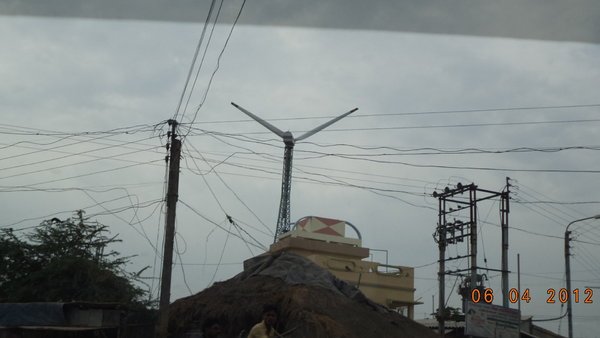 road towards Henry's island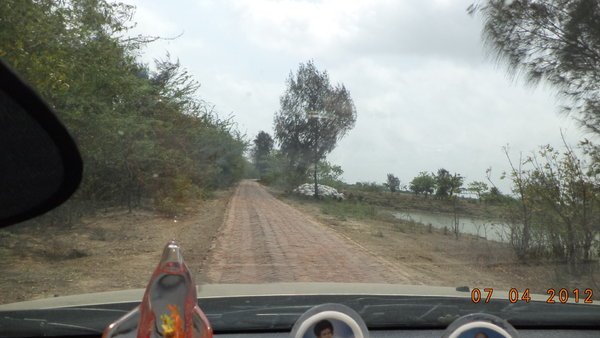 Henry's island (white sand)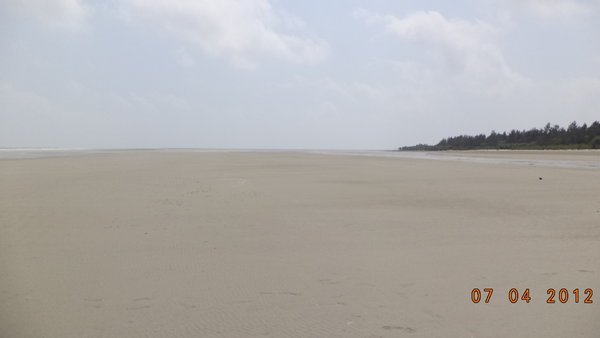 The next day was our return journey, we got ready by 12 and started towards Kolkata. The same old route, tried the speed, touch around 130-140kmph in some place, but the road condition did not permit to allow more than that.
We were surprised to see that there was a huge jam just before the Namkhana Jetty, we came out and went to see what happened there. We were shocked to see, that was a queue to cross the creek. At least more than 50 different sizes of trucks, buses, car, tractors..what not were on the queue. Frustrated, lost almost 3 hrs there.

. But this time we could not do the same tricks, could be risky. people will kill us.
waiting...waiting...& waiting...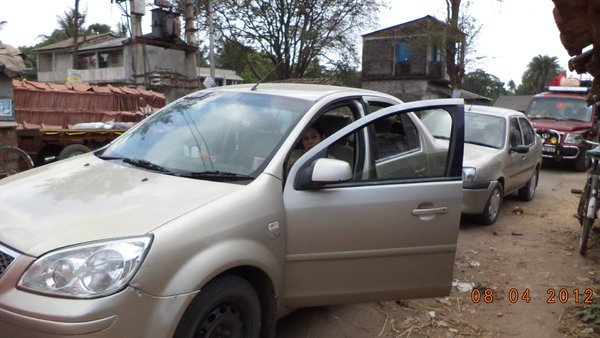 We reached DH then and had our lunch at the Govt hotel. forgot the name.(Good food but poor service & behavior), spent some times in the "bank of the river" and by evening reached home. This time we did not face any jam in Amtala.
End of the tour.