Joined

Aug 15, 2011
Messages

816
Likes

804
Location
At any given point of time I usually have 4 to 5 drive or trek plans up my sleeve. To be honest not my sleeve but in my wallet, in scrolls of paper, scribbled carelessly. Now this plan for Nelong and Gangotri was lying in it for more than 3 years and in the hindsight I know it was good that it did not get implemented earlier for two reasons. First my drive coincided with the reopening of Gartang Gally bridge an engineering marvel of a wooden path clinging on to a ninety degree rock face like a caterpillar. Second it being World Tourism Day we got permission to visit 2 very forward posts deep inside Nelong touching altitudes of 15,000 feet.
But more of that later.
The drive was more about the school friends who left the Alma Mater 30 years back and refused to dwell in just past memories but were fully focused on creating fresh ones. It was all about travelling back down the memory lanes to the school days yet driving out to the future and discovering what lay ahead. It was called ZINDAGI NA MILEGI DUBARA. It was in 2018 when the batchmates had got together for the first time for such childishness. It was in West Sikkim drive upto Hilley and trek to Varsey. This the second one was named DWITYA.
To read the first please check the link..
Kolkata - Hilley - Varsey (Trek)...Zindagi Na Milegi Dobara With The Xylo
Gahrwal in Uttarakhand has been very close to my heart ever since our school friends' first trek to Gaumukh/ Tapovan area in 1989 as we were leaving school. Since then I have visited and trekked innumerable times. So out of a lot of other choices this came up as a logical choice while deciding on the destination. Of course like in the first time the focus was not to get into cushy hotels and exotic tourist locations but to rough it out the way we used to do in school time excursions.
The major theme of the drive was of course the Holy Ganga. Initially we had thought of having a ceremonial start from Gangasagar (where Ganga empties itself into the ocean) but due to work pressure could not do it and instead settled down for Kolkata only. But throughout the drive the Ganga was a constant companion be it Varanasi or Prayagraj (we just skirted through these towns taking the bypass), Haridwar, Rishikesh or Uttarkashi. Having seen almost all the major and some minor Himalayan Rivers I have no doubt in expressing my personal opinion that the Ganga looks the best and feels the most powerful. No offence meant to the other rivers but felt that if any river can come close to the might of the Ganga is the Bramhaputra.
We had selected the small quaint little Village called Dharali to set our base.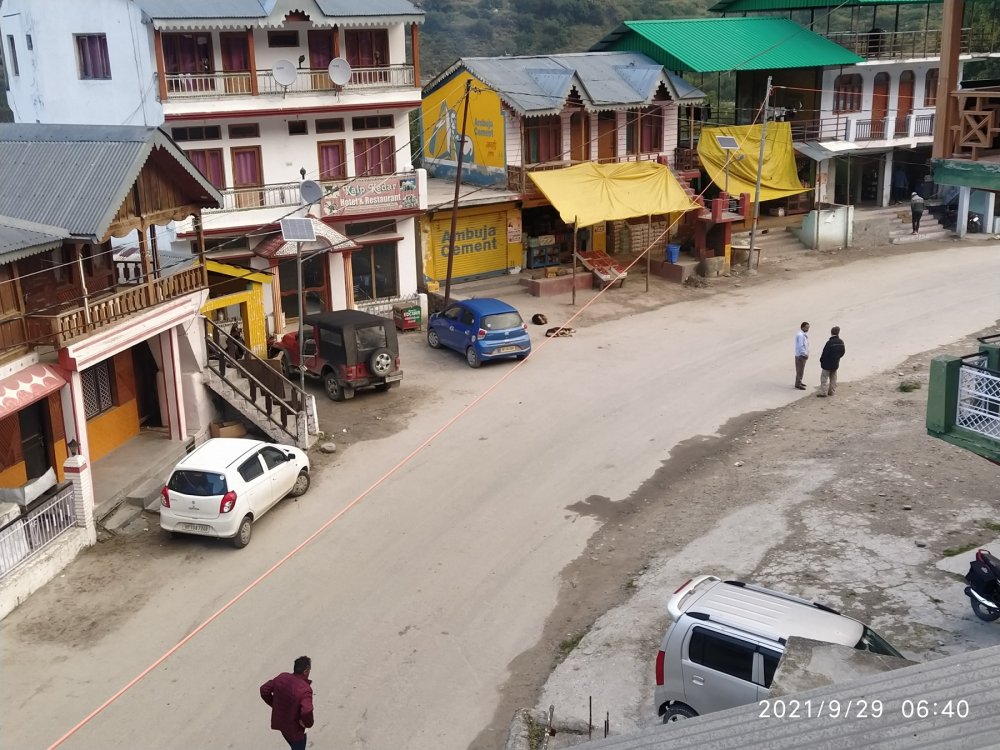 Gangotri was around 20 km from Dharali. This was my 4th visit to the hamlet and it never failed to mesmerize me every time I went.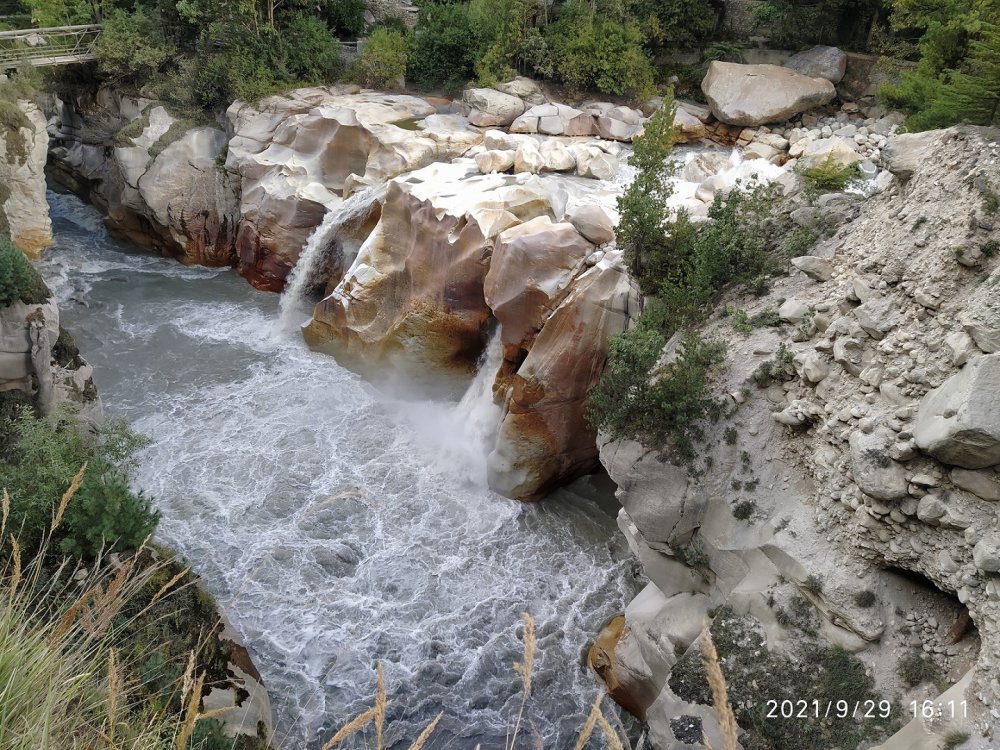 Nelong was the prime attraction for us. In handshaking distance with the Tibet border it is highly a restricted area but we were lucky to get a permit to have a 150 km round trip inside. The place was a mixture of Spiti and Ladakh and resembled nothing that I had seen of Gahrwal earlier. It was more of being in Tibet.
Gartang Gally is an engineering marvel and had been renovated and opened for public a month before our drive.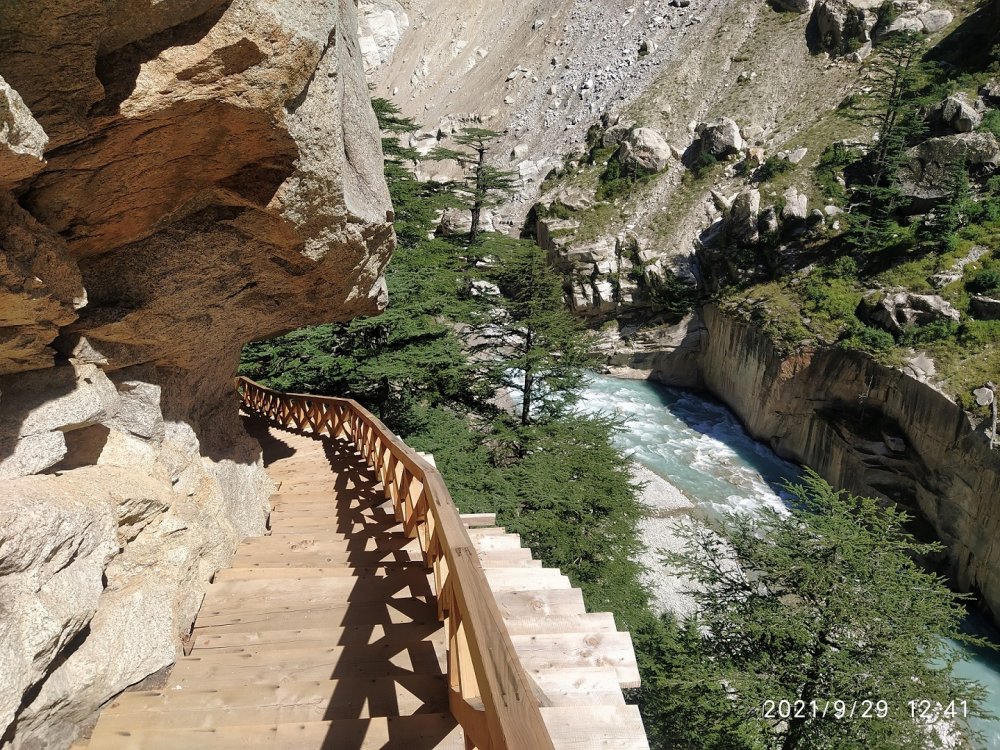 Mukhba is on the right bank of Ganga and the highway passes on the left bank through Dharali. But we had based ourselves strategically in Dharali so as to not miss crossing the Ganga and undertaking the 2 km trek upto the Village to feel its isolation and pay respect to the Devi Ganga temple which is the winter abode of the Gangotri deity when the temple stays closed for 6 months usually between Diwali and Akshay Tririya.
We never missed out on the mandatory food stop in Lucknow while on the return journey. Took out time to delve in its past heritage too.
The first time we were five of us batch mates in Sikkim but this time we were four as Saibal had to opt out due to some family medical urgencies. The rest of us lined up with great optimism and hope for a grand adventure and we did have it. From left of the picture it is me, Partha (the tallest), Subhamoy and Raja.
And of course like in all my travels the one silent companion who passes the test every time with flying colours the XYLO. It was a more than 4,000 km round trip drive climbing altitudes of 15,000 feet. There was the long highway crunching, narrow roads, deserted forest ways in the dark, crossing the turbulent river, moving through rarefied oxygen areas, braving the cold, kissing the Sun and with both of us catching up with age it was a challenge. But all along we both never stopped talking to each other and telling each other that we still had a lot of fight left in us.
The story will start. Please watch this space.
Last edited: