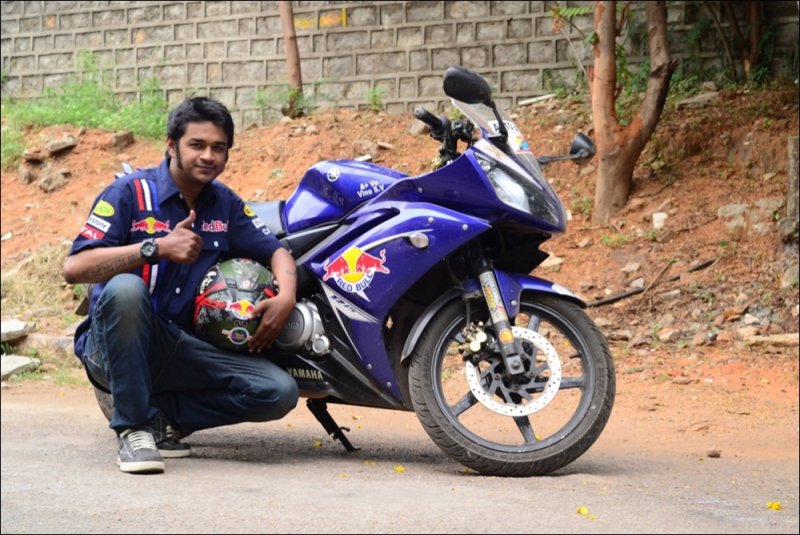 Someone rightly said that "if there is a will, there is a way". Now recently a passionate biker from Hyderabad has proved this saying true by successfully completing the Bun Burner challenge and became the first ever person from South India to hold this certification. Bun Burner is basically an endurance run organized by Iron Butt association of U.S.A. This challenge assesses the capability of a biker who can cover up to 1,500 miles in less than 36 Hours. (
Saddlesore 1000 / Bun Burner 1500
) It's certainly not as easy as it sounds. So we thought why not learn more about the experience directly from the man himself? Let us meet – Vinu S.V.
- Hi Vinu, although you are a recognized Indian biker now, but our members would like to know about yourself directly from you.
My name is Vinu S V, 26 years young from Hyderabad. My friends and close one's address me as MadMax and I have been trying to make a living out of riding a Motorcycle. Born and brought up in a small town named Kollam in Kerala. Settled in Hyderabad with my parents since 14 years and that pretty much makes me a Hyderabadi. Minus the biking bit, I am pretty much an average Joe who likes to hang out with loved ones and close friends and do the normal things just like everyone else. Come to think of it adventures, anything that involves an element of risk etc. kind of fascinates me.
- Since when were you smitten with this biking bug?
I have been riding around for close to nine years now and it all started on a Hero Honda Passion. I started riding only because of my late brother, Dhruv. He taught me how to ride, took me to the highway for the first time, taught all the tricks in the book. He was very fast, in fact really fast, yet safe. One of the best I have seen around. RIP my bro.
- Presently, which bike do you own and ride. Why?
Currently I own a Yamaha R15 (Racing Blue) and has covered close to 36,000 km's on this bike so far. I believe in performance biking that I can afford and it was the obvious choice in the market when I decided to make the purchase around 20 months back.
- That's great. But which one is your dream bike?
That is an easy pick, Yamaha R6. I absolutely love the high-revving nature and would love to own one someday.
- Now talking about the Bun Burner challenge, what actually encouraged you to participate in such an event which requires some serious daredevilry?
I happened to read about Iron Butt Association USA couple of years back and got hooked on as I have always loved long distance safe endurance rides. People who knew me around thought that I can pull one of the IBA challenges real easy but I kept hanging back for a bit. But last year during my South Solo ride, I dashed across from Cochin to Hyderabad under 17 hours flat under not so friendly road/weather conditions. That ride changed a lot of things for me from deep within in terms of confidence, how much I can push, where to draw the line etc. After that it was just a matter of time. Then came the Saddle Sore ride (1600+kms within 24 hours) that I was able to finish in around 22 hours and while I was getting close to the finish point I started thinking of the BunBurner. After riding for 22 hours I felt I had lot of steam left in me and BB could be my next challenge.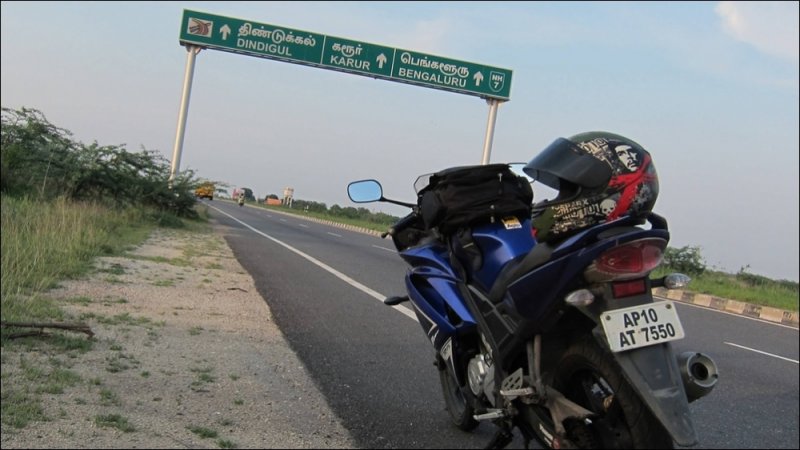 - We have heard that you had to quit a wealthy job for this. Do you really feel that it was a wise decision?
It was a pretty decent enough job and the only reason I had to let go off it was I could not find time to ride while I was at it. Riding only on weekends could not satisfy my thirst and it was just not possible to accommodate all the things I wanted to do on a Motorcycle along with a normal job. I made my mind up and of course, I am happy that I did. Over the last year or so I have finished so many things that I had in my check list which would only have remained on paper had I stuck to my job.
- In context to the previous question – Did your family, relatives and friends support you for this idea?
My family and relatives is not one bit happy about this and from their point of view, I feel they have every right to feel the way they do. Few friends did feel it was the apt decision because they pretty much knew how badly I needed to finish the long list of things I had in mind.
- Anyone who stepped forward to support you as a sponsor? How much helpful it was?
I have tried and knocked at many doors for sponsorship, not just for this ride but for various other rides and initiatives too. Sadly, no one has come forward or has been of any help in anyway. Currently Red Bull has recognised my efforts and has been associated with me since past couple of months in their own little way.
- It is evident that participating in such endurance runs is not an easy job. So have you ever participated in such events previously as well?
Yes. As I mentioned earlier, I did the SaddleSore 1600k (1600+kms within 24 hours) recognised by the Iron Butt Association USA and did pull it off successfully.
- Do you believe that outlining a proper strategy and planning pays off at the end?
Yes, absolutely. Planning is extremely important and to be honest it's half the battle won if you are pretty much aware of what you getting into. Mentally and physically, you have to be in shape and of course, you need to pick the right route, set up the bike to meet the demands of the ride etc. And more than anything, with all the planning in place one has to be prepared for the surprise elements.
- What were the preparations that you did from your end?
After the saddle sore ride, I was not in the greatest of physical shape. I had some issues with my cervical spine and some other back related trouble. Regular medication, Physio therapy, ample amount of rest kind of got me back on track. Regular cycling, jogging and other endurance building exercise definitely helped. I was aware of the road condition for the whole stretch of BunBurner as I have ridden through the entire route previously during my touring adventures. I even knew exactly which fuel stations I will be tanking up. And if there is any town or city that you cannot by pass and might face heavy traffic jam then you have to plan the ride in a way that you cross that stretch either late midnight or early morning.
- Despite the proper planning, what were the difficulties that you had to face during the trip? Please share an experience or two with us.
Apart from the usual fatigue and worn out feeling, there were few issues especially on the return leg of the ride. I had slight bleeding from my left ear for a while and my left eye was badly bruised – thanks to the army of bugs on the highway. (I do not feel comfortable riding with a closed visor in the night time).
- What were the riding gears that you packed up for this challenge?
Dsg Spike Jacket, Sparx S07 Rebel Helmet, Cramster Trg2 Gloves & Cramster Balaclava, Cramster Tank Bag.
- Can you tell us about the route map which you followed? Why did you pick this one particularly?
Hyderabad to Kanyakumari via Anantapur, Bangalore, Krishnagiri, Salem, Madurai, Kanyakumari-- then returned to Hyderabad via the same route and rode till Chegunta in Medak district after crossing Hyderabad. Starting the ride from Hyderabad, this was only the option keeping in mind the road condition and other aspects.
- We all know that it was a race against the time. But how many stops in total did you take during the entire 2,500 Kms trip?
I had to pull over 10 times for refuelling and apart from this, I took 2 breaks in between to Hydrate myself and click some pictures.