Mumbai, Pune and Kolkata finds a place in the list.
The ranking is arranged based on a combination of factors, including the average time spent by a commuter on a one-way trip. Traffic Index which is a composite index of time consumed in traffic due to job commute, estimation of time consumption dissatisfaction, CO2 consumption estimation in traffic and overall inefficiencies in the traffic system.
This is just the base of the problem as it leads to other issues like road rage and even reckless driving, thus accidents. There is a need to address these issues and this table just shows the gravity of the problem we have on our hands.
The website has also divided it into sections like Time Index, which is an average one way time needed to transport, in minutes. Time Exp. Index which is an estimation of dissatisfaction due to long commute times. It assumes that the dissatisfaction of commute times increases exponentially with each minute after one way commute time is longer than 25 minutes.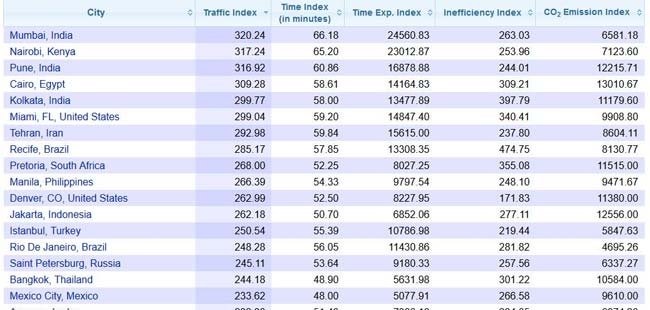 Three Indian Cities in the Top 10 List Of Worst Traffic Conditions in the World - News