Most of the family travelers like me keep looking for school holidays. School vacations are boon for planning longest road trips like this one. Luckily my project also got completed hence there was no issue in getting leaves approved like any other time.
In all our past trips we explored beaches, deserts, tea estate and temples but haven't yet reached snow. Hence this time we made plan to explore Shimla - Manali circuit. Few travelogues and vlogs had confused us regarding expectation of snow in end time of March month. One more confusion was regarding permit to drive inside Atal Tunnel. As per famous saying "Better to see something once than hear about it thousand times" we decided to check all these things by visiting there.
The itinerary was chalked down by keeping some buffer days in hand. I performed regular car and fluid checks. With great excitement we packed our bags and loaded them in car.
Day 1: Pune - Ratlam
We all are now habitual to start early in morning for any long trips. Hence after short prayer we started our trip.
It was a usual way from Pune to Nashik with good quality of road. Noticed cops doing routine check at Shinde. This is their standard check point but this time they did not stopped me. Nashik to Ratlam has some truck traffic along with you. There are those notorious speed humps till Dhule. I have noticed the speed interceptor van located behind tree at Ojhar, Malegaon bypass and Dhule bypass. Last time I got speeding ticket at Malegoan bypass hence was careful this time. We crossed MH border after which we were zipping on fantastic stretch of MP highway. Within couple of hours, we reached our hotel in Ratlam. It was Holi weekend due to which entire market of Ratlam was closed hence we could not try famous Ratlami Sev.
Day 2: Ratlam - Shahpura
In today's journey we had planned a short detour inside Kishangad so that we can spend some time at newly highlighted tourist spot "Kishangarh's Marble Dumpyard".
It was amazing drive on excellent roads from Ratlam to Chittorgarh. From Chittorgarh onwards we joined fantastic 6 lanes stretch till Kishangarh. I was happy to see speed limit of 100kmph in some of its section. There are high chances of getting doze off while continuously driving on this straight stretch of approximate 215 Km. We crossed Nasirabad after which we encountered few well marked diversions created due to ongoing construction of 2-3 flyovers. As we neared Kishangarh I started following google map to reach Marble Dumpyard which is now a days called as "Switzerland in Kishangarh".
Below are few important notes for visitor,
Location website: Dumping Yard Kishangarh - Developed by JKPRS Technologies
First, we need to visit Kishangarh Marble Association office. The staff inside noted down total visitors along with me on small paper after putting official stamp on it. The same paper was handed over to me.
Google location of Kishangarh Marble Association office - Google Maps
We came back to the entrance of dumping ground where security verified number of persons against figure written on that paper before letting us in. Google location of Dumping Yard - Google Maps)
Entry to this site is free which remains open between 10am to 5pm every day. The entire area is white and dusty so be ready to get covered your hair, shoes, car, and cloths under white dust.

Caution

: - Do not park your cars near to water where ground is wet.
It was hot afternoon when we entered inside. I was under impression that no one or few tourists will be there but to my surprise the many tourists and cars parked inside. The kids as well as elders were enjoying it that white dust. I noticed few pre-wedding shoots happening at one corner of dump yard where there was less crowd hence, I also selected same area for click. We were skeptical about getting actual snow in our trip hence enjoyed heart out in this fake snow area
Our beauty in Switzerland of Kishangad
After doing some dust bashing, we came out on main road. It took us some time to remove white dust which was settled on our clothes and car. Our journey resumed towards Jaipur using six laned toll road having speed limit as 90 Kmph to 100Kmph. Saw some heart in mouth overtakes done by few cars in this section. Also noticed speed interceptors between Dudu and Bagru. The signals from Bagru till Jaipur bypass creates huge jams where cars keep occupying every possible space.
Jaipur bypass brought some old memories of our past trip. This was second time I was driving my car on this road. Due to Holi weekend most of the hotels inside city were running full and were priced exorbitantly. I was aware about some excellent transit stay lined on this highway hence we continued our drive till Shahapura. The road after exiting Jaipur bypass was filled with heavy local and truck traffic post evening.
It took us more time than estimated by google maps due to broken tar in few sections (especially on bridges). We opted to stay in one of the famous hotel chains named "Hotel Highway King". They have excellent and economical rooms. As per me the taste of their food is something to die for.
The look of hotel is like some bungalow surrounded with wonderful lawn.
There was one more family that night else rest of the hotel was for us.
We ordered our favorite "Paneer Do Payza" in dinner
Day 3: Shahpura - Zirakpur
Before leaving Shahpura we had some heavy parathas for breakfast. The road condition between Shahapura – Panipat – Kurukshetra – Ambala – Zirakpur is good with some truck traffic till Panipat. It was hot afternoon when we reached near Kurukshetra.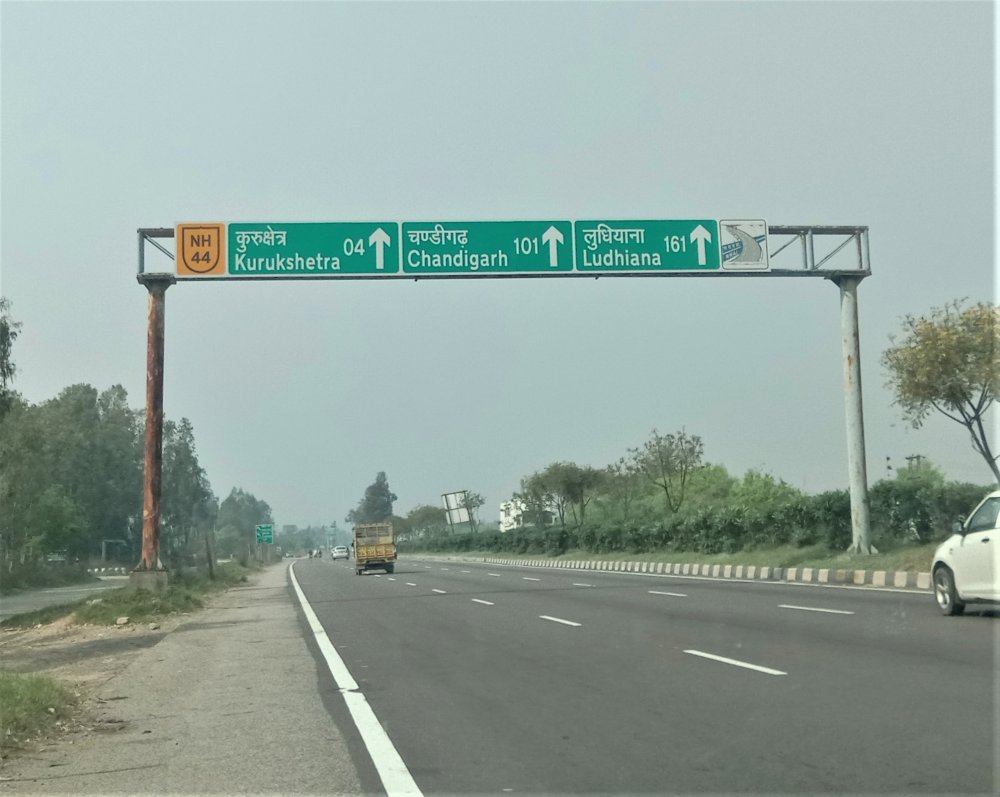 We have planned to do a quick detour inside Kurukshetra to visit Geeta Updesh Sthal.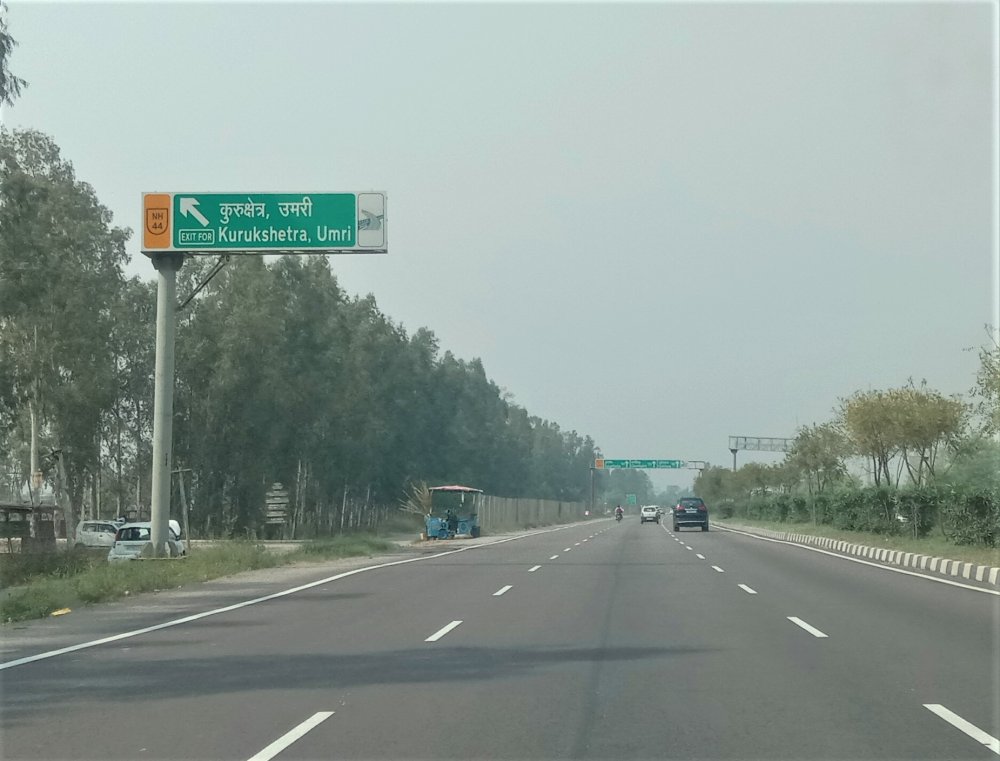 Entrance arc of Kurukshetra
The roads Inside city were potholed and dusty. The railway crossing on the way is a messy patch to cover. After negotiating two-wheeler traffic, we reached Brahma Sarovar. This is sacred lake where it is believed that you need to take a dip into it to get rid of all your sins. The lake is surrounded by walkway which have some wonderful painting and sculpture associated with Mahabharat on its walls
The area is huge where lot of walking is involved. Sarveshwar Mahadev temple which is dedicated to lord Shiva stands in middle of lake. It is said that this was installed here by Brahma himself. The temple is accessible by small bridge. There are many small temples of other gods and goddesses in this location
The rest of the campus has vast greenery along with walkways. The attention seeker is huge bronze statue of Lord Krishna depicting Gita updesh to Arjun.
The are many large trees in the surroundings which attracts different type of birds. We sat under shade of one tree for some time. There are many Chole Kulche vendors lined beside road outside the exit gate of lake. We thought of giving it a try and believe me those were very good in taste.
Gita Updesh Sthal is in Jyotisar which is located couple of kilometers ahead. We spotted many temples on this way but due to lack of time we kept moving ahead. After parking our car in dedicated parking place, we entered inside main gate. The area has lot of banyan tree and monkeys as well on it. There is marble statue of Krishna on a beautiful chariot, delivering the immortal Gita to Arjuna to remove his confusion and dilemma.
It is said that this is the same Banyan tree under which Gita Updesh was given
We had some lemon juice outside to cool us from hot sunny day. Once again after negotiating local traffic and messy railway crossing, we reached back to NH44. On highway as well there was lot of local traffic moving at high speed. Witnessed few minor accidents of two wheelers and pickup vans.
Saw few cops stopping vehicles at Haryana border. Somehow, they didn't stop me.
It was evening time when we reached near Zirakpur. It is pain to enter Zirakpur from highway as entire traffic takes service road which makes bottle neck under flyover. Though this section is small but due to standstill traffic for minutes and minutes it took lot of time for us to reach hotel.
Continued...