Joined

Sep 11, 2009
Messages

2,352
Likes

2,314
Location
[Sold] Hyundai i20 Magna (O) CRDi 6 Speed
Diesel Mania – 2012 Hyundai i20 Magna (O) CRDi
Again, my best buddy's car. The same car ex-Indica petrol owner. The Indica was sold in a hurry and it was decided that no car for in the next 2-3 years. He was a RE 350 Standard owner and unfortunately it started taking toll over him, started developing severe back and shoulder issues, doctors ruling out bike rides. So car became a necessity and we were back for the next saga.
Confusion:
1. A cheap second hand petrol and the amount saved with respective to a new car can be saved for fuel and maintenance. Sounded good.
2. A diesel. Quite expensive. Make use of it to maximum.
3. LPG variant. Like every other Indians, poor image about LPG powered car, the image created by old cooking gas run cars.
The Search:
Asked all relatives and friends to inform if there is some second hand Wagon R or Swift available, even a diesel Punto (low resale). No one replied. So only option was brokers and dealers. Even after being cheated by Mahindra First Choice, we decided to go there. Spotted some examples. There was a bright red K10 Estilo with 60+ on odo, asking 2.85L. Then we hit Hercules Park and Sale (Maruti dealer's park and sale setup, not True Value). Everything except Estilos were prices sky high. World War 2 Wagon R's were priced at 2.5-3L. There was a sweet Chevy Spark, belonging to our ex-colleague, top end with all gizmos and less odo reading, but sold out for 2.3 L. Booked the first red Estilo paying 1k.
Discussed this with one of his relatives. He was having a 2002 Ford Ikon diesel for disposal and he offered it for 1.25 L. Now the sedan bug attack began, started looking for Ford Ikon diesels, Accent TUD5s/CRDis and even Baleno LPG. One doctor said no pre-2008 Ikon, everybody said no old Hyundai's, a Baleno owner said too costly rare spares.
We asked the Estilo dealer for a diesel option and there was a decent Indica, low odo, still under warranty. Now the confusion, Indica or Estilo.
http://www.theautomotiveindia.com/f...worshipped-cars-indica-diesel-estilo-vxi.html
That dealer already cheated us with the petrol Indica and was keen at selling us the Estilo only, think it was stuck with him. There was another Indica DICOR, almost brand new, he was hiding from us. So lost interest dealing with him.
Now the plan to ditch the Enfield came and he decided diesel only for replacing the Bull for daily use. Hit another First Choice dealer. There were umpteen Hyundai Accent/Viva diesels, an i20 Magna and a Swift VDi. Swift was tempting by looks, alloys, fat 195 tyres, good audio, etc, etc, but 1.1+ L km on odo and asking price around 4.25. There were some issues like hazard always blinking and rattling from driver's door. Decided to take the car and he saw the i20 and was pretty tempted with it. I said not to take it, and we would think and take the Swift itself. Went home and the idiot from showroom called and said i20 clocked only 23k km and he would give the car for 5.5L and that too the top-end Asta. Ran back and TD the i20. 3rd gear 2k rpm, exact place where people fall for the i20, it's addictive and orgasmic. He was shifting like in petrol, 1st and 2nd at around 1k rpm and in 3rd the card was not pulling and struggled to reach the 1.7k rpm and it kicked from 40-80+ like a rocket. He fell for it. I had second thoughts when I realized it clocked 83k and came back to TAI for help. Finally decided to take the i20 itself and decided to pay advance and start paperwork. Then I felt suspicious about their dealing and tried Google for homework and got lots of bad experience about 1st Choice and we already had one with the Indica. Then thought why spending 5.5 on an old car, why cant we get one new. Wagon R LPG/Beat Diesel was in my mind.
(The second First Choice dealer sent some provocative message like we cheated them, called them and said enough)
Told him and he was confused so was me. He was a bit bulky, so he wanted a roomy car. Now the TD marathon 2.0 begins. Shortlisted cars. Toyota Liva, VW Polo and Nissan Micra.
1. Micra. First and foremost thing bothering us, the dealer, Marikar Motors, the most notorious dealer in Kerala, the most arrogant and ignorant people you can find. They made it hell for Skoda, Enfield and Honda 2 wheeler owners here. His first bike was from Marikar, an Unicorn. I was cheated by them for a Dio, ending in buying the FZ.
Scene was pretty different at Marikar Nissan. One lady welcomed us and led us to the executive. He explained everything pretty neatly, discussed all financing options, took TD. Pretty impressive. Pulling like petrol, feature rich, but no ABS and USB support. Told him we will TD other cars and come back and say a verdict.
2. Polo. EVM VW. Again the lady there led us to executive. They assess people by looks and felt we are not worthy clients and the executive's attitude in the beginning was like blah, blah, this is a car, this is that, this is this. We were there just to inquire about the pricing and then look into the models. After feeling insulted, we decided to make him demo the car fully, asked him this and that. He was speaking in half English, we started of in full Angrezi and he came down to earth. His demo was pretty impressive after that. The second option Polo tempted a bit, upgraded with lots of stuffs. HU from old Polo top end, 4 power windows, remote locking, reverse parking sensors, etc, etc. Pricing was a bit steep at 7.8 L, I believe. They had in-house financing and interest rate was 8.99% only. EMI for 5 year was around 10k only. Said the same to them, TD others and decide. Then he started bashing Micra, saying cheap Japaneese, this is German, and it's sold by Marikar, etc, etc. Some of his points were very much valid.
3. The Liva. I had no interest in even trying the car. No lady to welcome us, instead the receptionist was a guy. Led us to the executive. Toyota showroom was like cattle market, full rush, but very prompt dealer. Impressed by the interior space, cant reach the front seat from back seat. Interior quality and features were pretty down, Hyundai Eon was even better. He showed us the limited edition TRD Sportiva. Sexy 15 inch rims, 185 profile Turanzos, body kits, really tempting, but it was just a pimped up base model and priced at whopping 7.25L. Not worth spending, don't even have an audio or fog lamp. Took TD. Very much impressive the way it drives. No lag, with easy it was climbing all slopes with ease even in 3rd (not from standstill). It missed ABS, but no airbags. There were 3 cars in stock and he said cant hold them unless we pay advance. Decided to book it after asking his wife and left.
Confusion: Micra or Liva. 30 mins of tea cups and shakes, decided to go for Micra. Went there TD'd again. Paid 10k. Chose XV Premium dCi, Silver one. Instead of discounts they were offering 10k worth overpriced accessories. Mat, mudflap, side beading, reverse assist = 12.x k. Accessory dude was pursuing us to take more and more of those stuffs, declined that.
We had confusion between Blue and White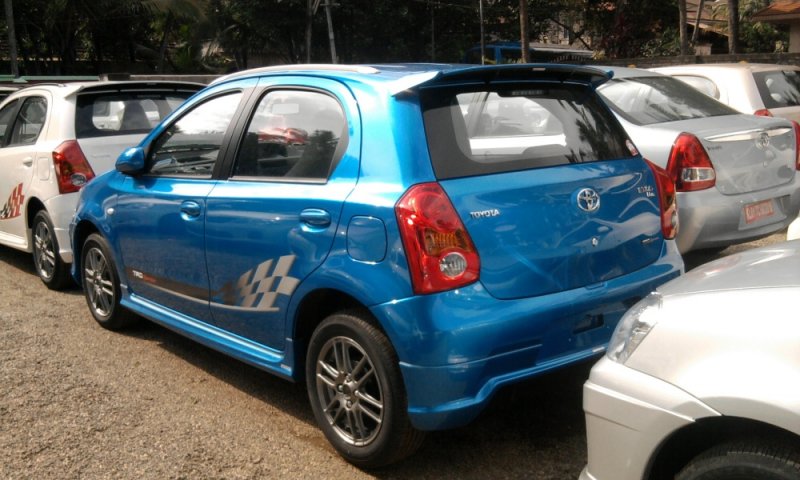 Settled for this white one.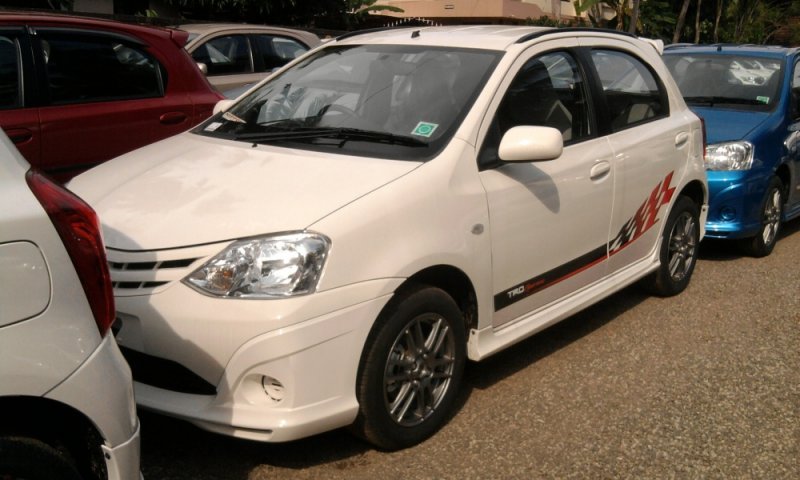 This was our car supposed to be deliver in 2-3 days, which we ditched.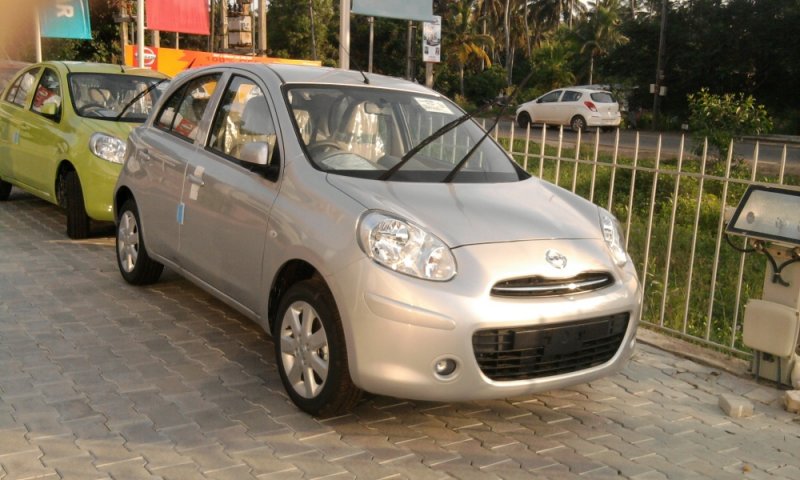 One fine Sunday, came the dialy ad, i20 starting at 6.8L onroad and we are open on Sundays. Rand to showroom, TD'd the i20 CRDi, Magna option was priced similar to top-end Micra. No alloys, airbag, push start, wash wipe. The most tempting was a 6-speed box and he was already leaned to the i20 from the very beginning. Top-end had almost everything we could get in a sub-10L car, but couldn't afford. Booked a white Magna (O). Car available for ready delivery, only finance paperwork is the delay. Called the Nissan dealer and cancelled the thing.
----------------------------------------------------------------------------------------------------------
The D-Day
November 1, 2012.
As usual, they said delivery time 5 PM. I guaranteed they won't deliver before 6, but because of his curiosity we were there before 5. Car was in for washing and accessorizing. By 6, the car finally rolled out, started the happy motoring.
Total on-road cost 7.47 L including 8.5k extended warranty and 19k insurance. Paid another 10.75k for 3M Teflon coating, underbody coating, door panel coating, vinyl flooring and better proper fit rubber mat.. They gave molded mudflap, a set of normal rubber mats and the taxiwala steering cover for free.
Dealer was Popular Hyundai. Very much satisfied with their dealing till now. Gave good assistance from day 1 to day registration. Dealer was under main RTO and car needed to be registered under SRTO, so had to take TP and then register under SRTO. They provided driver to take it to the SRTO, most dealers here won't in case of a temp to registration case.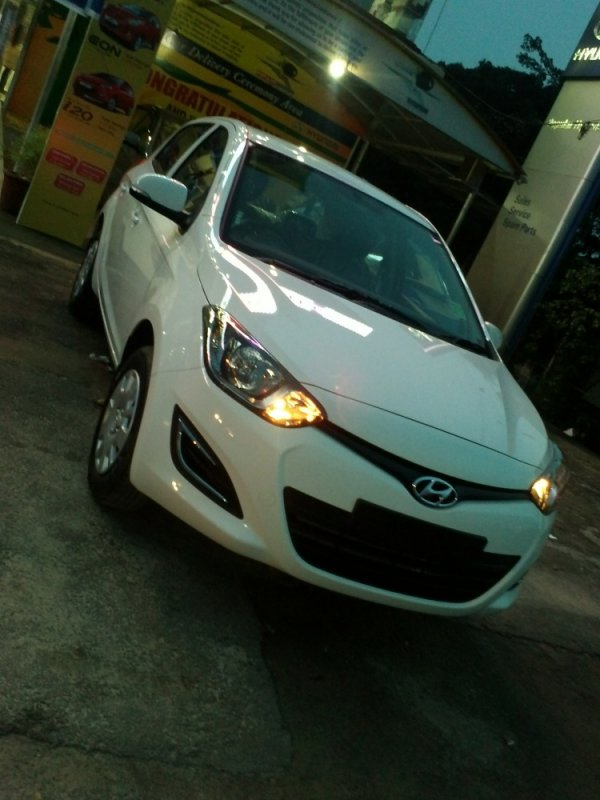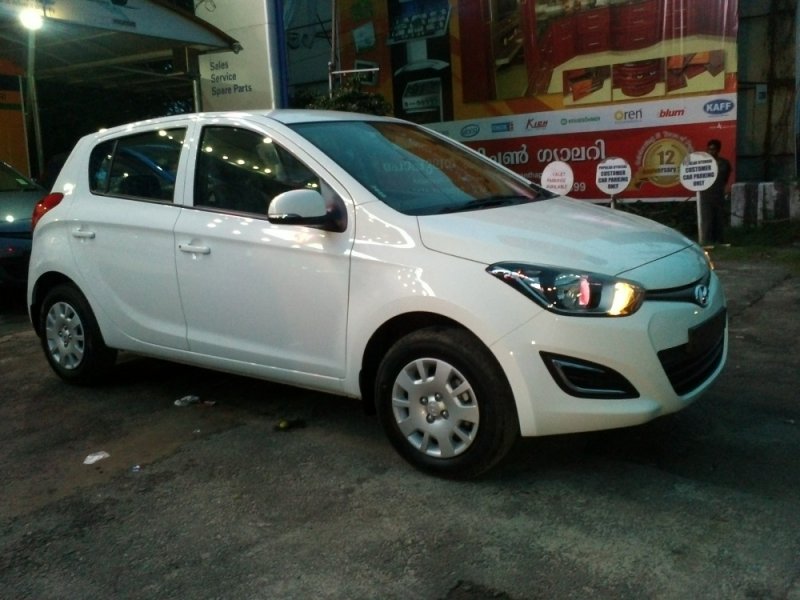 The Car:
The car is like an orgasmic bitch

. Find the G-spot and she goes riding very time you floor it. It almost killed the petrolhead in me. Keep shifting over 2k and it runs just like a petrol. Only issue is last minute braking is panicky, this one got no ABS and have skinny 175 tyres. We had plan to upgrade to 195 15-ers, but tight budget killed it. With AC it returns 15+ in city and 20+ in highways. Didn't check properly till date.
On-Road Price - 7.47 L
Down-Payment - 1.85 L
Insurance - 19k
Extended Warranty - 8.5k
Accessories - 10.75k (Underbody coating, Door panel coating, Teflon Coating, Custom-fit rubber floor mat)
Freebies - Molded mudflap, rubber floor mat.
----------------------------------------------
Unfortunate events
Before even completing 24 hours, car ran out of diesel just less than 200 m before the pump. Good Samaritans came for rescue, pushed the 1+ tonner off the road, hit the milestone, damaging left rear door and running board. Bought 1 L diesel and tired cranking, failed. Luckily that area had all kinda dealerships and mechs were living near by and some Hyundai mechs were there just opposite us spending eve at an accessory shop. They said minimum 5L is required if air enters the system, told us to fill 5L and try cranking and if it does not work, call them. Filled 5L tried, failed, called them. They pumped air off the system by pressing the thingy inside the bonnet. Waited 10 seconds, cranked and it came alive. Hurray!!!!
----------------------------------------------
Photos uploaded
1st service update
>>
1st service update
2nd Service Update
>>
2nd Service Update
3rd Service Update
>>
3rd Service Update
1st Paid Service
>>
Update
Insurance renewal
>>
Insurance
New Footwear
>>
MRF ZLO
45k Service (Supposedly 2nd Paid Service)
>>
45k Service
Sold
Last edited: