This happened with me some time back and I kept banging head on internet for a few hours to find an appropriate solution. I reset the unlock pattern but somehow it didn't work when I tried to unlock the phone. Google Search showed numerous results but none of them worked for a silly reason. I am writing a quick guide to help others who might experience the same problem in future so that they do not have to struggle as much as I did.
> Step 1:
If you have forgotten the unlock pattern or if it doesn't matches with the one that you entered while the phone was in a 'normal' condition, try to recall it hard and enter all the possible solutions back to back.
> Step 2:
By the time you read this line, you would have either successfully unlocked the phone or just ended up locking it completely. i.e. it will not allow further pattern attempts anymore; Android will ask to enter your Google Mail credentials instead.
> Step 3:
This is where the catch is. It involves a little use of common sense. Regardless of the times you enter correct log in details, the phone will keep prompting 'invalid user id or password'. Now pick another phone and ring on your own cell phone. Accept the call, open up the top slider and turn on the WiFi.
> Step 4:
You are all set to reset the pattern now. Just enter the correct Gmail credentials and click "Log in". Remember, You would have to use a newly generated password from "Authorizing applications and sites" (under security tab) if Google 2 Step Verification is enabled. Good luck. Hope it helps.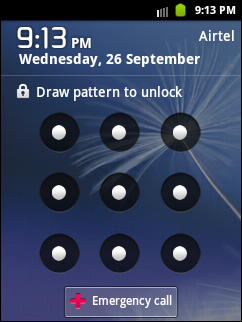 Drive Safe,
350Z