Joined

Aug 6, 2011
Messages

6,206
Likes

4,220
Location
Okay guys,as the topic suggests,I have started the thread to just show how a sedan is better than an SUV/MUV.Here we will be taking various parameters and then providing the practical results of the comparo.
The parameters considered now are:-
Price.
Ride and Comfort.
Ride and Handling.
Performance and FE.
Maintenance.
Utilities.
Price:-
This part consists of two sub parts:-
Cost of buying.
What you get out of your money?
Cost of buying:-
No doubt,sedans are always cheaper to buy as compared to the SUVs with same features and performance etc.
What you get out of your money?
What you get?Eh,you get a car or a truck,its upon you.Now just compare two cars,viz:Hyundai Verna CRDi SX and M&M XUV 500 W8.Now you will notice a huge difference between the product quality and fit and finish.While the sedan costs far lower,the Verna looks like something very much upmarket as compared to the XUV.While there is nearly same length of the feature list.
Ride and comfort:
Eh,I need not to say anything.Compare any sedan and SUV of same category and everyone knows which is having better ride and comfort.In fact more pliant ride and more comfortable and silent cabin.
Ride and handling:
SUVs stand no chance in front of sedans when it comes to this point.everyone knows that even the worst handling sedans handles better than the best handling SUVs.

Performance and FE:
Haha,better less said in this field.Even a 120 bhp sedan can easily outrun a 190 bhp SUV and same way the same sedan gives about 20 kpl while the SUV never gives anything over 15-16 kpl.
Maintenance:
Haha,SUVs have various extra maintenance issues as compared to sedans.
Utilities:
No doubt SUVs offer better utility and are more flexible but then for the truck-level luggage etc I'd any day prefer the pick up trucks instead of spoiling my SUV.
For minor utilities,sedans offer great utility then..
Here are the pics of a SUV showing its utility(You can also notice the cheap looking parts and bad(say worse) fit and finish too):-
And here is a sedan showing the utility it can offer:-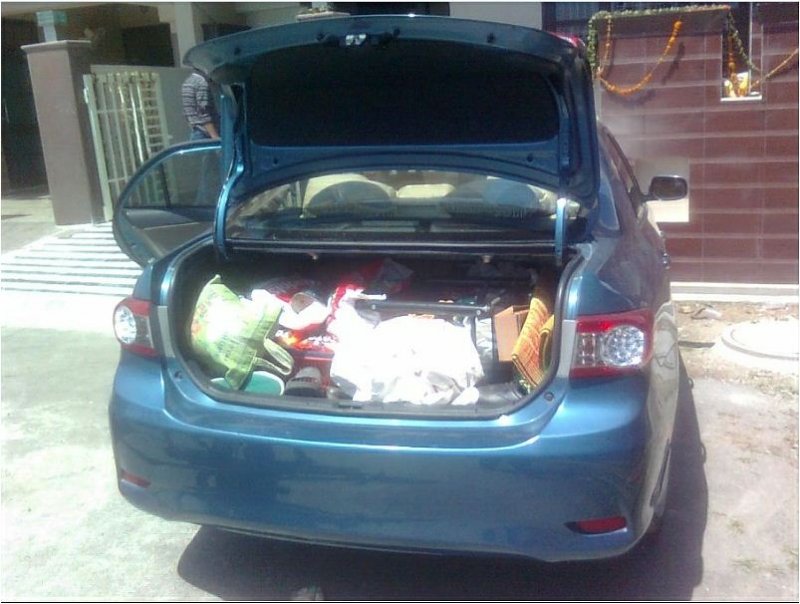 That's all from my side..now waiting to hear from you people...also the SUV lovers..