Honda city 4th generation - ownership review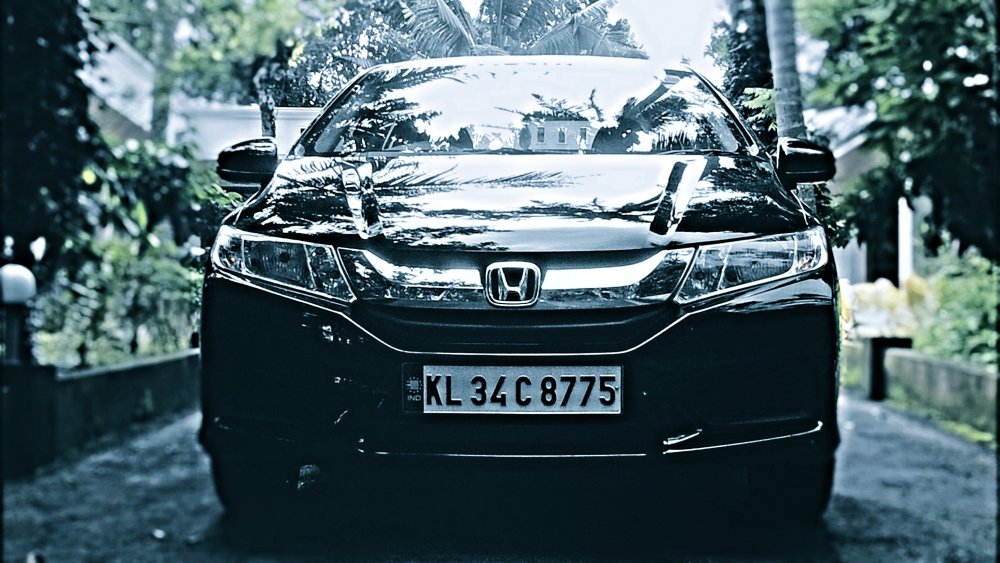 This is my first ownership thread ever, hope you all like it. I have been a car lover from my child hood itself. I used to ask doubts to drivers and used to observe the things that a driver does. I was so amazed to observe the well-coordinated actions they do while changing gears, accelerating, braking etc. We used to travel in my cousin's Mahindra jeep (he had changed 3 jeeps in a matter of 8 years), and my father although having a driving license never bothered to drive. So we were chauffeur driven those days. The drivers being our acquaintances, I was free to ask any doubts to them and they used to clarify all my queries. They used to ask me change gears while they drive (you know those days – around 19 years back. I am 32 now, do some calc buddies.).
When I was doing my 10th class during the year 2003, my father started thinking about buying a car for us. My brother and I were insisting for Zen or Swift, but he went for Maruti Alto as it was a newly launched car. The car reached our home on October 3rd 2003 night. The very next day, I and my brother planned to wash the car as that day was my cousin's wedding day. My brother planned an idea in my head "rather than pushing the car in neutral from car shed, let's start the car and drive for some 10 meters". I being well versed with all the driving theories by that time executed his plan to the T. My father rather than becoming angry, was amazed by my first drive. Then this became 'the usual', whenever I get time I used to start the car and drive for some meters forward and then reverse back to the car shed. One day I took the chance of taking the car through the local road and that's how my driving journey started. I got my driving license in 2006 when I became 18 years old. During my driving test, I was asked to take the H (remember that capital H!!) 3 times. After that, the inspector congratulated me and told others "This is the way H should be taken", and he told me "you don't have to do the road test, as I am very much convinced with your driving skills". It was a special experience for me. Self-flattering ends here

We then graduated to a Maruti WagonR in 2007, only reason being Alto became more cramped as we grew up (I am 6 feet). WagonR is still with us, completed 13 years and 88,000kms last September. It had pioneer single din head unit which plays CD's, two 4'' dashboard mounted speakers, A pillar mounted tweeters, and 6X9 co-axial speakers (all from Pioneer) in an enclosed box which is kept in the boot. Still works fine without any issues. Now this set up is more than 15 years old as it was taken from our beloved Alto. Here I present our WagonR for your viewing pleasure, still on stock clutch, stock suspension, and 165 section Apollo tyres.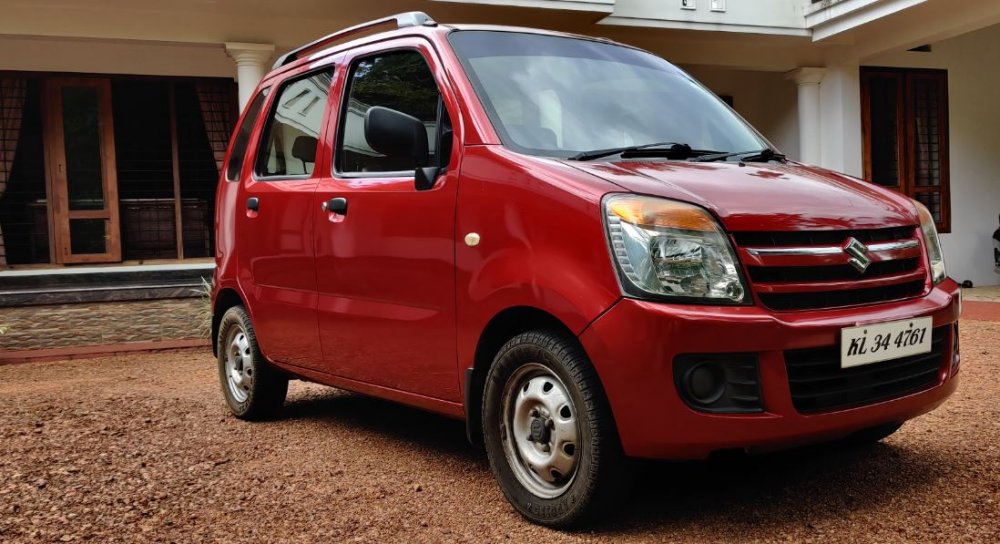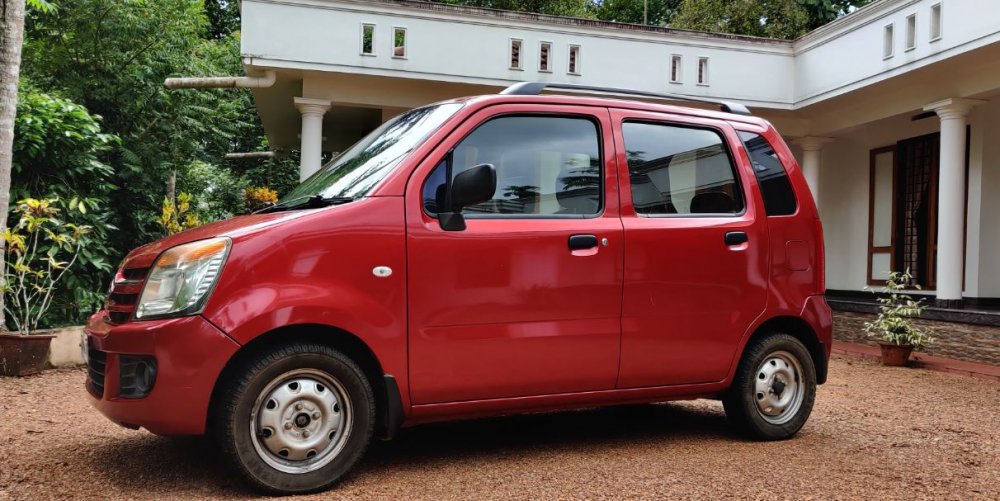 After my graduation, I moved to Bangalore and then to Chennai for my first job. After working in Chennai for a year, I moved to Cochin in 2012 July. I started using our WagonR extensively for office drives and weekend drives to my home town which is about 100 kms from Cochin. During the year 2014, I moved to a new company which provided me with almost double salary and I started dreaming about owning a car. Fourth generation Honda City was launched at the time and I was always a fan of Honda City. I had driven the dolphin model extensively which my cousin owned during my stay in Bangalore. Analyzing the financial schemes in HDFC (my salary account is there), I came to understand that I may only be able to afford upto a premium hatch back. The candidates were Swift, Punto, and i20. One day my uncle told me to check on Amaze, when I told him I was going to test drive Swift, Punto and i20. I first test drove i20, the light steering was a deal breaker for me. Punto was out of consideration as all my family members were against owning a fiat as my first car (service issues). So Swift – the car and HDFC – the loan provider. I did not go to SBI as they were asking for all sorts of documents, tax file statements etc.
My cousin after knowing my plans to buy a new car, asked me to check the loan options with Corporation Bank. I went to bank with my mom and I came to know that they have better loan schemes with less interest rate than HDFC. Then and there it came to my notice that I could actually own a Honda City with the schemes they are having. I gathered all the details from the Bank manager and my mom being a bank employee helped me to arrive at a conclusion – "I am going for the Honda City no matter what". Next week I went to Honda showroom with my friends, test driven a petrol Honda City and paid the booking amount then and there. My family had chosen white color, I sort of agreed to that till I happened to see a black Honda City getting ready for delivery that day while paying the booking amount. A well washed and polished black car is so soothing to look at, so decision on color was changed in an instant. So black it is.
On June 6th 2014, I became the owner of a Crystal black Honda City SV MT. Delivery pictures given below.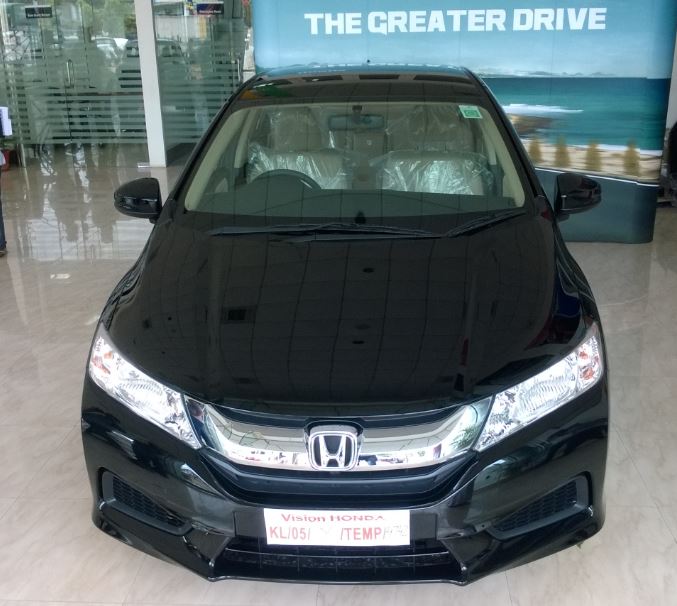 Likes
Why not to like one of my dream car
I-vtec engine – that top end. Although majority rank it worse for low end drivability, I found pretty much acceptable after driving for almost 96,000 kms both in city and highway.
Gear shifts are smooth and clutch is light.
Steering even though not at Ford/Fiat level, the tyre upgrade has made it tight. Acceptable levels of feedback.
Touch screen AC controls, not because of the usability but it looks clean when on or off.
Space – everybody are fully satisfied with the space on offer
Seats are better contoured for comfort.
Although the suspension is on the stiffer side, long journeys are very comfortable 'on good roads'.
I felt braking to be sure footed and very predictable.
Usage of damping materials (sponge) at most of the places where the wires, plastics etc. meet metal surfaces.
Dislikes
Paint quality is inferior to a VW. Mainly on the thickness.
Lighter body panels. A lighter impact can cause dings. I have damped all the metal door panels and plastic door panels by myself.
Skinny tyres. I have upgraded to 195 sections.
Bottom portion of dashboard is made of cheap quality plastic.
Door metal panels have larger holes (weight reduction and cost cutting).
A cheap wafer thin plastic as a vapor barrier in doors rather than rubber panels to clear out the large holes. This is one of the reasons for the water leakage issue.
Honda City started accompanying my trips with friends, family and lot more. Some pictures of the trips I went with my friends.
Some more….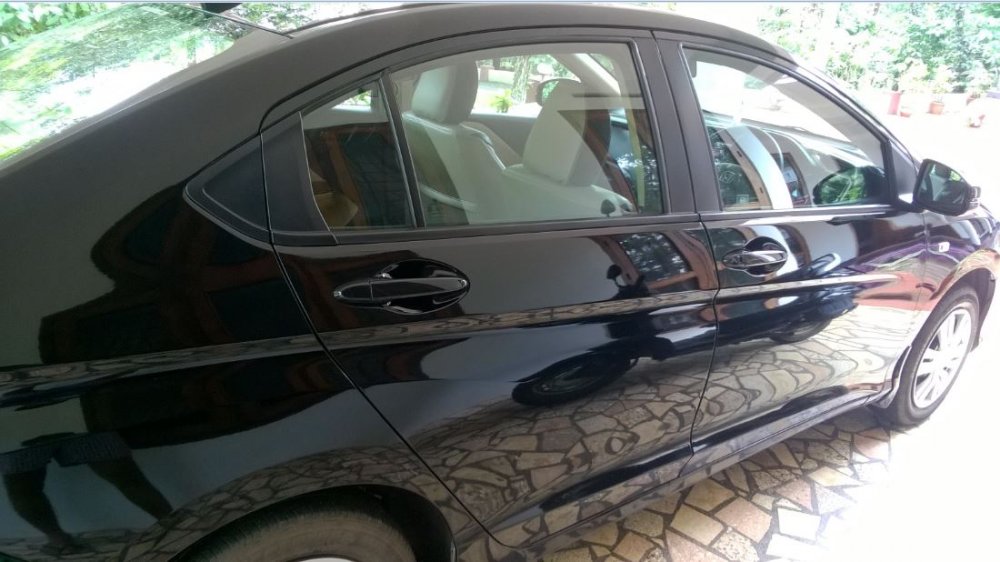 Need evidence of the most boring drive I ever had? Here it is, little unclear, but still you get the drift.
The incremental upgrades
At 28,000 kms, added 6.5J Neo alloys and Accelera branded tyres in 195/60/R15 sections. Initially planned for Michelins, but went for these as per cousin's suggestion and these were almost half the price of Michelins.

Front grille painted in glossy black.

Rear de-badged
4. Fog Lamp added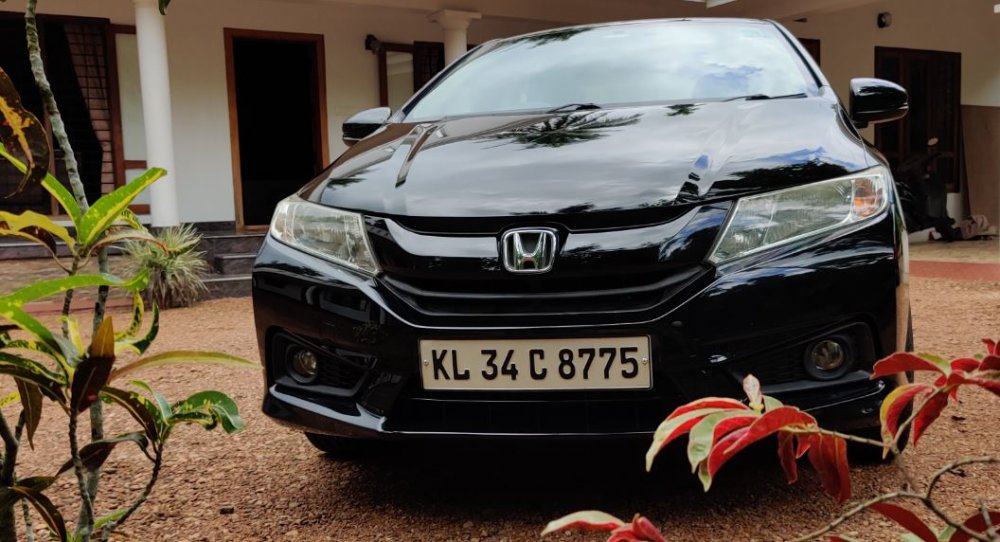 5. Skoda type trumpet horns
6. 70mai dashcam
7.Seat cover done twice. Beige one when I bought the car and now matte black. Some pictures below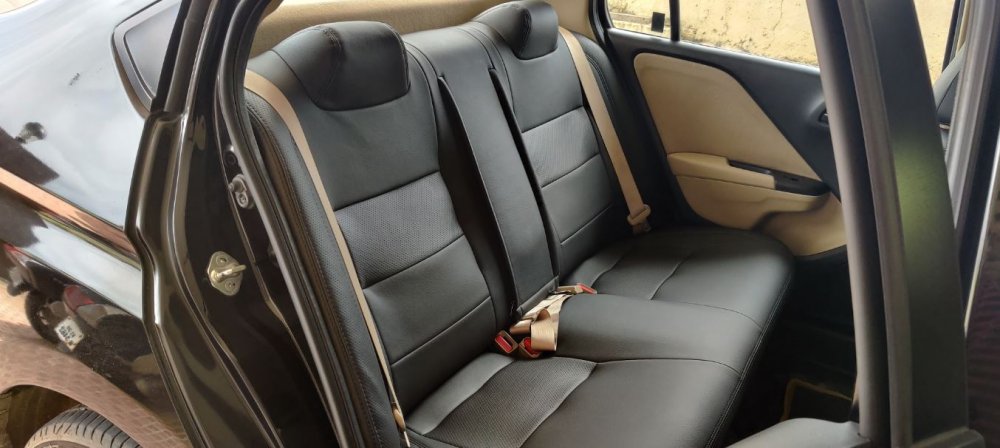 8. Android head unit : During Nov 2019, I had plans to upgrade the head unit to an android one. Upgraded to a Chinese android head unit, 10.1 inch capacitive touch screen with 2GB RAM.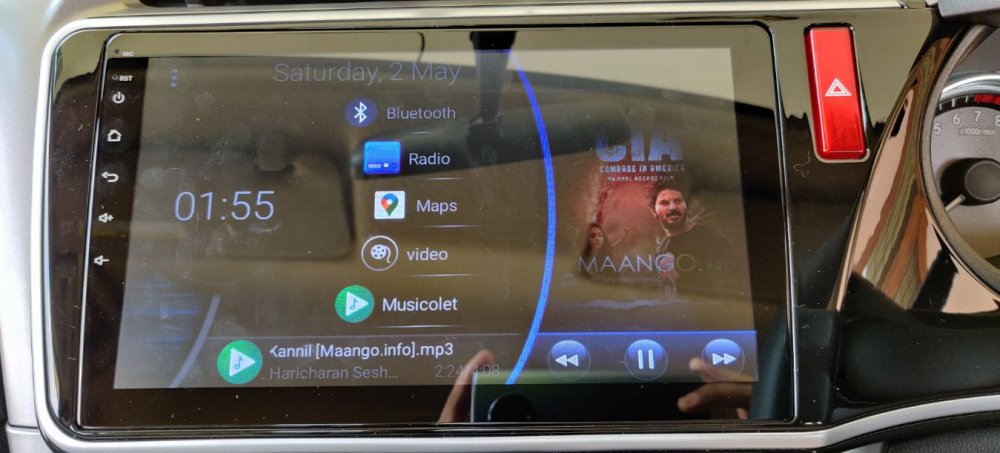 9. Audio upgrade : Lock down happened, and I started my research on speaker upgrade. Went through lot of youtube videos on SQ and SPL set up. I am an SQ guy, love to hear songs eyes closed, and love to sing too. After the lock down I went in search of speakers. Came across Rainbow branded speakers, they seem to be the one for my ears. At first started with the current android head unit, but these does not have proper equalizers and time alignment stuffs. During the planning, I found a buyer for my android head unit and hence decided to upgrade the head unit to pioneer which has support for flac files too. So below set up was finalized.
Four DL-6.2 series Rainbow component speakers (German made) on all four doors in the stock locations.
Pioneer DMH-Z5290BT head unit supporting android auto and apple car play. Still flaunts a resistive touch screen, but the touch response is very good. What is there to touch when you have all the steering controls working fine.
An additional level of damping with a head liner kind of material, but is very thick.
The mid base woofers and silk dome tweeters
The Rockstar!!!
The Conductor – crossover
Rainbow – the name is just apt for these, they are truly rainbows when the music plays.
Yes, not flush fitting when compared to the 10.1 android head unit. But who cares.
After playing for around 40 hours, I felt the need for isolating the lower frequencies from these mids as they found to working overloaded. Hence when I went for tuning I asked my tuner to go for a sub woofer. He suggested an enclosed Rainbow SL 12 inch sub with an Infinity mono amplifier. Here they are,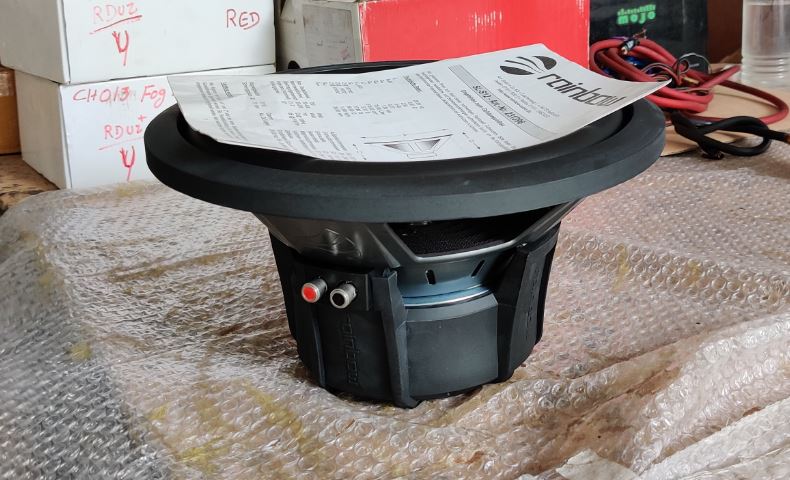 Mono amplifier in place, under front passenger seat.
Sub woofer in boot. Although he is alone, he makes his presence felt all the time.
Now the bass is also clean, and I love the set up even more. These require tuning after playing for around 35+ hours, as this is a SQ set up.
Some more random pictures.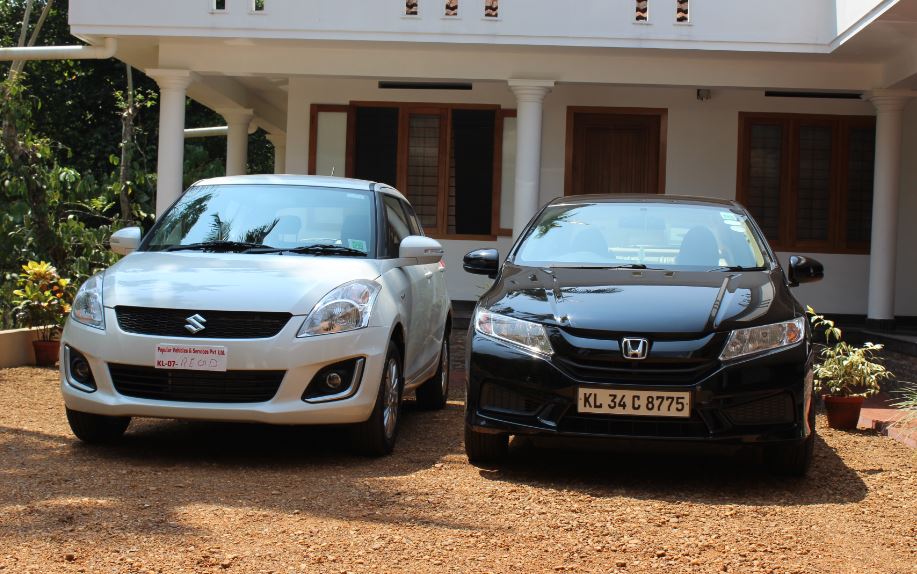 That's my brother's Swift. It would have been two Swifts in the picture if I had gone with my initial plan.
A dirty picture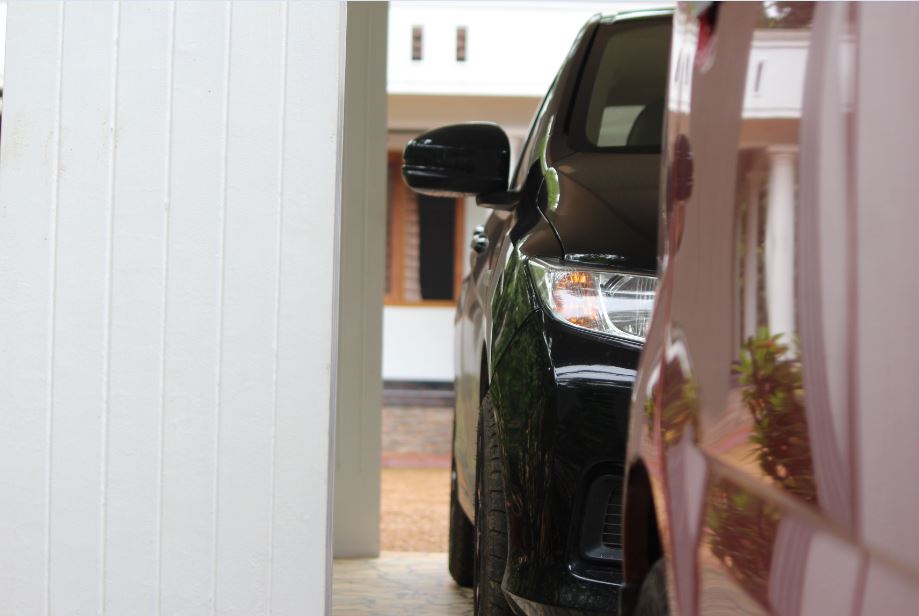 I see you....
Ambush.......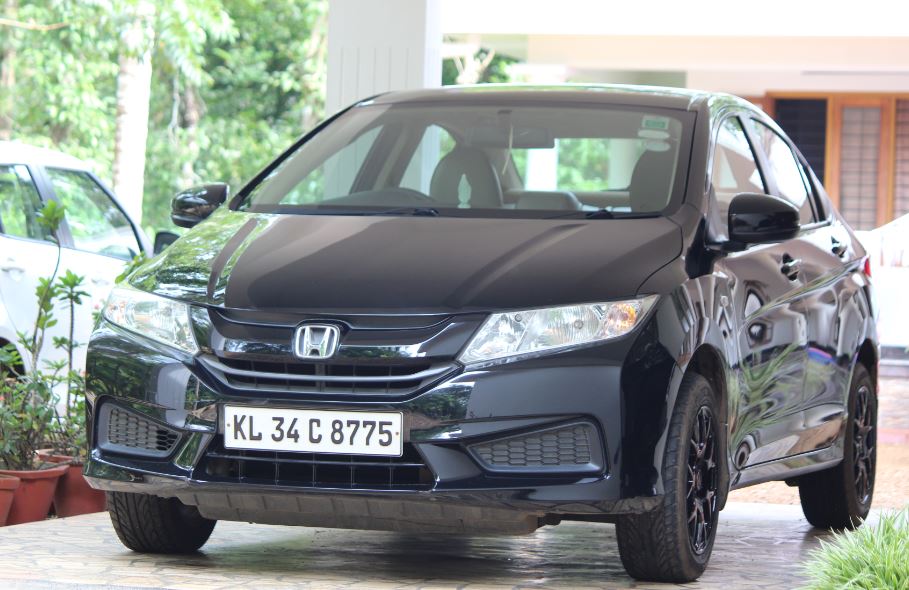 Let me stretch my muscles......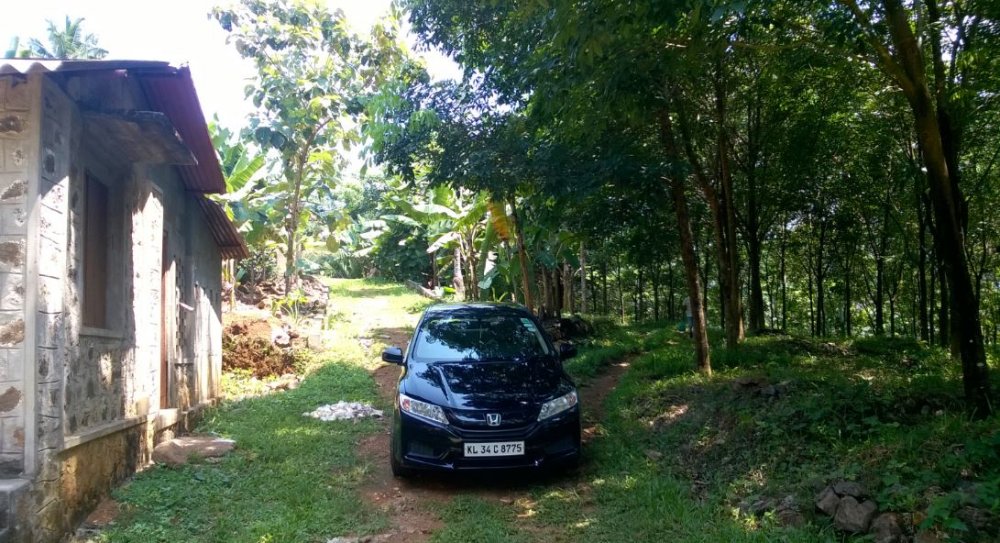 Out in the jungle, although not a real one...
Buddies at home....
Maintenance updates
Servicing at Honda service centers at every 10,000 kms.
Changed suspension at around 92,000 kms as they were worn out.
Tyres changed at around 28,000 kms when upgraded to 6.5J alloys. Went for Accelera branded tyres in 195/60/15 sections which are directional.
Tyres upgraded to Michelin XM2 195/60/15 sections due to the increased tyre noise from the Accelera tyres at around 42,000 kms.
Tyres again upgraded to Michelin 4ST 195/60/15 sections at around 88,000 kms.
Usual consumables changed when needed, including air filters, AC filters. etc. Currently on K&N air filter.
Issues faced
Water leakage through doors. Fixed by removing the crappy plastic vapor barrier and damping it with sheets.
Rattles from dashboard, found the speedometer console was loose. Fixed by applying foam pads.
Suspension noise when going over broken roads. Fixed by changing the suspension.
Driver armrest lock broken. Fixed by removing the spring at the back of the armrest to avoid the spring back action.
It's been a love hate relationship with the car. This is the first car in which I explored a lot by opening up the door panels, some panels in dashboard, DIY's, polishing and waxing sessions. This is the car which helped me learn rev matching downshifts. Lot of good memories, those drives in rain, and now I have the best audio companion. It would be a No if you ask me 'would you go for a new Honda City'. I am happy with this car as I have modified it to my liking. I was amazed to see the door panel packaging done in Polo/Vento/Rapid, they are solid. Was thinking of going for a VW/Skoda, but upgraded the music system and decided to use Honda City for some more years. To all who have reached this far, some more pictures for your viewing pleasure.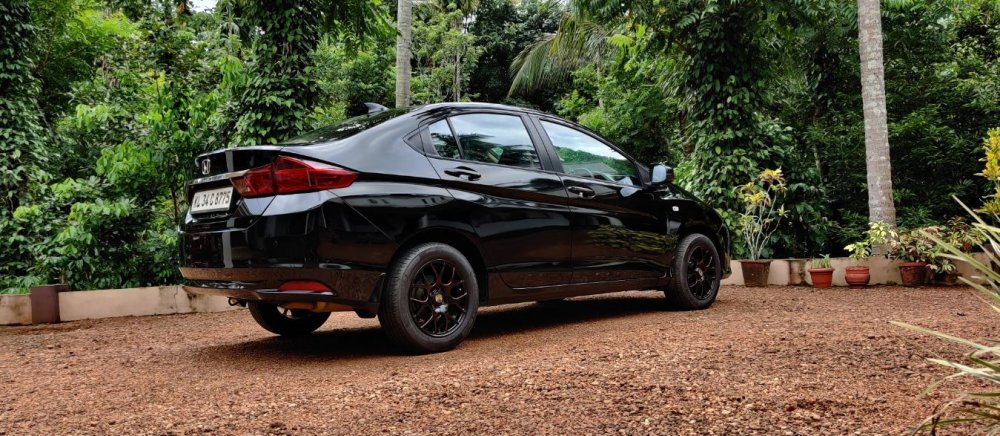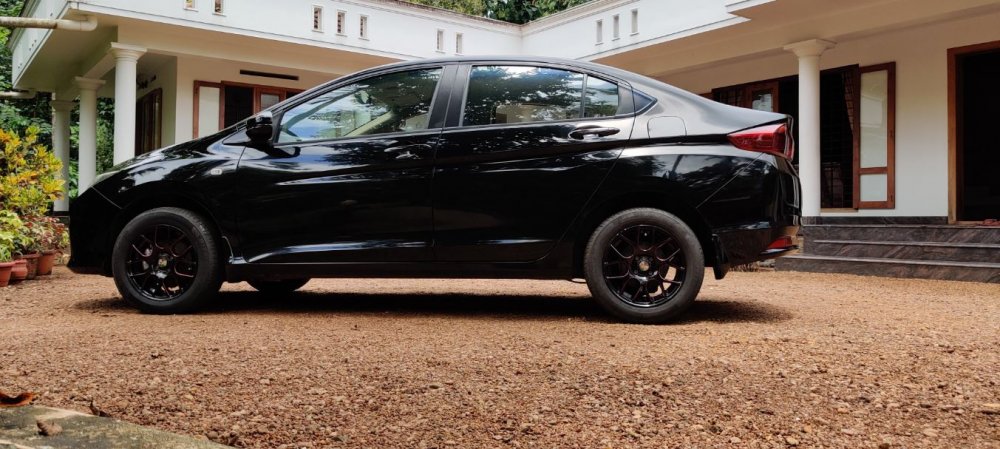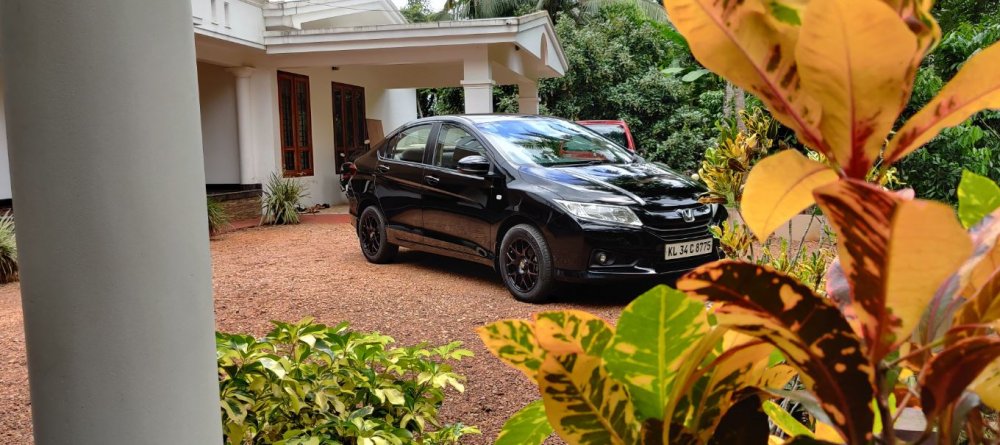 Bye guys.. Thanks for reading.

Last edited: