This is the first time I am going to post something long in a forum or a thread. For a guy who loves to talk a lot but hates to write , this is going to be a tedious task. Please bear with me and read about my experiences
So what am I going to write? Well !!! I have always enjoyed reading about other people's car buying /owning experiences . Liked reading all the details, including the pros and cons of why they shortlisted some cars and why some were rejected and finally what made them select a car and their longterm love-hate relationship with the vehicle.Here I will penn down some of my experiences in short and concentrate more on my recent buy – Honda City ivtec 2010
Though I used to like cars, the detailed interest started when my dad was finally ready to buy a car for our self in hometown. My dad was in Dubai and me as a kid did schooling till 6th there. Being from a middle class family, we did not have a car when I was a kid. Our first car (second hand)came in when I was about 8 or something,in Dubai. It was a Nissan Dihatsu car ,Blue in colour. The first one's always have a special place.Used to admire how my dad used to take care of the car. He would clean the car daily before going to office and would try to reach office early so that he can get the best spot to park the car safely. Never used to park the car in crowded places, instead preferred walking by parking the car in a safe spot.
Dad with my brothers,guess the year is 1994 :-) :
In 1996, me , Mom and brothers were back in India and my mother's family had a Fiat premier padmini. Learned driving on the Fiat, an Ambassador and a Jeep. Soon after turning 18,got hold a driving License and had driven few 800's. The best car I drove at that time was a Fiat UNO and ford Ikon 1.6 which my uncle owned.
Coming back to the first purchase, Dad returned back from Dubai in 2011, after working in Dubai for almost 36 years. We wanted a car and dad also agreed on the same. Dad wanted an Alto and I wanted a Swift. After lot of discussions and convincing we agreed upon the Swift diesel VDI. We booked the car and it took about 7 months to get the car delivered. Finally we took delivery of the car in Jan 1st 2012.The car is still with us and doing good and clocked around 94000 kms. A pocket friendly and easy to maintain car, I would say. And for the price we got it, it was a superb deal [ on road price was 6.35 lakhs then. Just few days after the delivery, the price shot up by 50000rs. I guess for the same variant the price would be around 8 lakhs or so ]
Recent picture of the Swift. Excuse the picture quality [@94000 KMS and 8+ years ]
Am I boring you guys with too much unwanted information? Now let's move on to my first car purchase.
My first Car : [ Fiesta 1.4 Petrol ] :
Fast forward to 2014, I was working in Bangalore, married by then and had a new born. Wifey was insisting on a car and I was also convinced on the need for one. But the problem was I did not want to take a loan and did not have good cash reserve to own a new car. Thus started my hunt for a second hand. I understood that buying a 'bigger older car' would be more feasible for me than a 'smaller newer car',as I would be mainly using the car for weekend family ride and highway ride to hometown in Kerala. All the good Santros,Alto's etc were in the range of 2-5 lakhs and lil older Ford cars were also available in the same price range.
Since my ride would be very less, I was inclined towards Petrol cars only and was not too bothered about mileage.I wanted a car within my budget which should be a good highway cruiser along with good boot space. Finally narrowed down to Ford fiesta. And was lucky to get a very less run[33000 kms on Odo. No tampering I believe],Second owner car,2006 december registered ,petrol 1.4 model. The car did not give me much problems during the 5 years she was with me.Rode the car for about 40000 kms and sold it in December 2019. Had bought the car for 2.25 lakhs and sold it for 1.5 lakhs. I feel it was a good deal for me and for the new owner as well as I had kept the car in pristine condition and taken care of it very well.
One thing I learned from the ownership of the car was that never ever trust Authorised Service centers, especially when the car is old. They will rip us apart. Luckily I was able to get hold of a mechanic who previously worked with Ford and he was very well versed with Ford cars.So my experience with the car was fairly good.
Just to quote my bad experience with Ford service Center. The car had a weird issue of not accelerating properly and finally stalling during long drives on hot days. The issue might sound funny as this never happened when I drive the car at night or during rain. Complained at ford during the service and they suggested me to replace the O2 sensor and fuel pump and the quote was Rs.25000.Since I did not want to spend that much amount, I postponed the work.But one day ,the dreaded thing happened. I got stuck between the MG road and Brigade road signal,while returning back from Yeshwanthpur. Luckily the car just crossed the signal and i got a place to park it. Not wanting to take any more risk, I contacted a fellow Fiesta owner and showed the car to his local mechanic. Issue was diagnosed to be with the fuel pump.Replaced the fuel pump motor with a 2nd hand piece and it never recurred in the next 3 years I used the car. Total cost was 2000 Rs. !!!!! Yes …you read it right…Rs.2000 instead of Rs.25000 quoted by Ford authorized Service center.
Some pics of the Fiesta: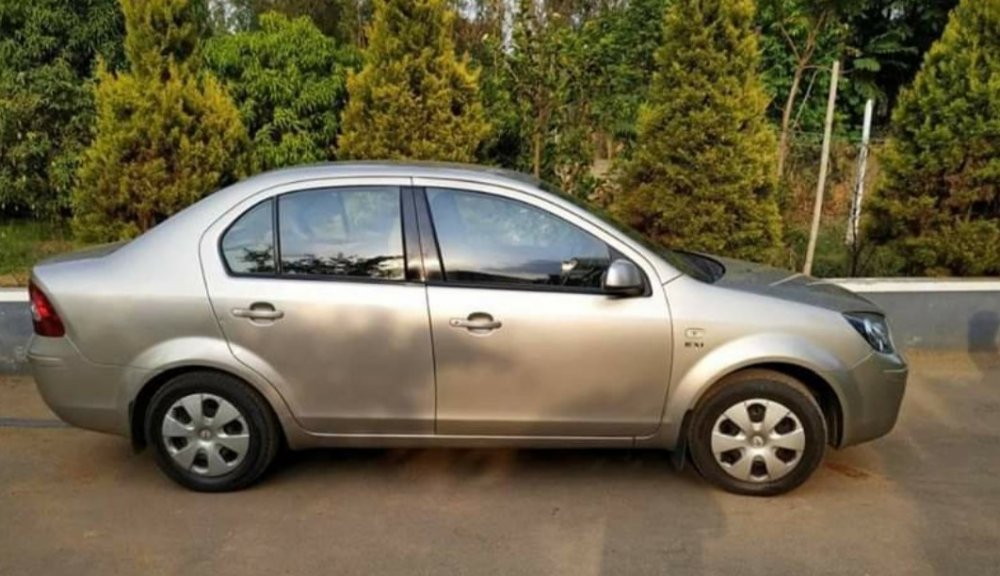 The Honda City Story :
Now comes my story with Honda City 3rd Gen [ANHC]. When was the first time I saw it ?? hmmm..may be on paper Ad and I was love stuck with the design.
When did I first sat down in the car ?? Lets go lil back in time to 2010. It was when my now brother-in-law came to meet me to give gyan on love marriages and the need to backout from it . Oh boy..He came in the brand new Honda City and asked me to get in. All my tension vanished and turned into excitement. I was excitedly and silently checking the car interiors . I did not listen to or understand half of what he spoke.I was head over heels in love with the car. The love for the car increased furthermore after the marriage ,as I got to ride the car every once in a while.
The car that cemented my love for Honda City time and again:
My love for Honda City grew over the years. When we were on vacation to hometown, I used to take my in-law's Honda city for a spin.The car which is a 2010 model has aged well inspite of the long run and only periodic maintenance. It has clocked about 165000 kms in the past 10 years and still leaves a happy grin after each drive.
My Honda City :
Now you might think why I did not buy a City in 2014 instead of the Fiesta. I did search for some second hands but the car was way out of my budget then.It was selling for somewhere around 6-7 lakhs.
Lets move to 2019 December.As mentioned earlier,I sold the Fiesta and started looking for Honda City. The 2014+ models were selling for around 6 – 8 lakhs.My budget was around 4 lakhs and I did not want to go for a loan. So I started looking for the 2010+ models. There were quite a few cars in Bangalore, but most of them were with dealers. They were either priced very steeply or meter was tampered.So I steered clear of the dealers and started concentrating on the individual sellers.
Found one 2010 City – Maroon coloured 73000kms run in FB market place, but the price quoted was too high. Neverthless I went to see the car on a Friday morning and the owner was adamant on 3.8 lakhs,which I felt was high. Checked the car and figured out that I will need to spend atleast 15-20 k to remove all the dents and scratches and another 30k to get rid of the steering fluid leakage. Let go off the deal and restarted the search oline.
Same day night a notification popped up in Olx that the price has been reduced by the owner ,for a Silver City 2010 'S' model which I have been eyeing. Immediately had a chat with the owner and found out that he was staying just 3 kms from my place. Called up my car enthusiast friend and went and test drove the Silver City. The car was in very good condition and he was the second owner. The first owner had driven the car for around 18000 kms and rest by the second owner[Total 78000 kms]. Had a lil bargaining on the price, bought it down by another 10000 rupees and finally agreed on the price and transferred the token.
Some initial pics:
Initial impressions: - The car felt smooth to drive. Clutch was smooth and gear shift was proper. Steering feel was good and there was no unwanted noise or jerks. No oil leaks or any other kinds of fluid leaks noticed.
The first modification[ Tyres and Alloys ] :
The transfer process went on smoothly and the car came to me on a Sunday.The first thing I noticed about the car was the increased ground clearance. Having rode the 2010 model extensively, I knew how notorious the ground clearance was. Figured out that the previous owner has been using 195/65/R15 tyres[ This is not a recommended spec ]. That explained the bumpy ride and the absence of underbelly scraping. The first step was to get rid of the existing tyres and get her new alloys and tyres.
A pic after reaching my apartment:
My car enthusiast friend suggested an upsize. Though I was a bit skeptical on the size change, my friend assured me of no ill consequences, backed by enough data. I believed him blindly ( still do  ) and took the plunge. Went for an upgrade in size and finalized on 16 inch alloys [ OEM is 15 inch ] and 205/50/R 16 tryes. He helped in procuring both.
Btw..This is my friend's car.An immaculately maintained and cared Vtec City 2004 model.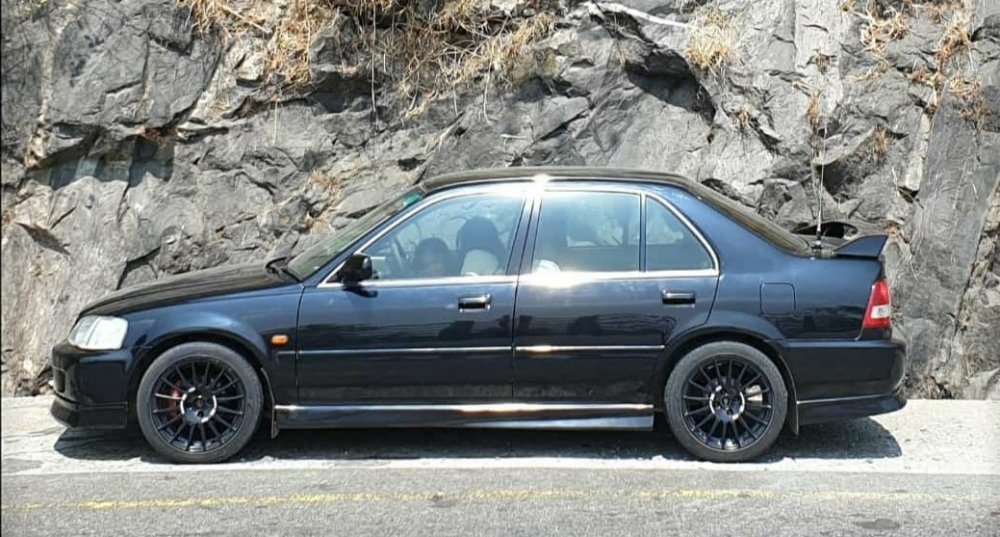 The new tyres :
The change in tyres and alloys gave a different stance to the car. There was no heaviness to the steering as feared and ground clearance was good enough. The only issue I found was the sagging back part when fully loaded. The underbelly of the boot started hitting the big bumps on full load. The front part had a fairly good clearance and never felt any scraping except for the occasional mudflap scraping.
Addressing the ground Clearance :
Rogerab:- After some studies and many positive reviews and observations, I went ahead and placed 'Rogerab' between the back suspension only. Got it from an authorized dealer in Bangalore. The back tyres no longer scrapped the wheel arch and there was no underbelly scrapping,even on full load. The downside is that the back suspension has become lil stiff ,but this could be only felt while going over a speed bump carelessly.
Getting rid of the dents and scatches :
Next in line was to get rid of the scratches and dents. As in most other case, this was costly in Bangalore. I had enquired at few good places and they quoted me around 2500-4500 for each panel. Had to remove scrathes from 5 panels. So I kept the plan on hold and postponed it till my next hometown visit.
So during the next hometown visit in December, gave the car to my regular guy.He did a pretty decent job,though I was not 100% satisfied with the colour matching. Costed 7000Rs in total including the polishing.
Understood the affect of polishing when my wife complimented the car for it's shine. :-)
Planning to do polishing of the car once in a year from now on.
Some pics of the work in progress :
After the denting, painting and polish:
Enjoying the rain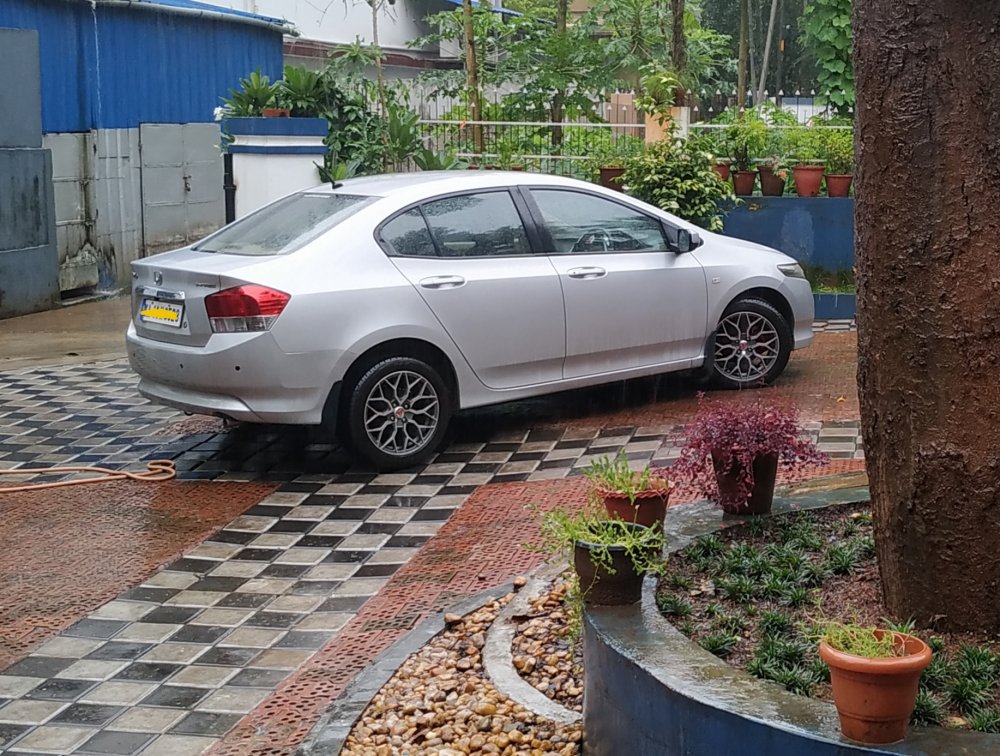 Interior Modifications :
.
The interior pic of the car,taken somewhere between Bangalore and Mysore road.
Android Head Unit:
The major interior modification is the Android stereo.I had done lot of research on this and there are lot of online sellers based out of almost all the states in India.Was not sure from where to order. The price varied between each seller for the same specs. Figured out that all these were imported from China and branded locally. Foxfire and Hypersonic had some goodwill amongst these otherwise unknown brands. Tried getting Foxfire or Hypersonic dealers over phone, but due to lockdown , they were not available.
That's when I shifted the search to a locally well known car accessories shop in my hometown. He assured me of good quality item,but the price was higher by 3-4 k than the online sellers. Neverthless, I went ahead with the product and the installation was completed in a hours time. It was a direct coupler to coupler fitting and the steering mounted control works well with the system.
Along with the Android System, installed Reverse camera. This was a high resolution one with wide angle and costed me about 3000Rs. Overall happy with the outcome.
I felt the sound quality has improved and the 10 inch tab along with the new fascia gives a more modern look to the car interior.
Note : for guys who are obsessed with sound quality, pioneer 8 inch system is available in market now. Cost seems to be somewhere around 35k.
**Android system I installed was a 2GB/16GB variant. No Sim card (works well with mobile Hotspot).
Some work in progress pics:
Ready to be installed
After the installation
The steering mounted control works perfectly well with the Unit.
The best thing I like about the android unit is the usage of Map.It has all the functionalities of an Android tab.
Steering Wheel Logo:
Another thing to change was the faded steering 'H' logo. I was particularly interested in the JDM red logo,but it was very costly (Rs.1500) at the accessories shop.
Got a seller thru instagram and bought the JDM red logo from him for Rs.750. Received the courier in a weeks time. The item was neatly packed and fits well on the steering.
The knobs:
I never liked the A/C knobs,which resembled that of an old washing machine.Mine being an 'S' variant,all the 3 knobs were the washing machine types
Started searching for a good replacement in stores and couldn't find a good one.That's when I gave a try in Aliexpress. It had lot of choices,but I was skeptical. Finally ordered a set of 3 round knobs which had good reviews and price was 350Rs. Ordered the item in December and received it in March. It was worth the wait.The knobs looked good and it was a direct fit.It changed the look of interior ,especially when lights are on.
Android Unit screen turned off during night drive to avoid distraction. Can play the songs with screen turned off.
Now the pending work is to get the steering wheel wrapped with a good cover. The ones available at hometown are bit costly.Waiting to reach back Bangalore to get this done, from a place where my friend had done it for his car.
So folks that's my car story till now.. Looking forward for comments and chats.

Last edited: