Joined

Jul 31, 2010
Messages

48
Likes

0
Location
Help in selection of Home theatre HTIB
Hey folks,im on the look out for a hometheatre setup in the budget of 50K.
Present setup is a 47" L.G L.E.D tv and a HD DVD player.
The sound from the tv is very good compared to sony ,but i need a little more bang.
I have auditioned onkyo ,denon,pioneer and sony and have narrowed down to 3 .
1> Sony HT DDW 5500,NOW this system is a 6.2 channel,ie
2 tower speakers
3 surround speakers
1 center speaker
2 subwoofers,yes 2 of them
2 amps ,1 for the sub and 1 for the rest .
THis system is come out recently and i heard it ,it was absolutely mind blowing ,clean bass,and to top it it has 8"speakers in the tower which are briallant though subs are pure SQ.This is priced at aaround 43000rs.Power output is a true 1500rms.
2> Sony HT DDW 8500
Now this is a slightly superior model than the previous one.
IT HAS 4 SUB WOOFERS,YES ALL 4 OF THEM.
3 AMPS,2 FOR THE SUBS AND 1 FOR THE REST
4 surround speakers
This is a 7.4 channel.
I have not auditioned it yet nor do i know whether this is released in India and no price yet.
3> pioneer HTP RS30
This is a 5.1 channel
Speakers are good can say 75% of sonys.
The sub though single is better to sony ,but sony makes up with 2 subs.
This is priced at 33000rs.
Before hearing sony i was actually thinking of the pioneer but this new sony will give much more expensive systems a run for their money.
Attaching the pics of sony ddw8500 and pioneer rs 30 .
The one with more number of subs is the sony.
Please help me decide ,even if you know something better than the 2.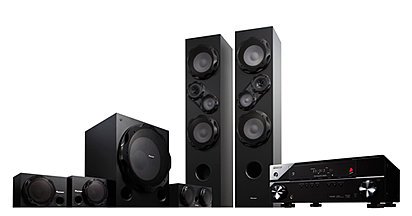 ​