Before I Start here is a disclaimer -
I am not a professional CAD or Mechanical Engineer to know much about this. Also, All information I have is from the internet and have NO practical knowledge.
Here we go then.
I am currently working on building a High Performance Free Flow Exhaust for my Bike (Yamaha FZ16). Attached is the CAD design I made for the Exhaust (I am not a professional CAD designer but do it as a Hobby - by the way this is my first CAD Drawing).
I was looking in to Details about how to make a FFE.
I got a formula to develop a FFE. Here is the link to Document which gives details on how to calculate the Diameter/Length of the pipe.
http://www.bgideas.demon.co.uk/tmanual/Tm_Ch4.pdf
Using the above formula I get the Diameter, Length of the header pipe, secondary cone etc.
When I calculate the formula I got Diameter of the Primary Pipe around 30mm.
I took 35mm as I will have bend just after the Gases Come out of the Exhaust Port. (Bend After 60mm from the Exhaust Port - Please refer Images Attached)
Figure : All Dimensions (Click the image to enlarge it )
Primary Pipe - Measurements (Please refer Images for this)
From my mock up CAD design I have taken the Main Pipe (From Exhaust Port till secondary pipe) Diameter as 35mm and length of which is around 650mm (65cms). Secondary Pipe Diameter I have taken as 45mm at the Expanded area (cone moves from 35mm diameter to 45mm diameter in about 100mm length). For the next 200-250mm I have the same Diameter of 45mm till the muffler. I have designed a slip-on muffler which gets connected to the this pipe (you can see in the CAD drawing).
Figure : Without Muffler (Click the image to enlarge it )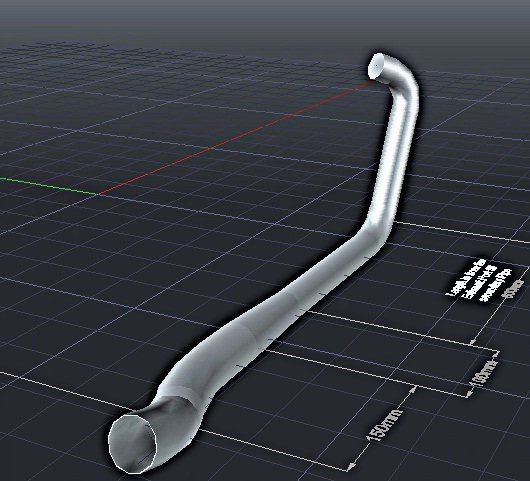 Figure : 3D View. (Click the image to enlarge it )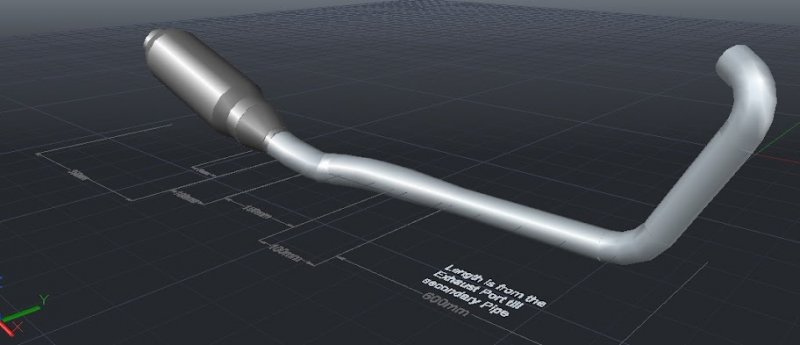 Muffler Design - Measurements
( Measurements are taken looking at the Stock Muffler on the bike - Have increased about 10% as of the stock Muffler) For the Muffler I have taken 350mm length, 100mm diameter and Exhaust output diameter without DB Killer will be 60mm (double the Exhaust Port). (ON Stock Muffler this is 20mm) With DB Killer Exhaust output diameter will be 30mm (same as Exhaust Port). (Design - UNDER PROCESS)
Figure : Muffler - Without DB Killer (Click the image to enlarge it )
ALL THE ABOVE DIAMETER INFORMATION IS INTERNAL DIAMETER.
Bike Information:
Displacement: 153cc
Engine: 153cc, 4-stroke
Maximum Power: 14 Bhp @ 7500 rpm
Maximum Torque: 14 Nm @ 6000 rpm
Gears: 5 Manual
Clutch: Constant Wet Multi Plate
Bore: 58
Stroke: 57.9
No. of Cylinders: 1
Valve Per Cylinder: 2
Chassis Type: Diamond
Cooling Type: Air Cooling
QUESTION TIME:
1. Can someone please verify if the measurement are fine ?

Other Images Attached