Joined

Apr 17, 2011
Messages

611
Likes

139
Location
Hi People,
I am going to share my experience which I had with the process of giving the Driving skill test at IDTR Test track for Pune and PCMC RTO's.This can be considered as a guide as well(No agent/driving school guide). I am not going to cover the online application process, I am going to cover only the skill test part. So those who have their appointment set for the D-Day this guide will help them to sail smooth on that day.
Here it Goes
Reach Well before time:

I specifically am saying this because the slots given to you does not matter. My slot was from 1300-1400 hrs. I reached there at 1130hrs and the process started as soon as I got there(which i will be explaining below).The standard is PCMC RTO candidates are evaluated from 900- 1300hrs and post 1300 hrs they take Pune RTO candidates(I cannot vouch for this as this is what I heard from the security guard who was scratching is groin area near some tree). So long story short, irrespective of your time just barge in and start the process.


Location:

The location can be a bit tricky. You can search this
https://www.google.co.in/maps/place...78050927f!8m2!3d18.6130103!4d73.8192201?dcr=0
or this
https://www.google.co.in/maps/place...d881fde08!8m2!3d18.6125171!4d73.8180868?dcr=0
on google maps. The 1st map may lead you to a dead end which actually is the IDTR boundary wall(which you cannot jump over to get it

) the latter (Hotel Kalasagar) is the best bet, which is diagonally opposite to the IDTR test track main gate which IMHO you must enter in google maps.
The IDTR test track range Parking:

Enter the IDTR main gate which I learn't opens at 9 AM and not before that, proceed and the man with a Parking receipt generator device will ask you here for test? you say yes and pay 20 Rs as parking fee(4 wheeler) and find a place to park your car which is straight up ahead. Find an empty spot and just park.

What documents to take:
PCMC RTO:-
Print out of your FORM 1,provisional appointment, Online fee receipt.

Pune RTO:
Print out of your FORM 1,provisional appointment, Online fee receipt and Form 2(Leaners licence form which they give you back on the day when you clear your learners license test)
Fee Structure:

On your way to parking your vehicle you will notice a window on your right hand side with 2 counters. When you have parked, walk down to this counter and pay fee of 100Rs for using the test track and another 200 Rs for the test vehicle IFF(If and only IF) should you choose to use the IDTR vehicle(I will help you decide which one to choose in the next section). The guy will ask you for Form 2(Pune RTO Only) and he will tell you take a mandatory classroom presentation of road safety and driving test demo video. This step is applicable only when you are without agent and on your own, for driving school and agent community this step is "void". Read between the lines why I quoted "void"

The mandatory video and test track demo session.

You go upstairs one flight in the same building where you paid all your fee(go around the building and the main gate is in the back). As you reach first floor go straight ahead make a left turn and pass the mens/womens washroom and the classroom where they play this stuff is right next to it. There is a man sitting over there who enthusiastically will ask you to sit down and let others join(In case there are not many aspirants inside). He will first play a road safety video((accidents mainly which you might have seen earlier on whatsapp/facebook virals) then he will open a power point presentation and will acquaint you with the kind of test you will be taking and what to do and not to do on each and every test. That's it, he will stamp your papers with "Session attended" and then he will tell you to go to the control room and submit your 100Rs receipt.
There are 3 evaluation tests, 8 Shape driving, H shape forward and reverse and lastly Gradient start and Stop, which I will explain in detail down below.
A picture from sessions room
View attachment 233853
IDTR Vs Driving school car rental

Now this section is entirely up to your driving skills and the condition of the test car. The IDTR cars are TATA BOLT CM and TATA INDICA(Newer model dont remember the exact trim but by looking at it, it was at max 1-3 yrs old). There was an immense clutch play on both the vehicles but you can get adjusted to it in mere 20-30 secs for a chiselled driver might take more for a newbie(I have been driving since the age of 12, give me a burnt clutch vehicle and I can get her fly in no time). But it wasn't that bad even the newbies who were giving the test on that vehicle passed with flying colors. But another year down the line and with a big question on how do they maintain it, well you decide if you want to go with it or not. I would say the vehicles are still good for another 6 months at least.
The second option is to bargain with the driving school guys to rent their car. They charge anywhere between 500-1000 all depends on your bargaining skills. The brownie points you will gain with this option is, you will not fail(at least that's what I felt), you will complete your test in an hour and go back home in time for reasons which you all know why. I chose the IDTR vehicle and I finished all the tests in 4 hrs(time in and time out basis from the ISTR premises), out of that mere 10 mins was for the tests and 3.50hrs as nonsensical "waiting time".Well, not completely nonsensical considering there were at least 30 ppl ahead of me in line.
So I would say go for option 2 if you can spend and get over with it or else fight it and wait.
Control Room and Tests Thereafter

Come down from the presentation building and head towards the control room area(passing on to you right is IDTR canteen which offers vadapav@15 and water bottle@25 with a clause if you return empty bottle you get 5 Rs back. Good idea to curb littering). Once you enter control room the guy will ask you for both the receipts (100 and 200 if you have opted the IDTR vehicle) he will write down your sequence number(ask him to verify your form if you are from Pune RTO not required for PCMC RTO he will put an OK on your form after verifying if all documents are at place). After you have your sequence number and a verified ok stamp go to the area which is covered by shed with 1-2 RTO officers sitting beneath it. Ask them IDTR vehicle test and they will tell you to wait at some area. Go there and wait. The IDTR vehicle which already might be conducting other aspirants tests will come over later(be ready to wait for 30-45 mins here. If you are lucky it will come soon). The man will take your 100Rs receipt and will tell you to proceed towards 8 shape test area and wait there until he calls your sequence number and name .Average wait time 1-2 hrs if you are lucky some people waited for like 4 hrs. This humongous wait time is for the reason how many vehicle IDTR dispenses for the test. In my case only Bolt was there for the pre-lunch time so at 12 i was in the 8 shape area and till 1430 i was still there. At 1430 their lunch time starts to only return at 1500.

The testing process explained
8 Shape:
at 1505 my turn came at the very moment BOLT was driven to the H track test and an Indica came in as replacement for the 8 shape test. Nevertheless i went ahead and sat inside that Indica.One thing to mention here, the cars are always on engine on mode throughout the day(only switched off when the examiners are taking breaks for lunch snacks etc). I sat inside adjusted my seat and was buckling up, to which he said not necessary(which i ignored considering i was on IDTR vehicle and they can debar me on any grounds). The man radio's in to the control tower with my name and sequence number, the control tower replies in another 2 mins that continue the test. I started driving (refer the video here for pattern of H and 8 shape driving
https://www.youtube.com/watch?v=h37jzK7XUv4&t=10s
) was careful enough not to hit the curb. Finished my test and I saw a green light in front of me on the track side which indicated that you have passed the test. This test track is equipped with sensors which monitor your progress and give you an instantaneous feedback after you complete the test. After you get out from the vehicle proceed towards control room again to collect your test results.
Pictures of the track and the test report
View attachment 233852
View attachment 233851
H Pattern Test:

For the H pattern test, you can refer to the video above on how it goes. But generally the point they will hand over the vehicle to you will be on the either side of that big H but to you comfort it will be on the point where you will always go forward first. Jump into the vehicle go straight ahead to the other side and stop and then reverse to the diagonal opposite side(it will be more clear by seeing the video). Then go straight ahead again to the other side stop and reverse back to the point where you started your test. That's it he will tick mark against the H letter on your form indicating that you passed. Proceed to the final test i.e. gradient stop and start
Gradient Stop and Start

This test looks easy for the pros but can be tricky for the newbies. The whole idea is to drive up to a gradient, stop the car there and then without rolling back move forward to clear the gradient.So it is extremely important that the clutch is functioning properly of that vehicle. Bad clutch and the vehicle stops? you lose your brownie points. So I will suggest that go up to the point where he tells you to stop, engage the handbrake, depress the brake pedal and keep the car in first gear with 1st gear engaged. Then start off by putting in more accelerator and releasing the clutch, when you feel that the car is struggling to go forward, release the handbrake and off you go without rolling back down.
After all the tests end

When its all over, go to the control room again and submit your form, it will contain your 8 test result sheet which you obtained earlier and a tick against H and G(H shape test and Gradient test)that you have passed it all
.
That's it, you have passed all the tests and you will get your DL by registered post within a month.
But wait how will I drive till I get my license?

Don't worry till the time you get your license you will use your application status which is available online as a proof that you passed it and just awaiting your DL delivery.
Screenshot here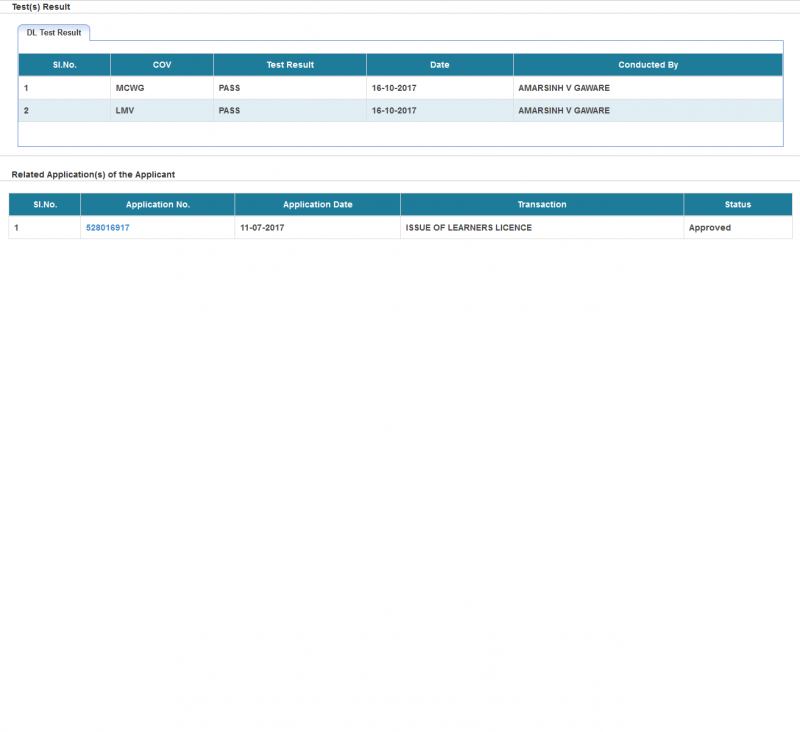 Final Note:

The procedures at your time may vary a bit, but you must by now have got an idea how is it done. So just follow this guide with a little chatter with the IDTR guys and I am sure that you will sail smooth. The IDTR guys are great and they impressed me a lot with the overall process minus the time I waited for all this to happen which I think they will improve over time.
So i leave it up to you guys If you want to go solo and take this up or just hire the Driving school rental service.
Happy Driving!