​
(Photograph of a flat tyre.)
If engine is a soul of the car, then tyres are its legs without which it can never travel. The tyre(s) of a car can puncture any time and at any place, that too without any prior indications. So, replacing them is one of the basic DIYs a driver must always know about. This pictorial step-by-step guide presented by The Automotive India will help you learn to replace a flat tyre only within few minutes through a very straight-forward way. Just read on.
(Image showing car's stepney. Typically consists of a spare wheel, jack and wrench.)
Step One:
Immediately park the car at corner of street as soon as you are hinted about the flat tyre. Do not ever keep driving as it may cause a severe fatality if you happen to lose the control over your car and also it may damage the rims / rubber too. Turn off the engine once parked safely, pull on the handbrake lever and switch on the hazard warning lamps (All side indicators). Now take out the necessary tools which are generally provided along with all brand new cars. Jack, spare wheel, wrench, emergency triangle to name a few. Place the emergency triangle away at reasonable distance from your car to signal other motorists.
(A close look at Jack and Wrench.)
Step Two:
We'll now begin to perform the actual task. But before moving further ahead, make sure that there is no disturbance inside your car. That is, inform other passengers to de-board from the vehicle. Especially, children and pets should never be allowed. Hold the wrench and start loosening the wheel nuts to sufficient limit so that you can unscrew them from hands later on.
(The half-screwed wheel.)
Step Three:
Once all the nuts have become loose, it's time to lift the car with help of car jack. Thanks to technology, you don't need to be a heavy weight champion to perform this. Position the Jack at appropriate position beneath the car body. Please consult your car's manual for exact detail because the location might vary in some cars. It's important to note that placing the jack on incorrect position can damage the car. Once you're confirmed about the location, slowly rotate the shaft. You'll observe the car lifting upwards. Keep doing this until reaching a reasonable limit, which should be neither too high, nor too low.
Step Four:
Let us return back to the Step-Two. Since we already have loosened nuts, they can be easily removed from the hands. Keep them in a safe place or inside your pocket and gently pull the wheel towards yourself. Now, bring the spare wheel and insert it into position the same way as you did you to pull out the wheel. Now screw back those nuts with hand as much tight as possible.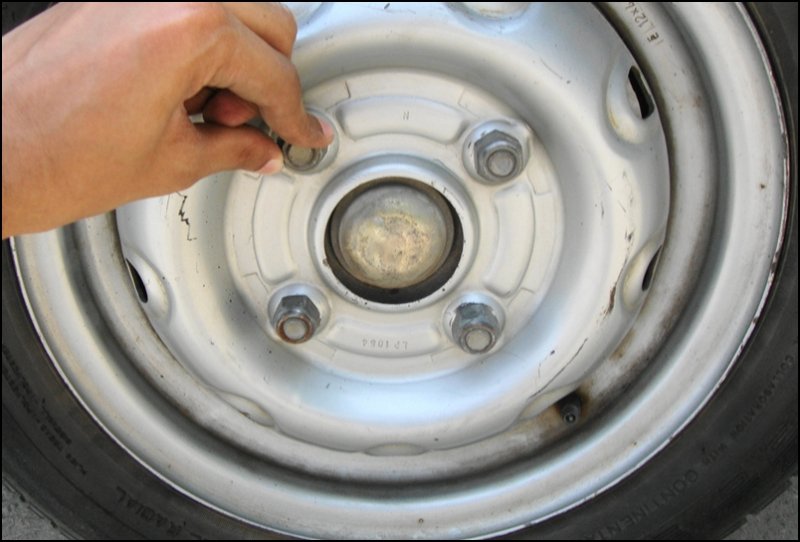 (After placing spare wheel, gently screw back with hands and lift down.)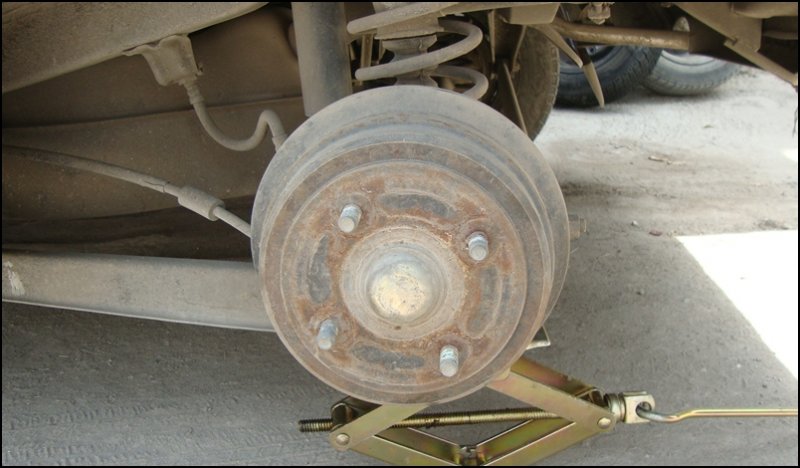 (Behind the scenes...I mean the wheels.)
Step Five:
Again, Hold the jack rod and rotate the other way round and continue doing same until becomes free for movement. Congratulations! Finally the major part is over. Now all you need is to screw back those nuts (that you stiffen manually with hands). Pop in the wrench one by one on each screw so that it's horizontal in position (as shown in image below). Due to this, you can tighten it with help of leg-power which usually works better than hands – at the end – to stay on the safer side, it's better to re-confirm the tightness with another passenger on board. Tada! Your car's flat tyre has been successfully replaced. As you become more experienced and depending upon the quickness levels, this is not a matter of more than ten minutes. Good luck.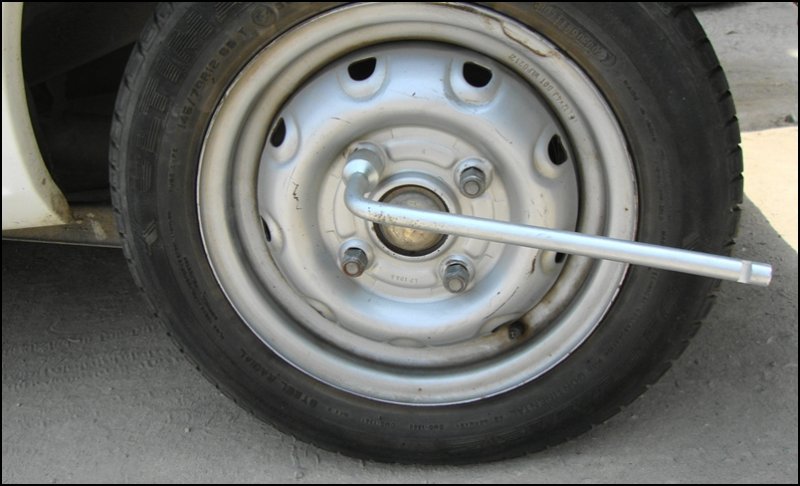 (Keep the wrench horizontal so that you can use a bit of leg power.)
(Easily Distinguished. The new and old wheel.)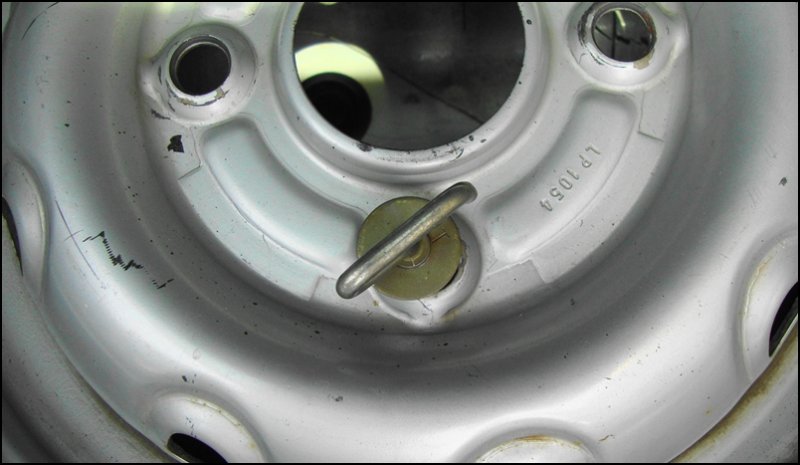 (Unscrew this hook to take out the spare wheel from boot.)
Disclaimer:
Always be patient. Never begin to unscrew nuts after lifting the car.
Do not allow the kids to replace the wheel of your car.
Do remember to keep the spare wheel in perfect shape always.
Spare wheel is meant for emergency purposes and must be used as is. Try repairing the flat tyre as soon as possible and put it back in place of replaced wheel.
Never allow passengers, especially children and pets to stay inside the car while the tyre is being replaced.
Whilst replacing the tyres, do not allow people to touch or use your car for support.
It's always better to confirm twice after screwing the new wheel with another person.
This article is a property of The Automotive India (C) 2011. Do NOT copy elsewhere without written permission of our authorities.