We love some things in life to the moon and back. Driving a four wheeler is one such love for me
What started as a hobby of sitting in the passenger seat when my Dad drove an Ambassador grew in me to become a passion for automobiles. A Maruthi replaced the Ambassador and I continued to accompany my dad over weekly trips across scenic locations around Visakhapatnam. I grew up with the car and fell in love with it. When I learnt to drive and started driving on my own, It gave a feeling I can't express in words !
The woods are lovely, dark and deep, But I have promises to keep, And miles to go before I sleep, And miles to go before I sleep – Robert Frost
Then the most challenging, interesting and sometimes frustrating period of a Middle class born 20 something boy came into play. I graduated from College ( 2012 ) moved to Bangalore to earn my bread and butter little did I know I earn enough money to survive till the 30th of every month, forget about even driving a car even with ZoomCar
Done, boring you guys !! Fast forward to 4 years of Job and 2 years of MBA, I earned just enough to think about a car. Thanks to the Big hearted Banks who are willing to lend you any number of loans and sink you in debt, I decided to get one for myself ( I still sometimes can't believe that I own a car )
Budget – Started with 3 Lakhs and ended at 7.3 Lakhs ( I know many of you were in the same boat ), shifted between petrol/ diesel, switched between Old/ New.
The range of cars stretched across Alto, Kwid, Swift, Polo, TUV 300 ( Dad's choice
Petrol/ Diesel – After driving my dad's Swift diesel for a couple of years, I kind of got addicted to the diesel's driving dynamics. To be continued....
Old / New – Since I was inclined towards Diesel, a second Hand car did not seem very attractive ( the swifts were too pricey, the Figos/ Fiesta's were cheap but the maintenance were not very pocket friendly ) So finally decided to get a new one
At this point there was again the dilemma of petrol vs diesel ( Don't blame me, but the base models of Ignis Petrol and Freestyle Diesel were 1.5 lakhs apart – both similar hatchbacks) . But the test drive cleared out the doubt – Heart always wins over the head :)
Now, in my narrow budget I had very few options that I liked – New Swift, Freestyle, Polo I ended up buying the Freestyle Ambient Diesel reasons below
Why Not Swift
Driving dynamics were not really great compared to my dad's 2011 swift.
The Steering wont come back to centre position upon taking a u turn, this was a big turn off for me
Too many swifts on the road
Build quality, some might argue against it, but the panels were too thin for my comfort and considering the traffic in Chennai, any vehicle is bound to take a hit. I dint want to keep doing patch work for any small hits here and there
Why Not Polo :
Service costs were not very friendly
Somehow the felt the clutch being too hard especially after TDing the Freestyle. And to drive with that in B2B traffic could be a nightmare
Price was a bit too high ( Agree it's a premium product and great safety rated car )

So it was the Freestyle Ambiente Diesel !
Why diesel ( Again ) :
It was so much fun to drive in the highways and equally in the city, literally no turbo lag at all
Mileage is great ( Highway 24 - 30 @ 80 – 100 KMPH )
Why Ambiente :
It ticked all the boxes in terms of function over form, the one thing I miss is the Temperature gauge ( from a safety point of view )
It has 2 Air bags, ABS, Rear Parking sensors, Day/ Night IRVM , Floor mats as standard – Perfect VFM for first car buyer like me
The Buying Experience :
The whole world was going towards E shopping and so is car shopping. I tried a portal called
trycarpal.com
who operate at Chennai and Bangalore as of now, run by a very energetic Vignesh ! I liked the fact that I had to visit the showroom only for delivery, the negotiating, follow-ups everything was taken care by Vignesh's team

October 11th was the D Day and the Car rolled off :)
The car has covered over 10500 kms till date, here are my few observations:
Never underestimate your running when you compare between petrol/ diesel when purchasing your car
This diesel motor is India's best one till date at least in the sub 1500 CC category for a reason. It is a breeze to drive in the city and loads of fun in the highways
Mileage is a great benefit apart from the pure driving dynamics of this beauty , the steering feedback is just right
There was left pulling issue twice, once canter angle was fixed and the second time steering software had to be updated
Being the base model, the interiors are dull and bare minimum, but very functional , thanks to Tons of storage spaces in the front
I swear I will buy another Ford as my next car if at all they continue to exist after another 10 years
Few memorable trips :
Chennai – Vizag solo drive ( 850 kms )
Chennai – Trichy – Madurai – Chennai – 1100kms
This is my first ownership review, please pardon if there are any mistakes and provide feedback to make it better
Few Pics :
Somewhere near nellore during my solo drive from Chennai to Vizag
With my father's swift somewhere near Rajahmundry
At home with my toys :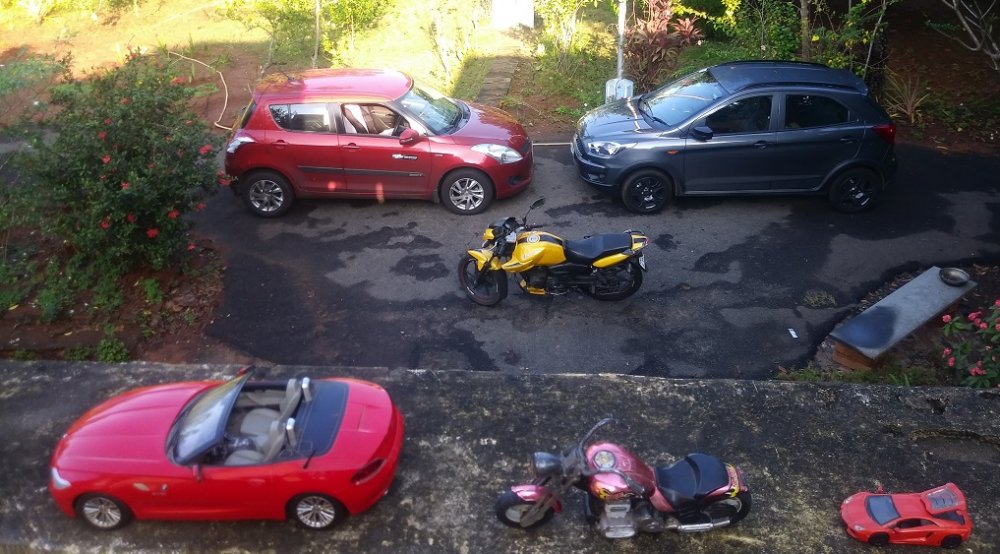 Last edited: