Ah….Here is my story of last (sad) week.
Last Tuesday, I was heading to work like any other day and joining ORR with a 'U' Turn from Service Road @ Kasturi Nagar. Saw a Logan (Airport Taxi) getting over the hump just near the 'U' turn and so I moved to join the ORR. All of a sudden one biker came from nowhere, overtaking that Logan from left side and hit me from behind. With the sound, I could realize that it's not something simple.
The biker was on road. got up and all helped him to get to the corner. I then look at my car. The rear bumper is out. Dislocated with deep scratch and dent. My heart was too.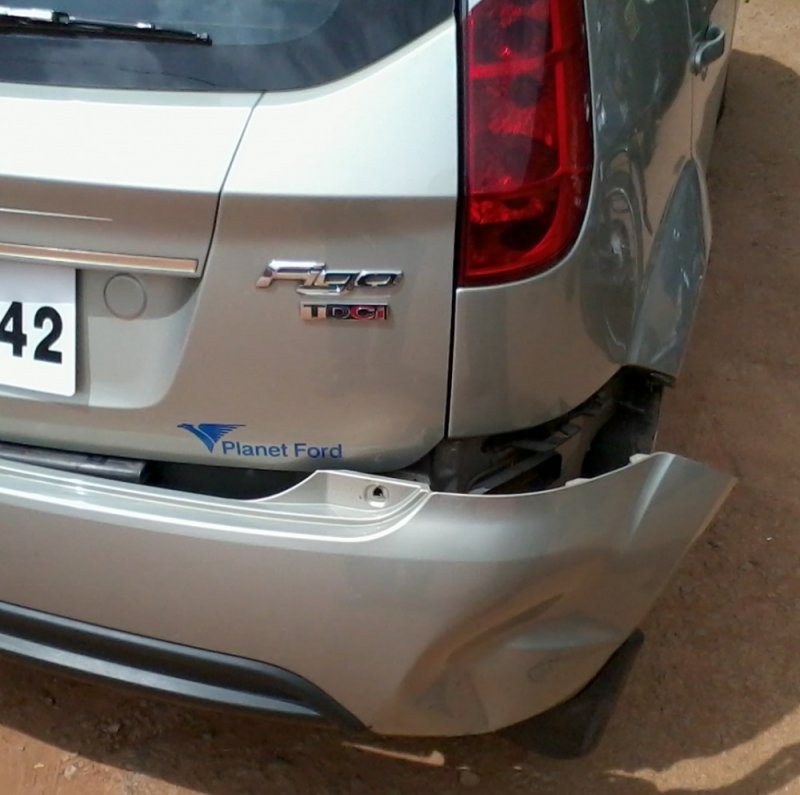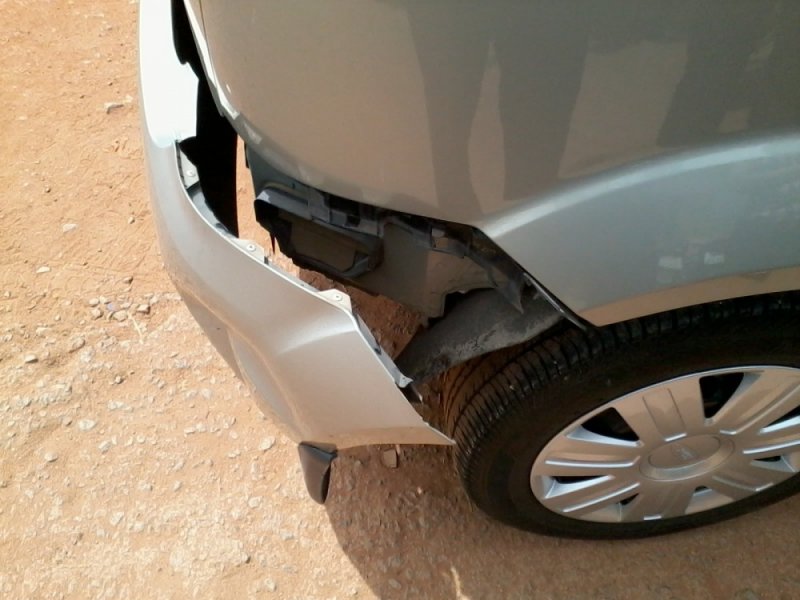 Then the dialogue starts. I was as polite as possible, but that was not the case with the other side (biker). The taxi guy stopped too (he got a dent in the Front-Left Wheel Arch, but was negligible) and started supporting me with few more spectators on the spot. That biker seems to be educated and speaking in English, but was very rude and not ready for any compromise. In the mean time, he called someone and couple of guys appeared in an Omni. One of them started getting in to the discussion and when I enquired about his presence in this matter, he gave me a stale look and "ordered" me to get away and claim insurance for the loss. Sooner, the biker also become more aggressive (than before) and started threatening me that I am an outsider and know how to deal it with me. And left from there saying, "make a note of my bike number and do whatever you want".
I realized that no point in talking further, noted his number and went to KR Puram Traffic Police station. Filed a complaint and the SI assured me that will trace him and get for a discussion ASAP.
Went to Ford Dealer with some hopes.
Ford Dealer: We need to change the entire bumper sir It can be fixed. (As usual). I insisted him to try fixing it and they added an additional washer and fixed the bumper somehow. But the right side end, which is screwed, is broken as separate piece, and can't be fixed. Looked awfully better, but not as how it was an hour back. However, the dent and scratches were clearly visible, no fixes possible.
On Thursday, KR Puram SI called me and said we traced the address. But unfortunately, it's of Mysore registration and we can't do much about it. Funny isn't it??? But that's how it works.
Friday morning, got a quick fix glue and tried fixing the broken piece with the bumper. Worked! But was wondering for how long, and thought to leave it till it can.
Friday evening, I was heading to home like any other day and was pouring. I was crawling on Whitefield Road and almost stationary. Another BANGGGG… And this time the sound was even worse and haunting. It was a Sumo (Taxi) with his front Bumper Guard (sharp one) poking the rear of my car. Lost hopes and pulled it over. A deep dent on the Rear Bumper and HATCH. The impact was that the hatch back had bent with a slight change in the shape.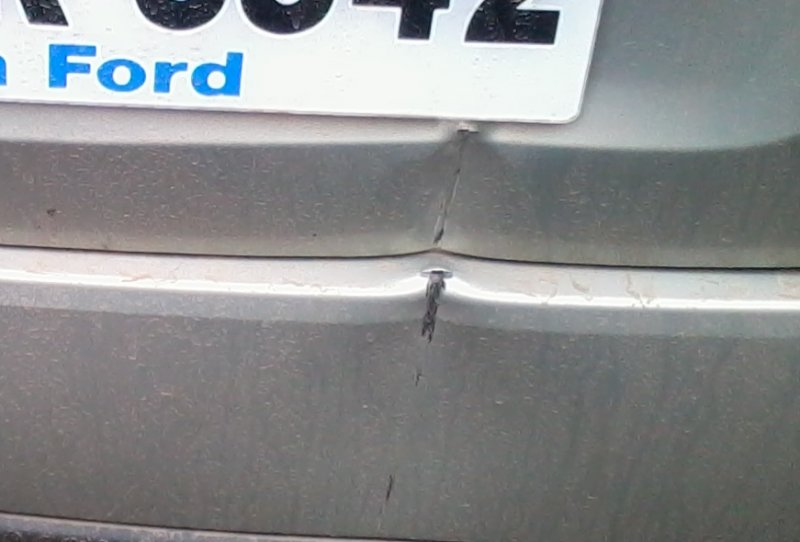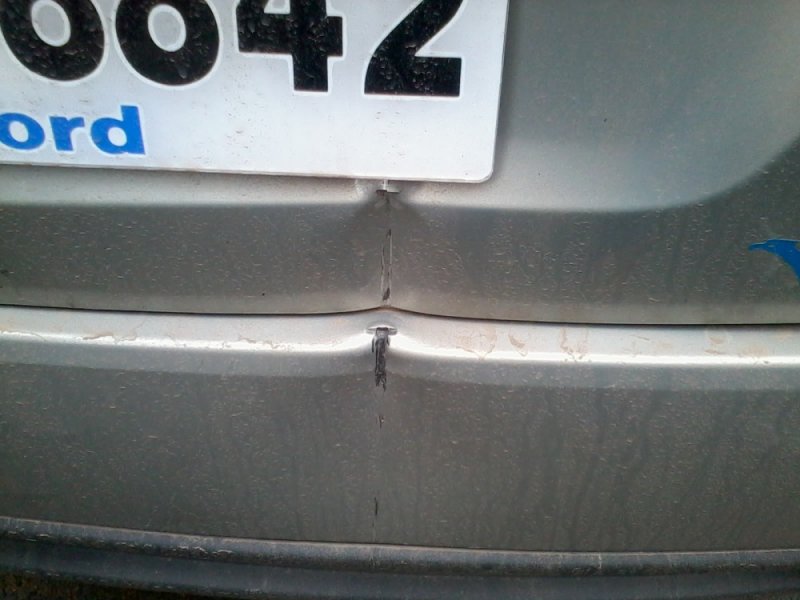 Dialogues starts again and this time it was more of a monologue. He was not even ready to respond. I was shouting at him in pouring rain and he was sitting inside his car and not even ready to come out to see the damage. Same words again. Bangalore is like this, go do whatever you want.
With no sign of police or any other support around, I had to give away, ONCE AGAIN.
Went home with a thought that, I am not going to do anything for this damage. Let it remain as it is. But that thought is no more valuable the next morning. I open the dickey, and will not get closed again. The impact and dent is not only in the tail gate, but also on the inner beading, which will prevent the dickey to get back to its original place. Tried all ways and did it HARDER than possible for couple of times to get it locked. But that won't work all the time, so had no choice than fixing it.
Yesterday, went to Ford and handed her for body shop work. Any guess on the estimate??? 27K.
Wondering what for? The estimate reads it as replacing bumper and the entire hatch back. I countered saying it should just be a tinkering and painting work, for which he said, the insurance surveyor will decide on it.
This morning, I was informed by Ford that the survey is done and they have decided to replace the bumper and repair the dickey with tinkering and painting work. Yet no information from the insurance company on the estimated cost and my share on it. Eagerly waiting for the same.
I can't really digest why would I pay and suffer for something has no mistake of mine. And most importantly, how people are so careless and rude even if they are wrong? I would try to forget it even if they would have tried to apologize for what happened. On top of all, I am being treated as an alien in my own country. That's only in our country. Today, I have given my car for service, pay for it as well, loose No Claim Bonus, and travel in Auto/Bus for a week. All for no fault of mine.
PS: Automobiles are on road and accidents are inevitable. Let's at least be civilized enough to handle the situation? We should also remember that, if it's me today, it can be you tomorrow. Please be courteous at least.
Last edited by a moderator: