Definition of Classic (/ˈklasik/): Judged over a period of time to be of the highest quality and outstanding of its kind.
The Background:
Our first family car was a little Maruti 800 DX (5-Speed) which was bought on 31st December 2002. Opposite to the present scenario, it was a time when the cars were not spreading like wild mushrooms across the Indian automotive market, consequently leaving the buyers with very certain options. Maruti 800 is still merrily serving us despite on whichever terrain it has been driven. But eventually the situation has changed over the time and so does the requirements. I realized that it was a time to upgrade to a better car which is capable enough to stand up to the current requirements without affecting the wallet much, not only before but also after purchase.
The Requirements:
The foremost criterion was a bigger car with refined engine that must have at least essential safety features as standard. This is something which Maruti 800 did not offer. These were further followed by other important requirements such as driving pleasure, passenger comfort and of course, fuel efficiency as well as a value for money product. Though indirectly I was quite conscious about the re-sale value aspect too but factors such as brand image and unpopularity really did not affect the short-listing process anyway for my soon-to-be car.
Hunting for Pre-owned:
In the beginning, the budget was set to maximum Rs.5 Lakh and I knew that it was a farfetched dream to buy any desirable new sedan at this price tag. So I began with the hunt of buying used. The search started as early as in Jan 2010 with a never-ending list of tempting used cars in mind, starting right from a Chevrolet SR-V to Honda Accord. But I took some time to pinpoint and give it a wise thought by maintaining the foot on a ground level. After a thorough analysis about various important aspects of real-time car ownership like practicality, upkeep costs and what not, I finally end up short listing a Mitsubishi Lancer Cedia Sports.
As if one challenge wasn't enough, another was waiting ahead for me. Well, finding a simple Mitsubishi Cedia itself isn't easy in second hand market, I should have forgotten about the Sports. In spite of knowing that, it was quite a task; I went ahead with the search and ever since then there was barely any car listing in automotive classifieds which didn't scan through my eyes. I was particular about the selection of a used car and therefore started visiting authorized used car sellers on weekends in order to inspect the cars with an open mind to consider something else apart from a Cedia if seemed to be worth. The search continued for many weeks. During this phase, I came across a number of cars, most of which were either in bad shape or just not genuine. There were mixed experiences after speaking to several dealerships and also some individual sellers. For instance, experience with a couple of Mahindra First Choice Dealers was poles apart. One was too good while other doesn't deserve a mention.
Let me write about the Gurgaon Mahindra First Choice which was courteous. This dealership although isn't too big but they have a fairly wide range of cars to choose from. Unfortunately, when I spoke to them about Cedia, they told that it was immediately sold off. Apart of the Cedia, the two sedans from which I was really impressed were Skoda Octavia vRS and an understated Hyundai Sonata Embera. The black Skoda Octavia was exceptionally well-kept but it had clocked over 77,000 Kms and price quoted was around Rs.7.5 Lakhs. On the other hand, Sonata Embera stands in a different league altogether. It was a 2006 model, done over 40,000 Kms with asking price of Rs.6 Lakhs. But the condition wasn't very pleasing which I found upon performing a close inspection of interiors and rest of the areas. While dealing, the sales person ultimately admitted that it was chauffeur driven and used to pick up clients of a prominent firm in Gurgaon. It wasn't surprising for me since I already got an idea of this after performing a thorough inspection. He agreed to negotiate further and also told about other Sonata Embera they had on sale. But I overlooked, considering that presently I was not at all in a need of buying a bigger luxury sedan when a C-Segmenter can serve exactly what I want.
The search of buying a used car was on and I was keeping a track of various classifieds with a slightly stretched budget for used. Somewhere in between the hunt, I also thought to consider a compact sports utility vehicle like Grand Vitara but again, the question was same. Do I really need one? Quite certainly, the answer was a clear cut no. Call me finicky, but having scanned the used car market for over a year, I was still not able to find a car which truly touches the string of my heart. Therefore, it was now decided to stretch the budget to maximum feasible limit and go for a brand new car. Though in all the confusion and chaos, I was still shuffling used car classifieds with flexible budget of Rs.5 Lakhs in hand. Coincidentally whichever car I preferred has one thing in common. Be it Cedia, Sonata, Octavia, Optra, Grand Vitara, Manza, Linea or Fiesta. Names of all ends with letter "A".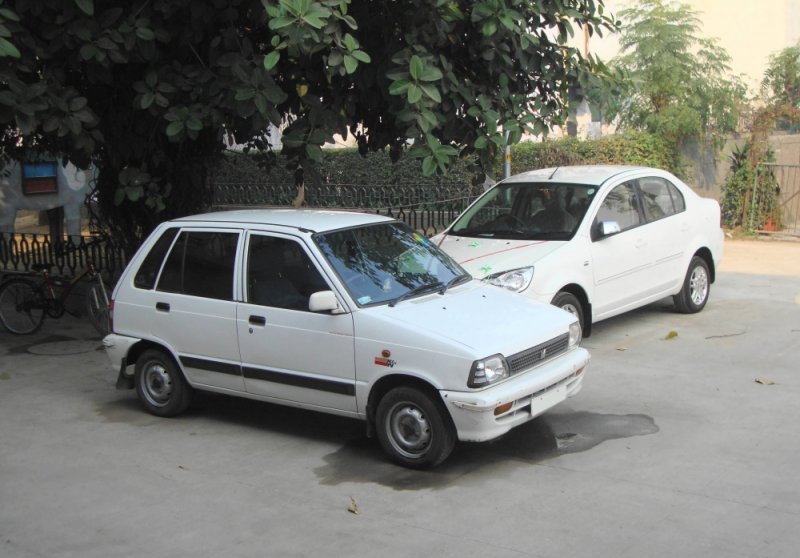 ​