DISCLAIMER:
This is my first Test Review on TAI, first anywhere infact, so kindly bear with me, my language and if you feel disconnected anywhere, my apologies. Writing isn't my kinda thing, but then love for automobiles does make you go outta way :P.
About me:
Well you might be wondering what this has got to do with this review. Well I personally feel it does. So here it goes.
I've always been a different kinda guy, weird you may say. I have always had a thing for stuff that usually isn't the first choice of many. For instance, most of my mobiles were Motorola. While most of the people considered it as crude, Spartan n even useless, I have always liked it. I've used LG, Samsung too, before the launch of their 'good' phones. I made my dad buy a Indica V2 Petrol. Most of the people I know, had no idea that indica had a petrol variant. 8 years n still own it/Love it. Chose a Unicorn when Bajaj just launched the Pulsar with alloys n blah blah. And the list goes on.
To put in a simple sentence. I'm more of a 'Why not that?' kinda guy. That said let me get back to the topic.
What we need:
We are on a lookout for a people/luggage carrier.
1. Its for private use. Hence will be registered with a white board.
2. Will have to carry 8 people or more and/or luggage.
3. Since it will be used on rural/ no road areas, GC/Suspension is a priorty
4. As running will be medium/high, good FE was on the priority list too.
5. AC wasn't a requirement, but if it came with a package, then y not.
6. Decent space for people to be comfortable.
7. Looks isn't on the list.
What I short listed:
1.
Tata Venture: Has really comfy seating for 7/8 ppl. Small on exterior dimension. Proven engine(well sort of, though not niggle free). Interiors though not a priorty, it did have good interiors for its class.
2.
Bolero/XL: Highest selling 'SUV' (they say). Supposedly rugged. Sheer number of them on road. Proven product.
3.
Force Gama/Toofan: Well this is where being 'me' comes into play. I stay closely by to a inter state route where lately so many Toofan/Cruiser have started plying. 20+ ppl(min) in a seating capacity of 12/14. The engine seems to pull just fine. Tempo traveler for its size uses same engine and TT has been our choice of travel for all family outings. Its comfy n pulls well. Heard lot bout the 'merc derived' engine n how its stress free n how it delivers good FE too. While most wouldn even think of considering this behemoth I went ahead n Test drove it.
Test Drive(finally!!):
Well as stated above, I started enquiring bout the above mentioned vehicles. First off was the Force Toofan/Gama as I had not been in one till date. It was more of curiosity. So I started.
First off I googled for a Force showroom in mysore. Got the number of Raj Sales and service. Called them up and asked the directions to the place. The person on the other Side Mr.Khaleem, was very kind and gave me proper details n direction. So I fixed an appointment for 5:30.
At 5:40pm, I reached the place. It didn't look like a showroom. Well, not the ones that have kept up with time. It reminded me of early 90s showrooms. Nothing fancy. A honest simple structure. Well you cant expect anything else from a CV showroom.
So I went in and met Mr.Khaleem, He was under the impression that I had come down to book the vehicle. Then I explained to him that I was interested in seeing the vehicle first before deciding. He then informed me that there are no vehicles for TD or display as the customers they cater to come there only to book. No one demands a TD. He then checked with the company and informed me that one vehicle that was booked, is in transit and will arrive next week. He then gave me the brochure and approx price. He had to search a bit around to get the price for a white board vehicle. But then he did give me a price quote.
The Toofan(11+D) costs around 8.06lks OTR mysore for basic version without even PS. The Gama(9+D) costs 8.56 OTR mysore with AC/PS. Its approx same if u consider 44k for AC/PS. He said Gama comes under luxury class( I couldn't stop laughing) that's why it attracts additional excise duty. Anyways I took the price quotation and left.
Exactly after a week, yesterday, Mr. Khaleem Called me and said a customer Toofan has come and I can have a look. So I finished my work early and rushed to see it. I reached the showroom. He removed the Toofan which was parked between two TTs. I couldn't help but notice that both toofan and TT measured similar in length.
So I got into the vehicle and my first impression was, atleast it has a dashboard(well sort off). Closed the door and it just refused to shut in place. After 4 tries it finally shut close. I asked him to take me to a less conjusted road as I wasn't very sure if id be comfortable with the length. The '89 Tatamobile/207 I used, was very comfy. Both driving wise and comfort wise too. So even with the vehicle fully loaded I never broke into sweat. But this one felt like I was driving a TT itself. All these impression were from the passenger seat. So after driving the vehicle for 2 kms or so, he finally gave me the vehicle. Some things I noticed were, he was finding it difficult to slot the vehicle in gears. It always make loud noise. Second is, while he shifted to passenger seat. He kept his leg in the brake till I got in. cuz he couldn't engage the hand brake when door was closed.
So I got in, the driving position was nice and high. I tried to buckle the belt, but couldnt find the buckle. It was somehere below the seat. Anyways I slotted into first. It took me three tries to get the gear in place. Compared to the 207 this lever had lot more plays, so slotting first time wasn't easy.
So I slowly accelerated. The vehicle picked up slowly(60 HP, what else would u expect?), But it was better than I expected. So its size it was decent. Although the seat was adjusted too much in front for my comfort, I found the position to be right once I started driving. The Steering was neutral, not too hard, neither too free. One thing I realized quickly was, with its power n size, I needed proper planning before I overtook, sply on a highway with speeding trucks/buses.
A bus while overtaking almost threw me off the road. Left tyre went off road n the steering felt as if it wasn't connected to the wheels at all. After a 2kms of driving. I reached back. I asked him as to why the steering felt useless, he politely explained me the problem. It seems that drivers while driving down the vehicles from Pitamphur (all force vehicles are driven down), over inflate the tryres by upto 25lbs more tha prescribed. Also the alignment, camber, tow wasn't adjusted. So the problem. I agreed with him cuz when my astra PS unit was replaced till the alignment was done, I couldn drive the car, although it was only a km distance.
Interiors:
Well there is nothing to say bout it. Cuz its almost invisible. The seats offer decent comfort for a people mover. Seats are very wide. Front has a 2+1 layout, mid row can seat 4 medium sized adults people. The rear has a 3+3 side facing seats with ok kinda leg space.
What works in its favour :
1.
Seating capacity with decent comfort
2.
Superb GC.
3.
Good handling for its class.
4.
Good ride on load. Suspension wont bottom out.
5.
Reliable Engine. (3,00,00 kms warranty)
6.
FE of 12-14kmpl
What doesn't:
1.
Difficult to maneuver and park in city.
2.
Absolutely no creature comforts.
3.
Doors don't shut easily. The vehicle has read door lock broken.
4.
Spartan feels modern in comparison.
5.
Price too high for wat u get.
6.
GB has too long throws. 4th(right front) hits the leg.
Verdict:

n I still like the vehicle. But would i buy a new one??? definately NO!! may be a used JUDO/GAMA for a decent price. Its too crude for that price. u can get a base model scoprio/xylo for approx similar price with more features. also, its too huge. A venture TD is also planned soon. i spoke to a few of them who changed from bolero XL to toofan. They said XL is not good. this was better. so its out of equation for now.
Here are few pics.
F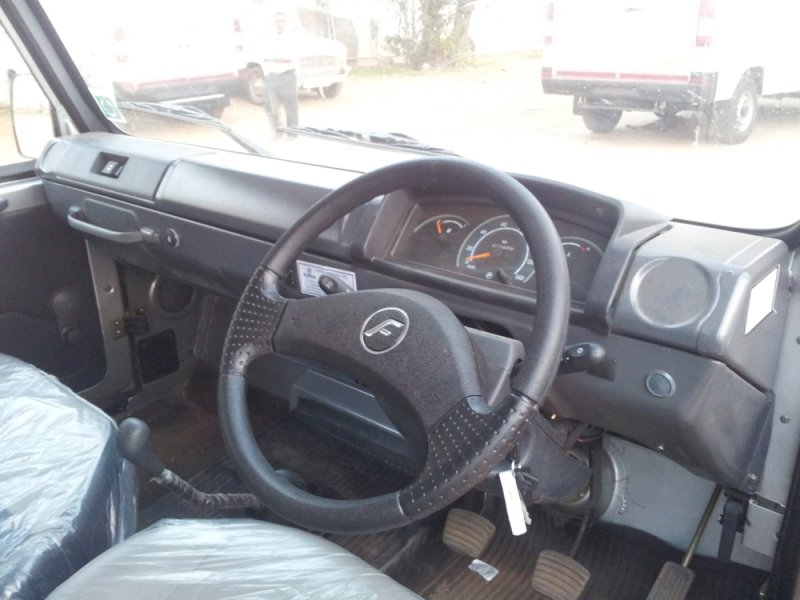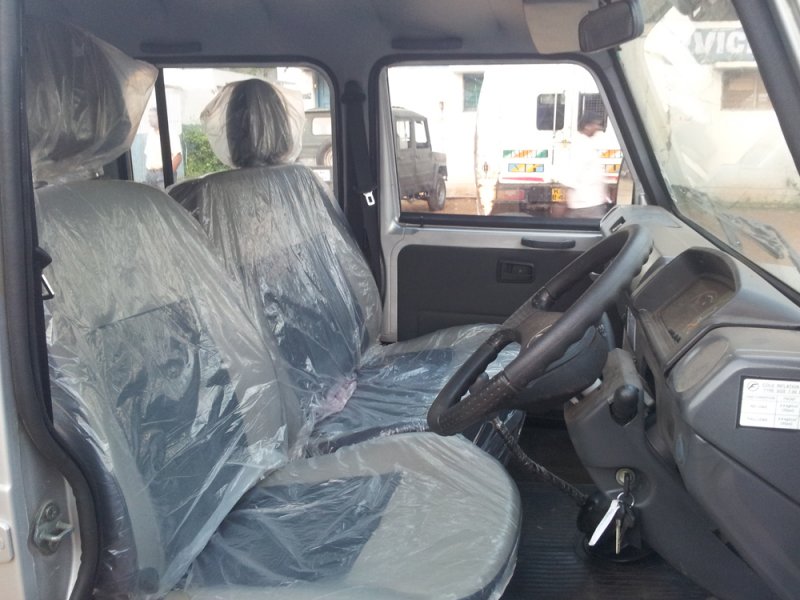 Legs space(im 5'10) with seats placed fairly in front.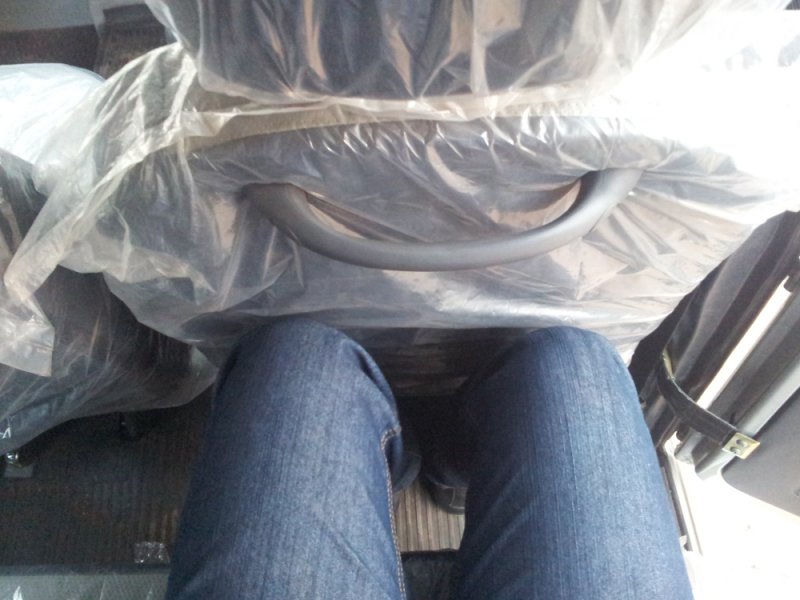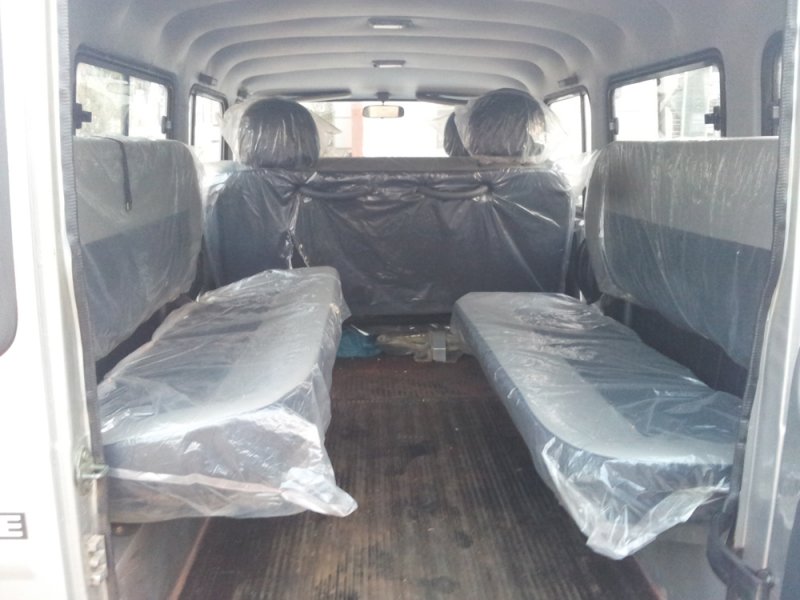 The TD 2650 BSIII, 2.6L, 60HP@3200rpm, 158Nm@2000-2200rpm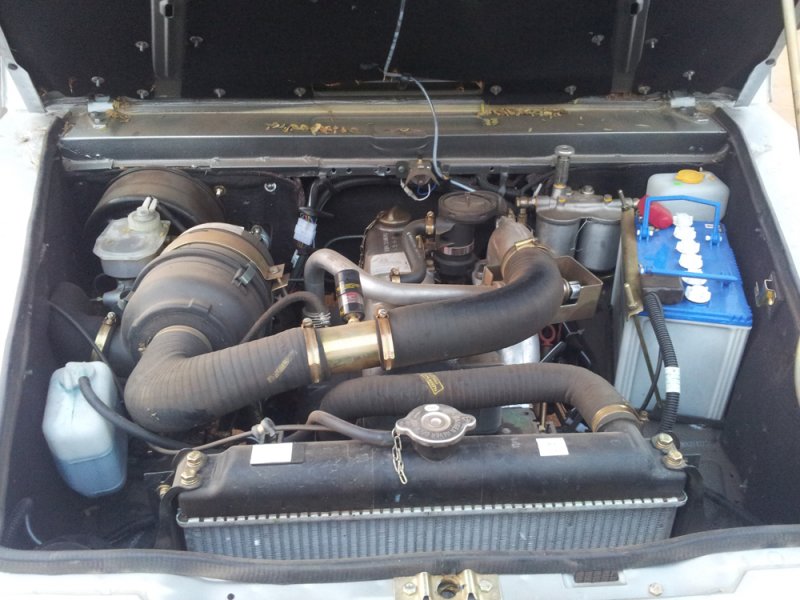 Last edited by a moderator: