Note:
This is lengthy travelogue hence divided into day wise activities in separate posts.
When something is planned very rigorously and if it gets cancelled at last moment then it hurts and remains in corner of mind. The same situation happened with me when we have rigorously planned exploration of Central India (Madhya Pradesh) and there came COVID backed up with Lockdown which has dissolved our plan just 4 days prior to our trip start date.
The days and year have passed mostly in one chair and one room doing work from home. After getting vaccinated still we were reluctant on travel because many state borders were having some or other sort of restriction. All these days the plan of travelling was alive in our mind, and we were seeking the opportunity to zoom as soon as situation becomes comfortable.
Recently, the state borders have relaxed Covid guidelines hence i did a pilot run to Maheshwar Omkareshwar and Mandu (
link to travelogue
) last month and felt comfortable. Hence instead of planning new destination we thought of completing our previous planned trip.
Diwali brings festive joys and school leaves hence we tried to consume this time for MP exploration. We packed our luggage with great excitement. As usual I performed regular check of car along with tyre condition and fluid levels and we were all set to start.
Day 1: Pune to Indore
Now this section has become our regular affair. Along with short prayer we started at morning 5:15am from Pune. There was little fog in climate. The roads till Nashik are good apart from some single lane patches near Chakan, Rajgurunagar and Alephata. The bridge construction at Shinde is still in progress for which the diversion used are in terrible state. Rest of the road ahead from Nashik – Malegoan – Dhule – Sendhwa – Indore are excellent barring few bone jarring speed breakers on highways. We checked in at our hotel in Indore somewhere around 4:45pm.
Took rest for few hours and in evening we straight away headed to our favorite foodie destination in Indore which is "Sarafaa Bazaar". One after one we started exploring the food options. I already had been here few times before as well but somehow this area has magic which keeps on calling when I am in Indore.
Few glimpses from Sarafaa Bazaar
Gold man in Sarafaa Bazaar
Few more clicks from Sarafaa Bazaar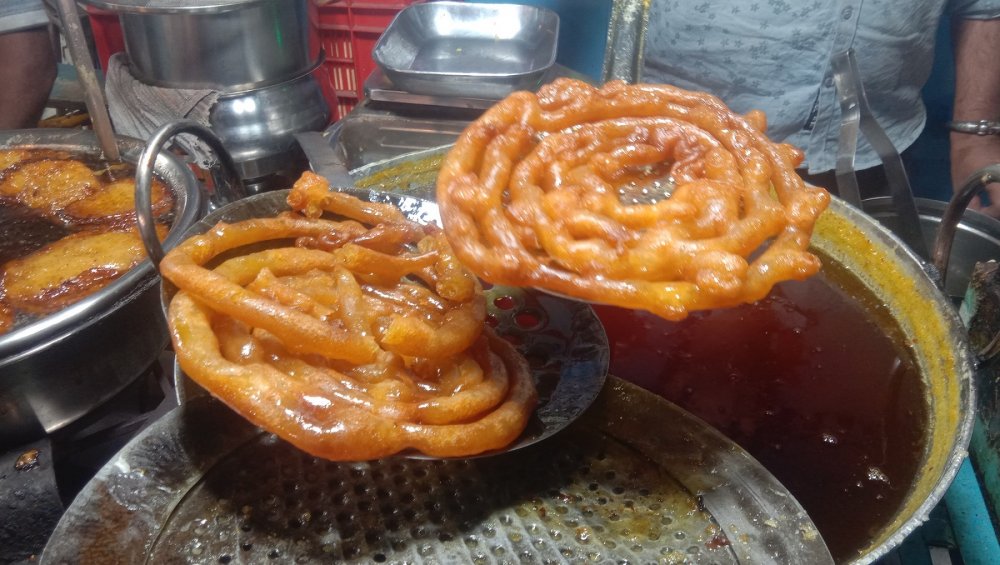 With heavy tummies we came back to our hotel and ended our day.
Continued in next post....