Joined

Sep 3, 2013
Messages

895
Likes

2,254
Location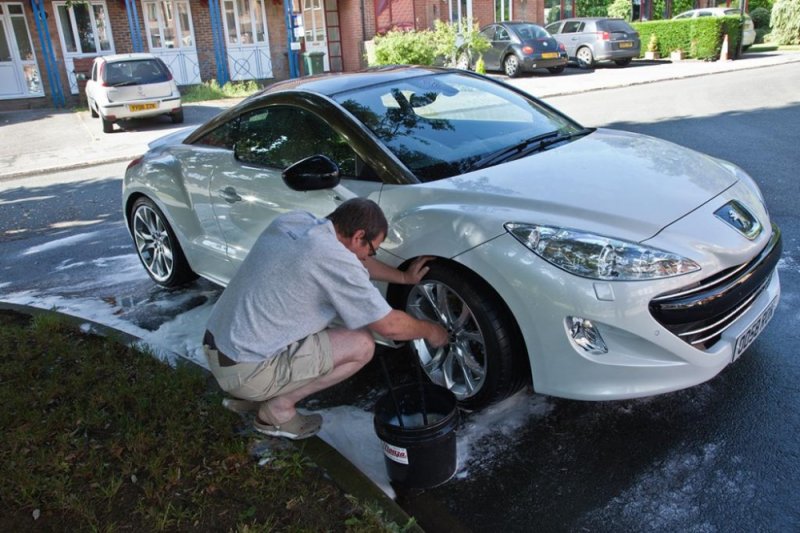 ​
Sometimes, I am electrified by some cars when they cross me.
I wonder how those cars are made to shine so much.
It would not be very difficult to make a dark color car sparkling but making a white car …. You need to explore more!
That's my dream! Of Couse, every one of the car lover's dream.
Interaction between us would help us more – that's the reason for this thread.
Please note this thread is an offshoot of my primary thread:
My New Honda City in White - The Albus
Wherein I discussed more about my ownership and accessories. Please do make a visit and I am sure, you will find many interesting information which would be useful & applicable to your interest.
Don't miss to offer your comments that would be an inspiration for me.
This is not a thread just to share how about we clean our cars or the products we use.
We should share something more. It's about detailing a car, the correct way to make our car shine! and to provide all possible information to our fellow members.
This comes out of little bit of research and understanding the science.
If you don't love your car, or, neither you don't clean the car by yourself nor through professionals, and even getting into an un cleaned car everyday doesn't matters to you, sorry ,this thread is not for you.
Cars are of different colors, some absorb light and some reflect, may be metallic or non-metallic. Some old generation cars never had clear coat. Managing a white, silver and light colors are different from darker colors.
Most expensive products in the world won't get the job done on their own. It requires some extra human efforts.
It is not the cost or quality of the material makes our cars to glaze. It is the process that makes the shine extraordinary.
There are lot of Dos & Don'ts.
If we give the same ingredients to two different cooks to make the same Dessert, the result would be that one is better than other. It is not only the ingredients matters, more than that the timing, process handled by the cook is more important, agreed?
We may have the same car, same color and may be using the same materials but the results may be different. It is the preparation, weather, time given for curing, quality of water all more counts.
Any deviation from the right approach may not only dissatisfy us but can also ruin the car paint and appearance.
Further, the car detailing products in the automobile market are so huge. Releasing multiple products by manufactures with very minor, cosmetic differences and branding them suitable for different approaches is a good marketing gimmick.
One should be careful to avoid waste of money towards really useless products.
THIS THREAD SHOULD HELP US IN A SIMPLE & PROFESSIONAL WAY THE FOLLOWING:
A
Understanding the jargons & different car care products towards detailing
B.
Exterior Detailing
Make the car to get maximum shinning (all about paint corrections, Polish, Sealants, natural & synthetic detailers)
Cleaning and Protecting alloys & wheel hub caps
Maintaining exterior plastic trims, chromes
Maintaining tires (cleaning, shining & removal of stones and pebbles)
Interior Detailing
Maintaining Plastics, fabrics, leather, rubber mats
Tools & availability
Must haves!
Quick product Reviews, availability in India & abroad

​
Whatever shine we get, it is only through - 3 Ps:
Preparation – Protection – Preservation
First
,
Preparation involves washing by good shampoo, wiping it properly without applying over pressure to preserve the wax coat left by the shampoo, claying the surface if need be for an old paint to remove swirls and oxidation.
Second
,
Surface cleaning, protecting, and an extra coat of waxing to give protection and extra shinning.
Third Step
is the
Preservation where most of us fail - I feel that the polishing will not be effective and long lasting without it. I have seen people washing the car daily or often, thinking themselves that they maintain the car very well without realizing that they are harming the paint and it would result removing of all the wax, leaving the car surface a withered look. So much washing certainly not required. Let us wash the car only when it is really needed.

​
A QUICK GLANCE ABOUT CAR CARE PRODUCTS WITH SOME EXAMPLES
DUSTER
- California Duster, Jopasu Duster
MF TOWELS
- 3M, Jopasu, Sonax, Meguiar - Supreme Shine Microfiber Towel, Abro
PRESSURE WASHER
- Bosch Aquatek , Eureka Forbes, Karcher
STEAM WASHER
- Optima
MINI VACUUM CLEANER
- Black and Decker
POLISHING MACHINE
(Rotary)- Skil Car Polisher 9070, DAS-6 Dual Action Polisher
SHAMPOO
– Amway car shampoo, Turtle Zip Wax (Wash & Wax), Formula 1 Wash & Wax, ABRO premium gold
SHAMPOO SYNTHETIC
- Meguiars NXT WASH,Pinnacle Bodywork Shampoo
RINSE LESS, WATERLESS WASH
– Optimum No Rinse, Ultima Waterless Wash Plus+ Concentrate
DRYING TOWEL
-Meguiars Water Magnet
CLAY
- Mothers Clay,Auto Finesse Clay Bar
PRE WAX CLEANER
- Auto Finesse Rejuvenate Pre Wax Cleanser, Pinnacle Paintwork Cleansing Lotion
GLAZE & POLISH
– Amway Silicone Glaze, Poorboys White Diamond, Poorboys Black Hole, Wolfgang Finishing Glaze
LIQUID WAX
- Collinite 845 , NXT wax 2.0, Dodo Juice Blue Velvet Wax, Pinnacle Liquid Souveran Wax
PASTE WAX
– Turtle Hard Shell, Formula 1 - Carnauba Paste Wax
SPRAY WAX
- Meguiars Ultimate Quick Wax , Optimum Car Wax, Formula 1 - Spray Wax
ALLOY SEALANT
- Auto Finesse Mint Rims Wheel Sealant, Nanolex Ultra Paint & Alloy Sealant
WHEEL RIM CLEANER
- Meguiar's Hot Rims All Wheel & Tire Cleaner
TIRE DRESSING
- ArmorAll - Extreme Tire shine Gel, Formula 1 - Black Gold Tire Shine, ABRO-Black Xtreme Wet Tire Shine
INTERIOR DRESSING
- 3M Vinyl & Plastic Dressing, Waxpol Vinyl Polish
HEADLIGHT RESTORER
- Formula 1 - Headlight Restorer & Sealant, 3M
GLASS SEALANT / CLEANER
- Proklear Nano Anti-Glare, Rain X, Formula 1 - Glass Cleaner with Rain Repellant
PAINT SEALANT
- Duragloss 105, klasse sealant glaze, Gtechniq C1 Crystal Lacquer, Poorboys EX-P Sealant
ALL IN ONE
- Zaino AIO, klasse AIO, Megs Ultimate Polish

​
The reviews here reflects our personal experience and suggestions .You can learn from others' experiences and shorten your own learning period somewhat, but each person is different & so as always, your own experience will be your best teacher. If you find something better, update us.
Regards,
Dr MUDHAN
Last edited: