(As usualThe Automotive India presents you the First and Exclusive Highly Detailed Coverage of The Claridges Supercar and Bike Show 2011, New Delhi. We have over 400 Exclusive HD Pictures and some special videos too. Just keep rollin'.
)
It was not just the afternoon sun that glistened the Delhi roads on Sunday; speedy exotic hot four wheelers jazzed up some of Lutyens' Delhi's most coveted boulevards. Hosted by The Only Network and Quotient, in association with The Claridges Hotel, New Delhi, the Lamborghini's Hayabusa's, Harley's and the Ferrari's of the world converged at the chic hotel for the second edition of the city's Super car and Bike Show. A celebration of automotive art, design and speed, The Claridges Super car and Bike Show provided on-of-a-kind platform for Supercar and Bike owners and aficionados who came together to share passion for these beautiful machines. The enviable line-up included Lamborghini, Porsche, Maserati, Audi, Mercedes AMG, Bentley, Rolls Royce, BMW and many more. The high-end cars covered a 30 Kilometres long route around Connaught Place and returned back to the hotel only to be greeted by an enthusiastic and applauding crowd. The show was followed by lavish brunch at the lawns of The Claridges Hotel, an art auction by 'An Yahh!!' and a performance by the band Barefaced Liars'.
The crème-da-la crème of the city poured into indulge in some gastronomical delights and wine and raved about the exotic cars that lined up the hotel's foyer. The Show was put together by Annika Talwar of The Only Network, the brainchild behind the event. Elaborating on the event, she said "The Claridges Super car and Bike Show started with the idea of bringing like-minded car and automotive enthusiasts in Delhi to a common platform. After a spectacular first year, the show has naturally become an event that Delhi has been looking forward to. It has found a home in New Delhi by also bringing excitement and inspiration to the thousands of people who see these engineering marvels on the streets of Delhi!".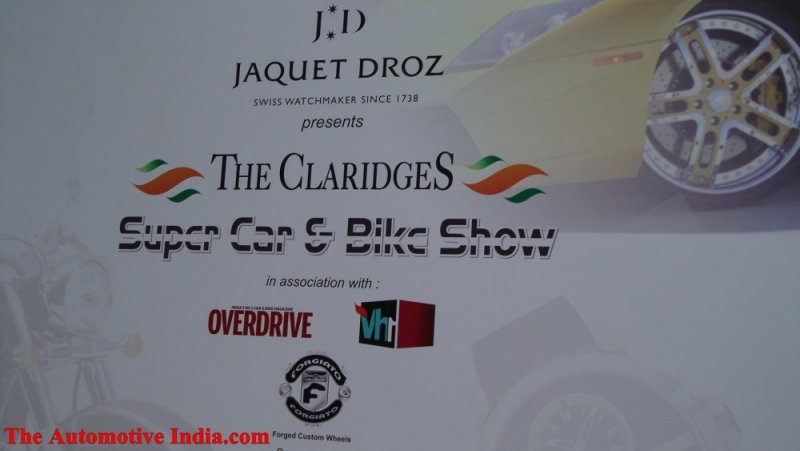 (Our due thanks to Annika for a brilliant initiative such as this, The Automotive India keenly looks forward to cover the third series of this special event next year and support the best way possible.)