First major shipment of over 3800 cars exported to Europe
Made-in-India Micra to be exported to more than 100 countries including Europe, Middle East and Africa region.
Chennai becomes the strategic hub for both domestic and exports in Nissan's global growth strategy. Company aims to export over 110,000 units in FY 2010-11 Chennai, October 5, 2010: Nissan Motor India Pvt. Ltd. (NMIPL) today announced the start of exports of its 'Made-in-India' Global compact hatchback - Nissan Micra. The first major consignment of 3866 cars left Ennore Port to cater to the demands of the European markets.
Marking the event, Mr. Kiminobu Tokuyama, Managing Director & CEO, NMIPL, Mr. S Velumani, Chairman & MD, Ennore Port Ltd (EPL) along with Capt. D K Mohanty, Director –Marine Services, EPL and Mr. Julius V Niedo, Captain of the Vessel flagged off the first Micra for shipment. Nissan has thus become one of the first companies to use the eastern gateway port of India as an export base. The Nissan Micra is expected to be exported to over 100 countries in Europe, Middle East and Africa. The company aims to export over 110,000 units in the fiscal year FY10-11.
MOL Auto Logistics (India) Pvt Ltd, a 100% subsidiary of Mitsui O.S.K Lines handles the Inland Logistics transportation for the exports consignment from Oragadam plant to Ennore port and Ennore Automotive Logistics Ltd., a joint venture company of Mitsui O.S.K. Lines and SICAL Logistics Ltd. handles the port compound management and ship loading operation in Ennore Port. The consignment was shipped in a Pure Car Carrier Vessel from Nissan Motor Car Carrier, a privately owned shipping company owned by Nissan, Mitsui O.S.K Lines and Hoegh.
Speaking on the occasion, Mr. Kiminobu Tokuyama said, "It is a defining moment for all of us at Nissan in India as we begin a new chapter of business through the start of Exports today. This milestone completes our vision of making the Chennai plant a strategic hub for both the domestic market as well as for exports. Exporting of the Micra to various countries would also mean showcasing the high-quality of Indian engineering which matches international standards and will now be on the Global map for everyone to witness."
Commenting on the achievement, Mr. Akira Sakurai, MD & CEO, Renault Nissan Automotive India Private Ltd (RNAIPL) said, "This is a tremendous achievement. We are grateful to the collaborative and tireless efforts of all our employees, our partners and suppliers for achieving this milestone in a short span of time. It is also a proud moment as it symbolizes our successful trade relations with India, thanks to the encouragement and support of the Government authorities."
Earlier, in April this year, Nissan successfully tested out the first trial consignment of six cars to Barcelona from its Oragadam Plant to Ennore Port.
The export model of the Nissan Micra, built on a new versatile V-platform, is produced to comply with different safety regulations and environmental rules as applicable in different developed markets. Nissan Micra, the Global compact car, was designed and tested in Japan and fine-tuned to meet the differing tastes and needs of customers worldwide. The Nissan Micra is a reliable, stylish and eco-friendly car for people who enjoy everyday driving. The compact hatchback, with its affable appearance, is also engineered for easy handling and sprightly performance, while realizing class-leading fuel efficiency.
The plant at Oragadam near Chennai operates in full compliance with the Alliance Global Manufacturing Processes and Quality Standards. Its production management system, launched for the first time at any plant of Renault and Nissan, is based on mutual knowledge sharing and the best practices from both companies across the globe.
In 2008, Nissan had signed a MoU with Ennore Port Ltd. (EPL) to export its vehicles to various countries. Ennore Port Ltd is providing with a special berth space of 140,000m2 for parking vehicles and will give NMIPL the priority to use the newly developed marine facilities. The berth that is under construction will begin operations shortly.
About Nissan Motor India Pvt. Ltd.
Nissan Motor India Private Ltd. (NMIPL), a 100% subsidiary of Nissan Motor Limited Japan, was incorporated in 2005 with a vision of 'Enriching People's Lives' through latest Nissan Technology and products. Chennai is a strategic hub for production, R&D and exports for Nissan. In February 2008, Nissan, together with its global alliance partner Renault signed a MoU with Government of Tamil Nadu to set up a manufacturing plant at Oragadam, near Chennai with an investment of Rs. 45 billion over a period of 7 years. On March 17, 2010, the Renault-Nissan alliance plant was inaugurated in a record time of 21 months since its groundbreaking ceremony in June 2008. The Plant has an initial capacity of 2,00,000 units per year and can reach 4,00,000 units per year in full capacity in the future.
NMIPL existing range of products include the X-Trail (SUV model), the Teana (luxury Sedan) and 370Z (iconic sports car) – all three imported from Japan as CBU (completely built units). The launch of the first locally made global compact hatchback (Nissan Micra) in July 2010 marks the serious foray into the mass market by Nissan in India. From October 2010, NMIPL has begun exports to more than 100 countries including Europe, Middle East and Africa.
NMIPL has appointed Hover Automotive India (HAI) as their exclusive strategic alliance partner to handle sales and marketing, dealer development, customer relationship management and after sales in India. The company has 20 dealers operational in major cities across the country and aims to have more than 100 dealers by 2013.
In line with its global philosophy of corporate sustainability, NMIPL has already begun its commitment to make a meaningful contribution to the community. As part of its rehabilitation and resettlement initiatives, the plant has already completed constructing 16 residential homes for relocated families from construction site, apart from constructing local Police Station and fire service station in the Oragadam village. The plant has also constructed a Government high school at Oragadam, which was inaugurated by the Minister for Adi-Dravidar Welfare – Tmt. A. Tamilarasi in the presence of Tmt. D Yasodha MLA, Sriperumbudur Constituency. The school, with the Noon Meal Centre facility, has been constructed at a cost of `2.8 crores and can accommodate up to 1000 students. At the corporate level, NMIPL has also partnered with 'Habitat for Humanity' for providing shelter to 75 families by constructing homes for the socially and economically less fortunate section of the society.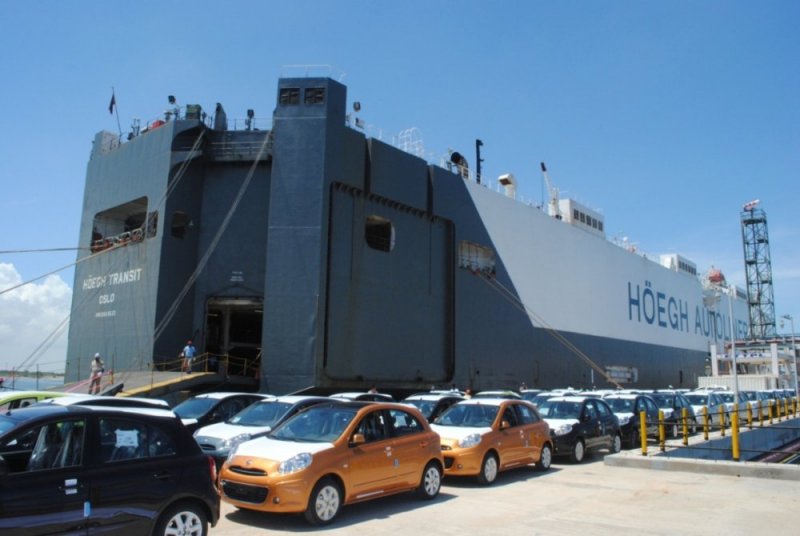 Capt D K Mohanty, Director –Marine Services, Ennore Port Ltd, Mr. Kiminobu Tokuyama, MD &CEO, Nissan India, Mr. S Velumani, Chairman & MD –Ennore Port Ltd, Mr. Julius Niedo, Captain of Vessel at the first shipment of Nissan Micra to Europe.