Joined

Aug 6, 2011
Messages

6,206
Likes

4,220
Location
Today's morning I took the newspaper in my hand and started searching for news,suddenly my eyes caught something and on reading it,I was surprised.What was that?Just have a look at this:-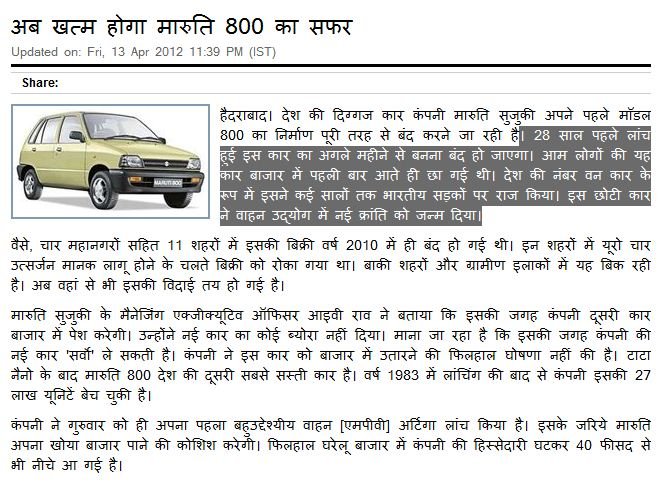 Maruti 800,the
'ICONIC'
car which was launched by the prime minister on India Mrs.Indira Gandhi.
A car that taught Indians how to live their dreams of owning a car.Thae car which taught Indians how to drive.
If we people go to our past then most of us have either owned an 800 or are owning even today,but now Maruti Suzuki has decided to phase off this car only because this car isn't doing the expected numbers.
But what about their heritage?
Have the numbers became so important that Maruti Suzuki is forced to forget their heritage?How can they discontinue such a iconic world famous model.
It looks like every company preserves some of its heritage like:
VW Beetle.
Porsche 911.
Toyota Land Cruiser.
Chevrolet Corvette.
Mahindra JEEP

And many more..
Then why Maruti hasn't chosen to modernise their heritage car,the car which itself is called
MARUTI
?
End of the road for a car that began motoring era..
Maruti 800, India's most iconic car, will soon be history.
Maruti Suzuki, which heralded a revolution of sorts with it, creating a whole new segment of cars, will stop manufacturing Maruti 800 before the month-end.
The car was launched in 1983, the year India won the World Cup. And a winner it was all the way, provoking us to ask Kitna deti hai and grossing some of the highest sales numbers ever — the car has sold more than 2.7 million units since launch.
Three decades on, it is time to bid adieu.
Not surprisingly, the industry is singing paeans.
It was a simple, humble and mediocre car that became the most unlikely status symbol in India, said Anand Halve, co founder of brand and communication consultancy Chlorophyll.
Abdul Majeed, leader Automotive Practice, PricewaterhouseCoopers, concurred. "The car was launched for people who could not afford then existing cars like Padmini and Ambassador. It gave people a chance to own a car at that point of time."
With limited competition, M800 ruled the Indian roads until 2004 when Maruti Suzuki introduced its own Alto, another bestseller. By 2010, the company had stopped selling the M800 in 11 cities, including the four metros, due to new emission norms.
With more players entering the Indian market, the market for M800 started shrinking. Last fiscal, the company sold an average 2,000 units of M800 a month compared with 5,000 units in FY11 and around 8,000 units earlier.
Though sales were sliding, the company never confirmed the phasing out of the model.
But recently, on the sidelines of the launch of its latest multi-purpose vehicle Ertiga, I V Rao, managing executive officer, engineering, Maruti Suzuki, told reporters, "We are stopping production of this model from this April-end."
Sanjeev Bafna of Seva Automotive, who has been associated with brand Maruti for almost 25 years now, feels that it is probably the only model which sustained its market leadership for the longest time. "Every revolution has to go through some success and challenges. Despite having so many new models available now, we still get enquiries for M800. Hopefully, the company will soon look at getting a product, which will generate similar interest."
According to reports, Maruti Suzuki is working on a new product to replace the M800. However, details are not yet available.
Last edited: