The year 2020 and somewhat 2021 has taken a travelling experience away because of COVID-19. The vaccination drive came which raised some hope to fight against covid. As a traveler's we were waiting to get onto roads and continue our passion of discover India.
Once something keeps revolving into your head it tends to happen. In our case we were looking out time for short trip and it happened, we got 3 days' time. Now the question was where to go in these 3 days. We glanced through Google Maps to check which locations can be discovered in these 3 days. We finalized below plan,
Day 1: Pune – Maheshwar – Omkareshwar
Day 2: Omkareshwar – Mandu – Maheshwar
Day 3: Maheshwar – Pune
The title of this travelogue is having M.O.M means exploring
M
aheshwar
O
mkareshwar
M
andu
Day 1:
As usual started in wee hours of morning from Pune and took breakfast halt after crossing Nashik. The road condition from Pune to Nashik is combination of single lane and double lane. No matter most of the bypasses are ready and smooth to drive. The police checks were happening near "Shinde" where the cops started entering my car number onto his device. After asking him about the things he said that they are checking pending fine on my car (if any).
After Nashik it was straight drive till Dhamnod. I would like to say here that there are still many sets of speed humps on this highway which slows you down a bit. The roads are good with occasional potholes on right lane. We halted for lunch somewhere after Sendhwa and later exited highway at Dhamnod.
Full box designed RJ truck
The area of Dhamnod is quite busy with all sorts of traffic hence one needs to drive carefully. We took right from Dhamnod towards Maheshwar which is single lane road. We reached Maheshwar around 3pm. There are signboards which will take you through some narrow roads to parking lot. There is lot of lot of two wheeler traffic in Maheshwar.
The authorities take entry + parking charges which are somewhat Rs.30 or Rs.50 (I forgot). There is small ground where you can park your vehicle. You will get surrounded by guides once you come out of your car. The guide offers their service for Rs.500. We have bargained and took one with us at Rs.300
The first sight of Maheshwar fort with majestic steps. I have seen this view in movie "Padman"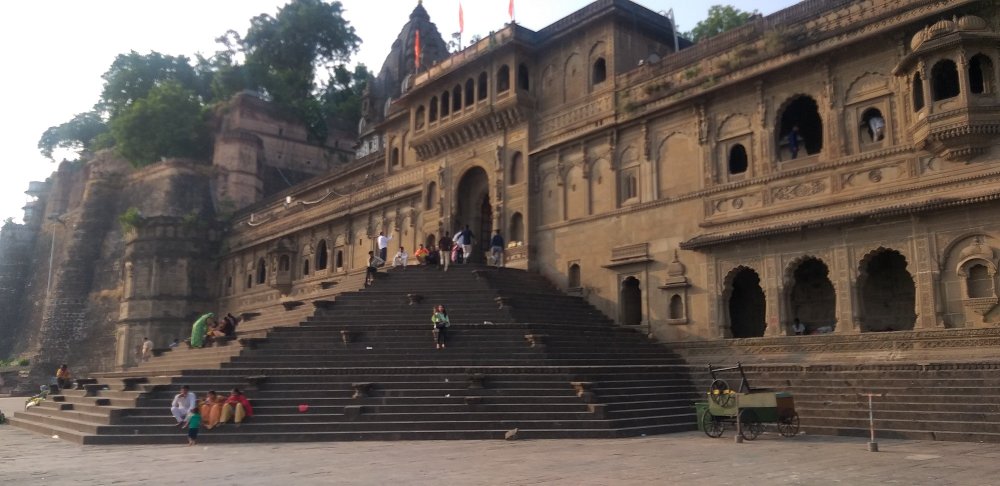 The fort and crowd as seen from Ahilya ghat
Boating facility is available which operates from sunrise to sunset. They have different charges as below
We opted for shared boat which was Rs.50 per head (They accept UPI payment). After waiting for couple of minutes, two families arrived which made their boat enough passengers to start the ride in river Narmada.
Fort as seen from banks of Narmada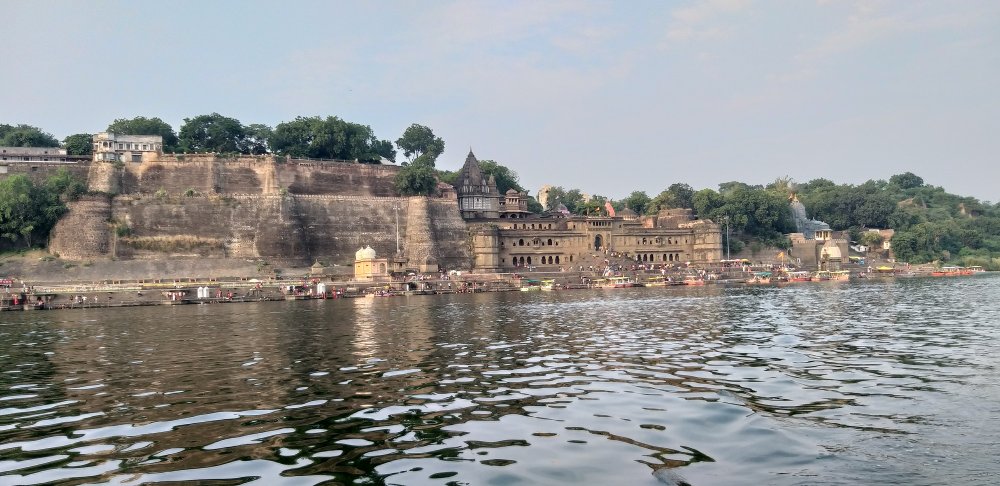 A small temple in Narmada around which the boat takes U turn to return back. This is same temple where Akshay Kumar was showed standing in "Padman" movie
One more temple by ghat
There are many shiva temples on the ghat. Infact on entire ghat you can see Shivalinga. After completing boat ride, we went to Shiva temple into fort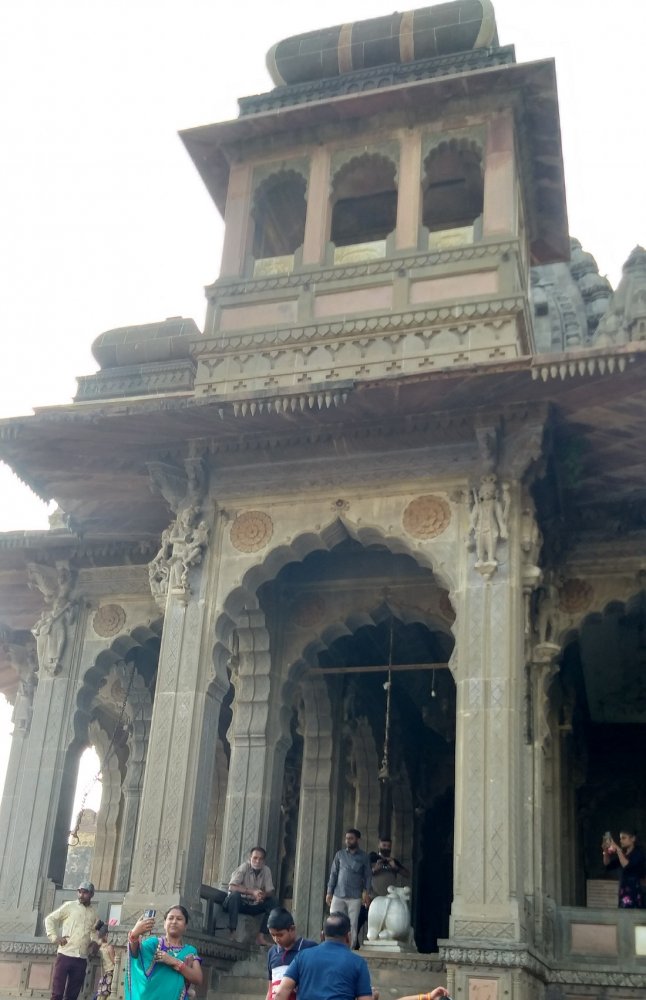 There are other group of temples as well inside fort. We headed towrards Shree Raj Rajeshwar temple where we saw the Sahasrarjuna idol. It is said that he has stopped Narmada with his thousand hands. The water still jumped from within his arms forming thousands of streams hence the name "Sahasradhara"
Temple ceiling was made up of glass
We then visited Rajwada where Shri Devi Ahilyabai Holkar used to stay. At the entrance one can see her statue holding shivalinga
Ahilyabai Holkar has led simple life. There is a court inside Rajwada where she used to give judgment. The white-coloured carpet in the court is same one from that era which is kept in good condition till date.
There are few more golden and silver shivlinga which are kept inside Rajwada whose photography is not allowed. It is said that those Shivalingas are kept by Aahilyabai Holkar after which no one has touched it. But when you see those, it appears like those are kept today itself, they are so neat and clean.
After coming out of fort one can descend back to Maheshwar ghat through few more temples.
A temple where few scenes of movie "Manakarnika" were shot
Carvings on temple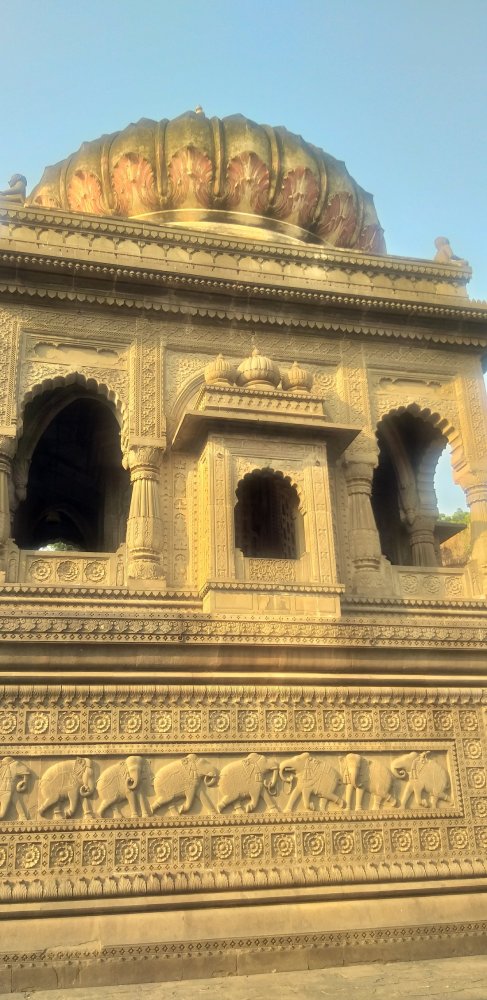 View of Narmada from fort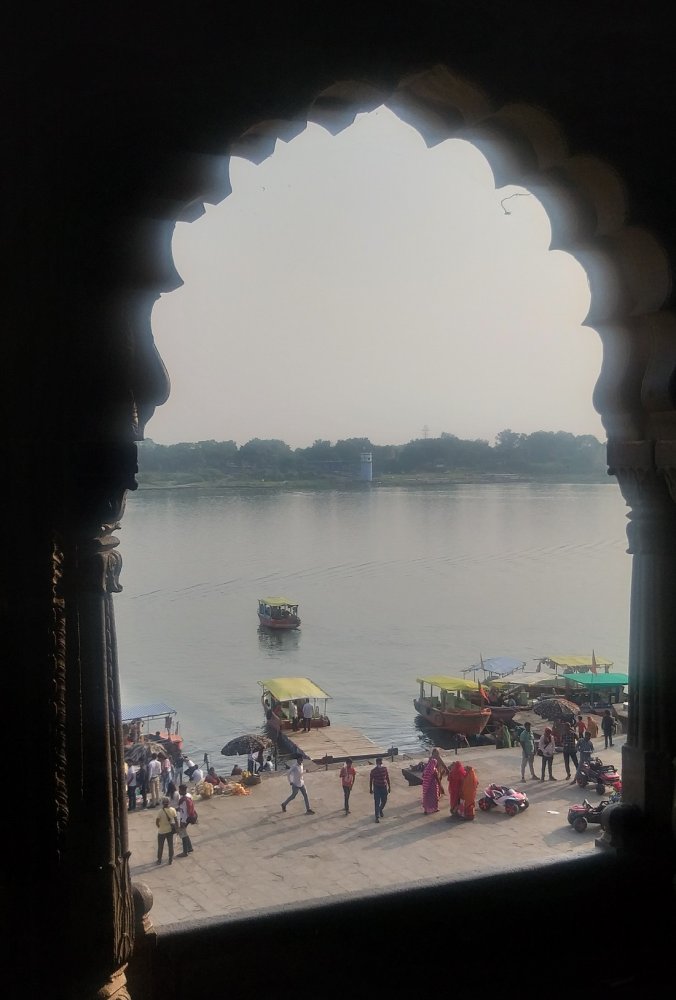 Maheshwar ghat
It is said that one needs to take holy dip into other rivers to get their sins washed. But in case of Narmada, just a glimpse is enough to make it happen. "Narmade ! Har ! Har !!"
Sunset on banks of river
We started our journey towards Omkareshwar. The roads from Maheshwar till Kothi are terrible. There is all sort of traffic right from multi-axles to tractors to two wheelers on road. The road especially inside village can't be said as a road, its is so much broken that one need to come to standstill position and think from where to steer the car. To add to this there are lot of cows, goats, hens, and jaywalkers on road.

From Barwaha to Mortaka we encountered heavy to super heavy truck traffic especially on Narmada bridge. Once you come to Kothi then roads are amazing till Omkareshwar.
Entrance of Omkareshwar
There is entrance charge (again I forgot but it was somewhat Rs.50 per car) to enter Omkareshwar. We reached our hotel and got freshen, meanwhile there came heavy rains along with thunder and lightning. When rains stopped, we had dinner at nearby eatery which ended with amazing rabri falooda at street side vendor. We came back into hotel and ended our day.
Day 2:
We woke up a bit early and got ready for Omkareshwar darshan. It seems like it was raining heavily in night as everything outside has become sluggish. There was little fog in climate with some cool breeze around. We started towards Omkareshwar temple.
First view of Omkareshwar temple
There is a walkway bridge which connects Mandhata island where complex of Omkareshwar Jyotirling is present. It hardly takes 5 mins to cross the bridge but if someone wants to take boat then that service is also available on to and fro basis.
The bridge connecting Mandhata island
Omkareshwar dam as seen from bridge
There was slight fog in climate. The Omkareshwar Temple complex along with boat sailing in Narmada
It took me some time to find the exact entry as there were no sign boards or direction boards for reaching the main deity inside complex. There was no crowd when we reached inside temple. We were able to take a peaceful darshan of Omkareshwar Shivaling. One can visit few more temples located in the complex of Omkareshwar Jyotiling. We again came back to other side walking on bridge.
The second temple is Mamleshwar Jyotiling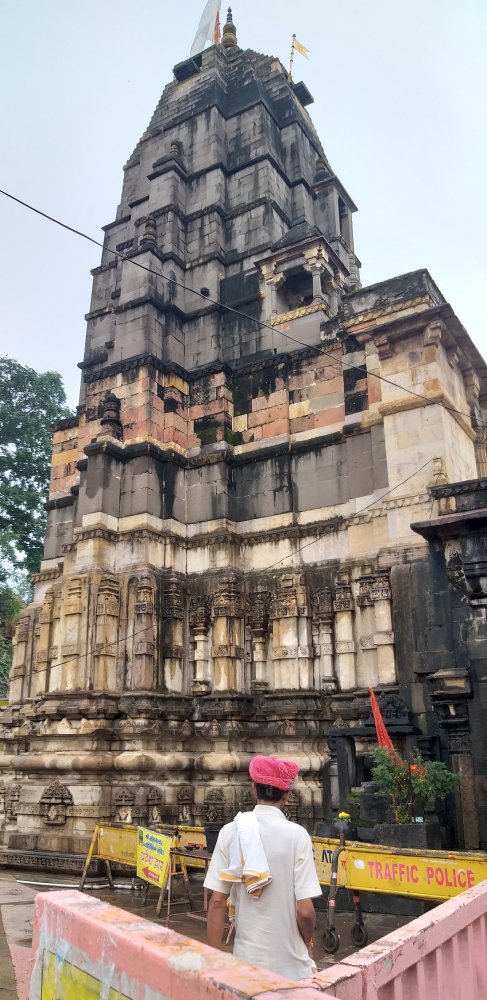 Mamleshwar temple was also crowd less hence we had a peaceful darshan. With blessed feeling we came outside temple and sat for few minutes to see Narmada and boats sailing on it. We then had our breakfast (Poha, Kachori and Aloo wada) at street side vendor. After relaxed walk we came back to out hotel. As soon as we were back the rains started!!
Once the rain stopped, we started our journey towards Mandu. We again had to go through the treacherous stretch till Maheshwar

. The rains of yester nights have made it more treacherous. After Maheshwar the roads were somewhat good till Dhamnod. Before connecting to highway, I asked few locals about route to reach Mandu. As per locals one must take left turn at Sirsodiya near Palash Heritage Resort.
We took left turn after Palash Heritage and came across some worst and narrow patch for few kilometers which later improved ahead. There are enough signboards showing you direction to Mandu. The roads in last ghat section were too good to drive. The entire ghat section was covered by fog which was becoming denser as we were ascending pin bends.
We passed through Mandu village and arrived at Jama Masjid location. There is enough parking place next to the walls of Jama Masjid. It was almost lunch time hence we had quick lunch with famous "Dal Bafle". The lunch break was very much necessary for relaxing my left leg (which was more active all through road for pressing clutch).
There is ticket counter after entering Jama Masjib which has combined ticket of Jama Masjid and Hoshang Shah Tomb which is Rs.25 per person who is more that 15 years of age.
Courtyard of Jama Masjid
Royal throne
Passage inside Jama masjid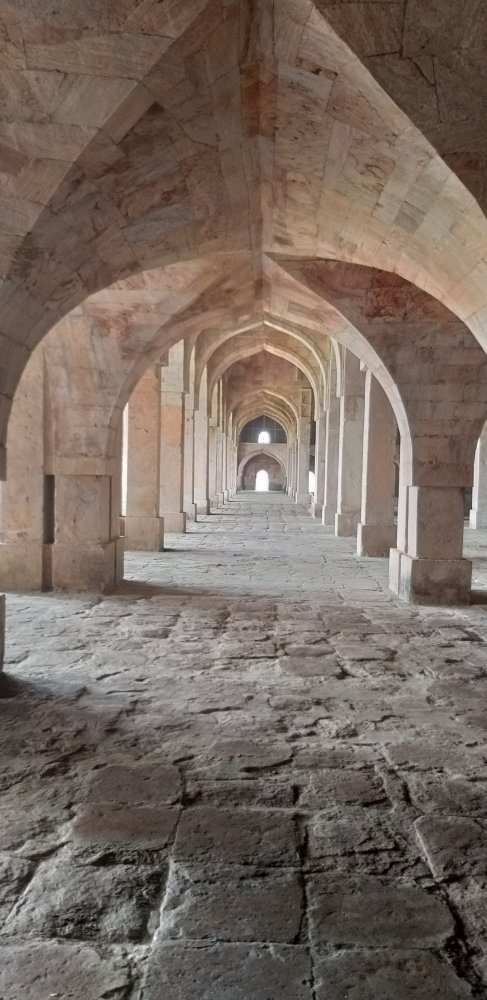 This is the way to reach Hoshang Shah Tomb from Jama Masjid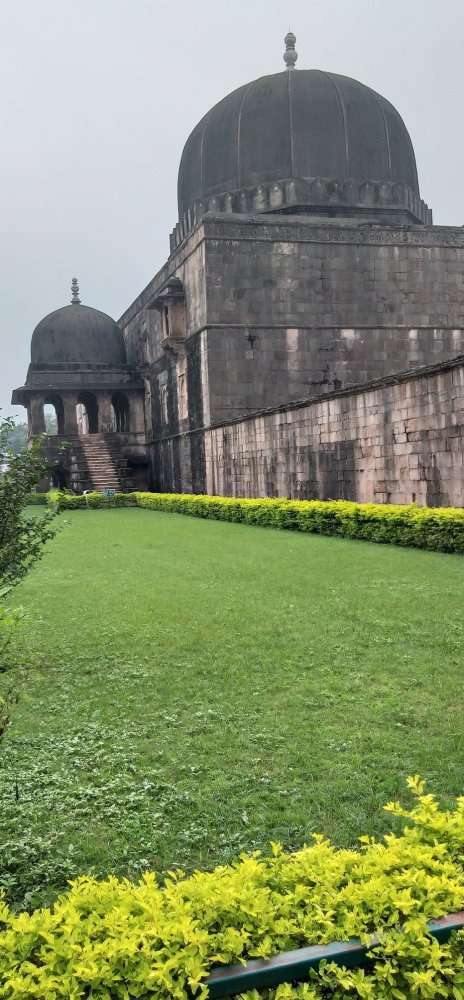 Jama Masjid as seen from back side
Hoshang Shah Tomb
Passage with multiple pillars around Hoshang Shah tomb
Entrance of Hoshang Shah Tomb
We came out of monument and started walking to another monument named "Ashrafi Mahal" which was on other side of road
Jama Masjid as seen from Ashrafi Mahal
After exploring these monuments, we came back to car parking. There was signboard showing straight direction to Jahaz Mahal and left direction for Roopmati Palace. We decided to explore Jahaj Mahal first. There is ample parking space in a ground near to Jahaz Mahal. Due to last night rains the ground was completely sluggish. Also, this location was having very dense fog.
There is entry ticket of Rs.25 per person greater than 15 years age, the rest have free entry. This ticket is combined ticket for Jahaz Mahal and Hindola Mahal (Swinging Palace)
Fog covered Jahaz Mahal
Passages at lower floor
There are steps to reach top where there is swimming pool of those era. It was amazing to know technology used at that time to circulate water from Kapur lake to top of Jahaz mahal
Fog covered Kapur Lake
There is one more water body at back side of Jahaz Mahal which is known as Munja Tank. It is having lots of lotuses in it, but due to fog we were not able to view that scene.
The monument of Jahaz Mahal is situated between these two water bodies, Kapur lake and Munja lake hence it appears like sailing ship.
Next to Jahaj mahal is monument known as Hindola Mahal (Swinging Palace)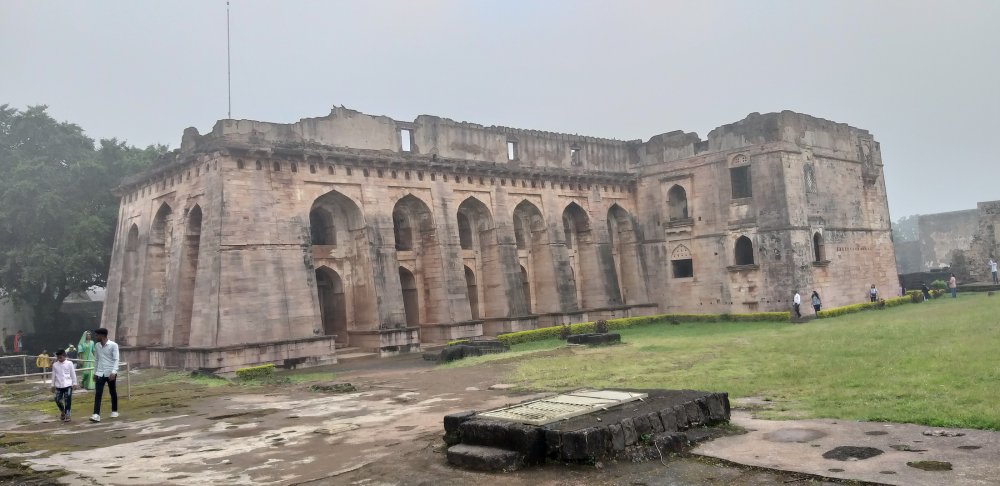 The architecture is made in such a way that it looks like the palace is swinging. The palace has one of the largest man halls which is used as Deewan-E- Khas.
Champa Baoli
It is said that the architecture of this step well is inspired by Turkish bath structure. There are 55 rooms inside this step well which are made for queens. The people in those eras were definitely knowing much more about air coolant technology. The water of this well was used for drinking as well as it was helping to keep the surrounding cool. One can enter first 2 floors beneath this well while rest others are locked. We haven't entered inside as due to fog nothing was seen clearly.
The next thing we saw was Royal Hammam which was bathing place made for queens. The architecture is again inspired by Turkish style where they have planned for hot, cold and steam bath. The roof has number of holes with shape of star and celestial bodies which helped to have light inside Hamman and the queens would feel like they are bathing under sky glazing with stars.
After exploring these two monuments we came back to parking. There are many small eateries near parking which offers you food and famous "Dal Bafle". I have noticed that there are number of vendors selling Custard Apple in entire Mandu area which are fresh and sweet.
We came back to Jama Masjid and headed to opposite direction towards Roopmati Palace. The road is quite rough. It passes through small villages hence encountered cows, sheep, and hens throughout. The entire Mandu was getting covered by fog on that day.
On way to Roopmati Mahala one can stop at "Dai Ka Mahal" on the way which is also known as echo point. You can hear single and double echo if shouted at specific angles. Few guides were showing this to their customers while other tourists also started shouting in similar ways which ultimately resulted in mix of sound, and nobody was aware whose sound echoed.
We went ahead towards Roopmati Mahal. There is entry gate with ticket counter having ample parking space. The ticket rate is Rs. 25 for anyone who is more than 15 years old. The ticket is having combined entries for Baz Bahadurs Palace and Roopmati Pavilion. One needs to take a car slightly ahead by ascending one climb to reach Roopmati Pavilion. There is a ground which is used for car parking.
Roopmati Pavilion
There are two ways to reach the pavilion. The first is quickest having some steep steps while second is pin bended walkway. We decided to give try for first way which are having steps but at halfway noticed that there is just one pin bend left to reach pavilion hence we shifted from steps halfway towards pin bend and walked towards Pavilion.
The passages and area below Pavilion
The way to reach the top was sadly closed by authorities due to safety issues. One can see Narmada River from here which is said to be seen like silver line. Due to fog, we were not able to see anything beyond 200m.
There was continuous cool breeze at this location hence we sat here for couple of minutes and then proceeded back to parking.
Few Spiderman's

Some structure created near parking
It was almost 4:30pm when we left Mandu. I have decided to descend foggy ghat before sunset hence started back towards highway. As soon as we descended the ghat section we came across heavy rains which were with us till we reached Dhamnod. Looking at climate we decided to halt at Maheshwar instead of driving ahead. We reached Maheshwar and opted a hotel for one night stay.
At some 8pm the rains stopped hence we decided to do walk on Maheshwar Ghat. The ghat was serene and silent at night with just few people. We sat there for couple of minutes and then had our dinner at "Banke Bihari" which serves you unlimited veg thalis at Rs.70 in a traditional style. We came back to our hotel and ended our day.
Day 3:
We started from Maheshwar after having breakfast of Poha, Jalebi and Bhaji at local hotel. The town of Dhamnod was hustling bustling with miscellaneous traffic. We connected highway and started our last leg of journey. The roads after Sendhwa started deteriorating with rough patch, occasional potholes, broken speed humps and what not. This continued till Chandwad Toll plaza.
One need to be very alert in this patch. I saw a speed gun and cops near Dhule. We reached Nashik and later took a small detour to Sangamner to taste the famous vadapav named as "Naseeb Vadapav". The uncle selling this vadapav is having some unique speaking style which makes this vadapav outlet so famous.
Gmaps location of Naseeb Vadapav
Video shows how Uncle speaks in unique style
After enjoying wadapav we hit back to highway towards Pune. There are speed guns installed at last descend of Chandanpuri ghat. We came across a heavy traffic between Shiroli – Chakan – Bhosari. At last reached home safely at night. With this we have ticked one more item in our to-do list.
Points to note:
Start early so that you can get more time to explore places
Most of the hotels and eateries in this area are pure veg
Carry cash as not everyone accepts digital payment
Avoid night driving in these parts as roads are not that good
Keep more time and energy for Mandu as it involves lot of walking and there are many monuments to explore
Somehow, I took more time to find entrance of Omkareshwar Jyotirling in temple complex as there were no direction boards inside complex.
Thanks for reading!