The minimum permissible age to drive any vehicle in India is 18 years, although you can drive a 50cc or less engine capacity moped at the age of 16 years itself. To drive a car on public roads, it is required to attain a driving license, which is an official certificate of authorization given by government allowing that you can drive a vehicle on public roads and it is always important to carry this license while driving. Below mentioned are the types of licenses available in India;
Learner's License:
This is the most primary license which is valid for six months once you have learnt basic driving. With this license, you may not be allowed to drive cross city borders and it is recommended to always take an expert co-driver along who could help whenever needed.
Permanent License:
After thirty days of issuance of Learner's License, One becomes eligible to attain a Permanent License. Now you can freely drive your car anywhere in the country with valid documents but please note that as a permanent license holder, you are expected to be familiar with general road safety rules, driving etiquettes etc, so have fun enjoying the drive but always make sure to be responsible!
International Driving License:
A Permanent Driving license permits you to drive the car within India but if you plan cross country border trips, An international driving license is must. The international driving license requires to be validated each year and to attain one, you must have a valid passport, visa, address proof and birth certificate.
Light Motor Vehicle License:
This is more or less a commercial-type license which makes you eligible to drive the Light Motor-able vehicles (LMVs), Including vans, auto rickshaws etc.
Heavy Motor Vehicle License:
Yet another commercial-type vehicle license, a Heavy Motor vehicle license is specially assigned to the drivers of Buses, Trucks, and Cranes etc. after their special training in Heavy Motor Vehicle driving schools.
Duplicate Driving License:
Like previously mentioned, it is always important to carry your driving license while driving for very certain reasons but by chance in-case you loose yours, don't panic! Fortunately, a duplicate copy of license can be issued by RTO. However, your first step should be to lodge an FIR as soon as possible. Thereafter, by producing a few necessary documents, you will be given a duplicate copy which will be valid and work just like your previous license.
Note: To be on safer side, we highly recommend you to keep a laminated photocopy of your original license safely, always. Which should be definitely helpful for authorities to issue you a duplicate copy much sooner in case your original driving license is misplaced. Happy Drivin'!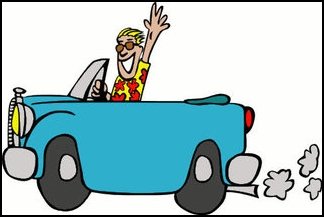 Drive Safe,
350Z