Joined

Sep 18, 2009
Messages

4,020
Likes

91
Location
Performance Tyres:

Performance tyres are designed for sports cars or for people who drive swiftly. These tyres are softer and have lesser life compared to normal tyres. These tyres are suited for dry conditions as the treads of these tyres don't dissipate water to the extent that normal tyres do. As they are softer, they grip better (in dry conditions) and are better at cornering. The best example of performance tyres are slicks which are used in racing. The slicks have no tread on them. The contact patch of the tyre with the road is more resulting in better grip. But if these very tyres are used in wet conditions, they won't be able to pump out the water on a wet road . A Formula 1 slick tyre is very soft and will not last beyond 200-300km.
These tyres grip more at higher speeds and are able to withstand higher temperatures. Performance tyres are differentiated by high (usually "H" or higher) speed ratings and low aspect ratio (profile).
All Weather Tyres:

All weather tyres are used by manufacturers on most of their cars. These are the normal tyres found on all cars which are intermediate. There are a compromise between slick tyres and wet weather tyres. The tread design is also intermediate to let the water through when driving on a wet road. A performance tyre is softer compared to this tyre and corners better, but the common man won't feel that difference while cornering. These tyres are harder and have a long life.
Wet Weather Tyres:
Wet weather tyres are softer than performance tyres. These tyres need to get up to a certain temperature to grip well. They are the best tyres for rainy weather. The treads are designed to diffuse maximum amount of water coming in its way between the tyre and the road.
Snow & Mud Tyres: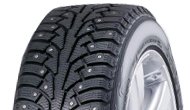 Snow tyres have a deeper tread and suitable for snowy or icy terrain. The deep tread is for more grip as other tyres will lose traction on normal roads. These tyres make a lot of noise due to their tread design and wear out the tyre and the road if driven quickly on dry surfaces.
All Terrain Tyres:

A tyre commonly used on SUV's / 4WD vehicles and is designed to provide good compromise between off-road capabilities and on road manners.
Mud Tyres:
These tyres have extra deep treads which help them grip on a muddy track with loose mud where the normal tyres loose traction. These tyres cannot be used on normal roads as the treads and the road will wear out and the tread noise will be excessive.
Source - Carwale