Joined

Oct 24, 2014
Messages

1,550
Likes

1,296
Location
When you hear the word 'plastic', it's usually followed by a twitch of the eyebrow and a nod of the head. That's because we all know the harmful effects of using plastic. The 2005 floods in the city of Mumbai are a stark reminder of how plastic clogged up drains, leaving the city submerged for nearly 2 days. Post the deluge, there has been a ban on plastic in the city but what if there was a way to recycle all the discarded plastic and use it to make roads?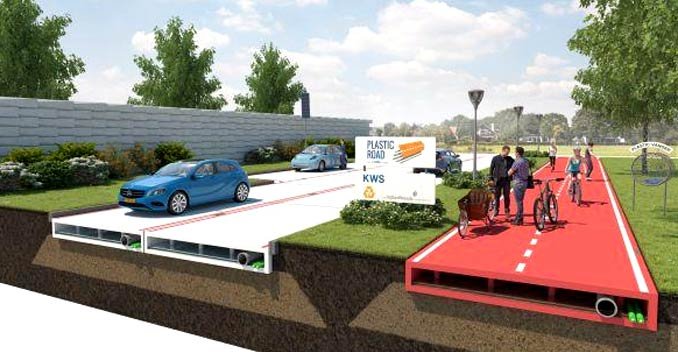 Considering that the country generates tons of plastic waste on a daily basis, you would think that somebody would have looked into it and they have. A Bangalore based company called K.K. Plastic Waste Management has built more than 3000 kilometers of roads using plastic waste. By mixing plastic with asphalt a compound called polymerized bitumen is formed and when used on roads, it can withstand any form of weather, thus adding to the durability.
The technology is not new and the owner, Rasool Khan, has been researching on creating such roads from 1996 in India. It was in 2001 that the first trial track was created and in 2009 they already had 1200 km of road made from polymerized bitumen. "When we first brought out this concept, there was a lot of interest generated. People from all over the world came to see how we achieved the feat of making roads from recycled plastic." said Rasool.
The technology is not restricted to Bangalore though as Rasool points out that they have made a 7 km stretch in Hyderabad too around four years ago. The advantage of having a road made from polymerized bitumen is that its life is increased, it is water proof and costs just the same.
India might not have given this technology a serious thought, but a Dutch construction company is considering these roads for the city of Rotterdam. VolkerWessels and KWS Infra have teamed up to develop the plastic road for the future. The road is designed to be eco-friendly and will be constructed out of recycled plastic. As you can see in the picture, there will be a hollow portion which will make way for piping and cabling underneath the surface of the road.
These roads will be built using prefab construction, which means that they can be made quickly and ensure that they are of the highest quality. According to the people at VolkerWessels, the plastic roads are resistant to corrosion and weathering and can withstand temperatures ranging from -40 to 80 degrees Celsius.
Using plastic to make roads is one way then, of recycling it and considering that this is the motive which comes under the 'Swacch Bharat Abhiyaan', it's time we Indians gave it a serious thought.
Source:
www.auto.ndtv.com