Joined

Sep 7, 2014
Messages

11,936
Likes

14,774
Location
Ashok Leyland showcases BS-VI trucks and buses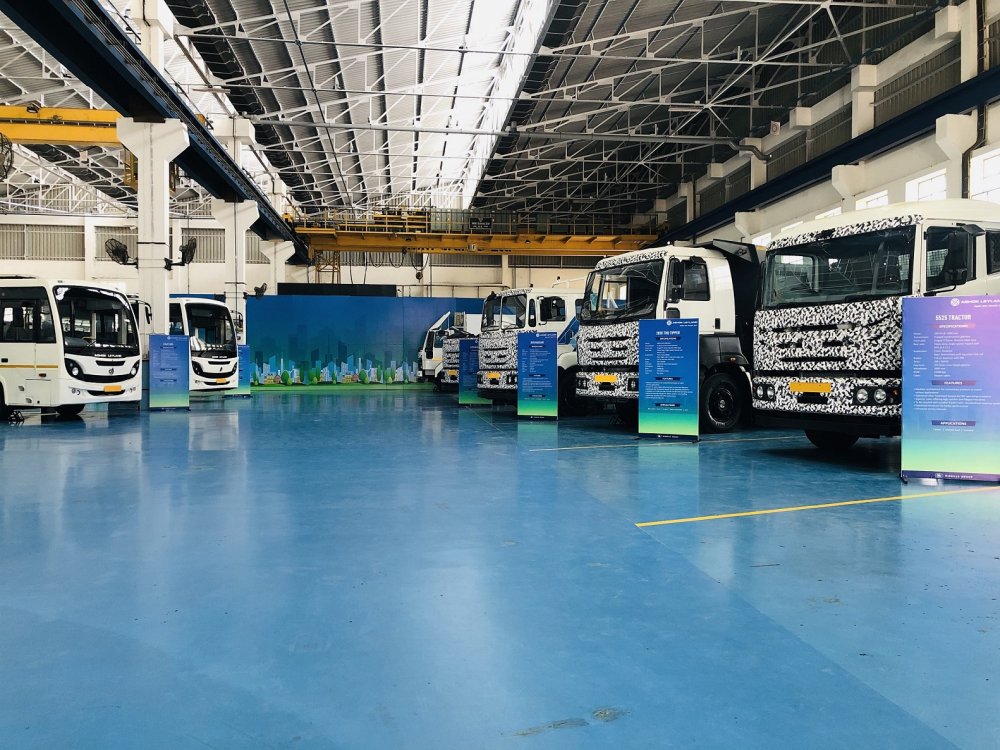 04th November, 2019, Chennai:
Reaffirming commitment towards sustainable transportation, India's leading commercial vehicle manufacturer Ashok Leyland, flagship of the Hinduja Group showcased its wide range of Bharat Stage (BS) VI trucks and buses. After receiving the certificates, confirming compliance to BS-VI emission standard, from Automotive Research Association of India (ARAI), Ashok Leyland becomes the first Indian OEM to meet the BS-VI emission norms across the full range of heavy duty trucks (GVW of 16.2T and above).
Ashok Leyland has consistently stayed at the forefront with innovations. In the past, when emission norms were upgraded, Ashok Leyland were the first to come up with indigenous and innovative technology that not only addressed the requirements, but also catered to the needs of customers. In continuation to its commitment to innovation, again with its indigenous technology, the company has come out with a mid-NOx technology for BS-VI vehicles. Ashok Leyland has addressed the requirement for the new norms with a relevant and customized approach once again. Along with this, Ashok Leyland will be introducing the Modular Vehicle Platform that will efficiently cater to the diverse needs of the customers.

Commenting on the new BS-VI vehicles Mr. Dheeraj G. Hinduja, Chairman, Ashok Leyland, said, "Ashok Leyland has a rich legacy of technological innovations that has set the benchmark for the industry. Be it the in-line pump for BS-III or the iEGR for BS-IV, at Ashok Leyland, we have consistently stayed ahead of the curve. In focus with our aspirations of being amongst the top ten global Commercial Vehicle maker, we have yet again come up with an innovative technology to address the BS-VI norms. We are the first OEM to get BS-VI certification for our complete range of heavy duty trucks. This will be introduced with the new Modular Vehicle Platform which will provide customised solutions to address our customers' specific needs."

Mr. Anuj Kathuria, Chief Operating Officer, Ashok Leyland, "We are extremely proud of our new range of BS VI vehicles, which have been designed with precision and attention, and represents the best of our technological expertise and sophisticated R&D capabilities. Additionally, we have developed an entire new modular vehicle platform for this range and are confident of meeting the increasingly dynamic customer requirements, with multiple options of Loading Spans, Cabins, Suspensions, and, Drivetrains. These combinations would be offered to the customers through a custom built product configurator. With the highly competent line-up we are offering, we are also enhancing the competency of our sales and service workforce through rigorous internal training and dealer mechanic training."

Dr. N. Saravanan, Chief Technology Officer, Ashok Leyland, said, "Our BS-VI trucks and buses are a hallmark of excellence and the new range has adapted many innovations to suit Indian conditions. We have effectively met the BS-VI emission limits through a combination of proven iEGR and a Best-in-Class SCR system, while making minimal changes in the engine. All this ensures that we build upon our dependable engine platforms and deliver better TCO to our customers. Our priority is to provide efficient, clean, safe, accessible, and an affordable value proposition to our customers. We have been testing this new technology and have successfully covered over 5 million kilometres of field running."

Ashok Leyland today offers a comprehensive range of trucks and buses catering to an entire gamut of day-to-day commercial vehicle needs - from intercity light commercial vehicle to 49-tonne long haul trucks and wide range of buses, to safe transport and driver-friendly choices. Ashok Leyland has pioneered technological innovations in the truck and bus segment, and is fully equipped with a range of buses powered by alternate fuels aimed at reducing pollution and promoting an eco-friendly transport system in India. The company has also developed a range of mobility solutions to meet the future transportation needs of the 'Envisaged Smart Cities'.
Regards
Akash