Due to the pandemic, since March' 2020, all our family members were not able to visit any place just like most of the family of our country, not even during festive seasons, which makes everyone anxious. To get rid of this and to get rid of monotony of office works, we planned to visit Konark and Puri during the Christmas vacation, since there will be not any online classes of my daughter during that time. An itinerary was made and booking of hotel was done accordingly, well in advance keeping in mind that, following Covid protocol will be prioritized since my senior citizen parents will be there with us.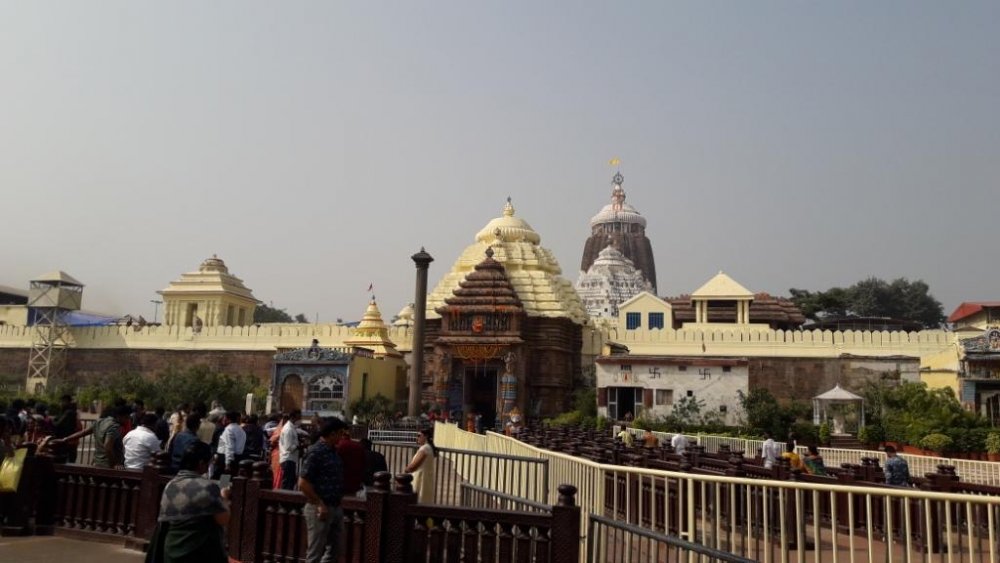 Jai Jagannath

Calling of the Sea

The Iconic Wheel
A thorough servicing of our beloved Ertiga Vxi (2016) was done 7 days prior to the trip at the MASS (Bhandari Automobiles, Serampore) comprising of changing of Engine Oil, Break Oil, coolant etc. etc.
Day 1 (23.12.2020) (Serampore to Yatrinivas Konark) :
We (myself, wife, daughter and my parents) started at 6:15 a.m.from our residence at Serampore. The rear seat of the car was fully loaded with luggages, blankets and some snacks. The morning was a little bit foggy. We cruised through old Delhi Road (NH2) upto Dankuni and then through AH45. Crossed Dhulagarh Toll Plaza at 7:11 a.m and reached New Taramaa Resturant at Kolaghat at 7:55 a.m. for breakfast. At that time there was very less crowd at the resturant. We take Aloo Paratha, Chana Masala and Hot Coffee in disposable plates carried by us. Finished our breakfast and started for onward journey at 8:45 am. Crossed Debra Toll Pazza at 9:30 am, Rampura Toll Plazza at 10:05 am and Laxmannath Toll Plaza at 10:42 am. I was driving very sedately and always try to keep the speed under 80 Kmph. Before reaching Balasore, stopped for a Bio Break and had some coconut water. Road condition upto Kharagpur was butter smooth, from Kharagpur upto Balasore is very good with some uneven culvert approaches, one should reduce speed here to avoid any damage to car suspensions. Crossed Shergarh Toll Plazza at 12:11 pm and continued journey till Adipura IOCL Filling Station. It is highly recommended for its very clean ladies washroom and good quality fuel. Petrol price in Odisha is about 1 Rs. less per ltr. than in West Bengal. Then we started our journey and stopped at Chilli Spice Resturant just 5 Km ahead of Adipura IOCL Filling station. Its a very basic restaurant but quality of food is good. After the lunch we stated at 1:45 pm. Road after Balasore and upto Cuttack is a mess now due to road widening work with numerous diversions and huge speed breakers and huge truck traffic which reduces speed drastically and very tiresome. Crossed Panikoili and Manguli Toll Plazza at 3:18 pm and at 5:05 pm respectively. Before Pipili Toll Plazza stopped at a roadside tea stall for a tea break. After Crossing Pipili Toll Plazza took the left exit to Konark via Old Pipili Konark Road (SH 13) which passes through Nimpada and Gop. Road condition is good with few manageable diversions. Finally we reached Yatrinivas Konark at 7:05 pm and checked in to our room.
Important Notes :
1. Always follow speed limits (Mostly 80 kmph) in deserted stretches in Odisha before big cities like Balasore, Bhadrak, Cuttack and Bhubaneswar since there are hidden speed cams. For over speeding either you have to pay hefty fines or your DL may be suspended by the cops.
2. Stay very alert from the indisciplined highway bikers in Odisha since they ride very dangerously at high speed mostly without helmet and by blocking almost one lane and don't even bother to honk.
3. Paytm Fastag works very smoothly and is highly recommended.
Summary of the Day :
Total Distance travelled : 510 Kms, Time Taken : 12.45 Hrs. (Including breakes), Toll Paid : INR 695.00