Car Tested: Chevrolet Beat
Variant: LT
Engine: 1.2 Liter
Transmission: 5-Speed Manual
Fuel Type: Petrol
Indian Price: Rs.3,94,990 (Ex. Showroom Delhi)
Official Website: Click Here!

About Chevrolet Beat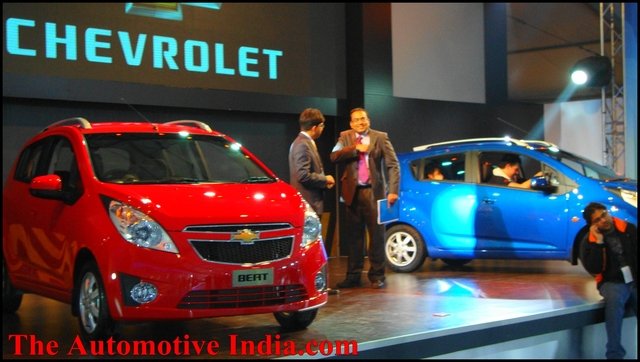 After the launch of Chevrolet Cruze sedan in country, Beat is yet another latest offering by General Motors India and we suspect that the car maker has a lot more suspense wrapped up for future. General Motors revealed the Beat Hatchback
(Codename: M300)
to the world, way back in 2007 at New York International Auto Show in the form of a concept car and later in 2009 the production model was unveiled to satisfy the curiosity of automobile enthusiasts. Recently, just a day before 10th Auto Expo, on 4th January 2010 Beat made the official debut in India at a glittering ceremony. The car is basically a new generation "Spark" Model but However, In India, Both the models will be sold along-side where the beat is positioned above. Also, currently ours is the only market where this car is called by the name which was allotted to its original concept counterpart.
How It Looks?
If you hear the name "Beat" for first time, don't get puzzled for it being something related to fight scenes et all. The name "Beat" here actually refers to the heart beats where GM intends to create some thrilling beats in hearts young generation, where the car is mainly targeted.
With the three
"F"
–
F
resh,
F
uturistic and
F
unky appeal, Chevrolet Beat makes to be an attractive sight on roads also the bright and attractive colors on offer helps make it possible. We've earlier seen car models like A-Star which are breathtaking as a concept but production version turns out to be poles apart, though the case with Beat is different. The Production version beat has been just tuned to make much practical so that it can run on roads but the attractive cues from concept still remains, The car has sharp curves and edges all around to give sportier feel and the Cruze like dual split mesh grill with chrome surrounds, through which a body colored bold strip passes sitting a golden "Plus" Logo of Chevrolet gives striking touch. Twin Barreled headlights have polycarbonate lenses and the design of headlamps is sharp and edgy. Beat has a short bonnet like many other cars in similar segment, which has bold lines passing through and the bumper is flat as well as neatly integrated onto the body.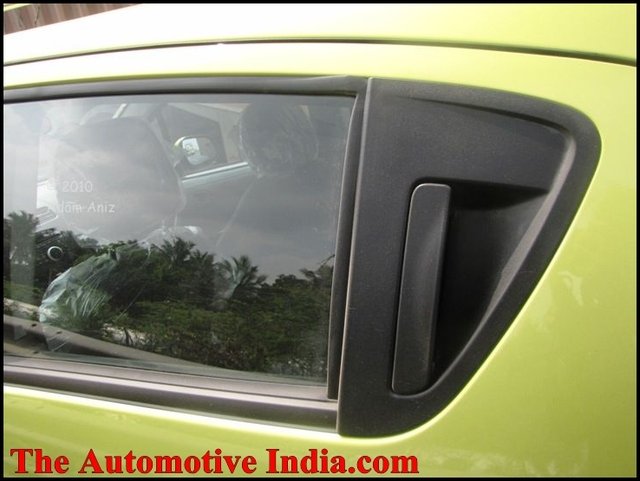 Stepping towards the side, it'll make some fall into confusion of beat being a 3 door hatchback, But reality is different! Chevy has found a new place to position the rear door handles. They sit on just parallel to rear window and easily camouflages but the elder person and kids may find it difficult to use. Few hatches look odd with roof rails but beat is an exception, silver painted roof rails and the lining of the side profile add the remaining funkiness. Outside Rear View Mirrors are big enough and color combination on their shell absolutely matches with that of exterior but button like 14" wheels looks tad small especially when seen from side angle. Rear part of this Chevy is subjective and the styling resembles somewhat to the Maruti Suzuki's Ritz. The clear lens tail lamp's design is eye catching and we saw it second on an Indian sold car after Mitsubishi Cedia. Rear spoiler of beat is integrated in such a manner that it appears to be a complete part of body and the space on hatch door looks limited as it's already occupied by the large tail lamps and huge registration number plate area.