Joined

Sep 3, 2013
Messages

896
Likes

2,256
Location
MAGICIAN F835
Car OBD2 Smart Upgrade Series
* MY IGNIS GOT IT

Why I like it:
I am fond of car HUD - Heads Up Display.
I love to keep some gadgets that makes the car interior unique. Some make me happy and keep me in good mood. Love to keep the one that neat and cute, reflects subtle, Beautiful illumination.
But, I don't like to clutter with many which make the dashboard messy. I love the DIGITAL SPEED DISPLAY that is missing in IGNIS.
Reading ECU parameters is not difficult for me as I have done enough research with my previous car HONDA CITY.
I am not comfortable using HUD GPS APPs in MOBILE or on REFLECTIVE SCREEN. There is always data discrepancy between GPS & Actuals.
My search online resulted to know more about the
MAGICIAN F835.
It's a mini Car Computer, Plug Play, Displays Real Time Data, Track car health, provides abundant information that helps to prevent before a breakdown & Alarms help for self-control.
I am a casual hobbyist, don't require too much ECM data. I preferred it as I love those colorful Digital Speedometer display, Welcome / Bye Bye smooth animations, customizable beautiful colors and the set Alarm Alerts. This is not a professional scanner, but it is cool.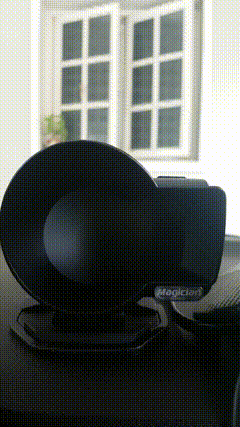 READ MORE
for advanced knowledge:
1
.
MY CAR HUD - HEADS UP DISPLAY
2.
MY CAR HUD - HEADS UP DISPLAY
3. MY ECU / ELM 327 -OBD II SCANNER
4
.
What is OBD2
5.
ECU / ECM FACTS
(Video is useful despite unknown language)
REAL vs FAKE - How to be careful from the fake ones:
CAUTION:
In MODERN CARS, the ECU / ECM, Engine Control Unit/Module is the brain that controls every structure of the car. It's a robust complex electronic component board.
One must be careful with this kind of Car ECM Reader Gadgets as they directly communicate through Car OBD2 plug and, any Gadget with substandard components may damage the CAR ECM, and also drain out the Battery as it has to be plugged in always.
The OBD2 interface implements several different data buses with different voltage levels. Telematics OBD2 device that always plugged_ in as advocated by some insurance companies abroad is not advisable as network hacking may lead to security breaches & ECM conflicts.
Only reliable, independent devices made of high quality components even if plugged on always are safe.
After careful and extensive analysis, I selected the
Magician F835.
Magician is one of the oldest brand, become very reliable due to their continued R&D, providing with quality components and software. Their F835 model is very popular among car enthusiasts.
Unfortunately, many other Chinese firms started producing poor quality copies / fake ones by copying the design and part of their software which are floating on different labels with or without GPS, but looking alike example AKIRA, ACECAR, OBD2, HEADS UP DISPLAY, SMART DIGITAL METER, AP6 etc.,
Original
MAGICIAN F835
and
LUFI XF REVOLUTION
(Costlier, provides more data & customization) are two of very few reliable ones.
Please check here also before you buy:
REAL vs FAKE
Check this video:
LINK
AND,
How to source the Genuine one?
Finally, I could source from this gentleman at Delhi who is kind, a trustworthy car enthusiast after I am inspired by his own video:
VIDEO LINK
I could get it from him for a better price as its ranging from Rs.7000 to 8000 depending upon the USD value & Shipping cost. You can contact Mr. VINNY (SILENCER GARAGE @ 9810346167) for the present market rate if interested.
(After knowing that I am an
Honored Member of TAI,
he took special interest and sent to me by
ProPremium
Air courier immediately. Only think I felt that he should have put the original box inside a safe extra box so that I would have got the original box fresh & neat without brown parcel tapes, external damages. Fortunately, no damage to the gadget)
You can also check from this seller before buying
VIDEO LINK
Please note, this gadget is expensive to buy from
AliExpress
or from
Amazon India
directly at present.
( You may check the highlighted links)
---------------------------------------------------------------------------------------------FOR INFORMATION------------------------------------------------------------------------------------------------------------------
Product Features:
Magician Multi-Function Plug and Play OBD2 Digital Gauge Meter [MODEL F835]
Multi-style interface & Universal fitting with all cars with OBD2 protocol
Adopt 3.5 inch Clear LED screen, resolution 480*320 * Screen, adjust the screen brightness automatically, day and night.
Reads the real-time data stream, scan and clear trouble codes.
Peak alert setting, supports water temperature warning, over-speed alarm, vehicle malfunction warning etc., for safe and secure driving.
12/24 Hr. Clock, Battery voltage, provisions to correct viz., Screen Display, Inaccurate Speed, fuel consumption if required & more.
PC / USB provision for software & firmware updates
Specifications:
Hardware: CPU based on ARM STM 32-bit F4 TDK .
Inbuilt USB storage for updating firmware.
Operating voltage: 9 -18V DC
Operating current: <500mA
Sleep current: <1mA
Operating temperature: -20 - 70℃
Installation:
1. Find the car's OBD data interface, under the driver's side dashboard
2. Start the vehicle and keep the engine running
3. Connect the vehicle OBD interface to the meter with the OBD cable
4. The product displays the boot animation, recognizes the protocol, and then the meter starts to display normally
5. Fix the product and hide the cable.
6. Installation is completed.
7. Optional – Go to setting for setting the clock, alarm as you want on RPM / Speed etc.,
-----------------------------------------------------------------------------------------------------------------------------------------------------------------------------------------------------------------------------------------
FROM MY EXPERIENCE,
PLEASE NOTE:
I am happy and comfortable by placing the gadget on the left side of OE Speedo/Odometer, as I felt it can be viewed by all in the car. It can also be kept at the right extreme if preferred. I have also noticed no significant battery drainage as it's a new car. Its advised, if the car is parked continuously for more than two weeks, better we can unplug the cable from Car OBD plug for safer side. Please note, if unplugged for few days, you may have to reconfigure the device as you customized before as there is no inbuilt battery to remember. Therefore, it is better to note down your preferences, particularly the color codes.
CHECK in the OE instrument cluster:
It is better to move the car first time in the day after warming up the engine as indicated by disappearing blue temperature symbol.
Always note the appearance of Amber colored engine management warning light that should disappear after engine starts. If it continues that indicates something is wrong.
Error codes may appear in the scanner if there is any fault. If not cleared by basic procedure, it warrants professional help.
How to update the latest firmware?
The default FW Version: Mother Board Driver 1.7 & English Software 1.32
Latest FW Version: Mother Board Driver 1.10 & English Software 1.38
I have learnt many things, especially how to upgrade / update the latest firmware and make it the
BEST ENGLISH VERSION
. Nowhere such guidance is available online.
I will share in my next post.

Please Wait!

.
Last edited: