Joined

Sep 3, 2013
Messages

895
Likes

2,254
Location
IGNIS REAR LICENSE PLATE LED BULB REPLACEMENT
I wanted to replace the OE Halogen T10 bulb at rear license plate with a good quality brighter T10 white LED bulbs.
I was told by the Dealer's Accessories Department that it needs removal of dicky underneath fiber cladding and made me felt cumbersome.

But,
I found out, it is not so, just a press of the lens cover anticlockwise would make everything easy.
MY DIY:
I tried, felt could not give more pressure to turn it anticlockwise at that narrow space. Just gave a gentle press with the help of a blunt tip screw driver at the protruding turn knob, it came off easily. Washed and cleaned the lenses - cleaned the dust in that area with a small brush - removed the old bulbs - switched on parking mode –inserted the led bulb in correct polarity- restored back the lens covers to its right position and ensured they are firm and locked.
That's all

How to select the right LED Bulb?
Please note there are so many Chinese generic and branded T10 LED Bulbs in the market. Brands like
PHILIPS (Rs.750)
,
OSRAM (Rs.480)
are very expensive. Cheap qualities have short life, very hot.
We should select a bulb that is safe, properly designed to suit the lens space as if bulb length is too big we can't put the lens cover back after changing it. Also, Clear white illumination as against bluish one and must be value for money.
So, I selected this one and I am really satisfied.
Super 2828 LED Parking Light @ Rs.125
TIPs
This DIY applies to all most all Maruti Cars. In case the car is old, the lenses are difficult to remove, we can try to warm up the acrylic lenses by using a hair dryer, or may need to unclip the holders from back side only by removing the dicky fiber cladding/ trim.
Useful Video:
1 LINK:
2. LINK: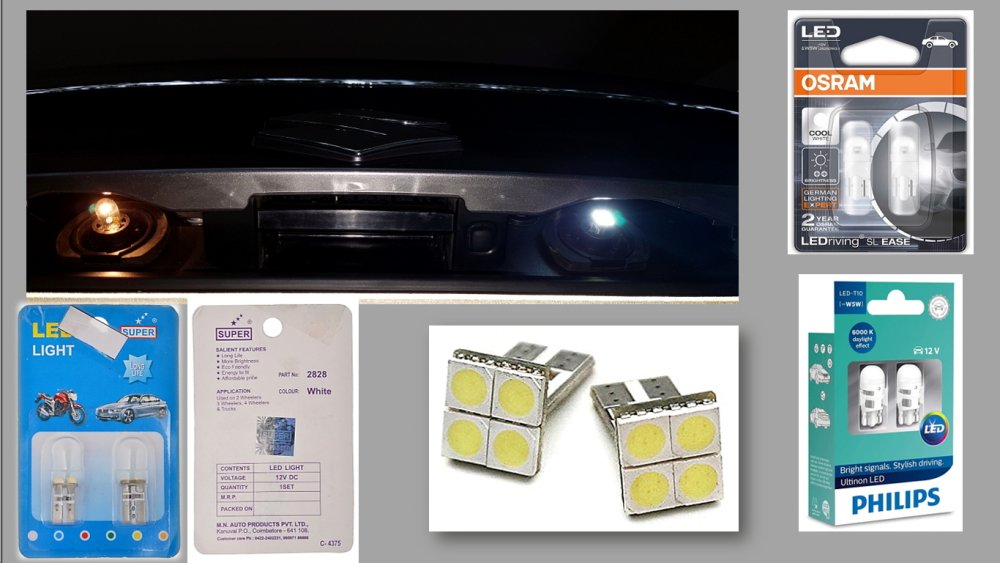 .
Last edited: