Joined

Sep 3, 2013
Messages

884
Likes

2,211
Location
CARS OF MY LIFE – THE IGNIS 2021
"It's better to be unique than the best, because , being the best makes you the number one, but being unique makes you the only one."
Time flies & makes each moment count…
Now, a new car in my life – The IGNIS 2021 !
This is our
FIFTH CAR
.
First one ( 1989 – 1991), a used white PREMIER PADMINI came into our lives to take care of our new born baby girl whenever we moved amidst the mist of Ooty, The Nilgiris.
Second (1992 – 1998) , the white PREMIER PADMINI DELUX with bucket seats provided by my organization United India Insurance Co.Ltd.
The Third one (1999 – 2012), the silver DEWOO MATIZ provided by my organization after five years..
On my elevation to the top management cadre, my organisation provided me the Fourth one (2013 -2021) MY PRIDE that introduced me into this forum and made many indelible memories -
My Honda City in white - The ALBUS.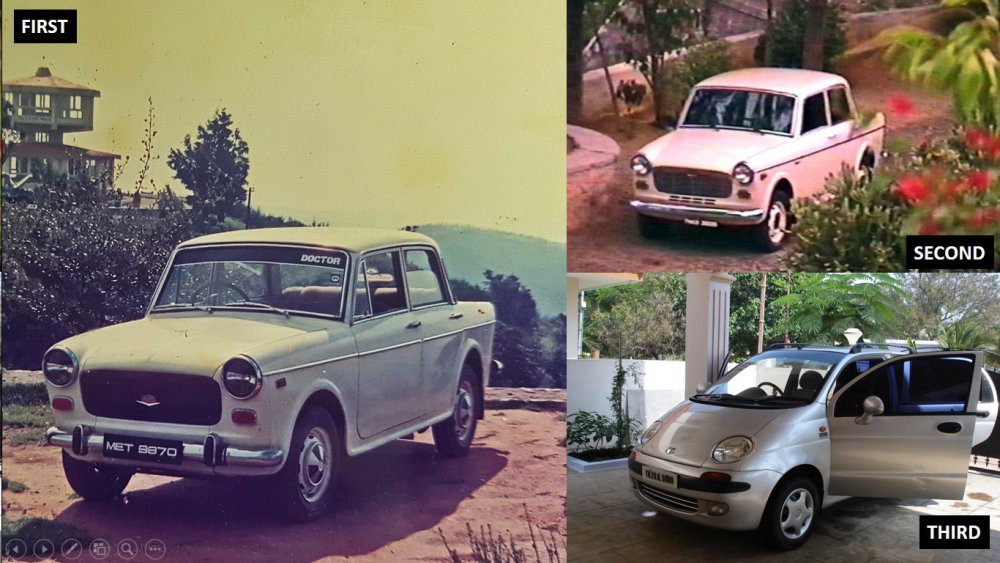 THE DECISION
The decision for the fifth car came out unexpectedly in a very short period as we really planned to wait for a small automatic electric vehicle when the technology becomes stable in India. However, suddenly I thought that it would not be worth waiting for an indefinite period at this age of mine @ 65+, and wanted my wife to drive an automatic car as she wished, decided to go for it.
Today's traffic congestion, parking problem, difficulties faced in my left leg while pressing clutch after the quadriceps tendon surgery all contributed towards this decision.
The choice was limited - small to medium size automatic, comfortable road vision for my wife, and better headroom for me as I am 6 feet tall and, definitely more than 165 ground clearance in our present road conditions.
She liked IGNIS during her drive of our family friend's Alfa version, so selected IGNIS over Maruthi Celerio and Tata Tiago.
This time, as it is the first car for my wife, I have left everything to her choice. Went for Zeta Glistening Grey.
YOU MAY LOVE!
We liked the car; the design has been well carried as it features a retro look but with a modern touch. The IGNIS is built on a new platform, which is 30 percent stiffer and 15 percent lighter. It looks almost same like her international counterpart, though could not be fully compared, as there they are better equipped with front Dual Camera Brake Assistant sensors and hybrid technology.
YOU MAY HATE!
Some may not like its old-school boxy design … Love or Hate, the IGNIS demands attention. It does offer quirky looks -
unique expression of your being in the world!
LIKED
- Unique Design, much attractive in 2020 model.
- Good Driver's View: Few blind spots.
- Peppy four cylinder 1.2 L engine: Does not feel underpowered for an AMT, also with smooth manual transmission.
- Short turning circle: Makes maneuverability easy.
- Easy ingress and egress:
- Roomy cabin: Acceptable rear legroom.
- Decent ride quality and handling: Suspension takes care of the body-roll and uneven surfaces quite well.
- Effective AC: Cools the cabin down reasonably.
- Reasonable fuel efficiency
NOT-SO-LIKED
- Dual-tone interior theme that accentuate airiness, but pure white may not suit in our Indian conditions.
- Stiff suspension though guard against body roll, needs careful driving over speed breakers.
- Steering too light to deliver much feedback, but better in 2020 version.
- Adjustable driver's seat is available only in top-end.
- Rear seats: Positioned upright, may not be comfortable to everyone.
- The factory fitted tires Bridgestone Ecopia are Noisy and puncture prone:
- The old Windshield Spray Nozzle type on the bonnet warrants careful monitoring in salt-water area, as they tend to trigger rusting.
- The HVAC knobs are outdated in all other version except Alfa, which has a digital AC climatic control.
Of course!
The standard list is impressive, especially on the safety front. All derivatives come with dual airbags, ABS with EBD, ISOFIX anchorages, seatbelt pre-tensioners with force limiters, rear parking sensors and seatbelt reminder for front occupants.
Zeta version is value for money, despite missing LED-powered projector headlamps and DRLs, automatic climate control and a rear-view camera and driver seat adjustment.
To me, the IGNIS is also a choice for someone who is planning to purchase the first car.
YES!
Yes, I did some extras to personalize our IGNIS in my own way, which I would like to share with you, just wait please!
Thanks and Regards
Dr MUDHAN
-------------------------------------------------------------------------------------------
-------------------------------------------------------------------------------------------
BROWSE & FIND FAST:
1. I have designed this first page to help through INDEX for providing maximum possible information , as many GUEST READERS come to this thread searching for some information.
2. Please read my Threads / Postings in larger displays like TAB / LAPTOP / DESKTOP to enjoy the efforts in full.
3. Kindly join with our family by becoming a member of the
TAI
for better interaction and, learning from each other.

IMPORTANT
: Please check at the LINKS whether any AFTER THOUGHT CORRECTION indicated so that you may note down my experience that warranted a change later.
DISCLAIMER:
I reiterate, the information provided here by me and our well-wishers are of our feelings, our experience, with a good intention to help each other.
It's my request that if anyone likes to adopt any DIY here should never compromise the safety of driving.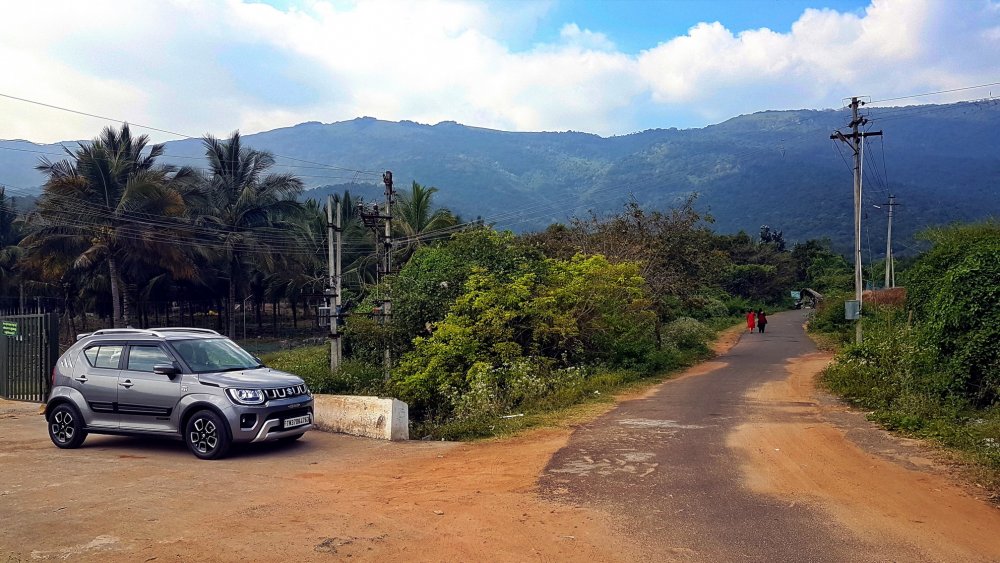 A
PAGE 1
CARS OF MY LIFE – THE IGNIS 2021
INTRO
PAGE 1
THE PROCESS AND SELECTION OF ACCESSORIES
PAGE 1
IGNIS STEERING ISSUE
PAGE 1
ACCESSORIES AT DEALER'S SPOT -
IGNIS REAR VIEW CAMERA PRECAUTIONS
B
PAGE 2
IGNIS (INDIA) ENGINE DISCUSSION
PAGE 2
ACCESSORIES AT DEALER'S SPOT
STEERING COVER
SEAT COVER
DOOR SIDE CLADDING
FOOT MATS
3D BOOT MAT
REAR WINDSHIELD LINE CHROMIUM GARNISH
C
PAGE 3
AFTER MARKET ACCESSORIES:
SHARKFIN ANTENNA
7D FLOOR MATS
DIY -
FLASHING THIRD BRAKE LIGHT
STICKERS, WHEEL RIM DECALS
MAJOR UPGRADE - ALFA HEAD LIGHTS
D
PAGE 4
IGNIS HEAD LIGHTS –
ZETA TO ALFA UPGRADATION & DISCUSSION
E
PAGE 5 DIY
HEAD LIGHTS ZETA TO ALFA
HOW I DID IT
(AFTER THOUGHT - Ignore the Yellow Wire (No.6) meant for dimming as it didn't work for me, that is why I added extra switch)
PAGE 5
MY IGNIS GETS ARMREST!
PAGE 5
SEAT BEADS!
PAGE 5
PORTABLE FAN
PAGE 5
LED CEILING DOME LIGHTS
F
PAGE 6
BUMPER CORNER PROTECTORS
(AFTER THOUGHT - I removed later as didn't like them)
PAGE 6
THE UNCOMFORTABLE TRUTH OF CAR CUSTOMISATION
PAGE 6
CAR HEAD UNIT SOME VIDEOs & AUDIOs PLAY ISSUES SOLVED!
(Maruti Suzuki Infotainment)
PAGE 6
AFTERMARKET CAR SWITCHES FOR DRL
PAGE 6
CAR DUSTBINS
PAGE 6
FLOWING SEQUENTIAL TURN SIGNAL INDICATORS for IGNIS
PAGE 6
IGNIS : MODIFIED AC FAN CONTROL KNOBS
PAGE 6
IGNIS vs PUNCH
G
PAGE 7
MAGICIAN F835 Car OBD2
PAGE 7
MAGICIAN F835 - ENGLISH FIRMWARE UPGRADE
PAGE 7
My Maruti Suzuki Service Experience
PAGE 7
How To Clean & Disinfect Car From COVID-19
PAGE 7
CAR SILENCER MUFFLER TAIL PIPE CHROME TIP
PAGE 7 I
GNIS @ DUBAI / UAE
PAGE 7
CAR COMPASS
PAGE 7 CAR MOBILE HOLDER
PAGE 7
CAR DOOR SILL PROTECTORS
PAGE 7
IS IGNIS TO BE DISCONTINUED?
H
PAGE 8
DIY : IGNIS FACELIFT TRANSFORMATION
PAGE 8
ALL ABOUT IGNIS ROOF RAIL
PAGE 8
CAR WINDOW VISORS - NECESSARY OR UNNECESSARY?
PAGE 8
MY IGNIS GETS BETTER TWEETER SPEAKERS - PIONEER TS-S20
PAGE 8
MY IGNIS GETS THE 'BLACKSTAR' MAGNETIC MOBILE HOLDER
PAGE 8
My MARUTI SUZUKI IGNIS completes one year! / THIRD SERVICE / BD GIFTS ( CHROME DOOR SIDE PROTECTORS)
PAGE 8
MARUTI SUZUKI IGNIS TAIL LAMP UPGRADE
I
PAGE 9
IGNIS DOOR HANDLE CHROME COVER
PAGE 9
3D LICENSE FRAME PLATE HOLDER
PAGE 9
CAR CIGARETTE LIGHTER SPLITTER
PAGE 9
AGS vs AMT – CAR PARKING DIFFERENCE!
PAGE 9
MY IGNIS GETS AN ENGINE COVER EMBLEM !
PAGE 9
MY IGNIS DOOR DAMPING DONE
PAGE 9
AUDIO UPGRADE WITH MOREL MAXIMO 6 MKII COMPONENT SPEAKERS!
PAGE 9
Some Snapshots of My IGNIS …
PAGE 9
GOT A DASHCAM - NEXDIGITRON A3!
PAGE 9
WIPER REPLACEMENT – EXPERIENCE SHARED!
PAGE 9
MAKE A TRY! ECSTAR AUTOMOTIVE BODY SHAMPOO
J
PAGE 10
MARUTI SUZUKI IGNIS 2023 WITH NEW SAFETY FEATURES!
PAGE 10
AFTERMARKET CAR DOOR CHROME HANDLES
PAGE 10
RF COMMUNICATION ISSUES - ANSWERED
PAGE 10
CAR DOOR OPENED WARNING LIGHTS
PAGE 10
50K+ VIEWS, THANK YOU ALL!
PAGE 10
CAR FOOTWELL AMBIENT LIGHTS
*CHECK HERE
, for all my other threads

Wait for more, please !
Music Rhythm Lights
My Car Perfume
Why Car Clock?
My New Decals
LIFE HAS NO SPARE
Be Safe & Drive Safe!

Dr MUDHAN
.
Last edited: