Joined

Sep 3, 2013
Messages

894
Likes

2,244
Location
Hearing about heart-rending car fire that claims the lives of people are becoming not uncommon now a days and, it made me to provide here some important insights into such fearful accidents.

A car is a complex machine with mechanical and electrical components. With the presence of a lot of frictional components, flammable liquids and complex electric wiring, fire is one of the most common hazards in a car.
Car fire safety guide is one of the critical aspects of owning a car.
I would like to share about the proximate causes, precautions and preventions that a car owner must know !
External
Accidental Impact leads to friction, fire & fuel leakage – uncontrolled speeding against objects viz., Tree, Building, Posts, Tire burst, Another Vehicle (Avoid Over speed)
Nature's Lightning (Avoid Driving outside during natural calamity)
Internal
• After Market Accessories (Take utmost precaution while adding accessories that need car electrical line)
• Battery related issues (Always check battery conditions, heating & overload issues. Do not buy an unbranded , refurbished local, unknown generic chinese brands)

• Rodent Menace (Avoid keeping attractive food particles, Repel)
• Improper Maintenance, Friction (Ensure Periodical maintenance, Note for any abnormal sound )
• Keeping Fire prone objects, spray canes, inflammable liquids, risky cylinders. (Avoid)
• Tampering OE fire protection, OE Carpet, OE Firewall, OE Insulation. (Ensure it is preserved, protected)
• Smoking (Avoid totally inside the car)
In general
, any Mechanical failure, Electrical failure, Faulty/loose wiring causing short circuits, Oil spill, Leakage of other vital fluids such as coolant, transmission fluid, power steering fluid, Loose/missing oil filler cap, worn out/loose hoses, Use of substandard Electrical, mechanical components can contribute.
Switch off the engine immediately if you smell rubber or plastic burning underneath the car.
Avoid parking the car near flammable gases or fluids.
Switch off the engine while refueling the car. The vapors of the fuel might come in contact with the heat produced by the engine and catch fire.
Park the car in a safe and shaded place.
Avoid using aftermarket accessories which can tamper the original wiring of the car.
If you Get a fire extinguisher keep it near the driver seat.
Dos and Don'ts
(If you notice a fire or burning smell while driving the Car (or) When Parked/Stopped in Traffic (or) Due to an Accident/Collision)
Get out of the car, also assist other occupants to safely get out as quickly as possible & unlock all the doors and windows before switching off the ignition.
Stop and switch off the ignition
Move away from the burning car, maintain a safe distance.
If you have a fire extinguisher, attempt to put out the fire before it gets out of hand, if safe.
Do not open the bonnet/boot
Do not attempt to retrieve personal belongings from the car.
Alert the oncoming traffic, pedestrians about the danger ahead if possible.
Later: Contact the Fire Department, Traffic Police, Authorized Car Service center depending upon the situation.
Inform your Car Insurance provider if you have a comprehensive coverage.
A well maintained car needs periodical service only on completion of certain mileage or a period, say once in a year. BUT, it doesn't mean that our car is otherwise safe.
Driving a car warrants that all our sensory reflexes are active. Apart from what we visually (
EYES
) notice, we should not ignore any abnormal sounds (
EARS
) and abnormal smell (
NOSE
).
Ensure
Floor inspection for fuel/oil leakage daily
Engine bay Checkup & Bonnet Inspection for Rodent menace / Dried Leaves/ Fuel/Oil Leakage periodically.
Clear exhaust fumes with no abnormal sound or sparks.
Periodical Service Maintenance
In general
, any sign of Blown fuses, abnormal Engine temperature, Low oil/ fluid levels, Loud exhaust sound, worn out tires, a burning smell are Signs that indicates our Car is on risk of fire.
One of the common causes that contributes to car fire accidents.
A short circuit is an abnormal connection between two nodes of an electric circuit intended to be at different voltages. This can cause circuit damage, overheating, fire or explosion.
Loose connection, improper insulation , using substandard insulation tape, wrong connection, multiple inputs from one single output, poor quality wires, incorrect wiring gauge/resistance, incorrect fuse ampere, using nonstandard, poor quality generic gadgets, RODENT BITE , work done by unskilled labourers all leads to battery overloading and dangerous short circuiting.
RODENT MENANCE:
Do not invite the rats for dinner by making the car interior shabby keeping with eatables and food remnants. Open the bonnet periodically for aeration.
People tried many repellents – Naphthalene Balls, Tobacco Leaves, Peppermint Oils, Pepper Powder, Ultrasonic Gadget, Bitter Liquid Sprays... no one thing would be 100% effective or long lasting. We need to try, repeat often or catch the culprit.
We would be lucky only when our local rats could not understand our intelligence.

A word of caution!
The DIY procedures shared in this Auto forum are done by Car enthusiasts who did a thorough analysis before doing it, without compromising the safety of the vehicle at any cost.
Kindly do not attempt to do anything that involves car electricals , car safety devices if you're not sure about what you're doing. However, those guides would be useful to monitor whether they are safer when installed by others especially when done by unskilled labourers.
(That never be overlooked as evaporation of fuel may trigger fire! )
Fuel Odor
: If we smell fuel coming from our car, but it's coming from the engine compartment, rather than the exhaust, that points to a leak / evaporation in the fuel system- check Fuel pump and hoses.
Do not ignore Engine warning light:
Stable allows you to check at the earliest; Blinking warrants immediate attention.
Fuel tank lid /cap area:
Clean periodically and ensure the lid is closed properly; it is the first one to check when engine warning light appears.
Fuel Filling:
Stop when cut off; do not over fill the tank. If you overfill your tank, it can cover the vapor intake hole with liquid gas, which can then be sucked into the charcoal canister. This can damage the canister and possibly other parts of the system, which will cause the car's check-engine light to come on.
Fueling at Petrol station:
Do not run the engine in idle while filling fuel.
The vapors of the fuel might come in contact with the heat produced by the engine and catch fire.
Decanting of Fuel:
Be vigilant that the Petrol Bunk employee pours the right fuel – Petrol or Diesel. Do not run the vehicle if filled wrongly.
Missing Fuel need not be due to theft by human.
It is reported in Kerala State, attracted by the ethanol content in petrol, an exotic beetle attack fuel lines of cars. It is Camphor shoot borer (Cnestus mutilatus), a polyphagous ambrosia beetle, had been behind the mystery of missing fuel.
An invasive beetle, practically microscopic and it sniffs out alcohol, believing it may be the fermenting decay from the trees in which it bores. Since gasoline with ethanol has alcohol, the bug will eat through plastic to get to ethanol.
Missing fuel, drops and stains on floor, emanating petrol odor warrants a check and insect repellant to get rid off.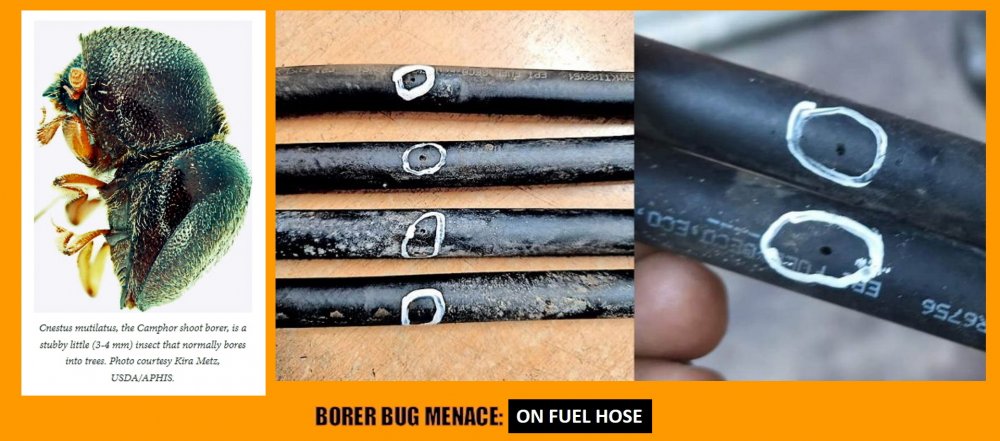 Most obvious deathtrap situations happen when we are unable open the doors. It happens in centralized control mechanisms as the electrical control fails. The only option is to escape by breaking the window glasses as early as possible.
Cars are equipped with two types of glass structures –
For TEMPERED GLASS, just about any blunt object will shatter the window.
Keep an

Emergency Safety Hammer

close at hand at all times. Most models also feature a small blade for cutting through seatbelts.
Take the metal pegs from the

Detachable Headrest

, jam them down inside the area where the window goes up and down inside the door panel. Once you have them down as far as you can go, you can pull the headrest toward you until the window snaps (usually cracks up the middle). The glass should crack and fall away from the door.
For LAMINATED GLASS, you'll need a different tool. Laminated glass is tough stuff. We need a battery-powered saw called windshield cutter.
They are good or bad, it is debatable. Most extinguishers are pressure vessels and are listed as hazardous if not properly secured and used in a right way.
If the car is burning, as a pressure vessel, it could explode. It also need periodical refilling or to be disposed off on expiry.
An 'ABC' (Electrical & Non Electrical source) fire extinguisher can indeed be used on a small car fire.
We need to pull the pin/key that seals the fire extinguisher and aim at the fire and press the handles together and should only use the fire extinguisher if it is safe to do so.
Yes. If you have a comprehensive car insurance policy, the insurance plan covers damages to your car due to fire. Rat damage insurance claim is admissible under the Own damage section of the Car insurance as the damage is caused by Accidental and visible external means.
No, if you have only third-party liability motor insurance for your car

.
Last edited: